Arcade
,
Casual
,
Digital
,
Game Pass
,
HD
,
History
,
Indie
,
Indie Dev
,
New
,
New Release
,
Other
,
Racing
,
Rapid Reviews
,
Reviews
,
Series S
,
Series X
,
Xbox
,
Xbox Game Pass
,
Xbox Games Pass
,
Xbox One
,
Xbox Series S
,
Xbox Series X
Art of Rally Review
Reading Time:
4
minutes
Fast Facts
Art of Rally

Developer: Funselektor Labs INC
Publisher: Funselektor Labs INC
Website: https://artofrally.com/
Genre(s): Racing, Casual
Platform: Xbox Series X|S (reviewed), Xbox One, PlayStation 4, PC, Nintendo Switch
Age Rating: PEGI 3
Release Date: 12/08/21
Price: £19.74

A code was provided for review purposes
Introduction
When you speak about racing titles, often it conjures up talk of high-octane racing across plenty of high-speed tracks, in some pretty impressive vehicles. It's not often you'll hear someone describe a racing game as a form of art. Yet, Art of Rally is exactly that!
The Canvas
Art of Rally is a top-down racer that celebrates the golden age of Rally. The game is within this golden era of the sport's inception of the 1960s right up to the early 1990s. Art of Rally takes you on a condensed trip through the ages, of not only the vehicles but the tracks as well. It's a serene journey that sees you tackle various groups of races across plenty of locations. It's not only a great way to see just how far the sport has come, it's also one of those titles that just allows you to pick up and play.
Unlike most racing titles, Art of Rally doesn't feature any licenced cars or manufacturers. What we do get is plenty of new designs that look similar to their real-world counterparts – with slight changes to avoid copyright. This also comes across in the games many liveries. With plenty inspired by real-world designs, there are a lot of familiar-looking decals, yet with a unique spin to them. In keeping with its historical setting the game also splits the cars into their real-world groups. This gives a diverse range in car performance and again does a grand job in highlighting the many changes within the sports rich history.
The Paint
The first thing you'll notice upon loading into Art of Rally is its minimalist design. Menus and options are pretty shallow by design, and the cell-shaded visuals look out of place. Yet, once you get out onto the track, it all comes together to craft something beautiful. Cars behave very much like how you would expect a car from the 1960s to handle, complete with spongy suspension and the traction of a tank. There are over 72 stages to race across which will see you travelling all over the world. Each track also has a unique design which gives a distinct visual look that matches its home country. There's plenty of variation as you'll go from quiet countrysides to snow-capped peaks and even rocky hills.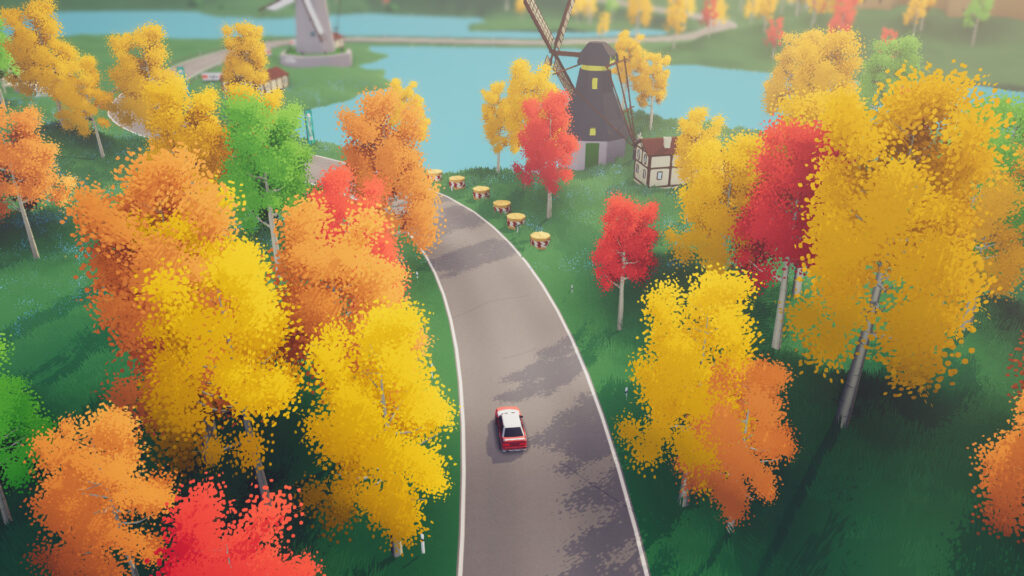 The Freedom
Aside from quite a lengthy career mode, Art of Rally offers a few other modes too. You'll find the customary time trials and a custom rally, but the most surprising is the free roam mode.
The inclusion of a free roam mode really surprised me. Set out over 6 unlockable maps, this mode sees you choosing a car and just exploring everything that the chosen location has to offer. There's plenty of collectables to find such as hidden cassette tapes, vista points, and R-A-L-L-Y letters – yes, just like Tony Hawk's Pro Skater! You certainly have to explore everywhere as a few of these collectables are hidden in some clever places. You'll also need to catch some air time too, as Art of Rally loves placing its RALLY letters in mid-air. It's a great mode for those who are either looking for more or if you're wanting a break from the often structured career mode.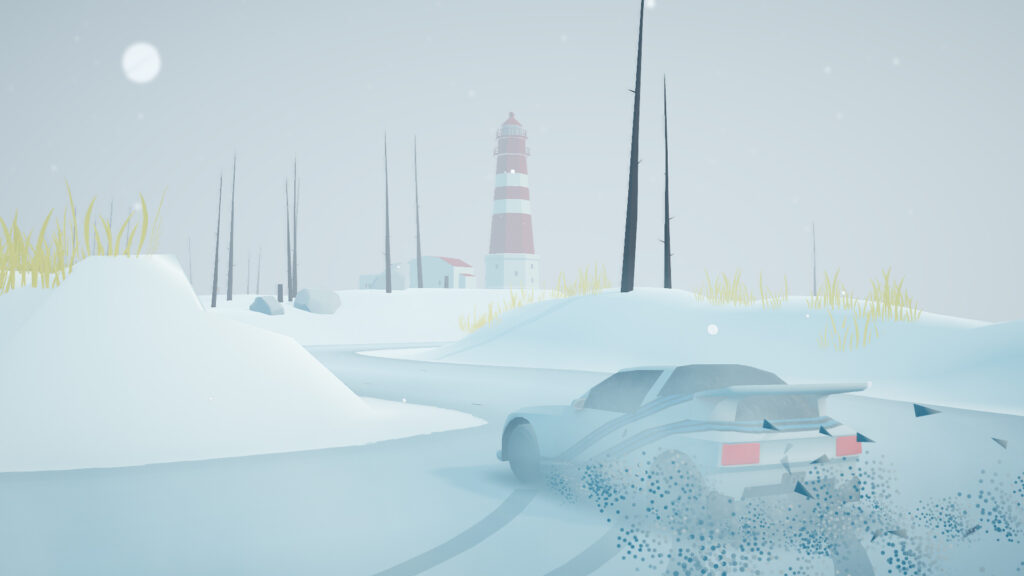 Art of Rally also comes with a customary multiplayer mode. This online portion offers both daily and weekly challenges for you to compete in. These challenges also vary in both length and complexity. Daily challenges are mostly set across a single track whereas weekly challenges are over multiple stages that form a custom rally. For those of you looking for the ultimate challenge Art of Rally also features a global leaderboard so you can compare times with the worlds best racers. While this mode initially had a few teething problems – at the time of writing – it is now more stable, and a real joy to play.
The Shadows
Online stability isn't (or wasn't) the games only issue. At launch, the game was unplayable until you rebooted the console, and even then the language would sporadically change from your default setting. Thankfully, Funselektor have ironed this bug out, but it was an interesting one neither less. The only other ongoing issue is that the game suffers from the odd texture popup. Considering I'm experiencing the game on the flagship Xbox Series X, this is an issue that shouldn't be occurring.
The Highlights
At the end of the day despite its issues, Art of Rally is still a fun game. At its heart is a competent racer that doesn't take its self too seriously. It's a great arcade racer that offers some gorgeous visuals and some unique – yet familiar – vehicle designs. Aside from racing, the free roam mode offers a unique way to play and is certainly something that more games should take advantage of.
Rapid Reviews Rating
4 out of 5
4
Art of Rally is out now and can be purchased from the Microsoft Store by clicking here.