4K
,
4K HDR
,
AAA
,
Adventure
,
Co-op
,
Fantasy
,
First Person Shooter
,
First-Party
,
Game
,
Gaming
,
Looter
,
Microsoft
,
Multiplayer
,
New
,
New Release
,
Next-Gen
,
Rapid Reviews
,
Reviews
,
Role-Playing Game
,
RPG
,
Series S
,
Series X
,
Tabletop Game
,
Xbox
,
Xbox One
,
Xbox Series S
,
Xbox Series X
Tiny Tina's Wonderlands Review
Reading Time:
6
minutes
Fast Facts
Tiny Tina's Wonderlands

Developer: Gearbox Software
Publisher: 2K
Website: https://playwonderlands.2k.com/buy/?utm_source=youtube&utm_medium=paid&utm_campaign=14528169279
Genre(s): RPG, First-person shooter
Platform: Xbox Series X (also available on Xbox One, Xbox Series S, Playstation 4, Playstation 5, PC)
Age Rating: PEGI 16
Release Date: 25/03/2022
Price: £59.99

A code was provided for review purposes
Borderlands has been a much-loved series for many years, since the original released in 2009. It went on to release a further 3 games across many platforms, all with very similar gameplay mechanics because fans adored the looter-shooter dynamic. If it's not broke, don't fix it, right? Well, Tiny Tina's Wonderlands is upon us and it has brought a whole host of new features to my favourite game series. Let's get into what they are.
HUZZAH! Tiny Tina Is Back Baybay!
Tiny Tina's Wonderlands is a spin-off to the first-person looter-shooter game Borderlands, set in the same world. The difference? You are playing a game of a Dungeons & Dragons type game created by Tina herself known as Bunkers and Badasses – a tabletop fantasy RPG game.
Bunkers and Badasses is played by three characters; Valentine (voiced by Andy Samberg), Frette, and you – the newbie. As you might have guessed, Tiny Tina is your fabulous DM (Dungeon Master), creating all the scenarios you will be facing. You, the newbie, have been named as the stories Fatemaker, a hero, if you will. And you have been assigned with the huge task of defeating the Dragon Lord, the game's big bad. The Dragon Lord has been causing havoc on the town of Brighthoof for far too long, and the recent beheading of Queen Butt Stallion (very, very sad) is just the last straw. He must be stopped – in true Borderlands fashion.
The story in Tiny Tina's Wonderlands is highly entertaining, and if you have played any game in the Borderlands series previously, then you will know exactly what to expect. Humorous, silly and crazy – that's exactly what you can expect. You will come across some incredible side quests too. I completed a mission that required me to collect various puppet parts, enter inside a huge whale carcass and then that puppet turned into a real boy. Yes, really. So make sure you take on everything you can to get the best experience.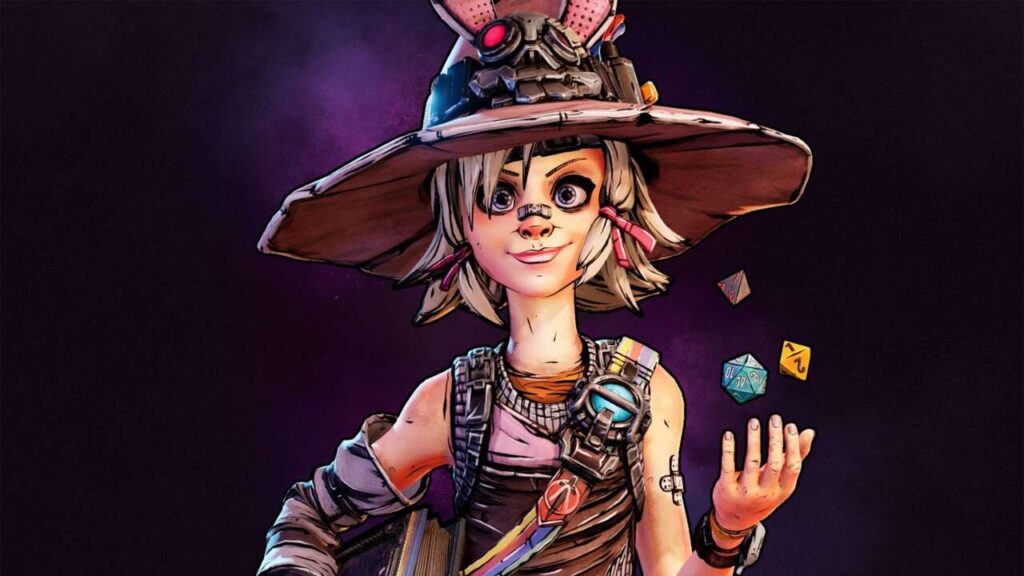 Roll Your Hero
For the first time in a Borderlands game, Tiny Tina's Wonderlands features your very own character creator, allowing you to make your perfect B&B hero as apposed to having to select one. It's quite an extensive character creator, allowing you to not only make it to tailor your play-style, but to suit how you want to look too.
You start off by choosing your class from a choice of 6; Brr-zerker, Clawbringer, Graveborn, Spellshot, Spore Warden and finally, the Stabbomancer. They all differ in abilities and they are all suited to a different play-style. If you want to focus more on magic use then Spellshot is probably for you, if you prefer a Berserker class then (and no surprise here) choose the Brr-zerker. Once you choose this, it can't be changed at a later time but you will eventually be able to choose a second class for your character, giving you greater control of the character you want.
After choosing your class you will then be able to choose what your character looks like from quite a few options. Change the size of your character, what kind of hairstyle you would like, what make-up they were, what colour eyes you have along with any face tattoos you might have. Among other things. You can also engage the slider overdrive so there are no limits to how you look – you can make it as ridiculous as you like. Don't worry though, these options can be changed at any time in the game and you can even unlock a ton more stuff to customise your character with.
After making your character look just the way you want it to, you can then choose their personality which will determine how they react to certain situations, how they talk to others or even how they taunt enemies. You can choose from a select few options; Gallant, Clever, Gruff and Strange. Each one has two different options to select. These will alter your character voice, also. You will then be able to choose your dramatic backsotry as well as your armour pattern and colour from a few options, which you will be able to unlock a plentiful amount when playing.
Like any good old RPG game, you have a bunch of stats which you can add points into in order to gain certain stat boosts. The categories are as follows; Strength, Dexterity, Intelligence, Wisdom, Constitution and Attunement. You will get 10 points straight off the bat to put into whichever category you would like, but it's best to but them into what you're characters specialities are.
The character creation as a whole is a great process and I spent far too much time on it…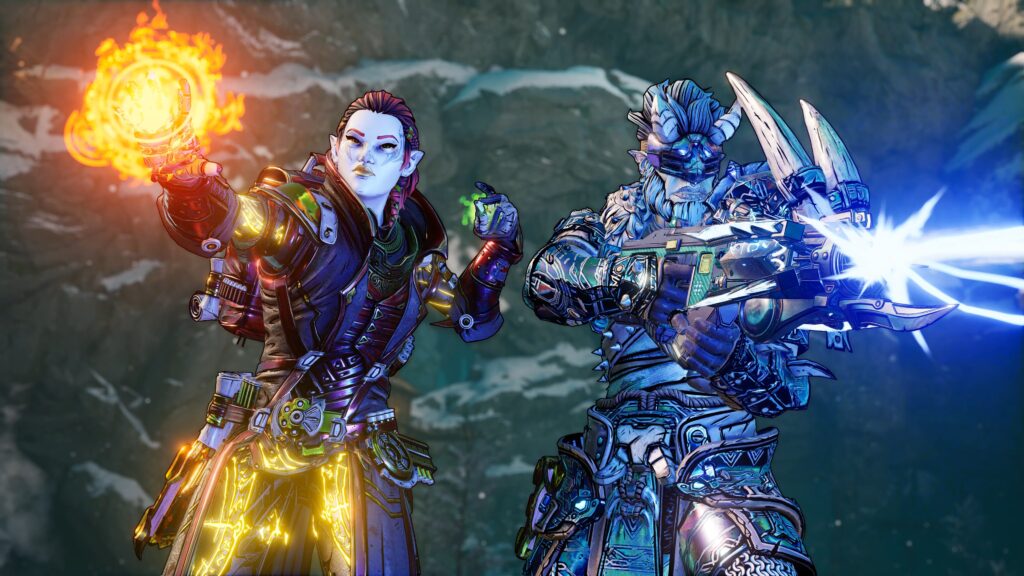 Melee? In Borderlands?
There is a few differences in Tiny Tina's Wonderlands that you won't see present in Borderlands and one of the biggest things is the implementation of melee weapons. Because, what's an RPG game without the ability to swing a sword?
Just like any other weapon in the game, melee weapons all have their own stats, styles and abilities and as much as I like having them in the game, they're not really that useful. You can't switch to your melee weapon and use it like you would your gun. Instead, you can simply click in the right stick on your controller to do a melee attack – and that's it. There's no real weight to it and it doesn't seem needed. It's the same feeling as punching in Borderlands.
As well as the new melee weapons, Wonderlands has added the use of various spells into the game which have basically replaced the 'grenade' slot in the Borderlands games. These are an extremely cool addition and, again, they all have their own stats and styles. There's some spells that launch fire underneath enemies feet when you click your fingers, whereas other will see your character shoot lightning from a wand. The variety available here is amazing.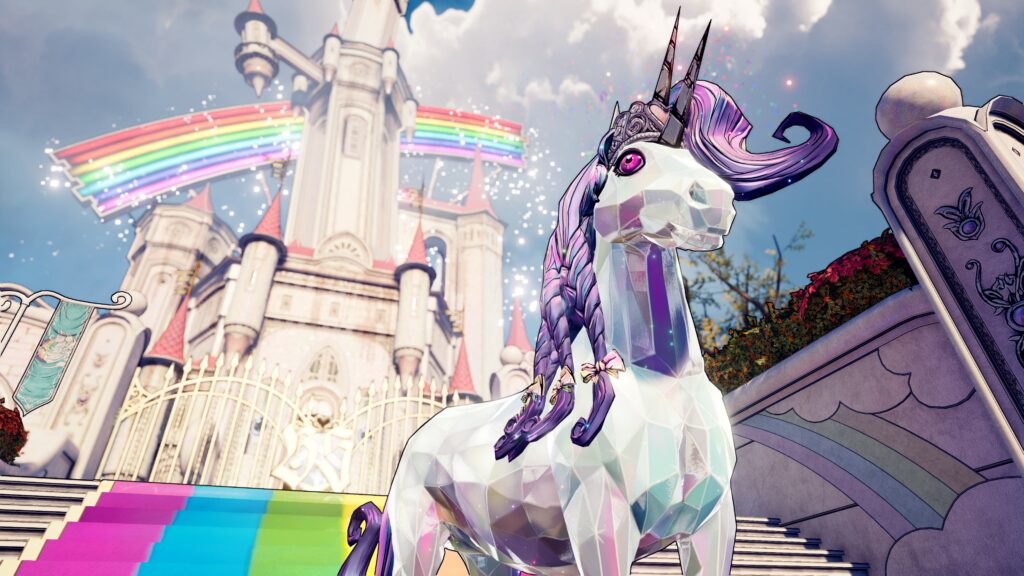 Welcome To The Overworld
Perhaps the biggest change in Tiny Tina's Wonderlands is the addition of the Overworld, essentially your world in table-top form. A third-person view of the Wonderlands, complete with trees, mountains, bottle tops and even the occasional cheese puff. This is what you will use to travel between various areas and there are many side quests and loot to find while you're out here too.
You will encounter dungeons, encampments, random encounters and even shrines that once you collect all the pieces for will grant you with a neat bonus. You will also be able to find some D20 dice dotted around here which will grant you with a random number that will up your 'loot luck' bonus, as well as also finding various D20 dotted around the areas you visit in-game that will reward you with more loot.
Your loot luck bonus in the Wonderlands is a cool little feature. Collecting various items and buffs will give you a loot luck number, the higher the number, the better the loot you're going to be finding. Well, this is how it's supposed to work, but I didn't often find this to be the case. Even when my loot luck number was high, I still found myself to be getting pretty average loot (like green or even white rarity level) whilst my co-op partner who had a lesser loot luck number was finding legendary items. It didn't make sense to me.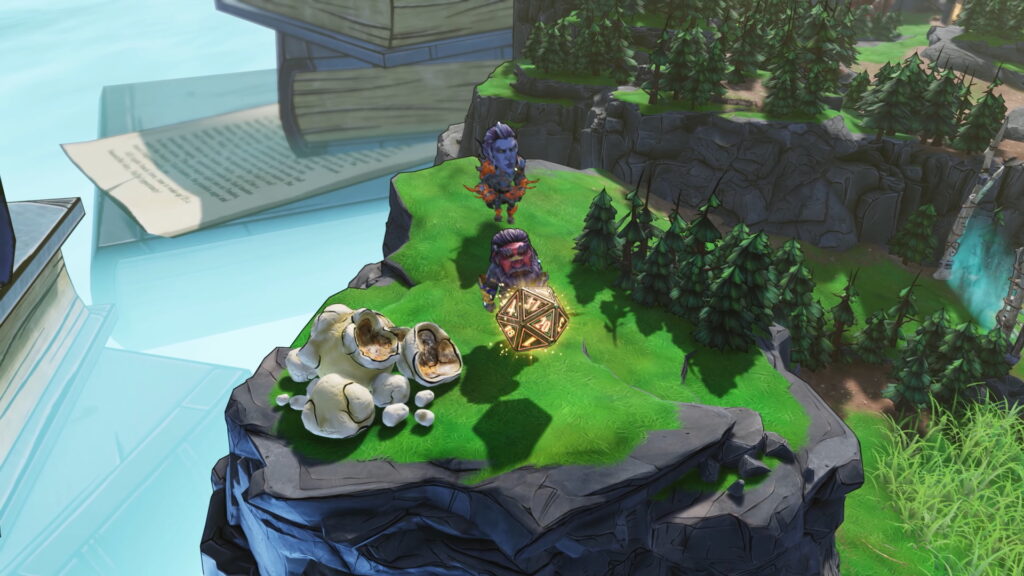 Summary
Overall, Tiny Tina's Wonderlands is a wonderful spin-off to the Borderlands series, offering many exciting new gameplay features for players to sink their time into. The D&D element is fantastic for fans of table-top games, and Tiny Tina is a fantastic DM – the way that items and characters will appear and change in front of you as Tina tells the story is brilliant. There are some things that I still would have liked to see in this one, like the 'Duel' feature that is present in all Borderlands games but that's not too much of an issue. This is an amazing RPG/first-person looter-shooter that any fan of the series will absolutely adore. It doesn't come without its few issues, but that's nothing that a quick update won't fix. Don't just take my word for it, play it.
Rapid Reviews Rating
4.5 out of 5
4.5
You can purchase Tiny Tina's Wonderlands in the Microsoft Store.