Action
,
Adventure
,
Casual
,
Co-op
,
Exploration
,
Game
,
Gaming
,
HD
,
Indie Dev
,
Multiplayer
,
New
,
New Release
,
Next-Gen
,
Other
,
Platformer
,
PlayStation 4
,
PlayStation 5
,
PS4
,
PS5
,
Rapid Reviews
,
Reviews
,
Sci-Fi
,
Series S
,
Series X
,
Shooter
,
Xbox One
,
Xbox Series S
,
Xbox Series X
Star Trek Prodigy: Supernova Review
Reading Time:
5
minutes
Fast Facts
Star Trek Prodigy: Supernova

Developer: Tessera Studios
Publisher: Outright Games
Website: https://outrightgames.com/games/star-trek-prodigy-supernova
Genre(s): Action, Adventure
Platform: Xbox Series X|S (Version Reviewed), Xbox One, PS5, PS4, PC, Nintendo Switch
Age Rating: PEGI 7
Release Date: 14/10/22
Price: £44.99

A code was provided for review purposes
Introduction
Star Trek as a franchise has gone through quite the revival over the last few years. With shows like 'Star Trek: Picard', 'Star Trek: Discovery', and 'Star Trek: Lower Decks' to entertain adult "Trekkies". Not content with leaving Star Trek to the mature crowd, Alex Kurzman has delivered his extended universe to the younger generation too.
'Star Trek Prodigy' is an animated series that's shown on Nickelodeon and has been created by television producers Dan and Kevin Hageman. Set five years after the events of 'Star Trek Voyager, Prodigy follows a group of young aliens who stumble upon the abandoned USS Protostar.
While the television show has stayed true to Gene Roddenberry's original vision. How well does all-ages 'Trek' translate to a video game?
That being said, does Star Trek Prodigy: Supernova boldly go? Or does it suffer a catastrophic warp core breach? Find out in this Rapid Reviews review…
All-Ages Star Trek
What first attracted me to reviewing Star Trek Prodigy: Supernova was the fact it was another Star Trek game. I've lost hundreds of hours to the MMO 'Star Trek Online', and well… I'm a bit of a Trekkie too. Yet the existence of Star Trek Prodigy completely alluded to me. So, you could imagine my surprise when I discovered that there's an animated series that's not 'Lower Decks'.
On the surface, Star Trek Prodigy: Supernova offers that quintessential 'Trek experience. As the USS Protostar carries its inexperienced crew back to the Alpha Quadrant, its sensors detect an unknown planetary system with an unusual star. Upon closer inspection, the crew discover that the star is actually a Dyson Sphere and that it's soon to go supernova. To make matters worse, the Protostar is soon disabled and sent crashing towards one of the system's planets. With time running out, you'll have to work together to rescue the crew, repair the Protostar, and stop a villain who wants to rewrite history.
Away Team
Across the game's multiple planet-hopping missions, you'll control Dal R'El (Dal) and Gwyndala (Gwen). Aided by the Protostar's A.I. – who happens to be modelled after Katherine Janeway (yes really!) – the duo will be rescuing the rest of the crew, whilst uncovering the wider plot. It's all told via a simple gameplay structure that's packed full of combat, exploring, puzzle-solving, and dialogue.
Taking inspiration from the older LEGO Star Wars titles, Star Trek Prodigy: Supernova follows the same basic gameplay loop. Played out via a fixed camera view, you'll traverse the landscape clearing each section along the way. There's nothing too complex and there's a great balance of adventure, combat, and puzzles.
While levels are linear, they do offer a few collectables to find. Often located just off the guided path, collecting these extras goes towards unlocking models and decorations within Dal's ready room. They're not essential to the gameplay loop, but do offer a few Easter eggs for older gamers.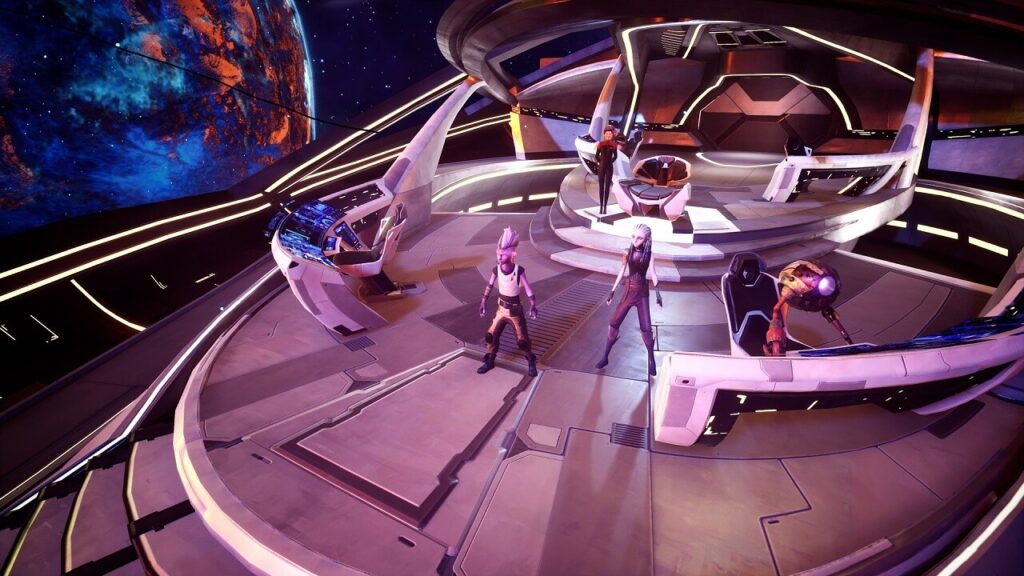 Red Alert!
Star Trek Prodigy: Supernova isn't just about finding your friends, and playing "space scientist" – there's combat too! At various points, you'll come across the robotic forces of the Diviner. These enemies come in various shapes and sizes, with each having a certain combat trait. For example, one drone comes equipped with a barbed tail and as such gets up close. Meanwhile, another one explodes once it's been destroyed. There's nothing too taxing when it comes to fighting these machines, however, they can swarm your character pretty quickly.
Dal and Gwen are also similarly armed, with each having access to a ranged, and melee attack. Much like the drones, the two protagonists are also proficient in a combat style – Dal is more ranged-based, while Gwen is better at melee. While the game does cater for couch co-op, a solo player can switch between the two at will. So you'll never really be at a disadvantage.
If the unfortunate does happen, the character goes into a "down but not out" state. All that's then required is for the surviving player to pick them up. If both characters fall, you'll respawn at the previous checkpoint. Again, it's nothing too taxing and the game is pretty generous with its checkpoints and auto-save function.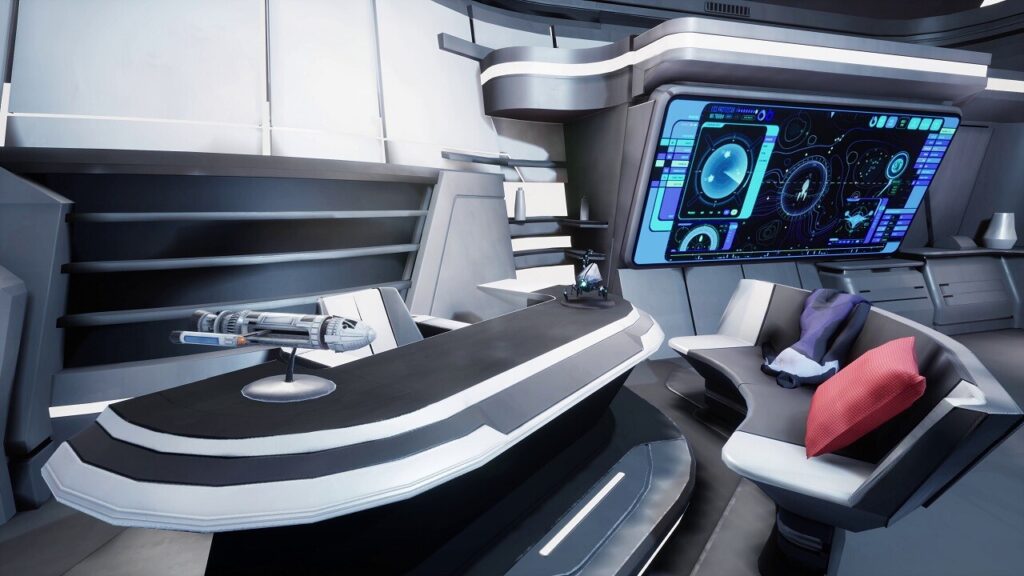 Incoming Hail…
Fans of Star Trek Prodigy will be pleased to hear some familiar voices with the show's cast reprising their roles. This also means that Kate Mulgrew is back as the formidable Captain Janeway. While she's relegated to a supporting role, it's great to have more adventures within the Voyager timeline.
Each actor plays their part well, and it's certainly the game's strongest point. That being said, this work is often overlooked by a poor sound mix that can see the vocal work drown everything else out.
Resistance Is Futile!
When it comes to performance, Star Trek Prodigy: Supernova sits firmly in the middle. While the game takes advantage of the enhancements given by the Xbox Series X|S consoles, it looks like a last-gen title. The characters sort of look like their on-screen counterparts, but they could look a lot better. Meanwhile, levels are boxed in with a small draw distance and the same reused textures. There's also a moment early in the game where Dal and Gwen seem to be larger than the Protostar!
That being said the Xbox Series X plays the game with blissful ease. As such you'll get a consistent 60 frames per second, and near-instant loading times.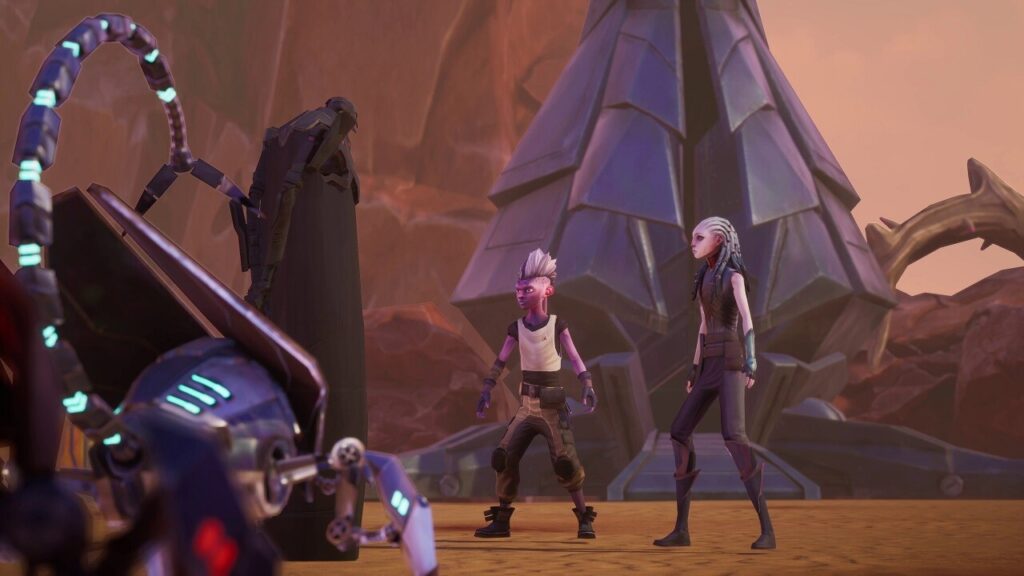 Captain's Log
All in all, Star Trek Prodigy: Supernova delivers a decent Star Trek adventure that's tailored for younger fans. It's a slice-of-action adventure that's been blended into an easy, accessible title with simple controls. While there is no galactic war or any gritty J.J. Abrams scenes for older players. You instead get a story full of discovery and hope, that's perfect for an afternoon of couch co-op – and a great introduction to the wider Star Trek franchise.
4 out of 5
4
Star Trek Prodigy: Supernova is out now and can be purchased via the Microsoft Store by clicking here.