18+
,
Adult
,
Adventure
,
Game
,
Game Pass
,
Gaming
,
Gore
,
Horror
,
Indie
,
Puzzle
,
Rapid Reviews
,
Reviews
,
Series X
,
Xbox
,
Xbox Series X
Scorn Review
Reading Time:
5
minutes
Fast Facts
Scorn

Developer: Ebb Software
Publisher: Kepler Interactive
Website: https://scorn-game.com/
Genre(s): Horror, puzzle, indie, adventure
Platform: Xbox Series X (also available on PC – Windows)
Age Rating: PEGI 18
Release Date: 14/10/2022
Price: £33.49


An Anticipated Release
Earlier this year, in the Xbox and Bethesda showcase, Scorn was announced as one of the games that would be available to play day one on Game Pass. I used the feature that allows you to download in advance so that I was ready to play on Friday. Survival horror is my all-time favourite genre, so when Game Pass delivers a title even remotely close to this, I'm there sniffing around to see if it's my kind of gig. From the trailer, Scorn seemed like it would fit right in with the darker side of my gaming tastes. Read my Rapid Review to find out if it delivered on its promise.
Please note that due to the age rating of this game – PEGI 18 – the screenshots in this review may be unsuitable for a younger audience. Some older viewers may also find them disturbing.
A Bit Puzzling
My overall first impressions of the game weren't great to be honest. Whilst I immediately loved the desolate atmosphere created by the gruesome and – to my mind – Alien-esque locales (I'm referring to Ridley Scott's Alien of course), I didn't enjoy solving the first puzzle as much as the rest. I found myself wandering from room to room and a little bemused by the number of interactions available. Once I had finally settled on where I thought I needed to focus my attention, I felt like the game's inertia had run out.
This is the only part of the game where I resorted to checking a walkthrough to see that I was in the right place and doing the right thing. It's rare that I'll use a walkthrough, this shows how discouraged I was feeling. Looking back, if I'd been a little more patient, I think that I could have solved this puzzle without looking anything up. Yet all the wandering around had made me feel quite frustrated and I wanted to get things moving again.
Many gamers might feel the same at this point, so I think this first puzzle performs the role of an acid test for players. If you get through that, you're probably going to stick around for the rest of the ride. In contrast to the first puzzle, I felt that the game kept its flow through the subsequent puzzles. Yes, I spent time wandering around not quite sure where to go, but it felt far more purposeful than the beginning. If you're being a stickler, you could say that the first puzzle gives you taste for the style of the game. However, in my opinion, that first puzzle should draw you in, not repel you.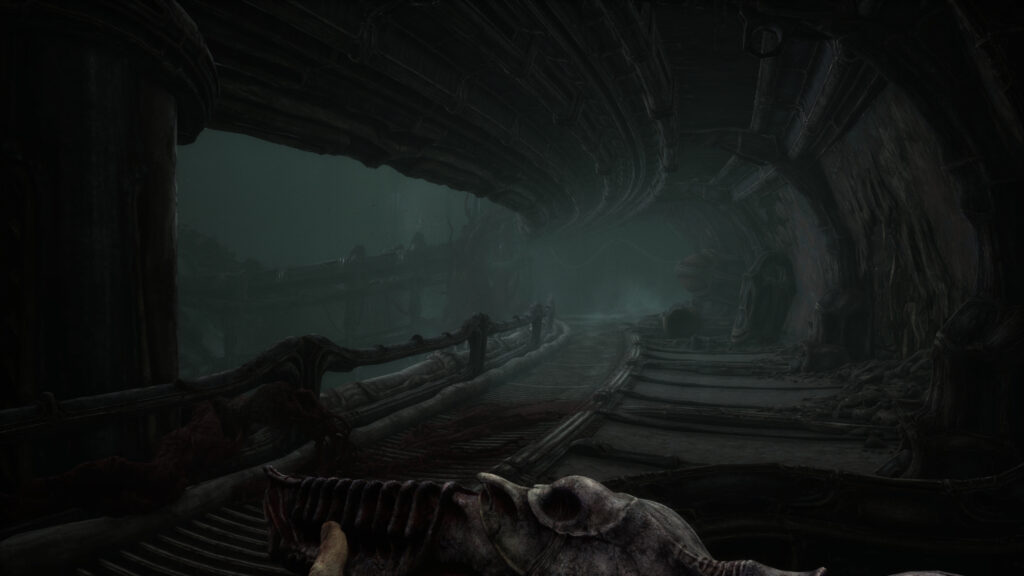 Visuals, Sound and… Guns?
The ambience created by the artwork and music is a saving grace for Scorn – the combat certainly isn't. Let's talk about the atmosphere of the game first. If, like me, you love a barren, apocalyptic feel to a videogame, this aspect of the title will float your boat. I can't fault the developers for how they matched music and atmospheric sounds to gameplay as you wander through deserted wastelands or forbidding underground tunnels. This facet of Scorn's design feels like a masterpiece.
There isn't much colour palette to speak of, it's dull and dreary and largely reminded me of blood, bone, and rotting flesh. I'd say this is on purpose as it adds to the hopelessness you feel for the character. In addition, the music rises with an incredible intensity at just the right moments. I played with headphones on for the entire experience and often felt emotion catching in my chest as magnificent structures came into view ahead, with just the right melancholy, climactic musical accompaniment.
The weapons, whilst visually macabre as you'd expect, left a lot to be desired in functionality. It was cumbersome to change between them, to reload them, to use them. The basic weapon? Don't even get me started. Where possible, I made it my mission to carefully eke out ammo for the other guns so that I didn't have to use this one. Thankfully, in some places you could sneak past enemies without having to engage in the painful combat.
A Plot(?) with Obscene Gore
There's a certain level of grisly throughout the whole of Scorn. However, at some points the game gets truly hideous. For some people this might just be too much. If you're normally quite squeamish or easily shocked, I'd exercise caution. I didn't find myself hiding behind my hands but there were a few choice moments where I uttered a "What the @£&%?!" out loud to myself. There are scenes you witness and interactions you must initiate that are quite repulsive. So, if you do play, prepare yourself.
I think Scorn is one of those games where you're supposed to draw your own conclusions about the story. If not, I missed a trick. Not wanting to spoil the game for others, I'm not going to share too much about my deductions here. What I will say is that if you're looking for a game that feeds you a clear plotline, this isn't it. I like this kind of experience and I enjoyed how it allowed me to imagine what could possibly have happened to put this character here, going through this torment. Others might not feel the same.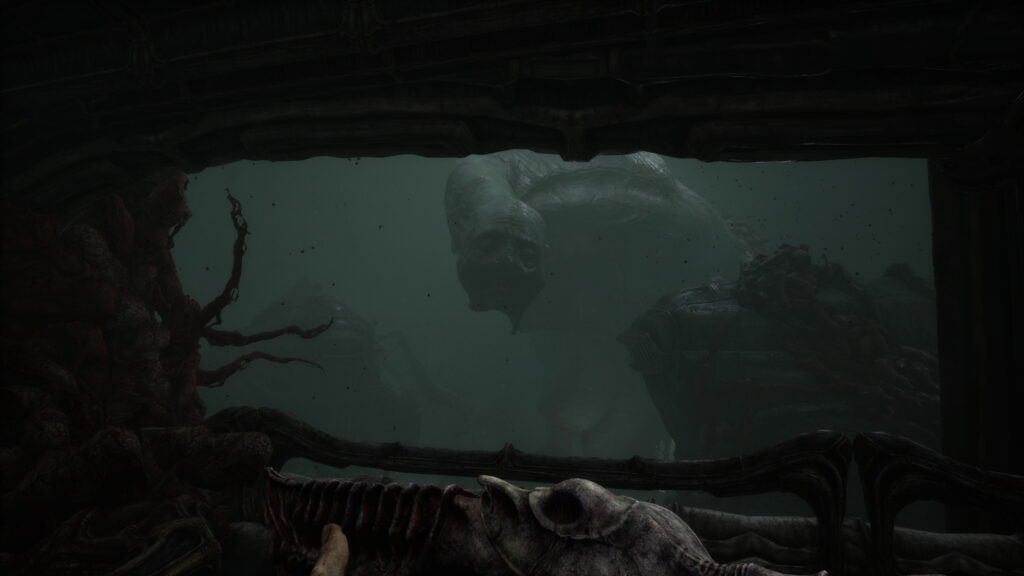 If It Wasn't on Game Pass…
I'm glad that I was able to play Scorn via my subscription to Game Pass. In this respect I think it's a great game to have on this service. However, I couldn't see myself spending £33.49 to buy it if it wasn't on there. It's worth a purchase in a sale but the clunky combat, rocky intro and relatively short length of the game make it hard for me to recommend spending the money to buy it. Although, if you've got Game Pass and you're up for solving some grisly puzzles in bleak and disturbing locales, this one's for you.
Rapid Reviews Rating


3.5 out of 5
You can buy Scorn in the Microsoft Store