Game
,
Gaming
,
Indie
,
New
,
New Release
,
Oculus
,
Oculus Quest
,
Rapid Reviews
,
Reviews
,
Sports
,
Tennis
,
VR
Tennis League VR Review
Reading Time:
4
minutes
Fast Facts
Tennis League VR

Developer: AnotheReality
Publisher: AnotheReality
Website: http://tennisleaguevr.com/
Genre(s): VR, Sports SIm
Platform: Oculus Quest 2
Age Rating: PEGI3
Release Date: 20/04/2023
Price: £14.99

A code was provided for review purposes
15 – Love
I have always enjoyed sports and, with it, the video game counterparts that try to emulate the intense competition and rivalry I enjoy so much. From PGA Tour to Hot Shots golf and Wii Sports to Rockstars Table Tennis, I have played many sports simulations over the years, but this is my first Quest 2 sports game review. Welcome to Tennis League VR.
In the virtual reality take on the world-known racket-based sport, you can work your way through career mode, play some online matches, and even do some tower defence mini-game shenanigans, which I enjoyed far more than I should. Most of my playtime though was played in career mode, working your way through varying opponents and locations. Watching my skills, both in-game and in-person, improve was addictive.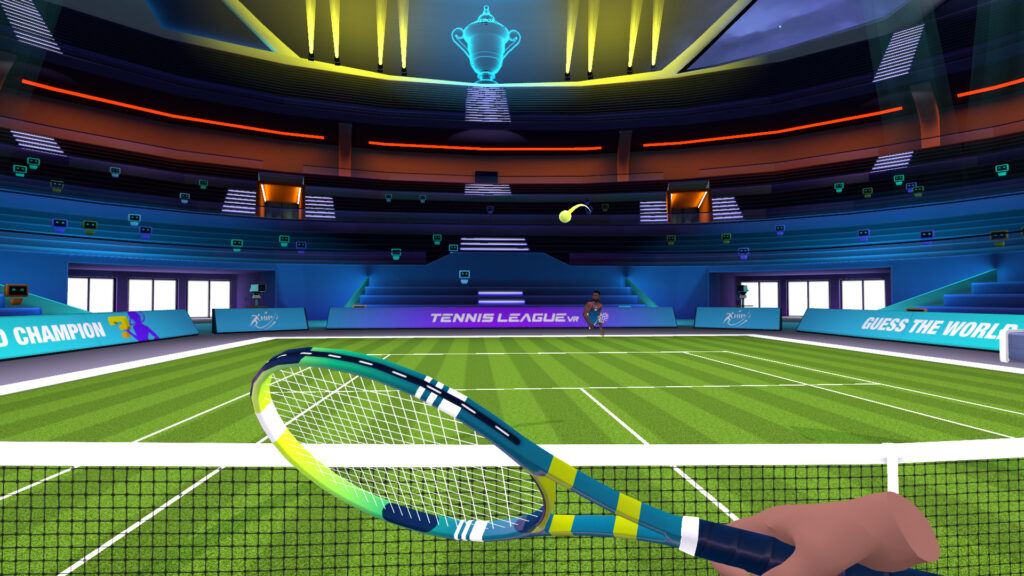 You Get Out What You Put In
I must admit, I found it hard going early doors. Working out how hard to hit shots and especially serving, was not immediately natural. I got it eventually, but even for someone like me, who has played a lot of VR games and sports games, it took some work to 'git gud' as they say. The journey was a good one, though, and certainly rewarding.
The control scheme in Tennis League VR is a natural one, everything works how you think it would, and even the positioning, after an initial learning period, is very simple and functional. Your movement uses teleportation, and a simple two-button control scheme will place you in the trajectory of the ball, either at the net or baseline, depending on which button you press.
I do like a bit of serve-and-volley, so after watching several shots fly past me at the net and being a bit more selective with my net approaches, I was diving around like a young John McEnroe. Playing Tennis in VR feels great, especially when you're pulling off great passing shots and finishes. I just hope players will get over the initial learning period and put the effort in to learn the game. They will be rewarded with a fun take on a sport that works well in virtual reality and get some exercise in the process.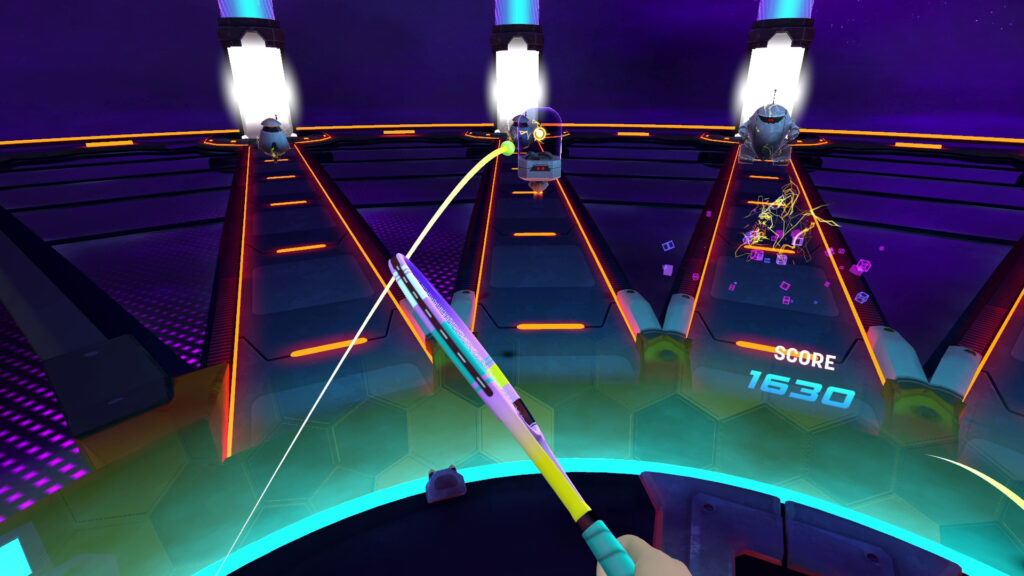 A Good Workout
Back to the Droid Rush arcade-come tower defence mode. It is very hard work, frantic and really does get you burning those calories. I also found it, along with the quite robust training mode, a good way to hone your skills and shots. Included in the online modes is an 8-player spectator mode which I think would really add social dynamic to online matches. Although I never tried it, if you have friends, I think it could be fun. Tennis with heckling? Count me in!
Having touched briefly on the control scheme, which is very good, I will say the tracking worked flawlessly and I had no issues with the technical side of the game. I think perhaps the tennis ball felt a bit light compared to what I think a real tennis ball would feel, but that's just nitpicking. Early on, I was hitting people's windows and blasting it out of bounds all the time, but my body quickly adjusted.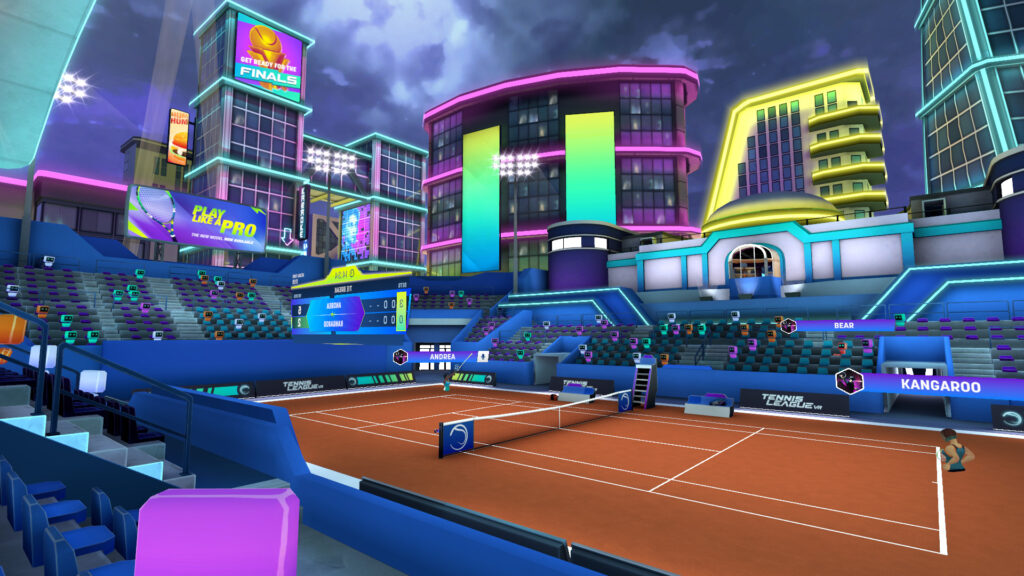 A Mixed Presentation
On the presentation side of things, I thought Tennis League VR was a bright, well-presented game with varied locations. There is not a lot you can do with games like this, really, but the UI, the models and the whole presentation were crisp, well-rendered and attractive. As far as VR sports games go, this is one of the better ones, both visually and mechanically, that I have tried.
The sound work, however, was probably the area I was least impressed with. Repetitive music, a lack of any sort of soundtrack and very wooden sound effects really start to grate on you after a while. Even the voice of the umpire got repetitive very quickly. Don't get me wrong, this is no major issue, I just think a bit of work in this area would have gone a long way. You can ignore it most of the time to be fair.
Worth Your Time and Effort
So overall, I really enjoyed Tennis League VR. If you can give it the effort required to get over the initial adjustment period and steep learning curve, you will find a rewarding, fun Tennis simulation. It looks good, plays very well and controls beautifully. Just don't let that annoying umpire and lacking sound presentation get under your skin. Right, I am off to serve some aces in VR, laters tennis fans!
Rapid Reviews Rating


3.5 out of 5
If you want to buy Tennis League VR on the Quest 2, you can here.