iWALK PowerSquid Power Bank Review
Reading Time:
3
minutes
Fast Specs
iWALK PowerSquid

9000mAh Battery
Current Capacity Digital Display
Multiple Integrated Outputs
Small and Convenient
Supports 18W Fast Charging
Great Build Quality
Comes in Black, White and Pink
Website: https://www.amazon.co.uk
RRP: £34.99

The product was provided for review purposes
That is Certainly Packaging
When I first opened up my delivery, I was greeted by this rather unassuming white box, and that's all there was to it, really. A simple bit of packaging with a bit of graphical design left me… concerned about the product itself (to be clear, I was wrong, but more on that later).
It was obvious to me that the item had certainly experienced some impacts before it got to me, but the box actually held up really well and did a fantastic job of keeping the PowerSquid protected (albeit a little dusty inside).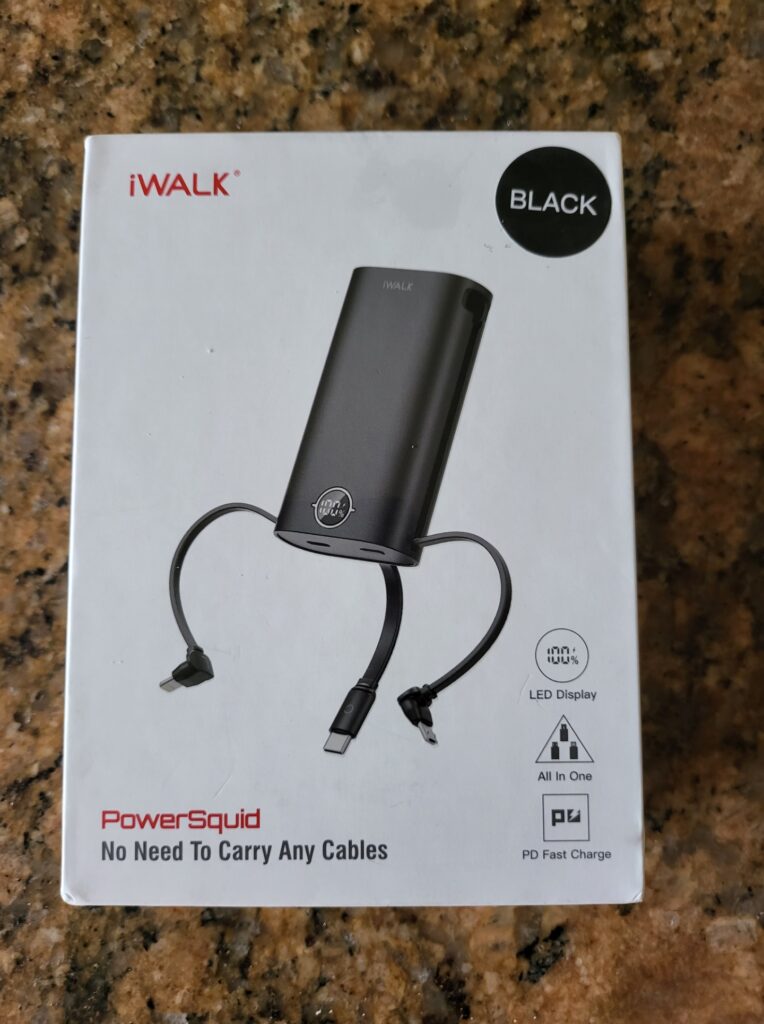 Looking Good, iWALK PowerSquid!
The iWALK PowerSquid stands out with its innovative and eye-catching design. Instead of a traditional 'provide your own cables' approach, it features a unique squid-like shape with multiple flexible arms, each equipped with a different charging connector in addition to the USB-A port on the top. The variety of colours and its compact size make it visually appealing and non-intrusive to look at. The design allows for flexible positioning of devices, minimizing clutter and providing a unique aesthetic.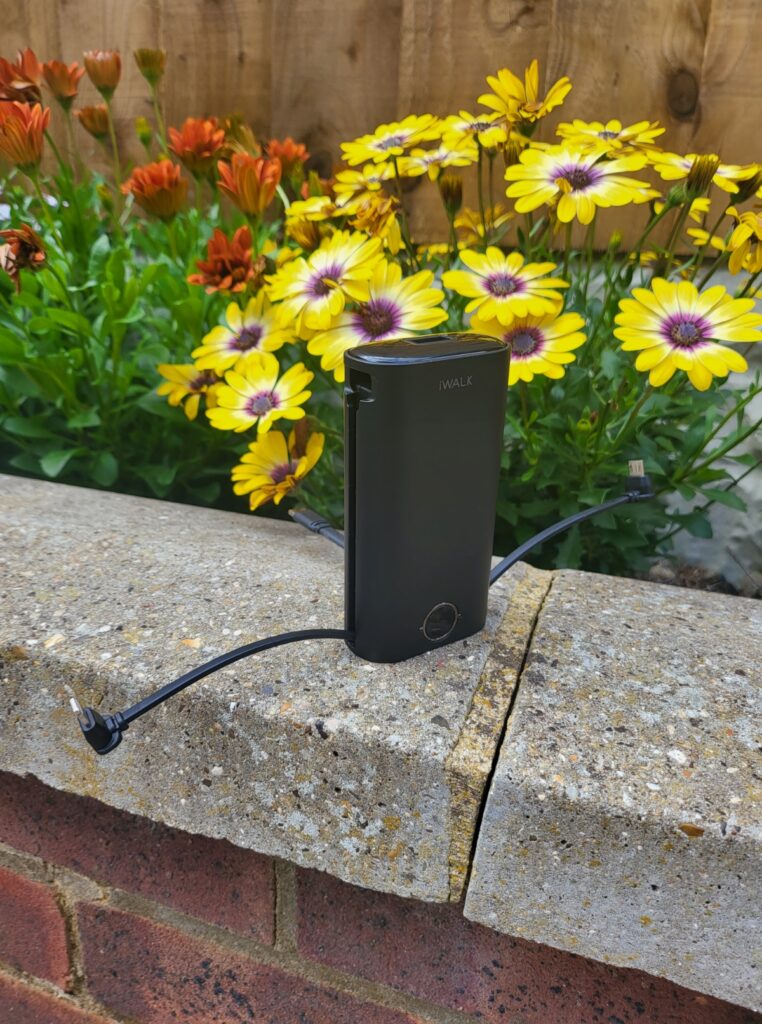 How Convenient
Convenience is where the iWALK PowerSquid truly shines. The flexible arms can be positioned in various angles, allowing for easy access to a variety of devices simultaneously, regardless of the port's location. The built-in selection of connectors eliminates the frustration of carrying around multiple cables, making it effortless to plug in and unplug devices. The compact size and lightweight nature of the PowerSquid also make it travel-friendly, perfect for those on the go.
As someone who spends a lot of time travelling for work, I like to take my Motorbike as much as I can (got to make the most of the nice weather in sunny England). However, I don't often have places with enough power outlets for me to connect all my bits and bobs to. The PowerSquid has allowed me to lighten the load and also allows me to recharge things like my phone and comms systems in a pinch at the roadside wall within a single charge! Now, that's a win in my books.
Let's Talk about the Pros and Cons
As I see it, the PowerSquid has plenty more Pros than Cons, so here they are:
Versatile design with multiple flexible arms and power outlets.
Surge protection to safeguard connected devices.
Supports Fast Charging and concurrent charging.
Compact and lightweight, suitable for travel.
Visually appealing, adding a unique touch to any environment.
It has to be said, I do believe there are a few Cons to this device, but that's just me.
The length of the arms might be limiting for certain setups with widely spaced outlets.
It may not support high-power devices like large gaming consoles or appliances.
It could do with a slightly larger battery capacity.
The compact size could potentially make it easier to misplace.
What's the Scores on the Doors?
I thought this product was going to be a cheaply made powerbank with a gimmick to add to the collection, but I was wrong in so many ways. This is hands-down one of the most useful things I have ever owned. It permanently lives in my motorbike bag and has been used more times than I can count in the month that I've had it (yes, I forget to charge my phone most nights, what of it?).
Rapid Reviews Rating
4 out of 5
4
You can buy the iWALK PowerSquid Power Bank on Amazon.
If you like the look of the iWALK PowerSquid, why not check out our other tech reviews here?