4K
,
AAA
,
Accessories
,
Gadgets
,
Game
,
Game Capture
,
Gaming
,
Google
,
Google Stadia
,
Hardware Reviews
,
Indie
,
New Release
,
Premiere Edition
,
Product Reviews
,
Rapid Reviews
,
Reviews
,
Stadia
,
Stadia Pro
,
Streaming
Google Stadia Rapid Review In Progress
Reading Time:
7
minutes
I've been interested in Google Stadia ever since October 2018 when Google announced that select people would be able to stream and play through Assassin's Creed Odyssey in their Google Chrome browser.
Fast forward to February 2020, and I find myself with a Google Stadia Premiere Edition.
It's fair to say that the reception of Stadia has been lukewarm so far. This is mainly down to the fact that it has launched with minimal features and a small library of games. Although in fairness, Google has mentioned that there will be another 120 games available by the end of 2020 and that more promised features will be available soon.
Knowing this, and the fact that my internet speeds are unremarkable, I was a little apprehensive about Google Stadia.
Here's my review of Google Stadia so far.
What's in the box?
Inside the box, you get a clearly white Chromecast controller, as well as a Chromecast Ultra. The invitation code that comes with the Premiere Edition is emailed to you after you order it. This will also give you three months of Stadia Pro for free.
Clearly white, clearly alright!
The Stadia controller is great. The build quality is excellent, and it is comfortable in hand. I've used it for long gaming sessions, and it hasn't felt uncomfortable at all. It feels like a mix of the PS4 and Xbox controllers.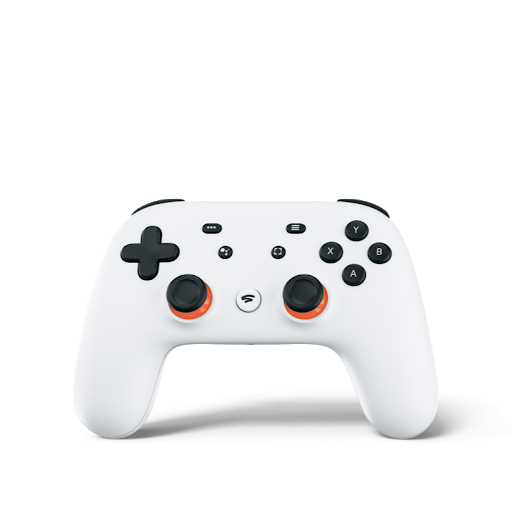 Users of the PS4 Dualshock controllers will be familiar with the shape, if a little larger, and users of the Xbox Controller will be familiar with the button layout.
The button you will use the most is the Stadia button. Tapping it will take you to the Stadia menu. From there, you will be able to see your profile, your friends, start a party, change volume, view notifications and exit the game you're currently playing. Holding the Stadia button down will give you the option to exit the game you're currently playing, turn your controller off, sign out, or shut Stadia down.
A feature of the controller that I like is the capture button. Press it once, and it will take a screenshot. Hold it down, and it will record the last 30 seconds of gameplay.
Talking of capturing, there's currently no option to do anything with the pictures and videos you've captured, other than to view them in the app. I'm sure that there will be a share feature shortly.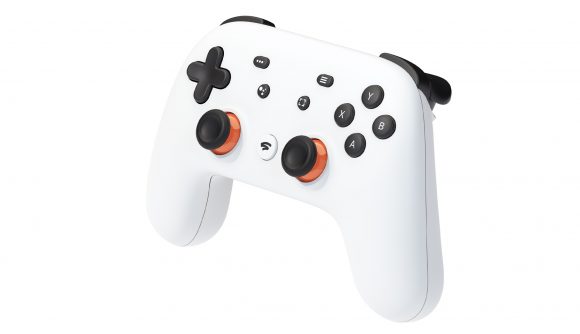 There's also a Google Assistant button, which allows you to use your voice to launch games from the Stadia home screen. I look forward to seeing the further implementation of the Google Assistant when Stadia fully launches.
The battery life of the controller is impressive. I fully charged the controller before the first use, and after using it every day for the past week, I haven't had to recharge it.
Talking of charging, the Stadia Pro Edition comes with a USB-C charger, which charges the controller fully in a couple of hours.
The Stadia controller has built-in vibration motors, and they give out a satisfying rumble.
The controller also has a 3.5 mm headphone jack and microphone. You can plug in any headset with a 3.5 mm lead.
Itchy trigger syndrome
One minor issue I do have with the controller is that the trigger buttons are very sensitive. I like to rest my hands on the trigger when playing a game. I've lost count of the number of times that I've accidentally attacked someone on Assassin's Creed because of an accidental trigger press. This is just a personal issue that I have. Other players may not experience this depending on their controller grip.
Connection conundrum
The Official Stadia site states that you need a recommended minimum Internet connection of at least 10 Mbps to be able to use Stadia.
My average wireless internet speed hovers around 42 Mbps. According to the official Stadia site, this should be enough to play in 4K resolution. It must be noted as well that you need a compatible 4K TV, a Chromecast Ultra and an active Stadia Pro subscription to play in 4K.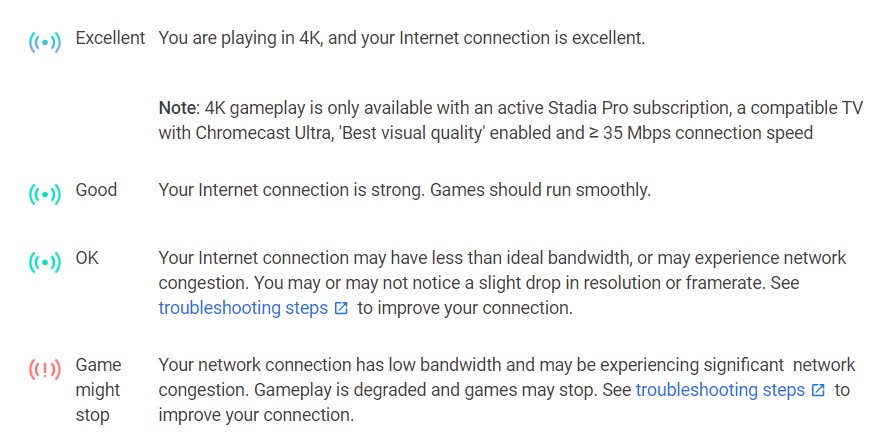 My experience so far has been mixed.
When meeting all the requirements to achieve an excellent connection, I did see an upgrade in the visuals of the games that I played. Unfortunately for me, my internet connection didn't seem to be good enough to maintain the quality.
Fortunately, my connection has been good throughout. This has allowed me to experience the games in HD (1080p), with minimal tearing and lag. I felt that it was better to trade better performance for a lower resolution.
Furthermore, I did find that turning off HDR in the Stadia app did help me to get a better gaming experience in terms of stability.
I did find that if multiple people were streaming in my house, then Stadia did struggle, and the games became very pixelated and difficult to enjoy.
The best results I had was when playing late at night when the rest of my family were asleep.
Stadia Pro
A Stadia Pro subscription will cost you £8.99 per month. Having the Pro membership allows you to stream games at 4K/60fps/HDR with 5.1 surround sound (connection dependent).
It gives you access to a growing library of games for free – as long as your Stadia Pro subscription is active. This has been a bit of a bugbear with Stadia users, as people feel forced to pay the Stadia Pro subscription or pay full price for a game that was free with a Pro membership. Stadia Pro membership also gives you discounts on games for purchase.
Stadia Base is scheduled to launch sometime this year. Gamers who don't want to pay for a Stadia Pro subscription will be able to purchase games they want individually. The service will be capped at 1080p/60fps with stereo sound.
So far, I've played GYLT, Metro Exodus, Red Dead Redemption 2, Assassin's Creed Odyssey, Tom Clancy's Ghost Recon Breakpoint, GRID, and Destiny 2. I have to say, despite some performance issues as mentioned above, I have been impressed. All of the images below were taken using the capture button on the Stadia Controller.
The Stadia App
The Stadia app allows you to view your games library, and look at captures you have taken. Other features include managing your subscription, purchasing new games, claiming Pro games, managing your friend list, changing your privacy settings and changing your data and performance settings.
From the Stadia app, you're also able to launch games to your Chromecast. If there are no Chromecasts found, or you prefer to play in a browser, the app will tell you how to start your games from Google Chrome.
Some features are missing from the app, the most glaring one being the inability to share or download your in-game captures. I'd also like to be able to launch my games on my phone – the number of phones that you can do this on at the moment is extremely limited.
I'm confident that Google is working on implementing theses features very shortly.
Here to Staydia?
Google Stadia has a lot of potential. The ability to plug in a Chromecast to any TV with an HDMI cable, and quickly get into some of your favourite games is fantastic.
Google is adding new games, and features, all of the time including the ability to view and download your in-game captures on the stadia website (at the time of writing, this feature was not available in the Stadia app).
In my opinion, if Stadia is to succeed, it needs to double down on the calibre of games and exclusive titles it offers (having games like The Division 2 joining the service with crossplay enabled is a great addition). It also needs to allow a free membership tier so that people can give Stadia a try.
Rapid Reviews Rating
I'll re-review Stadia in a couple of months after it comes out of its current soft launch.