Alarm
,
Anker
,
eufy
,
Gadgets
,
Hardware Reviews
,
Other
,
Product Reviews
,
Rapid Reviews
,
Reviews
,
Security Camera
,
Wireless Camera
EufyCam 2C by Anker Review
Reading Time:
6
minutes
Since the inception of modern technology, people have created and adapted products to suit their needs better. We've become accustomed to technology that is connected wirelessly across the globe and within reach of a single button.
Baby monitors, doorbell cameras, smart thermostats, these and so much more are in the palm of our hands now when we are miles away from the actual physical item.
Smart doorbells and video cameras are just some of the more modern and fashionable pieces of hardware around. They provide security and convenience, allowing us to step away and not worry about a parcel, see intruders (day or night), or even say bye to our kids as grandma takes them to school.
So Anker sent a smart security camera to test out. Here's everything you need to know about the EufyCam 2C.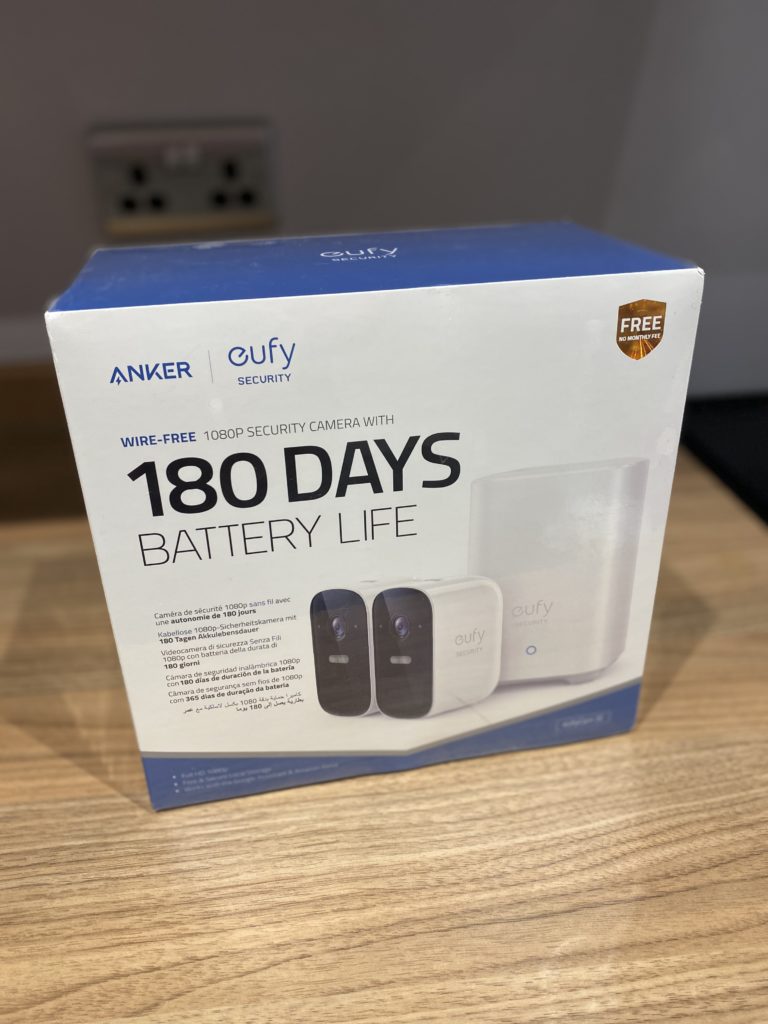 The Technical Details
The EufyCam 2C is 100% wire-free, it installs indoor and outdoor for 180 Days of battery-powered surveillance.
It has a 135-degree wide-angle lens to capture a large spanning image.
It is IP67 Rating
The footage is stored locally on a HomeBase Station. It has AES 256-bit encryption and 128-bit video encryption. Stores up to 3months of data at once.
The camera has no hidden subscription fees or data storage fees. Buy the kit, and that's it!
Facial recognition powered by built-in AI Technology
Night mode has both IR functionality and spotlight.
Human vs Object Detection
Adjustable Smart Zones
Real-Time response and Audio
Smart Device integration (Amazon Alexa, HomeKit & Google Home)
Explanation?
In the box, you get two cameras, one Hub and two mounts and cables for connecting all the devices to your wall and router. The content is well packaged and protected, mine arrived slightly worse for wear on the outside via the courier, but inside was ok.
The cameras are small and convenient enough to be inconspicuous at first but pack a loudspeaker and bright spotlight for when needed. The hub is small and very light and fits neatly next to your router. (This is the only part that requires a cable)
IP67 means 6 > Dust Tight and 7 > Should cope with immersion in a liquid of up to 1m within specific conditions for a short period of time. In simple terms, it should deal well under heavy wind and rain. Ideal for an outdoor camera then.
The cameras are wall-mounted with brackets that need to be drilled into the wall. This is the only "manual" labour side of setting these up. They come with plugs and screws but require a drill and elbow grease. This took me all of 5 minutes to set up.
Initialising
Setting these up couldn't have been any simpler.
Install the base, register an account using your smart device after scanning the QR code and assign the base-station to your account. Once activated, switch the camera on and sync. Easy.
Then as you walk around with the camera, it tells you how weak or strong the signal is to the base, which is handy if your base/router is far away from the camera.
Let's Go
Now activated, time to explore the app.
Opening the app you see a freeze-frame of the last activation. This will allow you to either jump into a live view or scroll through the events that have been captured.
It also shows your connection status, battery status and snooze option (handy if you're expecting a lot of guests or maybe increased movement via the camera).
Top left corner is the familiar three menu lines to get you into the settings; outside of the general account and help services, the most important is Family & Guests. This allows you to share access in 2 ways;
Admin > Share HomeBase (camera and sensors), Floodlight Cam, Doorbell, Full Access.
Guest > Share Cameras, Floodlight Cam, Doorbell, Live Feed, Playback and Video Clips (to me this is full access and not a guest at all). I reached out to Anker to query this, and they said they'd escalate it as a suggestion!
Events are logs of activations with time-stamps, including any facial recognition collected and also allows you to scroll to every date captured on the Base unit. I've had this since the 7th of February and have access to everything since then. The compression of the footage and local storage is very efficient.
Next are the security settings. These are customisable settings that allow you to manage how the system works, for example; simple Home/Away settings, Geofencing or Scheduled.
One of the benefits of Geofencing over scheduled is if you have family on your account for camera access, it geofences both locations based on location services and switches away only when you're both not home.
HD or SD
The cameras boast a 1080p video quality, and it's not bad at all. I've shown many people, and they have been impressed with the quality of video capture and the playback quality.
There are a few things I have observed over the last few weeks to address in the review;
Facial recognition can be hit or miss. It once detected my coat jacket, for example, but it's also a lot clearer than any footage you usually see from those news reports that look like they were shot on a potato. The app captures a zoomed-in face if it detects one in the video.
Geofencing sometimes doesn't switch over to Away unless I physically go back into the app. Background refresh and always allow for location services are on (both devices), but it still doesn't trigger until I refresh the app.
I have set the activity zone to a fixed point on my driveway after many false alerts from buses and lights, mainly at night, these must be triggering the sensors and creating an alert. I originally had it set to slightly higher up the driveway/pathway and detection sensitivity 4, but that sent it wild! (The settings go up to 7) I'm now on level 2.
Again this is something I've reached out about, but it seems there is no simple fix for this either.
Darkness falls
The nighttime mode has two options, Infrared and Spotlight.
Infrared is ideal for super dark areas, like back gardens, side paths or houses located away from a main street and light.
Spotlight is ideal for houses with a lot of light, so if you live close to a road, have a street light outside or even a secondary floodlight system. This gives you a clear and bright image.
I've found the spotlight works best for me on two levels; first, you get a clearer image with colour, and secondly, the spotlight instantly alerts whoever comes into your garden that they're being monitored.
There is no 24/7 active monitoring as standard, which is a bit of a shame, but there are settings for additional RTSP (Real-Time Streaming Protocol) and NAS storage. This is designed to balance battery life. However, the setup of these isn't simple, and I reached out to Eufy for more information, but the response was very lacklustre.
If you enable the devices to work with smart kits, the battery life takes a bit of a reduction due to the always-on nature of that software.
Conclusion
I haven't tried all the smart cameras around, but I've been pleasantly surprised with the outcome. The cameras are well built, look great and offer excellent battery life.
I've been able to catch a delivery that was delayed and divert to my neighbour, see the builder who'd arrived early (shock) and tell him I'd be there soon, even simple things like monitoring my vehicles or double-checking I locked the door as I rush out the house.
The nighttime video quality is also a higher standard than I anticipated, and the golden seal of approval is the Wife who isn't technological minded, enjoys the security aspect of this and uses it as often as I do.
Rapid Reviews Rating
You can buy the EufyCam direct from Eufy's website here or Amazon