Cat Girl Without Salad: Amuse Bouche Review
Reading Time:
5
minutes
Fast Facts
Cat Girl Without Salad: Amuse Bouche

Developer: Humble Bundle
Publisher: WayForward
Website: https://wayforward.com/games/cat-girl-without-salad-amuse-bouche/
Genre: Shoot 'Em Up
Platform: Nintendo Switch
Age Rating: PEGI 3
Release Date: 01/4/2020
Price: £6.24

A code was provided for review purposes.
Regardless of what the date is, the internet is always full to the brim with video game industry rumours and news. On one day in particular it is important to remember (more so than usual) that not everything you read online is true. April Fool's Day has given us some brilliant gags over the years from IGN's 2008 trailer for a movie based on The Legend Of Zelda, to Valve putting Half-Life 3 on the Steam store. These types of pranks always provide a great laugh but usually lead to nothing.
That is unless you're WayForward who in 2013 said that they'd be creating a game which featured aspects from every single genre and would be available on all current platforms. Turns out they weren't joking and a few years later we have been graced with Cat Girl Without Salad: Amuse-Bouche, but is this a case of taking a joke too far? Let's find out.
Look Who's Laughing Now
A game about a girl, who's also a cat, that has a slew of wacky and wild video game inspired weapons at her disposal, as she goes through the galaxy collecting bounties; standard stuff right? WayForward have gone above and beyond to break the mould on what a side-scrolling shoot 'em up should be like. In Cat Girl Without Salad: Amuse-Bouche, players take control of Kebako, a bounty hunter with a sidekick Squiddie (who's a squid, funnily enough), as she collects three bounties and explores a wonderfully fun selection of galaxies. Originally released for the PC in 2016 via the team at Humble Bundle, it has found its way to the Nintendo Switch and is ready to give you on-the-go Shoot 'em Up fun. 
Upon starting, the game players will be given the change to go on their first of three bounties. This takes place in the Radical Galaxy, which is all themed around the 80s and what was cool at the time (and arguably still is cool). Enemies continue this visual style along with names such as "Radd McGater" and "Cool Ball" (arguably a parody of the late Virgin Games' creation "Cool Spot"). Each enemy will have their name and a health bar appear in the top right corner of the display allowing players to keep track of how much damage they're doing. Although the theme does change for each of the levels, all the enemies still fit in perfectly.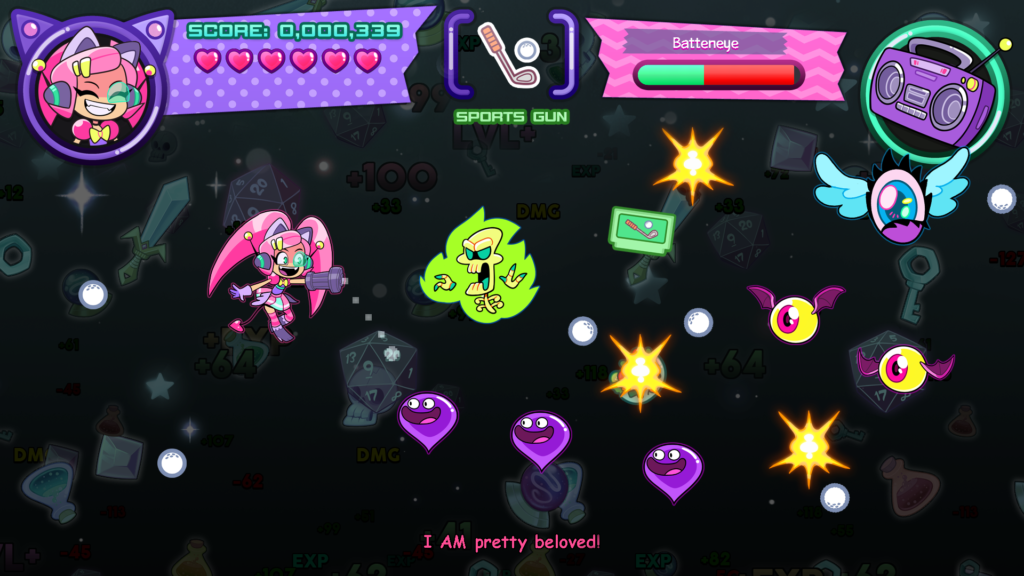 Eat Bullets Dumb Dumb!
Being a shoot 'em up, firepower is a very important aspect of this title. However, Cat Girl Without Salad does this in a very different way to any other shmup. Instead of the genre standard of increasing the number of bullets or damage, this game changes up your weapon entirely. Starting with a normal attack from the "Pea Shooter" the player will have the ability to pick up Gun Cartridges which hold weapons such as: the Arcade Gun, where the face buttons on the right-hand side now control the directions a Pac-Man styled character moves to destroy enemies; the Dance Gun, which presents a Dance Dance Revolution-style display at the bottom of the screen that music be followed to allow the gun to perform optimally; then another option is the Puzzle Gun, which will cause the player to shoot out balls in the style of Bubble Bobble meaning that if three of the same colour connects the player can deliver much more damage. Health is also recovered by picking up different food items, but remember one thing, no salad! 
The story is delivered via dialogue between Kebako and Squiddie whilst you progress through the level. At no point will you find yourself more focused on what's being said than the bullet-hell action on the screen; this is a great touch that doesn't break immersion at all but still lets you feel all the humour and story Cat Girl Without Salad: Amuse Bouche has. 
Each stage is capped off with a boss fight, these can be very tough but also very fun. Trial and error, pattern memorisation and reaction skills will all be required to beat these tough foes. Even during the boss fights the dialogue doesn't ease up for a moment, the game just exudes a pleasant and fun tone.
I Hate Salad!
Remember watching after school Cartoon Network shows? Brightly coloured scenes, just the right amount of detail to bring the characters to life and big bold shapes, this game has it all. It looks and feels like a cartoon come to life! The entire game has been created to put a smile on your face and the designers here have gone out of their way to do so. Even the different gun upgrades all pack a visual punch that doesn't stray from the game's theming.
Each galaxy has its distinct theme, and even though the assets are a lot bigger than you'll find in a normal shmup game, the screen never feels cluttered or too busy. Navigating enemies and distinguishing between which ones are the ones with more health (denoted by them being a different colour to the normal ones) is no chore whatsoever. Cat Girl Without Salad has an art-style befitting of a game with such a wacky name and concept, it's just brilliant.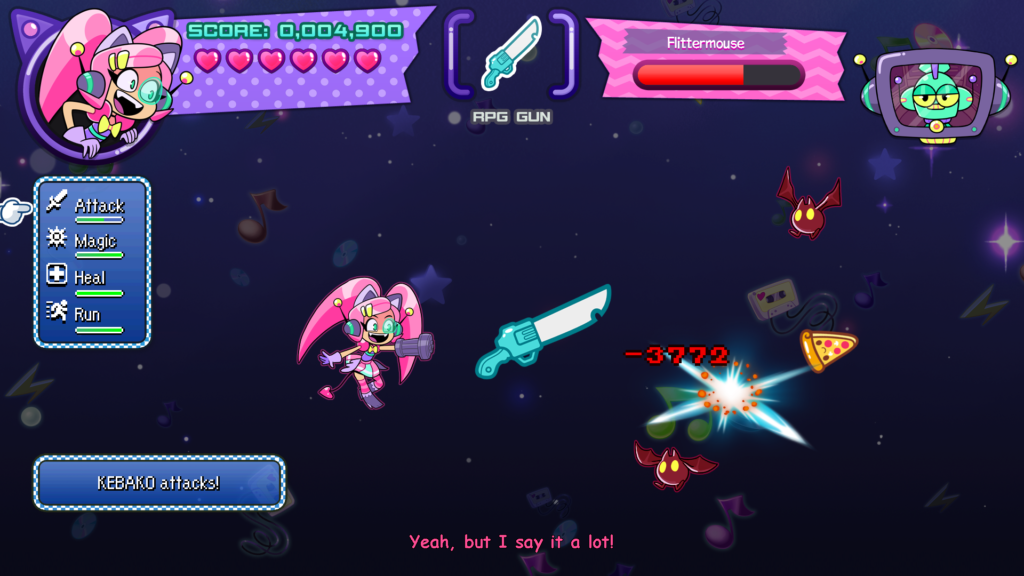 This game is also a treat for the ears. Music that will get your foot tapping and head bobbing, sound effects that don't tire and dialogue that is laugh-out-loud hilarious at times. The game's composer, Jake Kaufman, has done a stand out job of creating music that captures the lightheartedness of the game but also keeps the player fully aware they're playing a shmup. Each level has a unique soundtrack and if you can find a playlist for the music you'll be in for a treat. Weapon sound effects are brilliant too, so many little details in how each of the different guns performs are captured in the audio design of this game. There isn't a bad thing to say about the sound in this game.
Cat Girl Without Salad is a joke that doesn't fall flat. Forget what you know about shmups and get ready to embrace the craziness that WayForward has brought to the masses with this game. With a wacky art style, level and enemy design that stands out from the crowd and a soundtrack you won't want to turn off, and the only downside being its short game length, Cat Girl Without Salad is a game you need to have in your collection.
Rapid Reviews Rating

Cat Girl Without Salad – Amuse Bouche can be purchased for the Nintendo Switch at the following link: Nintendo eShop