A Month with the Garmin Forerunner 45
Reading Time:
7
minutes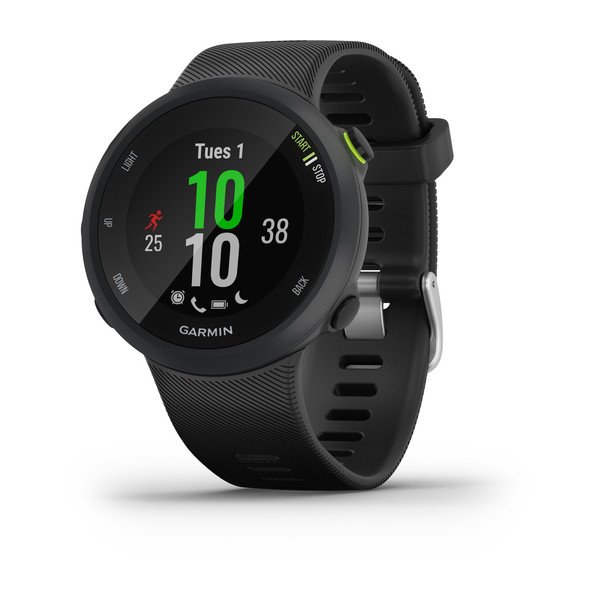 The Specs
Physical Size
Small: 39.5 x 39.5 x 11.4 mm
Fits wrists with a circumerence of 124-185 mm
Large: 42 x 42 x 11.4 mm
Fits wrists with a circumference of 129-197 mm
Display Size
1.04″ (26.3 mm) diameter
Display Resolution
208 x 208 pixels
Display Type
Sunlight-visible, transflective memory-in-pixel (MIP)
Weight
Small: 32 g
Large: 36 g
Battery Life
Smartwatch Mode: Up to 7 days; GPS mode: Up to 13 hours
Health Monitoring
Wrist-based heart rate (constant, every second), daily resting heart rate, sleep, stress and more in the Garmin Connect app
Daily Smart Features
Find my Phone, Find my Watch, calendar, weather, controls smartphone music, compatible with Garmin Connect, smart notifications
Activity Tracking Features
Step count, calories burned, intensity minutes, distance travelled
Price
£169.99
For more in depth specs click here!
The Lockdown Dilemma

The opportunity to review a Garmin Forerunner 45 piqued my interest particularly during the current circumstances. I'm sure many of us can relate with spending too much time sat at the computer. Maybe snacking more than usual, and generally being stuck inside. With lockdowns and the closure of gyms, home workouts and local exercise have had to suffice for fitness lovers.
I am not someone who exercises daily or visits the gym, but lockdown's made me feel sluggish and missing moving around besides at work. Did the Garmin Forerunner 45 fill that fitness hole and encourage me to exercise more?
The Look
First off, what is the appearance of the Forerunner 45 like and how does it feel? I received the black version of the fitness watch, which was simple but sleek, and goes with everything. There are five buttons in total around the edge of the watch face, which we'll go into more detail later. The default watch face again is simplistic but stylish, featuring a digital clock and displaying minimal features, with a splash of green to match the stopwatch button.
If you're not a fan of this display, you can go onto the Connect IQ app and download a new watch face, which are free! Here you can customise your watch to have an analog format, be as minimalist as possible or even have something fun like a Super Mario design. I wanted my watch to display more details than the default, so I found one which showed my step count alongside my step goal, my battery percentage and if I had any messages from my phone.
The silicone band also does a great job of keeping your watch secure yet comfortable. I have very small wrists so was worried it wouldn't fit, but there were plenty of holes in the strap to adjust it. It did take me a while to find the right fit, not wanting it to be too tight and make marks, but also not wanting it to be flimsy. However, I have to say I often forgot I was wearing it despite having it on day and night as it's so light too.
The Fitness Features
You're most likely not going to be buying a fitness watch based on its appearance however, so let's get into what it does. Advertised as a running watch (though I think it is a lot more than that), it wouldn't be complete without features designed for running. No matter where your priorities lie, whether it's to increase your speed or see how far you can go, they can all be tracked.
This is where the GPS comes in handy the most; using the stopwatch button on the device when you set out, the GPS tracks your distance, pace, intervals and lap times. All while it does this, information such as your steps, calories burned and heart rate will be tracked too. I had absolutely no problems using the GPS; the stopwatch ran perfectly and tracked my movement to a T.
For those who need beats while you run, you can control your music through the watch. No need to dig your phone out and try to change track, simply use the buttons on your watch to pause, or skip that one song you're not quite sure why is in your playlist.
The Garmin Forerunner 45 also has your health in mind too, tracking your sleep and stress levels, as well as the ability to track your menstrual cycle through the app. Speaking of…where is all this information available in one place?
The App
The watch is compatible with with the Garmin Connect app, which is free to download. Though you are able to cycle through some of what you have tracked via the watch, the app is where everything is compiled and easier to see. Of course, the watch is usable without it, but I really think the app allows you to get the most out your new gadget.
This isn't a review of the app, so I won't go too much into it! But essentially, it's where you can track whatever you like daily, and your weekly data will be shown in graphs. My favourite feature was seeing the map I'd taken after a walk or run via the magic of GPS! By syncing your phone with the watch, all that information will carry over. Then, you can add more manually such as your hydration levels and menstrual cycle.
I would say the app is a little overwhelming however. Upon first using it, it does teach you where things are, but not quite everything. It took me some exploring, as there are lots of menus. This includes being able to follow workouts and training plans; my favourites were the yoga 101 and Tabata Intro, strengthening my muscles and keeping me relaxed! Growing up with technology, I could work things out fairly easily. But I can't help but think others may struggle.
The Accessibility
Generally, the Forerunner 45 caters for a variety of options. The workouts listed on the app are full of both beginner and intermediate training exercises, and you can add any activity from skiing to deep sea diving! The stopwatch isn't just for running, but walking, cycling, treadmill, cardio and swimming (though I haven't worked the courage to test it in water yet!)
Combined with the app, it expands to become so much more than a running watch, but a health and fitness one too. And of course, it's handy to tell the time too! Not only that, but getting messages and calls on it is extremely useful, as I tend to leave my phone elsewhere while I work. I'm that person who leaves it on silent constantly too, so this feature prevents missing anything important (it can be put on do not disturb though).

However, I don't think the Forerunner 45 will be ideal for those who aren't as keen on technology. Admittedly the quick start manual included in the box goes over a lot of it, but not all. I still can't quite work out whether yoga can be added to the stopwatch, as this is something I've had to add manually on the app. I would like for it to track my time spent doing my training to prevent this.
Personally, I can remember that I need to keep clicking the up button to cycle through my information, or hold down the light button to power off or lock your watch. But it can be a lot to remember! It isn't ideal for someone to have to refer to the manual everytime they need to do something.
The All Rounder
The Garmin Forerunner 45 has everything you need in a running watch and more. I think it's a great piece of kit for not just pro runners but for people looking to get into fitness. It was super interesting to see data about my body, particularly while exercising, and also delve into new technology with it connecting to your phone.
Catering to whatever sports and activities you like, the app is a great addition alongside the smart watch too. Though Garmin Connect is not needed for you to be able to use the watch, it allows you to do things the watch alone can't do. For example, tracking your menstrual cycle and exploring new workout activities. I don't think I would have enjoyed the watch as much without it.
But as mentioned before, it's not a simple watch to use despite its sleek appearance. It may be for some, but I could not see an older person who doesn't like technology for instance getting along with it. There are still things I don't quite know what they do, and it takes a lot of pressing buttons to see what happens. The £169.99 price tag is reasonable for someone who is serious about running or fitness in general. I'd say it's a little steep for a beginner though!
Overall, I'm impressed with the amount of features on offer, being able to view my progress definitely gave me more encouragement. I'm more of a workout person than a runner, so I would probably go with a cheaper, less complex option for myself. But the Garmin Forerunner 45 is definitely one to consider on your search for a new fitness watch if you're a keen runner!
Rapid Reviews Rating
To purchase your own Garmin Forerunner 45, click here.