Backbone
,
Backbone One
,
Bluetooth
,
Electric Toothbrush
,
EPOS
,
Gadgets
,
Glowstone
,
Glowstone Smart Mug 2
,
H3PRO
,
H3PRO Hybrid
,
Hardware Reviews
,
Hidrate
,
Hidrate Spark Pro
,
Hidrate Spark Pro 32oz
,
Lenovo
,
Lenovo Smart Clock 2
,
Logitech
,
Logitech MX Master 3S
,
Logitech MX Mechanical
,
MX Master 3S
,
Oclean
,
Oclean X Pro Elite
,
Rapid Reviews
,
Reviews
,
Smart Tech
,
Tech
,
Tech Review
,
ThinkWare
,
THINKWARE U1000
,
U1000
My day in tech
Reading Time:
14
minutes
Have you ever stopped to think about the tech that you use during a typical day? I did this recently and was amazed by the variety and number of gadgets I use. Below I detail each of the gadgets I use and give an overview of their best features, as well as sharing links to where you can find out more about them. I hope you enjoy reading it as much as I enjoyed putting it together.
Good Morning!
The first piece of tech that I use every day is the one that wakes me up in the morning, and that is the Lenovo Smart Clock 2 with a wireless charging dock. Using my voice or the touch screen, I can set alarms and reminders, ask Google to tell me about my day, and even start the day with a news bulletin. The built-in speakers are more than loud enough to wake me up and are more than acceptable for listening to music, radio and podcasts.
The optional wireless charging dock makes the Smart Clock 2 even more useful. Before I go to sleep at night, I place my iPhone 13 Pro (we reviewed this last year!) on the dock, and it's fully charged and ready to go by the morning. When attached to the dock, there's a built-in nightlight which can be very handy in the middle of the night as it provides enough light but not enough to disturb anyone.
Read more information about the Smart Clock 2 here, https://www.lenovo.com/gb/en/smart-devices/smart-home/smart-home-series/Smart-Clock-Gen-2/p/WMD00000485
Coffee Time!
Once I've stopped hitting the snooze button, the next thing that I must do is make a coffee. If you're like me and have children, the morning is a blur of cereal, school uniforms and packed lunches. Consequently, your freshly brewed cup of coffee can quickly turn cold. That's where the Glowstone Smart Mug 2 saves the day! It is a gorgeous-looking mug and keeps your drink hotter for up to an hour longer.
When the mug senses the hot drink, the light bar indicator glows red to inform you that your drink is being kept warm. It is a treat to be able to pick up your mug and know that your drink will be warm. The Glowstone Smart Mug 2 comes with a Qi Wireless Charging Base that not only charges your mug but can also charge other wireless devices. At £129, it's not going to be for everyone. However, once you've used it, it's hard to go back to a standard mug.
Find out more about the Glowstone Smart Mug 2 on the following link, https://glowstone.tech/products/smart-mug/
BlueTooth Brushing
After my morning coffee and before taking the kids to school, it's time to brush my teeth. This is one of life's more mundane tasks. Fortunately, the Oclean X Pro Elite Smart Electric Toothbrush makes brushing teeth a fun task and does a fantastic job of cleaning your teeth. The biggest surprise for me was just how quiet the brush is. Electric toothbrushes are usually quite loud, but you can hardly hear the Oclean X Pro Elite. You can set your brush mode using the touchscreen on the brush, and on-screen prompts tell you your brush score and time and provides you with a visual indication of areas of your teeth that you might have missed.
The accompanying app is one of the best features of the Oclean X Pro Elite. With the app, you can customise your brushing programmes and keep track of each time you've brushed your teeth. In the box, you get the toothbrush, a single brush head, a charger and holder, a USB charging cable and a magnetic holder. I've attached mine to the bathroom tiles, and the magnet's strength gives you the confidence that the brush won't fall and break.
The Oclean X Pro Elite has an impressive battery life, and you'll always know how much you've got left, thanks to the touchscreen display. Charging the brush is easy thanks to the included charging pad, and while you're encouraged to use the included wireless charger, in my testing, other wireless chargers also worked. I highly recommend the X Pro if you're in the market for a new electric toothbrush.
If you want to learn more about the Oclean X Pro Elite, click here, https://uk.oclean.com/
Smart Sipping
Another of my favourite pieces of tech that I use throughout the day is the Hidrate Spark Pro 32oz water bottle. This fantastic kit is a Bluetooth-enabled water bottle that reminds you to drink and keeps track of your liquid intake throughout the day. How does it remind you? I hear you ask. Well, it does this via the puck that screws into the bottom of the bottle and uses LED lights to glow when you need to drink. This is a great way to get visual reminders to take a drink throughout the day. When you have had a drink, the puck shows that the bottle has registered the amount and synced to the Hidrate App.
The Hidrate Spark app allows you to set your targets for the day, see how close you are to your goals, gives you trophies when you hit certain milestones, and you're able to choose from a limited set of colours that the LEDs will glow with.
If you want even more customisation, you can do this with the paid upgrade called Glow Studio, which lets you customise the LED notification lights. I changed mine to red and white to match my favourite football team, Liverpool. If you want to increase your water intake, the Hidrate Spark Pro will help you do that.
If you want to make your sipping smarter, find out more about the Hidrate range on the following link, https://hidratespark.com/
Dashing to School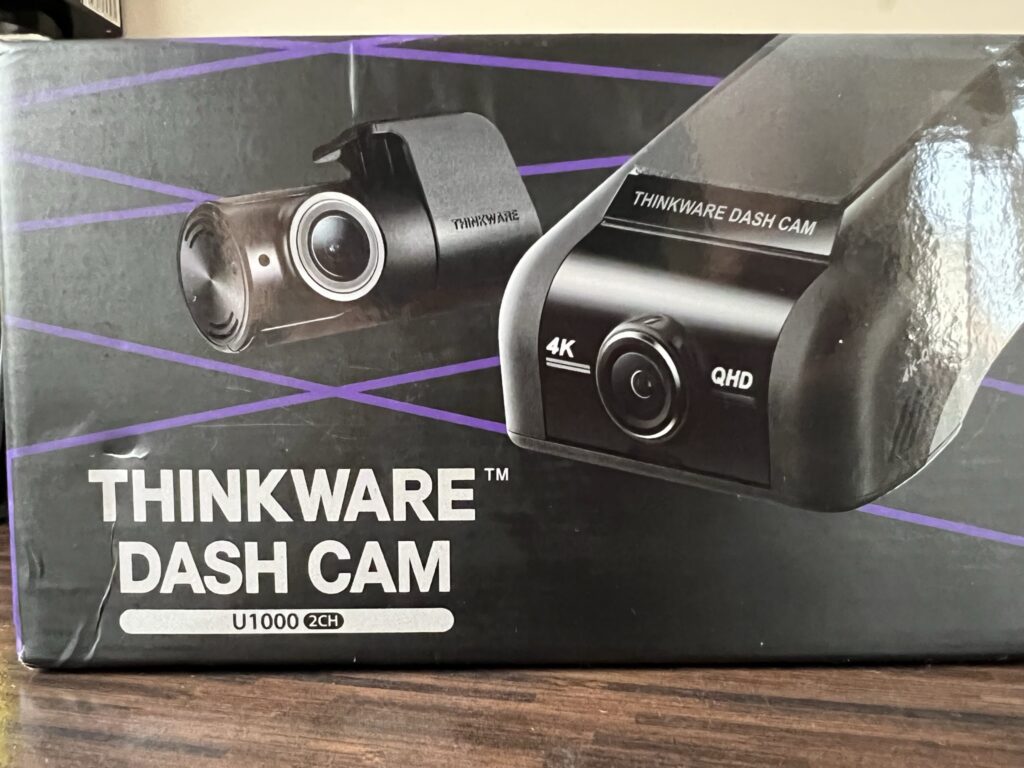 Next up is a trip in the car to do the school run and something that I use in the car is the THINKWARE U1000. This excellent dash cam offers 4K UHD recording on the front-facing camera and 2K QHD recording on the optional rear-facing camera. In terms of design, the U1000 is very smart. In my KUGA, you wouldn't know that the dash cam is there thanks to the design, as it fits nicely with the slant of the windscreen as opposed to hanging down like other dash cams.
Installing the THINKWARE U1000 was simple, and the cable connecting the rear-facing camera to the front-facing camera is extra-long, meaning you have more than enough to feed along the car trim. In terms of powering the camera, the THINKWARE U1000 can be hardwired to the car's fuse box or the 12V socket. I used the 12V socket as I wasn't confident enough to hardwire it.
The THINKWARE U1000 has several safety features, including strong impact notification. This reassuring feature will alert a family member if the vehicle has had a strong impact by sending a notification to their phone. It will also record a clip of the impact that can be viewed later. The U1000 has some advanced driver assistance settings, including;
Forward Collision Warning System: This alerts you if there is a hazard on the road ahead.
Front Vehicle Departure Warning: This will alert you if the vehicle in front has started to move when you are stopped.
Lane Departure Warning System: This alerts you if your vehicle is veering off the driving lanes.
Safety Camera Alert: The U1000 can alert you of speed and red light cameras ahead. Although in my testing, only the speed camera alert worked.
I have had a few issues with the dash cam, namely with the THINKWARE Cloud App and the connection to the dash cam. Despite connecting to the dash cam using WiFi and a personal hotspot, it doesn't automatically reconnect when you get back into the car. You have to repeat the connection process manually every time. This has been frustrating as it has meant that I've not been able to easily use the live view functions. However, it hasn't been a deal-breaker as the quality of the recordings and other features more than make up for this.
If you think you'd like to purchase the THINKWARE U1000, you can do so on the following link, https://thinkwaredashcam.eu/product/thinkware-dash-cam-u1000/#first-select-your-dash-cam
Smart Working
When I return home from the school run, it's time for work. As someone who spends most of the day on the PC, sending many emails and creating documents, it's important to have a comfortable mouse and a nice keyboard to type on.
My current set-up includes the Logitech MX Mechanical keyboard and the MX Master 3S mouse, and they both fit this brief perfectly. Both peripherals can be connected using Bluetooth, or the included Logi Bolt USB receiver, and either way provides a seamless and consistent connection.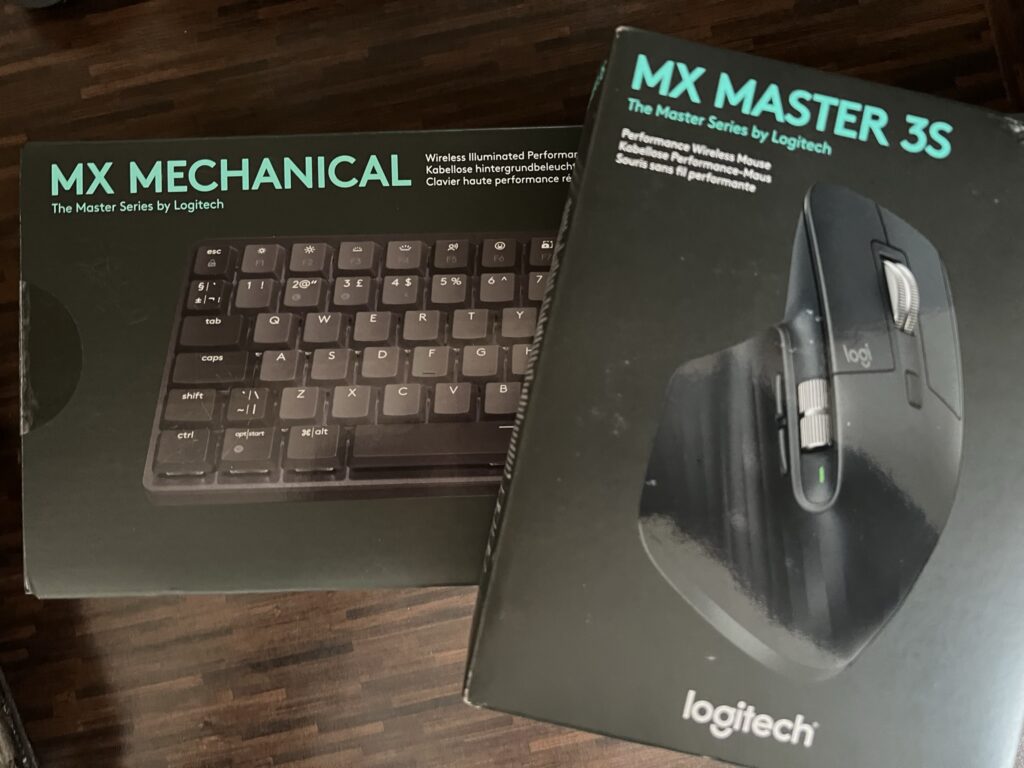 The keyboard is so nice to type on, with the keys having a satisfying travel and audible click when you're typing. It's backlit, with customisable lighting styles, and you can connect the keyboard to three different devices. Switching between devices and operating systems is a seamless experience. The accompanying app, Logi Options+, is useful and lets you customise the keyboard and mouse. The most helpful customisation for me is the ability to change what the function keys do and create app-specific set-ups.
The MX Master 3S mouse is the perfect partner for the keyboard, and again, it is so comfortable to use and provides many options for customisation. With the high level of customisation available, you can set up app-specific profiles. This makes the MX Master 3S mouse something that can help people depending on their individual needs, and I can see it being something that could speed up your workflow. Scrolling with the mouse is super smooth, and it's one of the quietest computer mice I've used, and it can be used on many surfaces.
With a full charge, you can get about 15 days of usage on the keyboard and 70 days on the mouse. Impressively, a one-minute quick charge will give you three hours of usage time with the mouse, and a 15-minute quick charge will provide you with a whole day of use on the keyboard. If you're looking for a new set-up, I highly recommend the Logitech MX Mechanical keyboard and the MX Master 3S mouse.
Backbone One Brilliance
When the kids are in bed, and I have some time to relax, I enjoy nothing more than sitting on the sofa and watching TV with my wife. While doing this, I often play a game of some sort, and my current favourite way of doing this is with the Backbone One gaming controller for iPhone. I've used many mobile phone game controllers, including the excellent MG-X Pro for Android (you can read that review here).
However, in my opinion, the Backbone One is the best that I've used so far. I use mine with the iPhone 13 Pro; luckily, my Backbone came with the adapter to ensure the fit was secure.
The Backbone is very well made and feels just right in size and comfort. The buttons and triggers all work brilliantly and are super responsive, so you never have any input lag. Fans of wired headphones will be glad to learn that the Backbone has a 3.5 mm headphone jack. There's also a capture button on the Backbone, and when you take a screenshot or a recording, you can view and share them on platforms like Instagram or Twitter. You're even able to edit game clips in the app. If you find yourself running low on battery, you can connect your lightning cable to the Backbone, which will charge as you play. For me, though, the best thing about the Backbone though is the Backbone button, which takes you to the incredible companion app.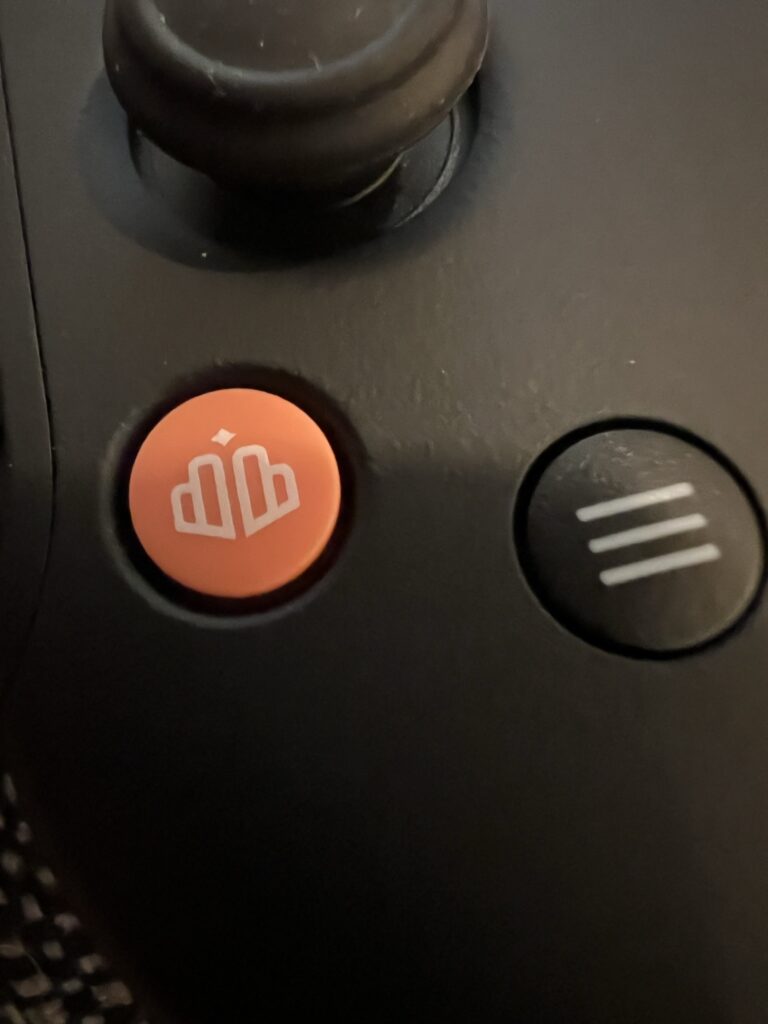 You can connect to many game streaming services from the app, including Xbox Remote Play, Google Stadia, and PS Remote Play. However, the app's most useful feature is that compatible games from your phone are added to the app, and you can launch games directly from it. It all works seamlessly. You can even download new games directly through the app from the App Store.
Other superb features that make the Backbone stand out are the ability to stream directly to Twitch from the app, add friends, and being able to join rooms. You can join themed rooms, for example, a COD Mobile group. When in the room, you can talk to other gamers in that room, type messages, and launch the game from the room – it truly is a great feature. If you're in the market for a new mobile phone gaming controller for iPhone, you should consider the Backbone One.
You can find out more about the Backbone One on the following link, https://playbackbone.com/gb/products/backbone-one/
Gaming Gear
When I've finished watching TV and am not ready to go to bed, I love nothing more than to play my Xbox Series X. As this is usually late at night, it's essential to have a good gaming headset, so I don't risk waking up my wife and kids. That's where the EPOS H3PRO Hybrid comes into play.
The H3PRO is a highly comfortable headset which means it's suitable for long gaming sessions and doesn't give you that pressure point pain on your head as others do. When using it with my Xbox, I have to use the included console cable. However, you can use the headset wirelessly with the included dongle when connected to your PC, PS4 or PS5.
The sound quality is brilliant, with support for 7.1 surround sound and it's plenty loud enough. The microphone quality is excellent, meaning you'll be able to communicate with your teammates clearly. The EPOS H3PRO Hybrid also has ANC, which eliminates ambient noise, allowing me to get fully immersed in my game.
Another feature that I enjoy using is a simultaneous Bluetooth connection. This means I can listen to my game audio using the console cable while listening to my favourite podcast via Bluetooth on my iPhone. If you want to use the H3PRO Hybrid as a wireless headset, you can detach the microphone boom arm and place the included cover plate to fill the microphone's gap. This means that the H3PRO Hybrid is a versatile headset that can be used in many scenarios.
You can purchase the EPOS H3PRO Hybrid headset on the following link, https://www.currys.co.uk/gaming/gaming-accessories/headsets/epos
After a couple of hours of gaming, I head upstairs to brush my teeth, check that I've set my alarm, and then get a good night's sleep before starting over again the next day. I hope you've enjoyed this article and learning about the gadgets I use on a typical day. What gadgets do you use? Let us know in the comments below.
One More Thing…
I wanted to mention the new iPad Air 5th Gen with the Magic Keyboard, and the AirPods Max. The Magic Keyboard has totally transformed how I use the iPad, and since getting the new iPad I've hardly used my laptop. In fact, the whole of this article was created on the iPad.
Thanks to the M1 chip, it handles all tasks superbly, including gaming and video editing. Battery life is around 10 hours which is more than enough to get you through the day. Another new and helpful feature is the addition of the Centre Stage camera which has made video calling a much more enjoyable experience. Centre Stage tracks you during a video call and is able to pan and zoom as you move around. I've also enjoyed using the Apple Pencil to take notes, and have even started to make sketches and drawings, something I've not done before.
Finally, one of my very favourite Apple products of the past couple of years is the Apple AirPods Max. The AirPods Max is the most comfortable pair of headphones that I've used, and the sound quality they produce is outstanding. Where the AirPods Max really shines though is the Active Noise Cancellation (ANC). I live in a busy, and often loud house, and when wearing the AirPods Max with ANC enabled, I literally can't hear any external noises. I've even tested the ANC mode when mowing the lawn, and I was blown away by how little I could hear the mower. The AirPods Max are my headphones of choice, and at £549, they are expensive, but I do believe that they are a premium product.
Keep an eye out for future tech reviews at Rapid Reviews. If you've enjoyed this article and have ideas for future articles get in touch with us on Twitter @rapidreviewsuk.