Accessories
,
Fitness
,
Gadgets
,
Gifts
,
Music
,
Product Reviews
,
Rapid Reviews
,
Reviews
,
Smartwatch
,
Tech
,
Tech Review
,
Watch
Garmin Venu SQ Music Edition Review
Reading Time:
7
minutes
The Specs
Physical Size
40.6 x 37.0 x 11.5 mm
Fits wrists with a circumference of 125-190 mm
Display Size
1.3″ (33.1 mm) diagonal
Display Resolution
240 x 240 pixels
Display Type
Liquid crystal
Optional always-on mode
Weight
37.6 g
Battery Life
Smartwatch mode: Up to 6 days
GPS mode with music: Up to 6 hours
GPS mode without music: Up to 14 hours
Health Monitoring
Wrist-based heart rate (constant, every second), daily resting heart rate, sleep, all day stress tracking, hydration, menstrual cycle and more
Daily Smart Features
Find My Phone, Find My Watch, controls smartphone music, plays and controls watch music, up to 500 songs music storage, smart notifications, weather and more
Activity Tracking Features
Step counter, calories burned, distance travelled, intensity minutes, move bar and more
Price
£229.99
For more in-depth specs click here!
Introduction
Back in November, I reviewed Garmin's Forerunner 45 and was thoroughly impressed. As my first venture into the world of smart and fitness watches, I was able to record my beginner's experience.

Garmin very kindly sent me another of their watches to review, the Venu SQ Music Edition. Immediately, the difference between the two watches was apparent, in particular the appearance. So naturally, I'm going to end up comparing them, for those out there trying to decide which watch is right for them.

But what are the Venu SQ's defining features? Let's find out.
The Look
The appearance of the Venu SQ was the first thing that I noticed. Unlike the Forerunner 45, which looks sporty and practical, the Venu is a lot more fashionable. I recieved the navy and gold version, which is a great combination, though it is available in various other colours too!

Instead of a circular face, this watch has a square one, not dissimilar from the popular Apple Watch. Though you used the buttons to navigate the Forerunner, the Venu SQ has a touch screen. I found the touch screen much easier to navigate, and I think others will prefer this too. The majority of us are accustomed to using touch screens daily so you can get used to it swiftly, simply swiping up and down to traverse through the menus and data. As a result, it was then easier to remember what the two buttons on the right side of the watch did.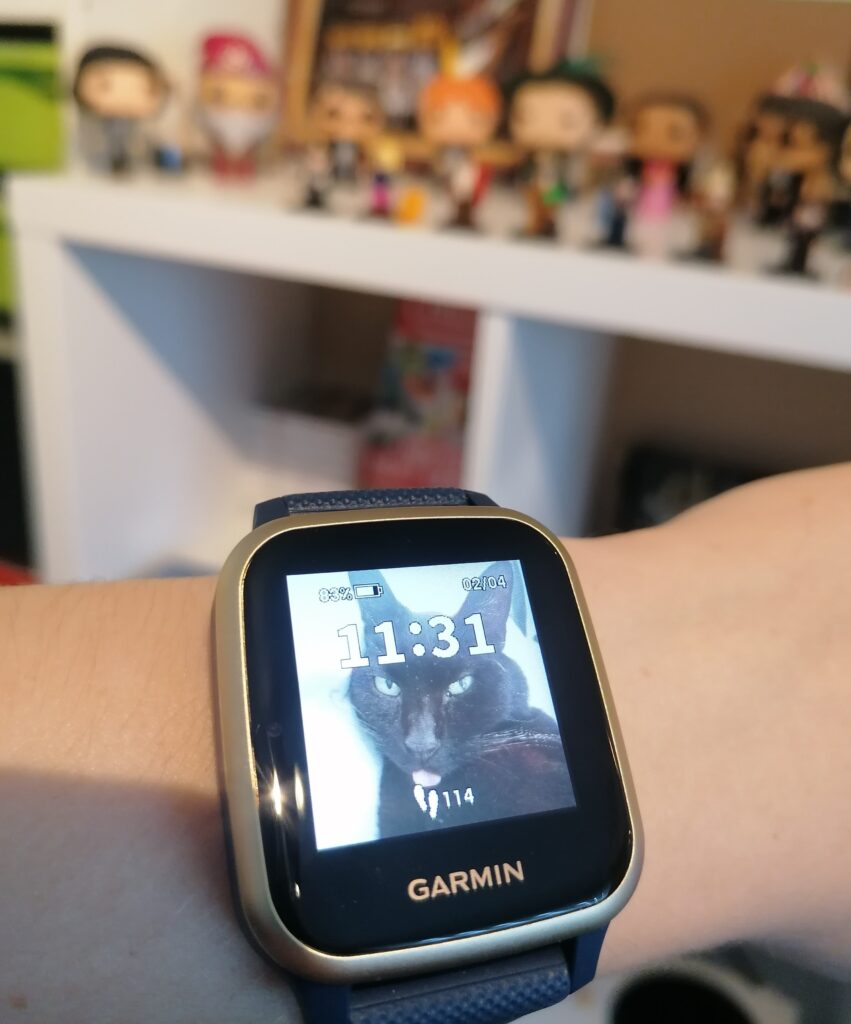 With a liquid crystal display type at 240 x 240 pixels, the Venu SQ has a much brighter and vibrant display, looking very crisp. Like other Garmin watches, you have the ability to download new watch faces to suit you from the Connect IQ app. Choose from digital or anaolgue, minimalist to maximalist, and even upload your own photo!
The Comfort
This watch is similar in weight to the Forerunner 45, feeling extremely light around the wrist. However, again I found that it took me a while to really find the right fit. I didn't want it sliding around but also didn't want my wrist to be red and marked after using it. Luckily there are lots of holes to adjust with ease if you find it's irritating you.
Though I believe the same silicone strap is used on the Venu SQ as the Forerunner, there was one instance where my wrist was quite itchy and dry. I do have sensitive skin, and I think I had it on a little too tight, but it's definitely worth mentioning for those who may react badly to silicone. You can buy various straps from the Garmin website, though I haven't used them myself to give a recommendation, in materials such as leather and nylon.
The Fitness Features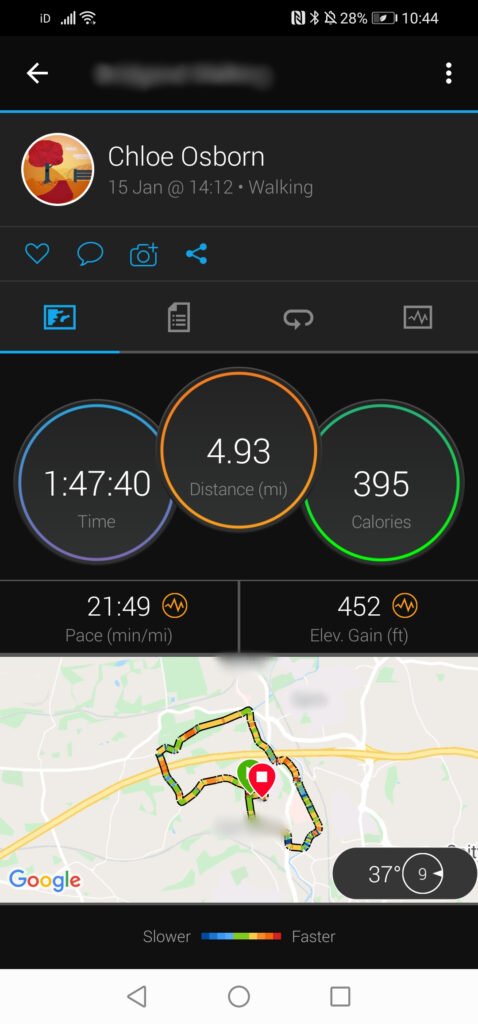 The Venu SQ has an extensive range of health and fitness tracking, allowing you to access information about your body with ease. The watch's wrist sensor means that your heart rate is constantly being recorded. As a result, this corresponds into working out your stress levels, body battery and sleep too.
It seemed that the Venu SQ also has the menstrual cycle and hydration features available to view from your watch, which the Forerunner 45 didn't have (only being visible in the Garmin Connect app, which I go into more detail about in my previous review). These weren't particularly essential to me, however it made the Venu SQ seem that little bit more advanced.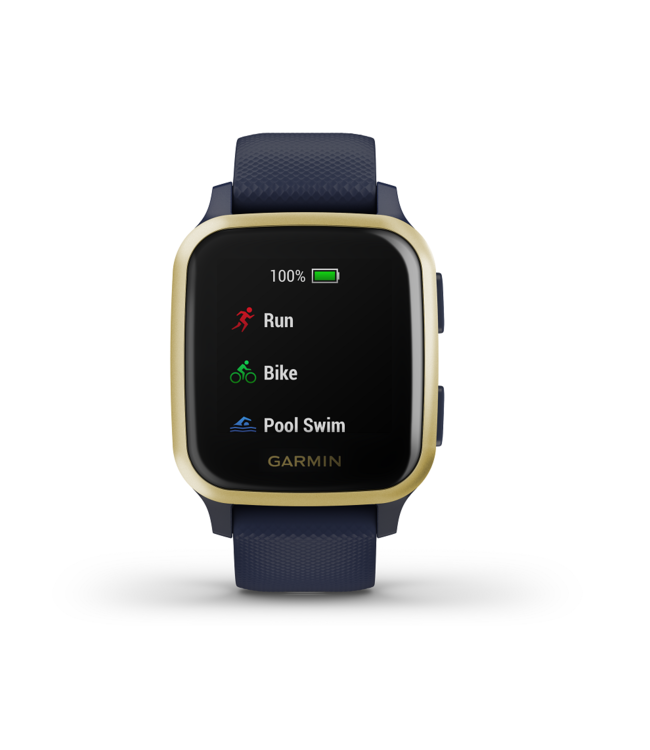 Once again, the stopwatch and GPS was perfect for tracking a variety of activities, from running, walking, yoga, swimming, to the more extreme like skiing, snowboarding and rowing! After a couple of minutes waiting for your GPS to connect, simply click the top button to start your time and click again to pause. Using the Connect App, you can add favourite activities to the stopwatch so it will be recorded as that specific activity on the app. This was something I hadn't worked out how to do with the Forerunner!
Though the app takes some exploring to find all you need, the whole process of recording your activities and viewing them is incredibly easy. I loved seeing my movement on a map after a walk or looking at my heart rate or calories after a workout. Whether you're a fitness fanatic or a casual cardio fan, there's something for everyone.
The Music
I was kindly sent the music edition of the Venu SQ, which is a little more expensive. However, if you're someone who can't go for a run without a soundtrack, or a music lover in general, it's worth it.
With the music edition, you are able to download music from Spotify and other services directly to your watch. You can have up to 500 songs, which is a hefty amount on this little device! This means it eliminates the need to have your phone on you whilst you're out running or doing a fitness class. Connect a pair of wireless, Bluetooth headphones (the majority should be compatible, but you'll have to double check) to the watch and you're good to go.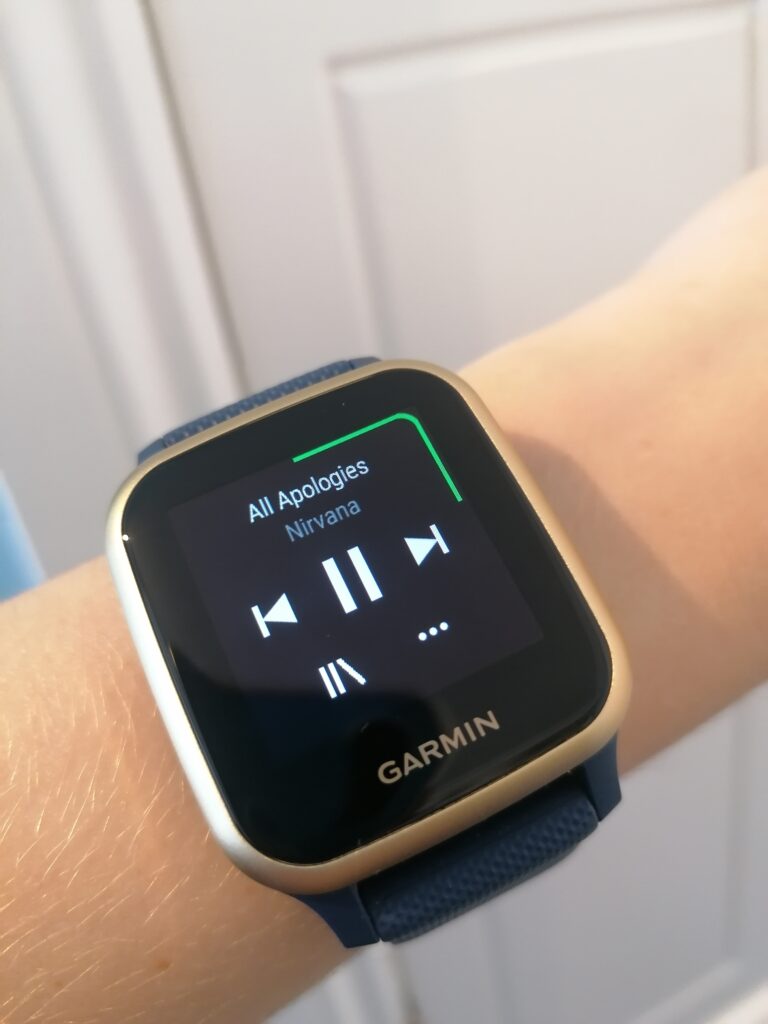 Most gym clothes don't have pockets so this is great, and lets you have a hands free experience to focus on your activity. The ability to have various playlists is also a welcome feature. Switch between that heavy rock for your running to perhaps a podcast while you do yoga! The choice is yours. As a music fan, it's definitely something I'd pay extra for. I do like to have my phone with me when out on a walk if I want to take photos, but it's a relief knowing I don't have to sift through my pockets just to change or pause a song!
The Verdict
Once again, Garmin have created a fitness watch that also doubles up as a brilliant smart watch. As well as the fantastic fitness features, having your emails and texts available on your wrist is so handy. I also really like the Find My Phone feature; I constantly have my phone on silent which renders someone calling my phone to find it impossible! But with Find My Phone, your mobile still emits a loud ringing noise despite being on silent.
I think the Venu SQ is more accessible than the Forerunner 45. The touchscreen is much easier to use than all of the buttons, which I think many will appreciate! Admittedly, there are a lot of features that you have to search through to find. My mum actually received the normal edition of this watch for her birthday. I have had to help her quite a bit to show her how to do everything, and some I've had to learn myself.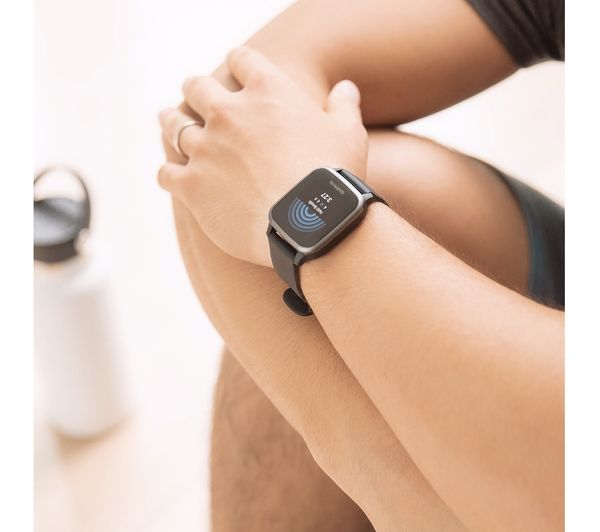 While it takes getting used to, I much preferred the use of the vibrant touch screen. And, though style isn't the main priority, I love the shiny gold against the navy, and the simple rectangular face.
With a significant price tag, it's up to you whether you're willing to spend that extra on storing music. Though I think it's a great watch for anyone no matter their skill in sports or fitness, it's understandable if you'd want a cheaper watch. It's also not the simplest to use. That being said, the Venu SQ Music Edition isn't a bad investment. It's definitely worth taking a look at in your hunt for a sports and fitness watch, with smart features and music portability!
Rapid Reviews Rating

You can purchase the Garmin Venu SQ Music Edition here.