Game
,
Gaming
,
Indie
,
Indie Dev
,
Platformer
,
PlayStation 4
,
PS4
,
Puzzle
,
Rapid Reviews
,
Reviews
,
Side Scroller
Even the Ocean Review
Reading Time:
4
minutes
Fast Facts
Even the Ocean

Developer: Analgesic Productions
Publisher: Ratalaika Games
Website: https://www.eventheocean.com/
Genre: Adventure, Action, Puzzle, Platformer
Platform: PlayStation 4 (also available on PC, Xbox One and Nintendo Switch)
Age Rating: PEGI 7
Release Date: 19/08/2020 (on PlayStation 4)
Price: £11.99

A code was provided for review purposes.
Just Another Day On the Job?
Starting a new job is never easy. But for Aliph, a freshly-qualified power plant technician, the pressure is taken to a whole other level when her colleague Cassidy is killed in a tragic accident on her first day. With her protective armour damaged beyond repair, and no working radio to call for help, she is forced to manually balance the light and dark energies of the world within herself and navigate through the dangerous Fay Rouge power plant alone in order to repair its circuits and restore its power to the city of Whiteforge.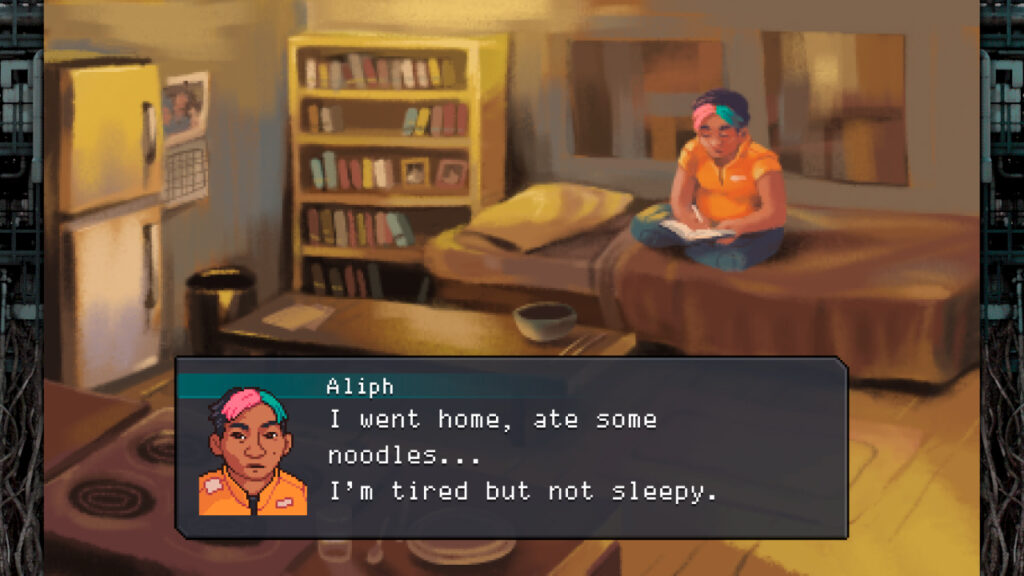 Aliph's success in restoring order to the Fay Rouge plant with only a shield for protection brings her to the attention of Whiteforge's own Mayor Biggs. He recruits her to repair further power plants and prevent the destruction of the world as they know it. Along the way she meets new friends, explores several new regions, and even discovers other continents. These bear the remnants of a lost civilisation that foretold the events of Even the Ocean as we, the players, have them narrated to us by the mysterious narrator.
Platforming, But Not As You Know It
While Even the Ocean is primarily a narrative platformer, telling the story of Aliph and her journey to save the world, its puzzle mechanics make the gameplay much more sophisticated than avoiding obstacles and making well-timed jumps. Your primary focus must always be to maintain the balance of light and dark energy within Aliph. If the scales tip too far in one direction, she's finished. You don't need to worry too much though, as there is no permadeath in the game. Death's only consequence is respawning at the last checkpoint.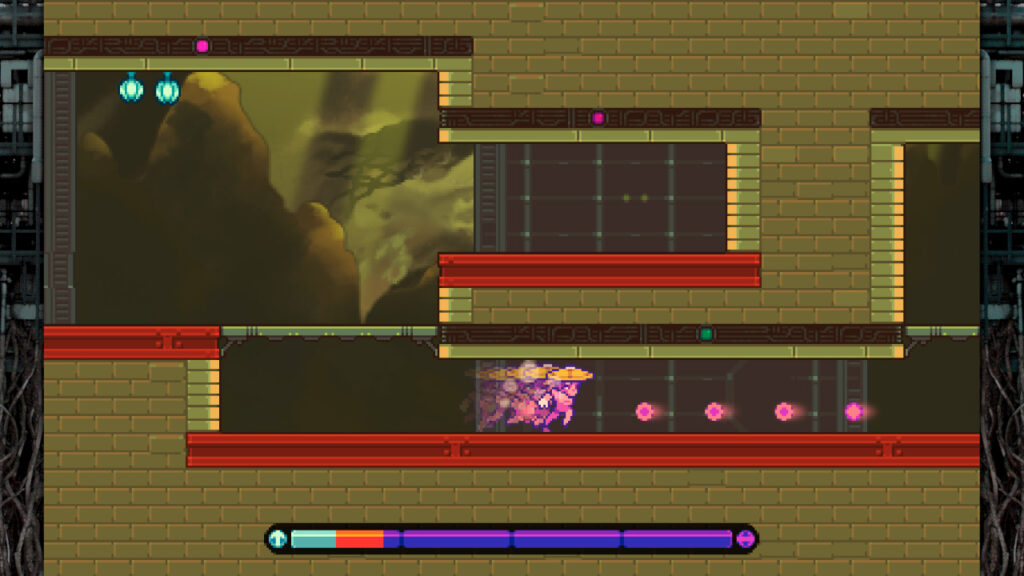 The balance of energy within Aliph is shifted by her interactions with various objects. These include flowers, floating gases, and enemy life forms. Many obstacles in the game require a little chaos in the energy department to be overcome, so you shouldn't be afraid to strategically absorb more light or more dark energy as needed. Light energy increases the height of your jumps, while dark energy increases your movement speed. Measures of both are necessary to complete all five of the game's chapters. Getting the positioning of Aliph's shield right is also key in order to protect her from the laser beams, cannons and other hazards that threaten to end her missions in the power plants early.
A Pixel for Your Thoughts?
A 2D side-scrolling platformer, Even the Ocean incorporates a pixelated art style that, while vibrant and aesthetically pleasing in some places, is simplistic and underwhelming overall. Especially in the overworld map, which is integral to the player's navigation to the various power plants and tourist attractions. The graphics appear choppy and are very uncomfortable to look at while moving around. There is certainly no motivation to explore the map beyond what is necessary because of this. When in the late game it is necessary to identify areas of the map from very small snapshots and travel to them, it is incredibly difficult to do due to the fuzzy nature of the textures. Having to play with stylised "black bars" on each side of the screen was also very disappointing for me. The game could have been much better-optimised, particularly on larger displays such as mine.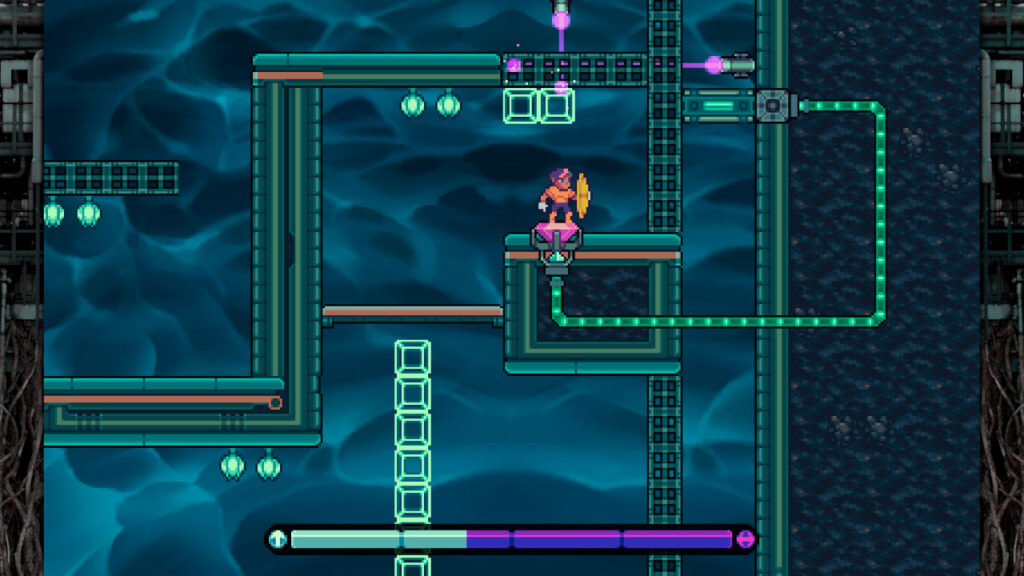 The aforementioned graphical issues, combined with the fiddly and somewhat impractical control scheme (ie. having the input for locking Aliph's shield so close to the inputs for jump, when both need to be held simultaneously many times) unfortunately make Even the Ocean more difficult to enjoy than it deserves. There were many times that my inputs were not read, and many where my attempts to hold up Aliph's shield while jumping or running failed. This made the more technically challenging parts of the levels much more frustrating to deal with.
Conclusion
It is truly a shame that the graphics and controls of Even the Ocean let it down. Its score, narrative and gameplay all make it an indie worth playing. Though some levels can feel too lengthy, and there is a certain repetitiveness to the obstacles and how they are laid out, the gameplay is challenging enough that you'll be compelled to see the game through. The available in-game options and accessibility features make it worth revisiting if you'd like to try your hand at a speed run or streamlined playthrough of the levels. You can also choose whether to play the full game or a shortened version to suit your fancy.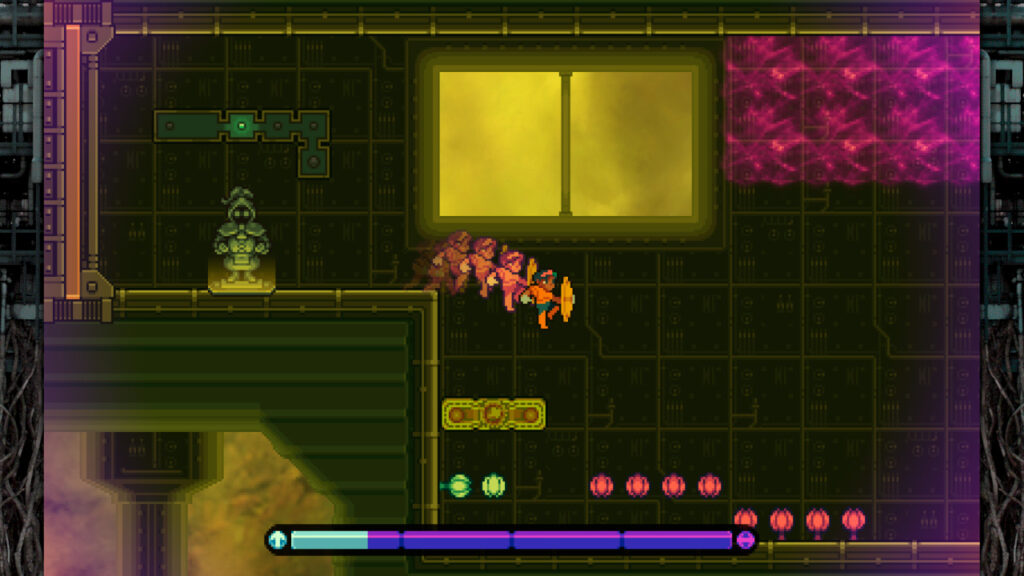 Even the Ocean is short and sweet, and for £11.99, is not badly priced for what it offers. Though arguably when compared to other games in a similar vein, perhaps it does not offer enough by way of content. If you like puzzle games or platformers with a challenge, consider picking this up. Or, if you need to fill 10-15 hours or else would like to earn yourself a relatively simple Platinum Trophy.
Rapid Reviews Rating
You can purchase Even the Ocean for PS4 at the following link: PlayStation Store