Charging
,
Gadgets
,
Game
,
Gaming
,
Gaming Accessories
,
Gaming Peripherals
,
Hardware Reviews
,
Mobile
,
Product Reviews
,
Project xCloud
,
Rapid Reviews
,
Rechargeable
,
Reviews
,
Streaming
,
Tech
,
Tech Review
,
Venom
,
Wireless
,
Xbox
,
Xbox Game Pass
,
Xbox Game Streaming
,
Xbox Games Pass
,
Xbox One
Venom Project xCloud Mobile Gaming Travel Kit Review
Reading Time:
5
minutes
Venom is a name that is synonymous with gaming peripherals, such as arcade sticks, gaming keyboards, controller grips, and various controller charging stands. However, it is their most recent product that I had the chance to review on the eve of Microsoft's Project xCloud, now known as Xbox Game Streaming, being widely launched into beta on 15th September.
That product is The Venom Project xCloud Mobile Gaming Travel Kit. The key questions that need to be asked going into this review: What is included within this package? And How well does it cater for those wanting to play Xbox games on the go? Find out after the jump.
After ordering the Venom Project xCloud Mobile Gaming Travel Kit on Amazon, I had forgotten I had ordered it until a knock at the door by the delivery driver helped to jog my memory. And I remembered the reason why I purchased this product: xCloud's wide launch was fast approaching. So I needed something that was going to open up the possibility of being able to carry around an Xbox controller within a bag on a walk, or a day out like I would with my Nintendo Switch, and a clip that would enable me to attach my phone for ease of use safely. And this is where this product delivers in spades.
Included within this package are the following items:
A rechargeable battery pack
2 Analogue Stick "grips"
Adjustable Controller Clip
USB charging lead
A controller carry case
And the most surprising part of this entire package: it's the price. For a very reasonable price of £19.99. A truly incredible and very affordable price for all that is included. I believe that it is a tremendous value for money proposition. If I had just received the clip and a rechargeable battery pack, I would have already been impressed but to include a hard-shelled controller carry case, which has more than enough space within its compartments to sort the cable and the clip as well as the controller, is the kicker to this whole package.
It is robust, solid and during the testing phase of this review (and I can't recommend anyone do this) I placed my controller within the case and chucked it down the stairs, as well as dropping it from a height onto a solid concrete floor. The conclusion: there wasn't a single scratch on the controller, and barely a scuff on the case itself. That means that people who will be carrying this package around in their bag, won't have to worry about damage to their controllers, or the problem with drifting of the sticks that have plagued the Nintendo Switch since launch.
I can not comment on the analogue "nubs" as I'm not one for adding them to my controllers for extra grip. I have never added these to previous controllers and whilst I tried them out briefly, I took them off after 5 minutes, as I found them uncomfortable. However, I know plenty of people who love the additional grip these nubs can provide, but they just weren't, personally, my cup of tea.
I was so happy that the package included a rechargeable battery pack. As someone who has only just joined the Xbox ecosystem with an All Access purchase of an Xbox One X, I was draining batteries since January's purchase. While the Xbox controller has a modest power consumption rate, including a rechargeable battery pack does help seal the deal more with the Venom Project xCloud Mobile Gaming Travel Kit.
The rechargeable battery pack clocks in at 700Mah, which can provide up to 15 hours within one charge. During my time testing this package, I only had to charge the battery pack once overnight, and that was because I was using my controller at home on my Xbox One as well. This was truly impressive, considering that I have used a portable charger that had a 1000Mah and didn't last nearly as long as the controller.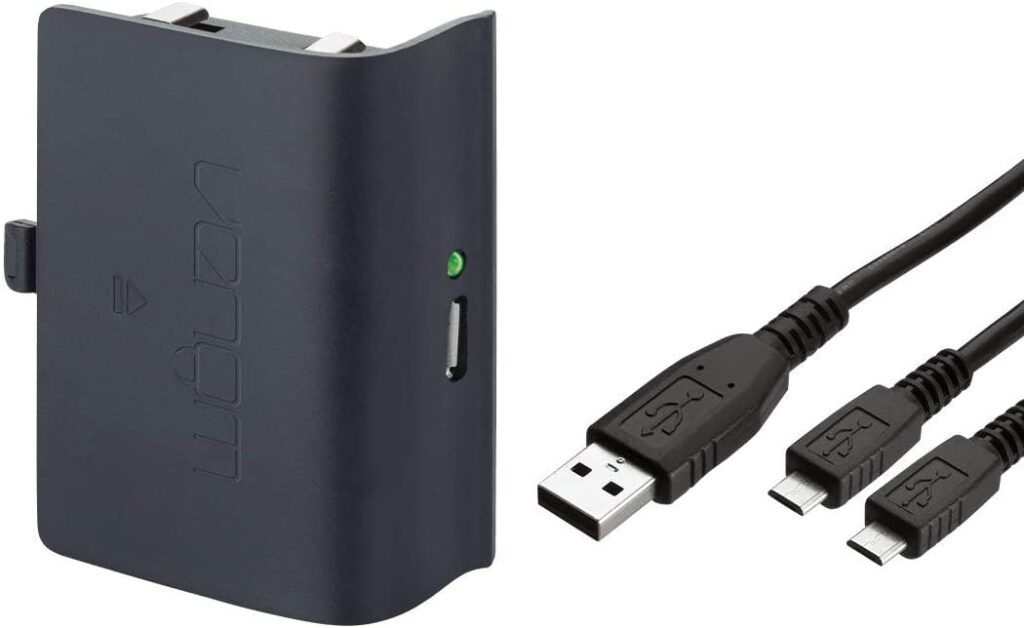 And on to the main part of this package.  The controller clip itself.  And it is here that I found the biggest problem with the Venom Project xCloud Mobile Gaming Travel Kit.  It is a very well made piece of kit, and I was impressed with how it felt attached to the controller.  It feels very sturdy and the adjustable clip section that holds your phone is catered towards various different sizes of Android phones.  It fits comfortably around the phone (even with a thick faux leather case on it, and doesn't move around at all in there.
Aesthetically speaking, the adjustable clip barely looks like it would hold anything up and may break when you put it in there.  But I was pleasantly surprised that not only did it not break, but held very firmly and was incredibly strong.  As a test, I tried turning the whole thing upside down (phone facing down towards the floor) fully expecting it to fall out.  However, it completely defied gravity!
Like I stated above, the clip itself was the worst part of the package, not due to the build quality as it was robust and sturdy, but its ergonomic design around the Xbox controller itself.  Whilst I was trying to connect the clip onto the controller and enable it by Bluetooth on my phone, the top of the clip fits either side of the Xbox Guide button, but as a result of this, it is incredibly easy to accidentally lean the clip on the small controller sync button at the top of the controller.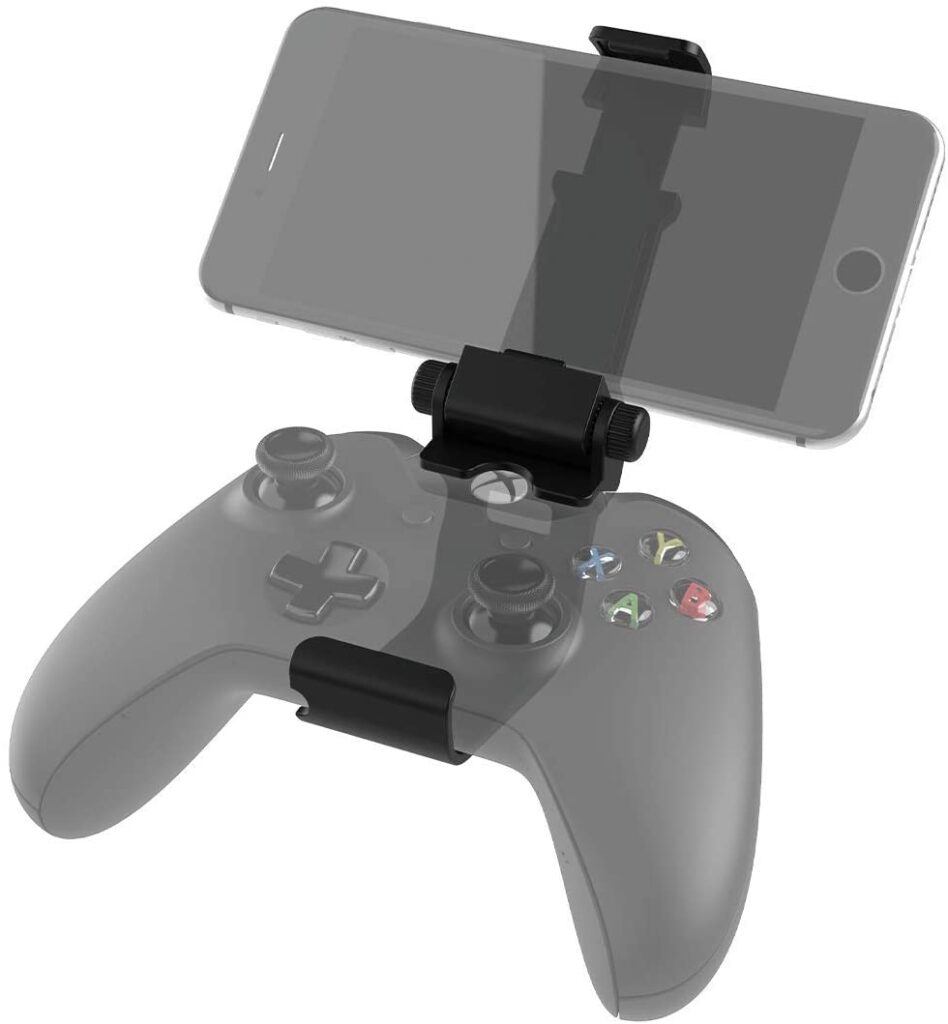 In conclusion, the Venom Project xCloud Mobile Gaming Travel Kit is a product that defines the term "value for money". With the rechargeable battery pack, incredible sturdy carry case, and mostly well-made controller clip, this is is the perfect package for gamers on a tight budget, but doesn't skimp on the quality of each piece included in the box. If you see yourself wanting to experience Xbox Game Streaming for yourself, I would struggle to properly utilise the experience without the Venom Project xCloud Mobile Gaming Travel Kit. A highly recommended purchase at an incredible price.
Rapid Reviews Rating
You can purchase the Venom Project xCloud Mobile Gaming Travel Kit from Amazon.