4500mAh battery
,
5G
,
Android
,
Charging
,
Fast Charge
,
Fast Charger
,
Gadgets
,
Hardware Reviews
,
Mobile
,
New
,
New Release
,
Nord
,
OnePlus
,
OnePlus Nord
,
OnePlus Nord CE 5G
,
Oxygen OS
,
OxygenOS
,
Phones
,
Product Reviews
,
Rapid Reviews
,
Reviews
,
Smartphone
,
Snapdragon 750G 5G
,
Tech
,
Tech Review
,
Warp Charge
,
Warp Charge 30T Plus
OnePlus Nord CE 5G – The Rapid Review
Reading Time:
6
minutes
Keys Specs
Warp Charge 30T Plus + 4500mAh battery
64 MP triple camera
90 Hz AMOLED display
Snapdragon™ 750G 5G
5G-ready
OxygenOS
What's Inside the Box?
OnePlus products are always well presented, and the Nord CE 5G is no exception. Inside the box are the handset, a Warp 30T charger, a case, a sim ejector tool, and the customary note from the Nord team.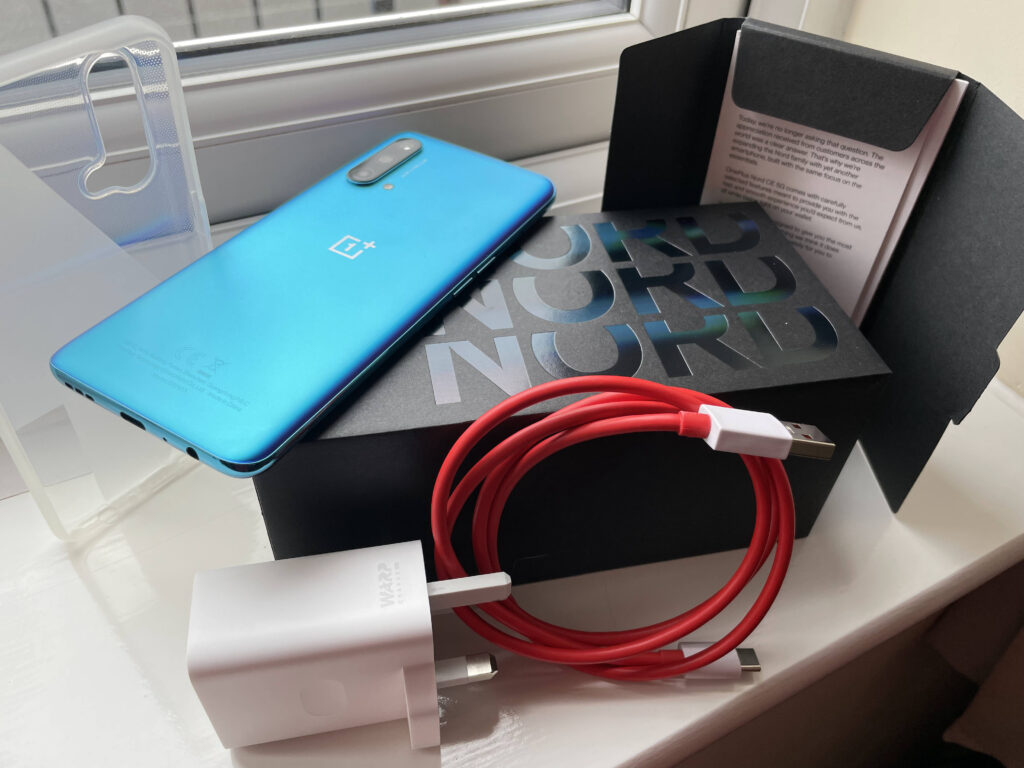 Design and Feel
When I first held the OnePlus Nord CE 5G, what really stood out to me was how light and thin it was. OnePlus say that it's their thinnest phone since the OnePlus 6T, and while I can't compare it, I must say that it's one of the lightest handsets that I've used.
With its glass front (not Gorilla Glass), and plastic frame and back, I worried that it would feel a little bit cheap, however, it actually feels solid and not at all cheap. My review handset came in the 'Blue Void' flavour, and what I loved about it was that the rear edges of the phone almost seemed to glow. As you can see in the photos below, it creates a rather striking effect when the light catches it. You're going to want to keep the phone away from water and dust, as it has no official dust and waterproof rating.
Staying Alert!
A fan favourite feature of the OnePlus phones is the alert slider found on the right-hand edge of the phone; having used several OnePlus phones in the past, it's something that I have become accustomed to using. Unfortunately, the slider is nowhere to be seen on the OnePlus Nord CE 5G. Is this a dealbreaker, no? However, I did miss the convenience of being able to mute the phone in an instance.
Taking with One Hand, Giving with the Other
While OnePlus have decided to remove the alert slider, they have given the 3.5mm headphone jack a welcome return. This will please users who still use wired headphones with their handsets.
On the Case!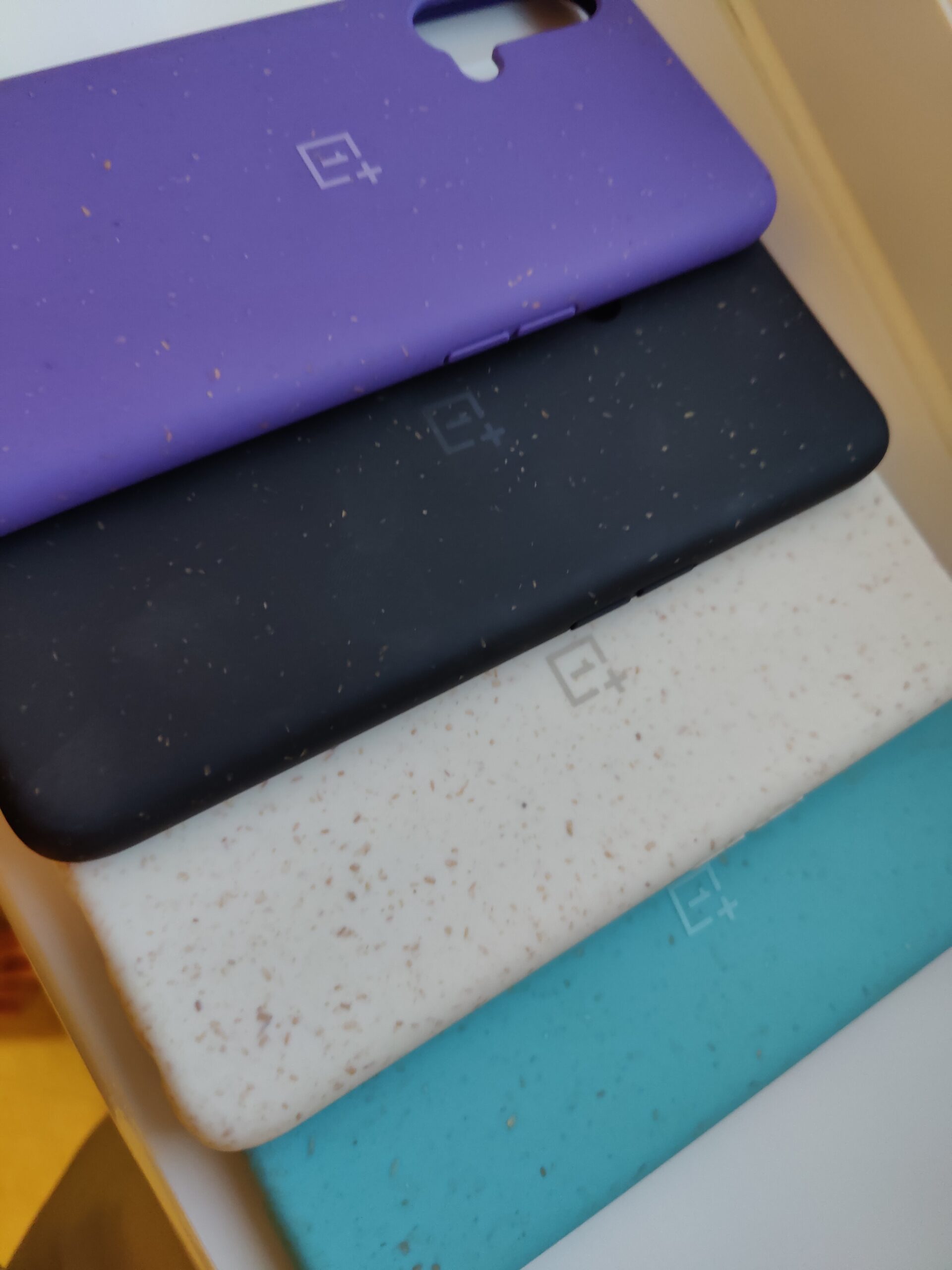 My OnePlus review phone came with a collection of gorgeous cases, all made out of an eco-friendly and 100% compostable plant-based biopolymer. My favourite was the white one, with flecks of colour. It looks like vanilla ice cream with sprinkles. Perfect for the summer!
Display and Sound
The OnePlus Nord CE 5G features a 6.43 inch AMOLED 90Hz screen. While 90Hz seems to be the standard for mid-range phones now, I was still pleased with how smooth scrolling and making my way through the menus was. I tested out scrolling with the screen at a 60Hz refresh rate, and the difference was noticeable.
Colours are accurate and vibrant, and the screen is nice and bright. Text is clear, and watching films and playing games on the display is a pleasing experience.
In terms of sound, the Nord CE isn't particularly loud at full volume, but music and games sound fine. Unfortunately, I did find that the way I held the phone meant that my finger covered the speaker, and the sound became incredibly muffled.
A Bigger Battery
The Nord CE 5G features a 4500mAh battery which is slightly bigger than the one found in the original Nord. With moderate usage, I could get to the end of the day with some battery life left. With very light usage, the battery easily lasted a couple of days. I did notice that if I was playing a graphically demanding game, the battery did tend to drain a little faster than I would have liked.
Fortunately, thanks to Warp Charge 30T Plus technology, the battery was quickly recharged from 0 to 70% in just 30 minutes. Therefore, as long as you have your charger to hand, you should rarely find yourself in the position of having a flat battery. You can't charge the phone wirelessly, but that's not something that I particularly missed with how fast the 30T charger could recharge the battery. Another great aspect of the Warp Charge 30T Plus charger is that you can use it with your other gadgets.
Credible Cameras
I've said it before, and I'll repeat it. With smartphone camera technology as it is, it's very difficult to take a bad photo. When I say this, I don't mean from a professional photography standpoint, I mean as an everyday user, who takes the occasional photo on the go. Thankfully, this proved to be true with the triple camera setup of the Nord CE 5G.
The three lenses are housed in a very neat bump that hardly protrudes at all. In terms of the lenses, the primary camera is a high-res 64 MP main camera (which OnePlus stresses is 16 MP more than the original Nord), and you're also getting an 8-megapixel ultrawide lens, as well as a single 2-megapixel monochrome sensor.
I was a little disappointed to discover that there wasn't a macro lens as part of the camera setup. However, I'm sure you'll agree, the pictures in the slideshow prove that the Nord CE's cameras are more than capable of taking some really nice photos.
Performance
The guts of the Nord CE consists of a Qualcomm Snapdragon 750 5G processor, with up to 12GB RAM. You're not going to get the flagship performance of the OnePlus 9, and neither should you expect it for the price, but during my time using the phone, I found that it was able to keep up with my multitasking demands and play all the games that I wanted to. I was pleasantly surprised to be able to play Call of Duty Mobile on high settings without any noticeable lag.
Conclusion
The Nord CE 5G is another strong offering from OnePlus. For a relatively low price, you're getting a capable mid-range phone that won't disappoint. If you've already experienced the original Nord, there isn't a lot to make you need to upgrade. However, if you're looking for a nice looking, well-performing mid-ranger, then the Nord CE 5G could well be for you.
Rapid Reviews Rating


3.5 out of 5
If you want to read more about the OnePlus Nord CE 5G, head to their storepage here.
If you enjoyed reading our review of this OnePlus phone, you can read our others here.