13400mAH
,
Accessories
,
Adventure
,
Anker
,
Apps
,
Audio
,
Bluetooth
,
Chargers
,
Charging
,
Equalizer
,
Exploration
,
Family
,
Hardware Reviews
,
IP67
,
Music
,
New
,
Party
,
Product Reviews
,
Rapid Reviews
,
Reviews
,
Rhythm
,
Sound
,
Soundcore
,
soundcore Motion Boom Plus
,
Speaker
,
Tech
,
Tech Review
,
Travel
,
Tweeter
,
USB-A
,
USB-C
,
Wired
,
Wireless
,
Woofer
Soundcore Motion Boom Plus
Reading Time:
5
minutes
The soundcore motion boom plus was provided to us for review purposes.
Website
Soundcore – £189.99
Output
80W
Bass UP
Yes
Drivers
2 x 30W Woofer
2 x 10W Tweeter
Up to 40 kHz
Yes
Protection
IP67 Waterproof and Dustproof
Multi-Speaker
PartyCast 2.0 / True Wireless Stereo
Ports
Aux In
USB-A (Charge out)
USB-C (Charge in)
Bluetooth 5.3
Battery
13,400 mAh / 20 Hours
Dimensions
15.31 x 5.51 x 7.7 inches
Weight
5.29 lbs (Official) 5.64lbs (my scales with strap)
Summertime & Music
These last few weeks have been glorious, if not slightly too hot a degree for us folk in the UK. When the suns out, we all enjoy a soiree in the garden or a kick about in the park, and with our incredible coastlines; we lay on the beach.
So when the courier arrived with the new Soundcore Motion Boom Plus, I was excited to experience it. I regularly use the "Soundcore Motion Plus" when cleaning the house, lighting up the BBQ, or placing it on the Rattan garden furniture, to give some background noise to my sunshine naps. Therefore I had a good baseline to start testing it. Also from now on, I will be abbreviating as the SMBP or the SMP; try to keep up!
Sizing it up
Firstly the SMBP is massive compared to its sibling, being effortlessly six times larger and weighing an extra 1.49kgs; it's no shy duck.
The built-in carry handle adorns the top like a kettlebell feeling firm and robust, whilst the detachable shoulder strap gives you freedom of hand when travelling your environment.
I opened the box, took it out of its egg carton-style packaging and plastic wrap, and placed it on the kitchen worktop, where it sat proudly.
Power, Bass Up, Bluetooth, Volume and PartyCast buttons adorn the top, and both USB-A & C ports sit aside the AUX port on the rear hidden by a rubber seal.
Holding the power button springs it to life with its delightfully increasing chime tone and Bluetooth searching hum. I connect it to my phone and place it outside on the concrete sill, playing music as I hang my washing out (I'm around 45 feet away). The music plays clearly across the garden, yet I want more. I turn up the volume and listen to it at its loudest, not surprised by the experience, I continue to peg the washing out when suddenly I hear a thud.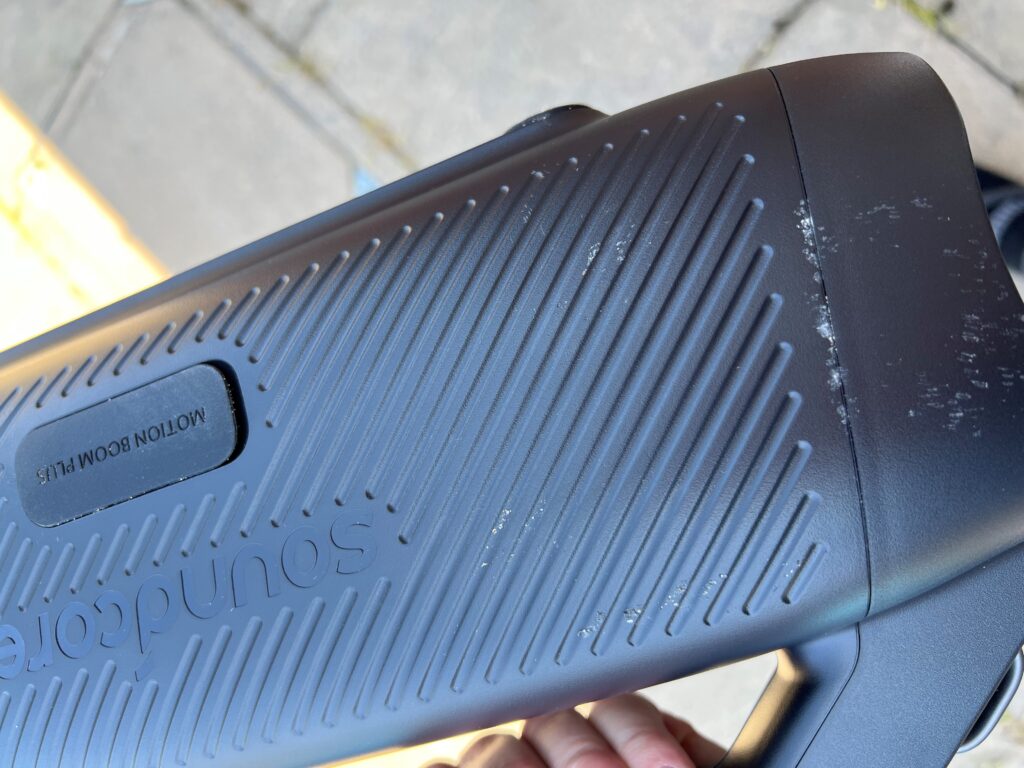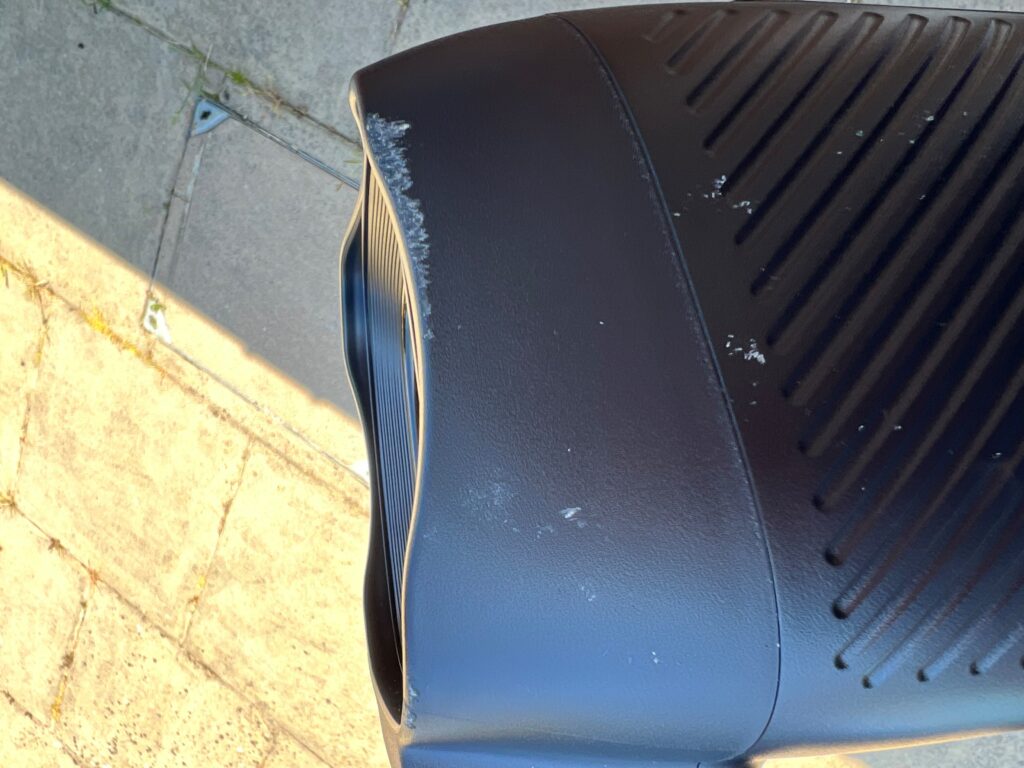 It seems in my haste to experience the speaker, I failed to remove the plastic covers that sat protecting the rubber feet below the speaker. With its vibrating sides and the speaker at the maximum volume, it had inadvertently rumbled itself off the sill and onto the concrete slab floor, yet continuing to project music as if nothing had happened.
I inspected the device hastily and found I had scuffed the enclosure within 15 minutes of having it—facepalm.
Durability
Considering it had just hit the floor, I thought, "why not see how durable it really is", so I heaved it into the paddling pool! I then drenched it with the hose. The SMBP maintained its Bluetooth connection, and I listened to the muffled tones of Justin Timberlake as it bobbed around.
As I lifted it aloft and the water cascaded off the speaker, my initial thought was "impressed". There were some sounds of water in the device, but with a quick shake and left to dry, it soon cleared, and the audio continued to sound uninterrupted. Top marks for its durability.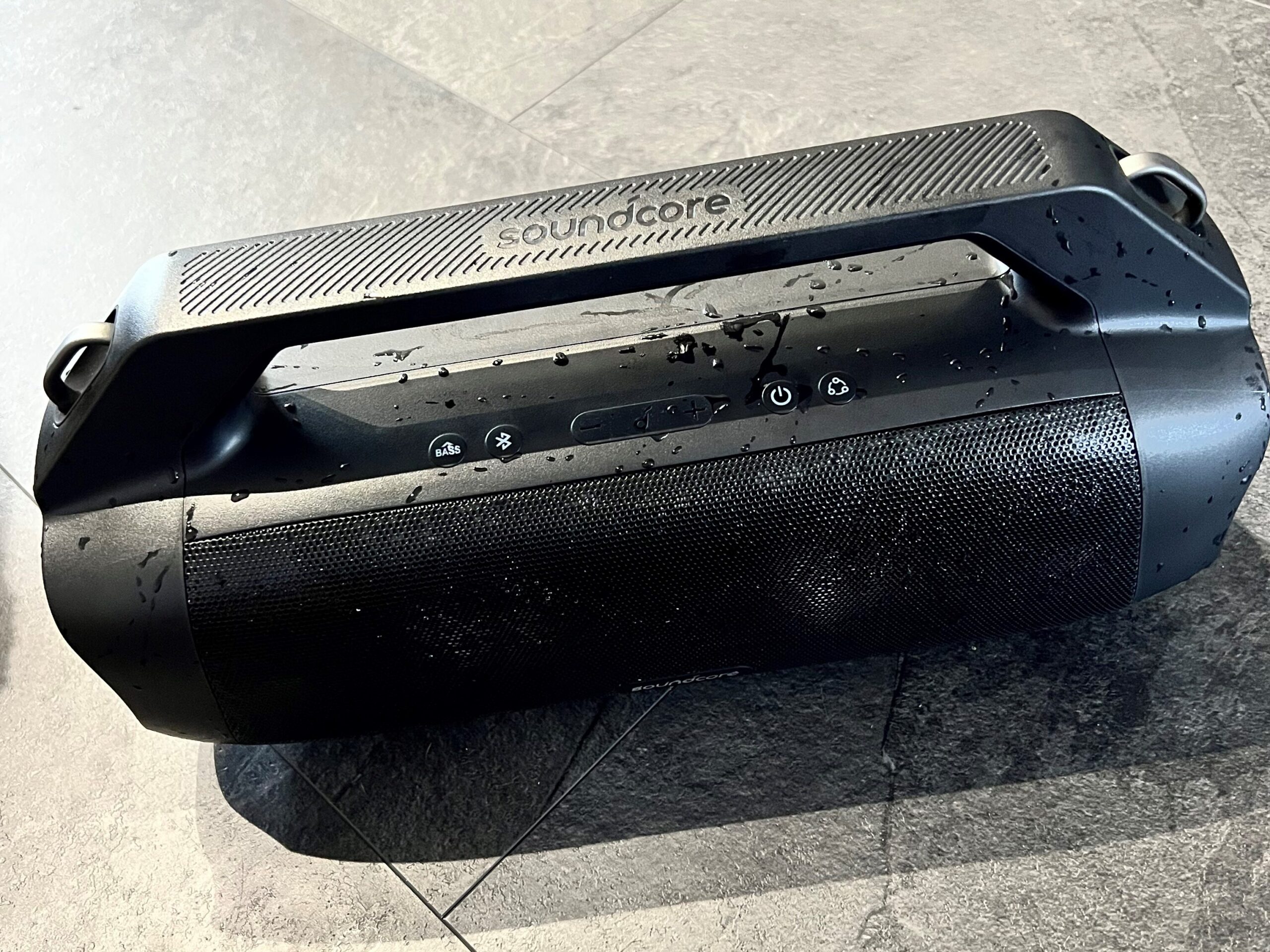 Portability
Now we usually go for something stylish and plugged in when we buy a home speaker. No charging, a quick connection, and often paired with numerous smartphones and their respective apps, or even a part of said ecosystem. Likewise, when we purchase a portable speaker, we want the exact word "portability."
Considering its size, this speaker isn't heavy, and the strap helps with the carrying factor. I gave it to my children to take to the car as we packed to go to West Wales for the week; we needed a caravan/beach/adventure soundtrack, and this SMBP was the expected delivery system. Though the SMP is smaller and weighs significantly less, (that feels solid and heavy in hand), this SMBP looks large and rugged, yet its design is almost Tardis-like, offering an effortless, transportable quality. Easily portable across rock pools, along hillsides or sat atop the balcony table playing the sounds of Lizzo or the Encanto soundtrack over and over again! It delivered a statement in looks and audio each time.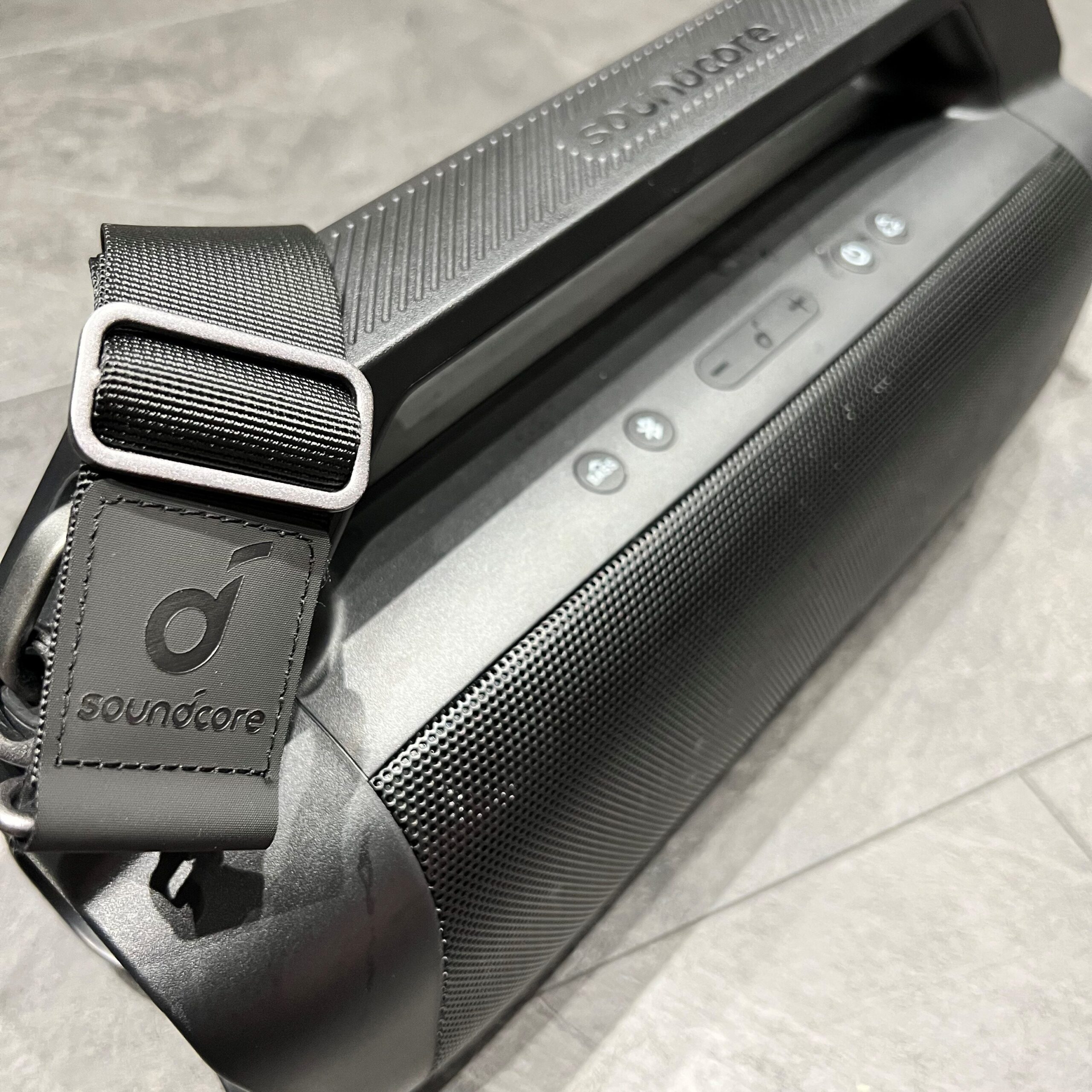 Audio
Therefore the final question is, how does it sound?
I am already impressed with the sound quality of its smaller sibling, so my expectations were high, and it delivers mostly.
"NF – The Search" offers a variety of instruments, heavy bass, and clear vocals, so it assembled the perfect song list for me.
The SMBP has a decent low-end thump, mainly driven by Bass-UP. The tweeters offer a worthy high end, with the separation of treble and bass noticeable. When I pushed it to its higher volume range, I noticed little distortion, but I felt without the Bass-UP, it lacked depth. Sure there are louder and bass-heavier speakers, but those would be bigger and weightier, and probably less portable.
The accompanying app also offers a selection of EQ pre-sets and customisable options to suit all needs.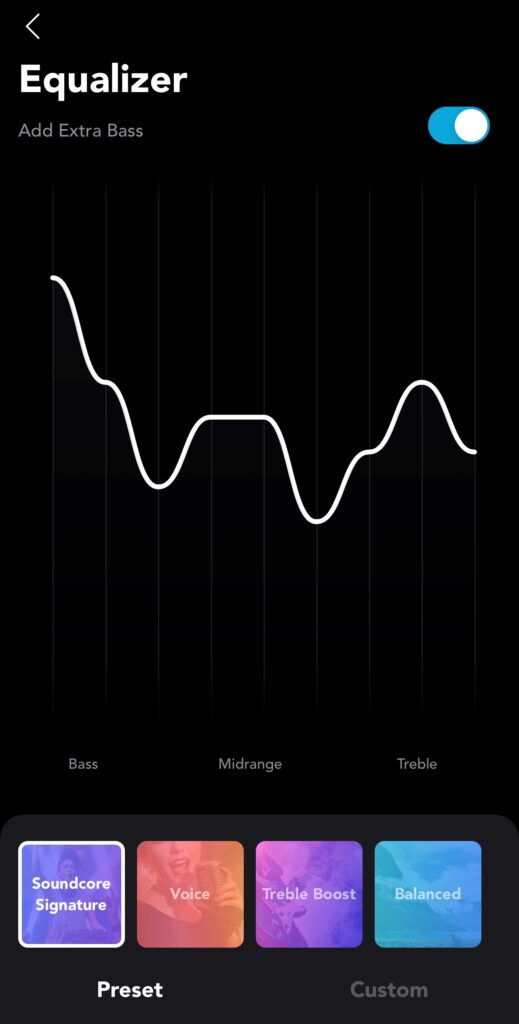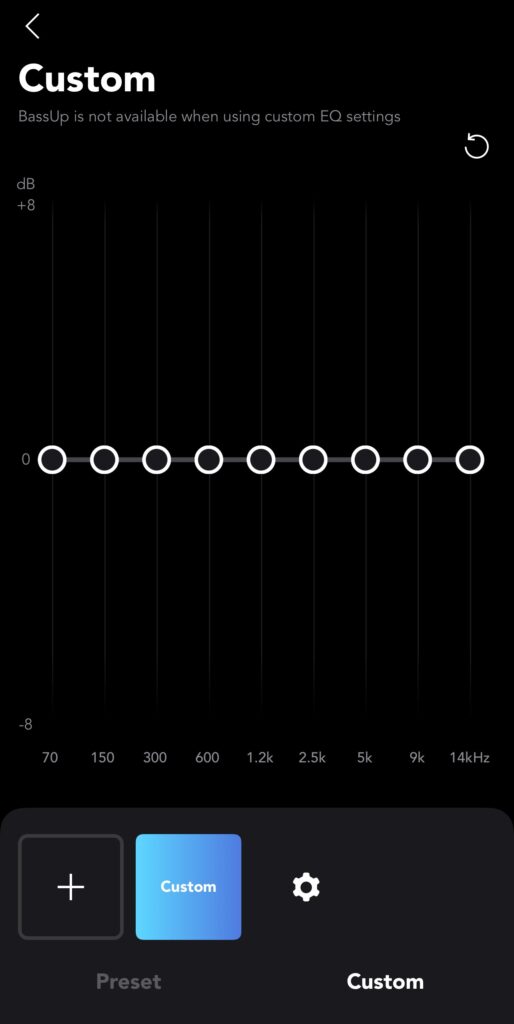 In conclusion, with its evident durability, incredible battery life, portability and functionality at this price point, it's an outstanding party speaker. Oh and I've yet to recharge it even after using it for hours and hours. I just wish it looked a little less plastic.
Rapid Reviews Rating
4.5 out of 5
4.5