18+
,
4K
,
4K HDR
,
AAA
,
Call of Duty
,
First Person Shooter
,
First-Person
,
Game
,
Gaming
,
Multiplayer
,
New
,
New Release
,
Next-Gen
,
Playstation
,
PlayStation 4
,
PlayStation 5
,
PS4
,
PS5
,
Rapid Reviews
,
Reviews
,
Shooter
,
Xbox
,
Xbox One
,
Xbox Series S
,
Xbox Series X
Call of Duty: Vanguard Review
Reading Time:
5
minutes
Fast Facts
Call of Duty: Vanguard

Developer: Sledgehammer Games
Publisher: Activision Publishing Inc.
Website: https://www.callofduty.com/uk/en/vanguard
Genre(s): First-person shooter, Multiplayer
Platform: Xbox Series X (also available on PC – Battle.Net, PS4, PS5 and Xbox One)
Age Rating: PEGI 18
Release Date: 09/11/2021
Price: £59.99+

A code was provided for review purposes
Call of Duty is always one of the biggest releases of the year, with Battlefield usually releasing just before it – but not this time. Call of Duty: Vanguard is the first in the series for a while to release beforehand, is it an improvement to the series? I'm here to tell you.
Back To WW2
Call of Duty: Vanguard's story is set just before the end of World War II and is based around a group of soldiers from various allied nations to form what's known as 'Task Force One'. The Nazi's have almost been defeated, but they seem to have their own plan to bring themselves back from the brink. Task Force One is here to stop this from happening.
Task Force One is made up of five heroes; Sergeant Arthur Kingsley, Lieutenant Polina Petrova, Private Lucas Riggs, Lieutenant 1st Class Wade Jackson and finally, Sergeant Richard Webb. Each of these characters are said to be inspired by real-life World War II heroes and they each go through their own backstories. These origin stories seem to make up a great deal of the campaign, with there only being forty-ish minutes of 'present' story.
Each of the heroes you play as have their own abilities, almost. They're pretty basic abilities, but they're there. Kingsley can order soldiers to distract or attack them, Petrova can move faster whilst crouched, Riggs can swap between various explosives, and Jackson can activate 'Focus' which slows down time and auto-aims to enemies – which is by far the most useful. They're a random bunch of 'powers', but yeah.
Call of Duty: Vanguard's campaign is extremely linear, with no other routes to take other than where you need to go. There are no side missions, no vital decisions to make (other than whether to take the stealthy approach or to just shoot everyone up) and not even any collectibles to sniff out. With this linear approach and only nine levels to complete, it does feel like a very short campaign.
That being said, the campaign itself is a lot of fun to play through and the story itself is quite intriguing. The environments look stunning, it's just a shame they can't be explored further. There's not going to be anything here that you haven't already seen in past Call of Duty campaigns, but that doesn't mean you're not going to have a good time with it.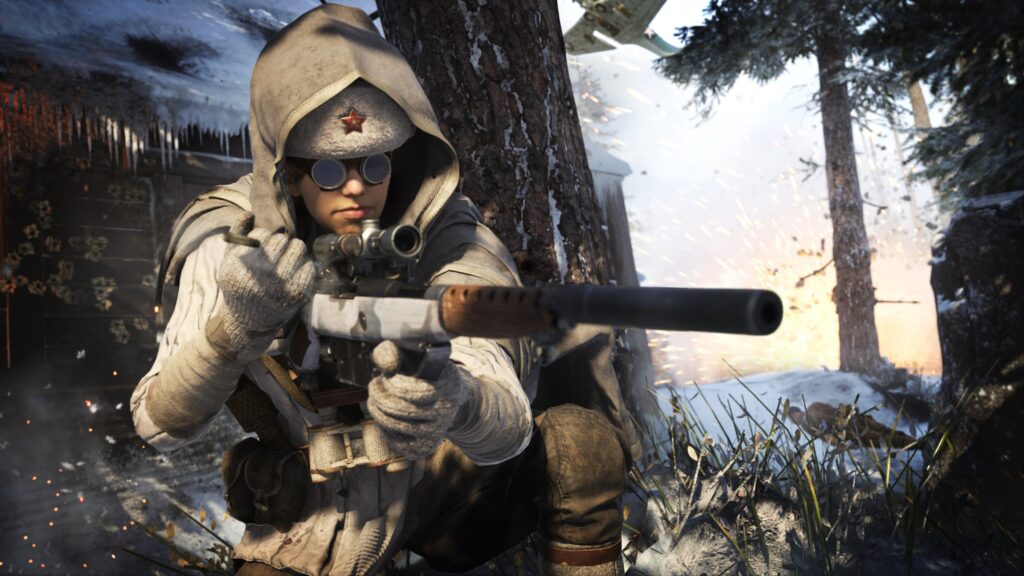 Same Old Multiplayer?
So, the multiplayer is the main reason people play a Call of Duty game, right? Well, if you have played any of the previous games you will know exactly what to expect with this one. Except Vanguard has taken aspects from various other Call of Duty Games and put them together to make – in theory – an all-round, better experience.
Expect to play the usual game modes we are all used to in a shooter; Team Deathmatch, Domination, Kill Confirmed, Hardpoint… You get the idea. Call of Duty: Vanguard has added an all new mode for us to get into and it's called Champion Hill. This is a mixture of Gunfight, Battle Royale and Team Deathmatch, all in one. In this game mode you play as team of two or of three (you can choose) pitted against seven other teams. Each squad starts with a number of lives, and you randomly battle selected teams until those lives run out.
Each person starts out with the same loadout, but with money earned from simply playing, you can purchase new abilities, armour and weapons to help you out – you can even buy back some lives. My favourite thing about this mode though is also its biggest downfall. It's set out as one big map, separated into several smaller maps that are played on. The only problem with this is, you can hear gunfire all around you from what is going on in other matches, which can be very distracting and cause you to run where you think your enemies are and they're actually not…
The customisation for your weapons in multiplayer is quite frankly, amazing. There are so many options for each gun and, unlike in other Call of Duty games, there is no limit to the amount of attachments on your gun. You can add them to your heart's content – allowing you to make the perfect guns for your style.
A nice little added feature in Call of Duty: Vanguard is the implementation of voting for your MVP at the end of a game. The game still features its trusty 'play of the game' or 'final kill' cams but after this you are given a choice of three players (with three different in-game stats) to vote on who you think is the most impressive.
I must admit, the maps featured in Vanguard are among my least favourite I've encountered in a Call of Duty game yet. That's just my personal preference but I'm sure I'm not the only person to think the maps are lacking… something. Not to mention the spawns in this one are the worst I've seen. You will constantly spawn behind, in front or next to enemies and consistently get spawn killed. Hopefully this is something that can be fixed in a future update.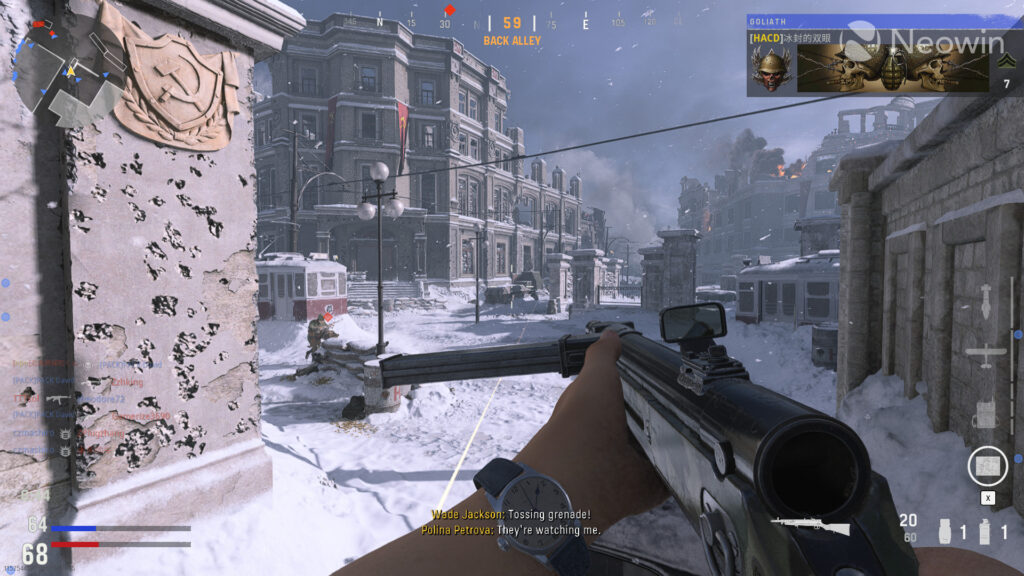 Look Out, Zombies!
Call of Duty: Vanguard features the much-loved Zombies mode and it makes a ton of changes to how it plays – which makes it refreshing to play. If you've never played Zombies mode before, it's basically a survival mode where players must defeat waves of zombies whilst also completing various objectives. Firstly, it's very similar to Black Ops: Cold War's 'Outbreak' mode where you must take portals to get to different locations in order to complete challenges.
There are three different portal types to take; Blitz, Harvest and Transmit. Blitz sees you tasked with defeating as many zombies as you can for a set amount of time. In Harvest you must defeat zombies to collect 'runes' that you must then deposit into what's called the 'Sineater'. This must be done a total of three times in order to progress and finally, in Transmit you must follow a zombie head until the end of its path – basically an escort mission. For each portal you successfully complete, the games difficulty will increase and more of the map will become available to you.
The one thing I noticed pretty much straight away was that this Zombies mode felt a lot easier than in past ones – it was relatively easier to complete ands a lot less frustrating. This mode still features its trusty random weapon box and pack-a-punch, which is good. These are all found within an almost hub-like area where you are transported back to in between rounds.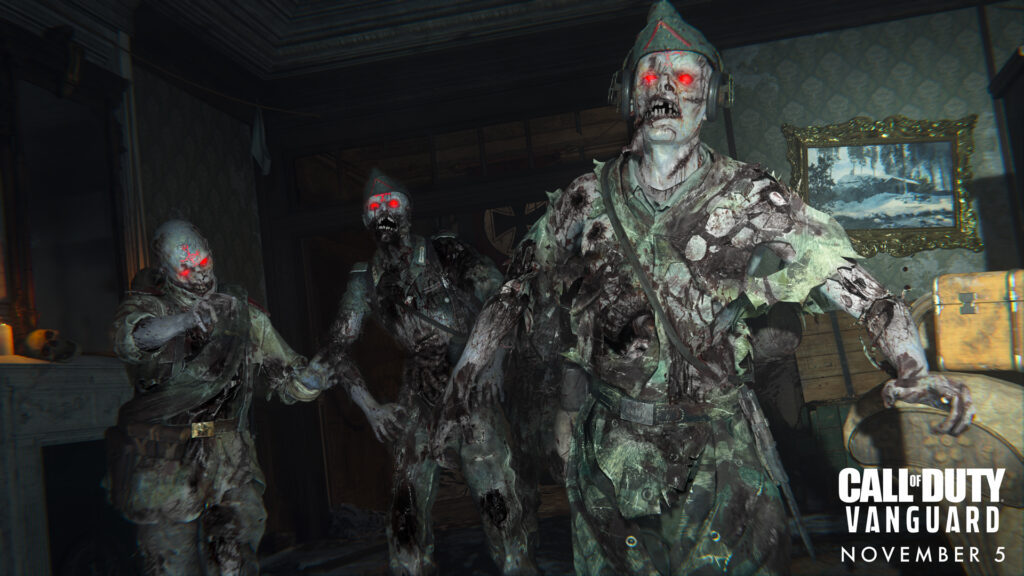 Summary
Overall, Call of Duty: Vanguard is a fun and exciting addition to the series. Although I would have liked the campaign to have been a little longer and to give a little more freedom to the player, it's still an interesting story and will keep you wanting to play to get it finished. The multiplayer and Zombies modes are as exciting as ever, with enough add-ons to keep it feeling shiny and new. The spawns in multiplayer need a BIG update, though. Despite this, if you're a Call of Duty fan, you will love this game.
Rapid Reviews Rating
4 out of 5
4
You can purchase Call of Duty: Vanguard from the Xbox Store here.