Casual
,
Creativity
,
Editorial
,
Game
,
Gaming
,
History
,
Indie
,
Indie Dev
,
Interview
,
Kickstarter
,
Lifestyle
,
Merchandise
,
Narrative
,
Other
,
Reviews
,
SEGA
,
Spotlight
[Lock-On] Volume 003 Review
Reading Time:
4
minutes
Introduction
Lost In Cult's [Lock-On] is a premium gaming journal that's now entering its third issue. The highly successful journal has not only managed to find its feet in the once crowded video game magazine landscape – it's rapidly become a one-stop shop for all things gaming. For those who have not delved into the journal before it's a collection of muses, opinion pieces, and deep dives into various topics. Written by a talented pool of writers, [Lock-On] not only feels like a conversation between friends – but it's also pretty insightful too! Add in a lot of gorgeous artwork, and the whole journal is a wonderful work of art.
At the time of writing this introduction, the vast majority of the UK is celebrating the Queen's Platinum Jubilee. For me, I'm deep into the pages of this perfect slice of gaming goodness. And with this volume being heavily focused on SEGA and its Dreamcast – I feel right at home!

Dare To Dream!
Those who know me well know that I have a massive soft spot for SEGA. Like many, I was raised on a diet consisting of my two older brothers' Game Gear, Mega Drive (with 32X and Mega-CD), and Saturn, whilst my first console would end up being a SNES! Anyway, I digress. For any fan of both SEGA and the Dreamcast, this volume of [Lock-On] makes for a superb read. From Chris Scullion's introduction to then following a young Dan Driver on his disappointment of Saturn's Western discontinuation – to then discover the Dreamcast – was a pure delight. From here the Dreamcast love-fest continues as we get more pieces that cover individual games, as well as quite an in-depth look at the console's unique peripherals (how cool was/is the VMU?) and its links to the NAOMI.
As mentioned in my introduction, each writer has a firm grasp of what subject they are writing about. There's a clear degree of passion for each subject that leaps straight from the page. As a big fan of Skies of Arcadia, I resonated with Lor Gislason's retrospective into why the game remains such a hit with so many of us – whilst simultaneously being criminally underrated.
While [Lock-On] Volume 003 is heavy on its Dreamcast coverage, it's not the only thing in the journal. Away from this and we get a multitude of various opinion pieces that range from exploring the dark side of Pikmin (it gets pretty dark!), a retrospective look at the Darksiders series, and a great look into the creation of Sable. Every genre is catered for, and there's an article for every type of gamer.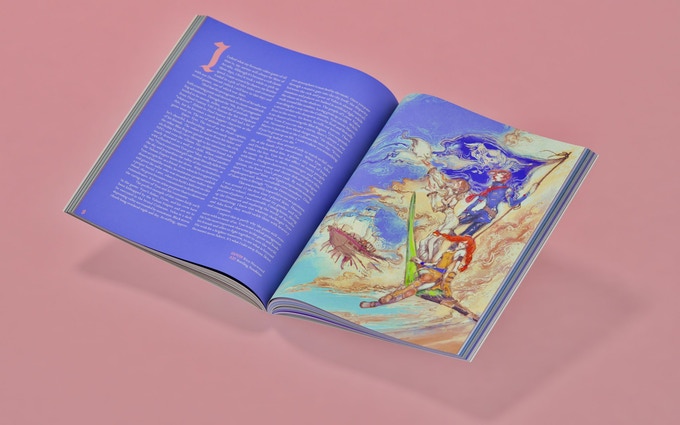 Presentation
The overall presentation of [Lock-On] Volume 003 is pretty top-notch. The articles are adorned with plenty of artwork that ties the writing together. There are so many great art pieces that it's generally tough to find that stand-out piece. If I had to pick one, it would be Gregorios Kythteoyis' cover. Not only does it show off how great Sable is, but it's also incredibly eye-catching. While [Lock-On] doesn't currently have a retail release, with cover designs like this one, it will certainly stand out on the newsstand!
Each article also features its own font and layout style. It's a nice thought which certainly ties into the article's themeing. However, this is also where my only criticism of the journal comes from. Some of the articles are a little tough on the eyes due to their contrasting font and background colour. A good example of this is Lara Jackson's 'Inferno'. While it's a perfectly good piece about Silent Hill and P.T. the dark red font and black background make it quite a difficult read.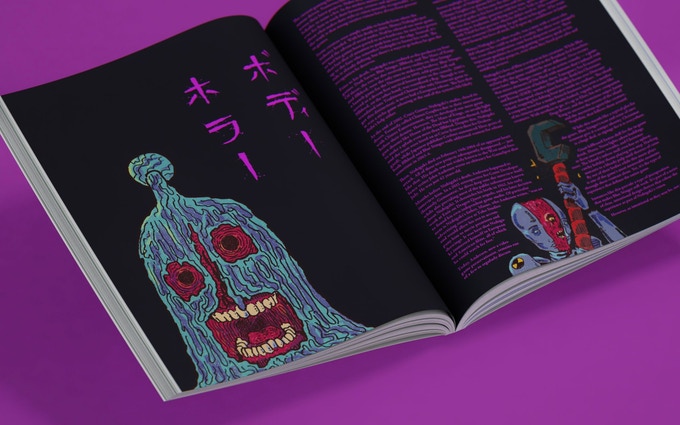 Summary
All in all, there's a lot to love about [Lock-On] Volume 003. The team over at Lost In Cult have poured a lot of love into crafting a gorgeous-looking journal. Everything from its incredible artwork, to the wide range of available articles, leaps straight off the page. As a big fan of the Dreamcast – I was always going to get a lot out of this volume. However, even if you're a staunch Sony or Nintendo supporter, reading this might warm you towards SEGA's console swansong.
I'm certainly interested to see what the future holds for both Lost In Cult and [Lock-On]. With a plethora of new writers jumping into its talent pool – the future is looking extremely bright!
Rapid Reviews Rating
5 out of 5
5
[Lock-On] Volume 003 is available now and can be purchased via Lost In Cult by clicking here.
A press copy was kindly provided for this review.