Action
,
Adventure
,
Arcade
,
Casual
,
Co-op
,
First Person Shooter
,
Game
,
Gaming
,
Indie
,
Nintendo
,
Nintendo Switch
,
Rapid Reviews
,
Reviews
Blink: Rogues Review
Reading Time:
4
minutes
Fast Facts
Blink: Rogues

Developer: Fox Dive Studios
Publisher: Ultimate Games
Website: Blink: Rogues by FoxDiveStudio (itch.io)
Genre(s): Action, Arcade, Adventure, Shooter
Platform: Nintendo Switch, PC
Age Rating: PEGI 7
Release Date: 07/05/2021
Price: £8.99

A code was provided for review purposes
Time For Take-Off
Space Invaders is a well-known top-down shooter game that is loved and admired by many. It started the journey many gamers find themselves on today, across galaxies far and wide, visiting skies of unknown worlds. When I viewed the trailer for Blink: Rogues, I was drawn back to that moment in my childhood, of discovering shooter games through Space Invaders, and wanted to give it a try. Intrigued by its own blueprints, I put myself forward to review the game. Here's what Rapid Reviews thought, as we lift off into the skies of Blink: Rogues.
The game, as described above, is a fast-paced top-down shooter (in simpler terms, you shoot and view the aircraft as if you were above it). It brings a challenge to combat and encourages the player to fly across the screen as you fight enemy aircraft and sky bandits. Your reflexes are pushed to their limit as speed and wit are what put you ahead of the game; especially important while trying to manoeuvre your aircraft and precisely aim rockets, guns, and lasers galore, at the oncoming tidal wave of traffic.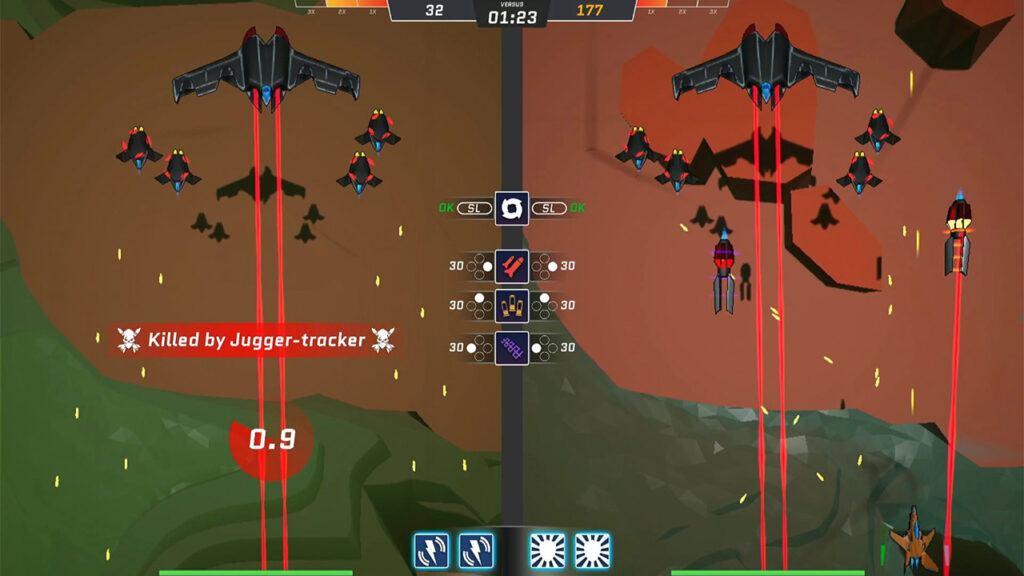 Game Modes and Their Quirks
Solo play is my go-to mode first-hand, as I enjoy sitting all cosy on the sofa escaping to my own world. So, with Blink, it was no different. As the game plays through you get to read slides of the story. It's nothing spectacular or overwhelmingly escapist-like but it draws the basic picture as to why you are here. The lack of story doesn't cause any issues. It's a simple game with simple logistics but that's what makes it enjoyable. Aim and fire. As you progress through the start of the game, it provides suggestions on what buttons do what, and which aircraft needs certain moves in order to take it down. I appreciated this aspect because a lot of games usually give you levels to figure out how to play but they tell you directly. A tutorial with importance.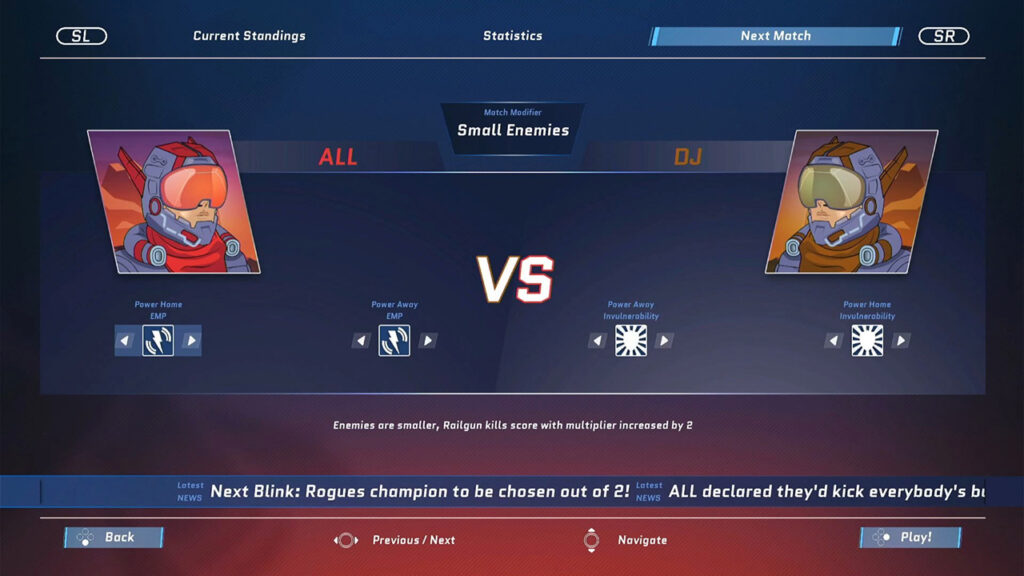 Despite the tutorial, it didn't make completing the story easier, but my incompetence to shoot the enemy down was bigger. Quite early on in Story mode, the screen is overwhelmed with aircraft to shoot. Trying to manage two screens, flip the aircraft, aim bombs, detonate smoke, spray artillery and the rest, you would think the pass rate would be easier. With so much to do, you often miss what's going on, and yet you're expected to get over 40% to just get a star, and for each level, you need a certain number of stars to pass. This is just for the easy levels; I think it's obvious to say I hardly made it to the more difficult levels. It appears the game immediately throws you full throttle out of space, and you're clinging on for your best chances of survival.
Multiplayer can be enjoyed in two ways. Against the computer, or with a friend. With no friends on hand, I took my chances against the intellect that is the expertly built system. It is carnage. The aim of multiplayer is to score the most points in your allotted time, but during this, you can spawn to the other player's screen and unleash waves of artillery on them to stop them in their tracks. It's complete chaos which I found myself lost in after game after game.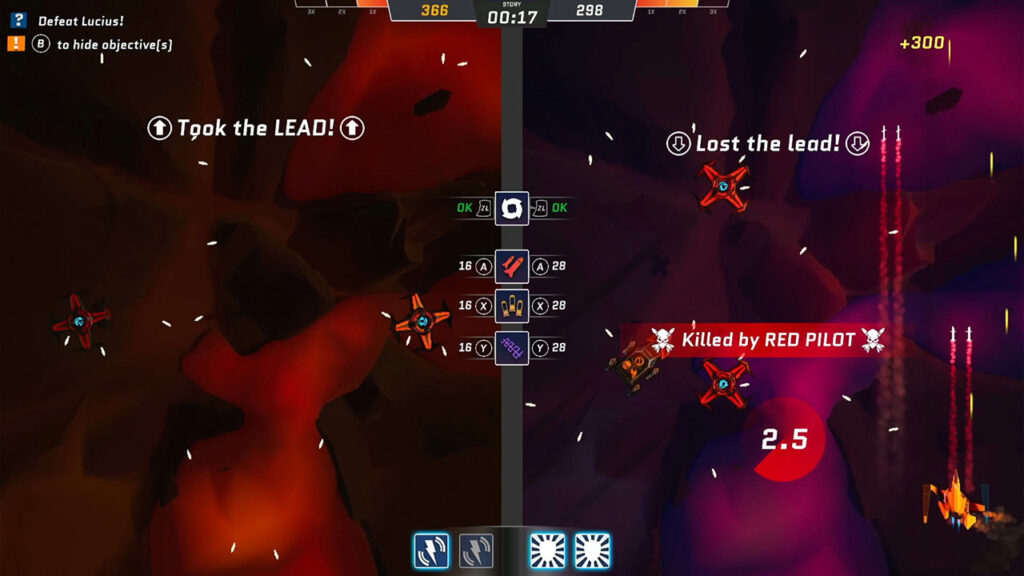 Time Flies When You're Having Fun
Everyone enjoys an easy game. The kind you can pick up and put down without the commitment of an invested story. That's what Blink feels like, something you can get lost in. I enjoyed the game; it has a manageable aim and brings new meaning to the top-down shooter genre. Bringing you a variety of options to indulge in as you tackle the opponent, I can see why it's admired. It's not my kind of game, and it can be quite chaotic at times. The early stages seem overly complex for what is deemed as easy levels.
As recommendations go, I would endorse you to take a journey to a galaxy like no other. But beware of the chaos that lies ahead.
Rapid Reviews Rating

3 out of 5
3
You can purchase Blink: Rogues from the Nintendo eShop here.