18+
,
4K
,
4K HDR
,
Action
,
Co-op
,
First-Person
,
FPS
,
Game
,
Hardcore
,
HDR
,
Multiplayer
,
New Release
,
Next-Gen
,
PC
,
Playstation
,
PlayStation 4
,
PlayStation 5
,
PS4
,
PS5
,
Rapid Reviews
,
Reviews
,
Series S
,
Series X
,
Shooter
,
Simulation
,
Tactical
,
Xbox One
,
Xbox Series S
,
Xbox Series X
Insurgency: Sandstorm Review
Reading Time:
4
minutes
Fast Facts
Insurgency: Sandstorm
Developer: New World Interactive
Publisher: Focus Entertainment
Website: https://www.focus-entmt.com/en-us/games/insurgency-sandstorm
Genre(s): Action, Adventure, Shooter, Simulation, Strategy
Platform: Xbox Series X | S (also available on PlayStation and PC)
Age Rating: PEGI 18
Release Date: 28/09/2021
Price: £34.99

A code was provided for review purposes
Introduction
The first person shooter market is quite bloated. With FPS titles almost launching on a weekly basis, it's easy for the odd diamond to get lost in the rough. With Call of Duty still being the FPS king, it's also used as the benchmark for everything else. One title that's aiming to take – or at least challenge COD's supremacy is Insurgency: Sandstorm. Developed by New World Interactive, Insurgency: Sandstorm is a bare-bones multiplayer FPS that aims to highlight the brutal nature of modern warfare.
Gameplay
The first thing to note about the title is that there's no single-player campaign. The whole of Insurgency: Sandstorm's gameplay consists of either PvP or PvE content that's split across eight game modes. On the surface, it does feel that the title doesn't offer a lot, but even without a gritty-hard-hitting campaign, Insurgency Sandstorm does what it does incredibly well.
The game starts off with you creating an avatar that'll be your persistent character across each game type. This avatar can be customised in a number of ways with various clothing and armour styles to choose from. The great thing here is that everything is unlocked from playing the game or levelling up. In a world where every game features a microtransaction in some shape or form, Insurgency: Sandstorm is certainly swimming against the tide.
Creating a class that you'll fight as is also performed in a very intuitive way. Rather than giving you a selected choice of weaponry per class, you're given 20-points to spend however you choose. The trick is that each item has a value that all adds up to the total effectiveness of your soldier. Naturally, better weapons cost more points, with the downside being that you'll have to sacrifice equipment or attachments. It certainly makes for some tactical gameplay as each player plays out their role.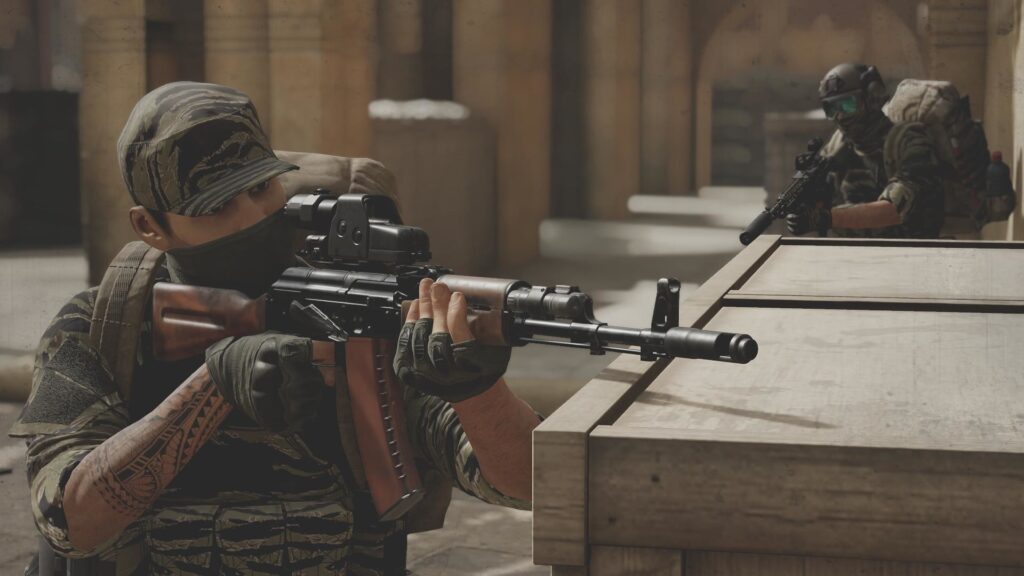 Theater of Battle
Once you've chosen your loadout, it's then over to choosing what mode to play. The game is split evenly between PvE and PvP, with each offering varying game types. PvE offers your more traditional 'Horde' and 'Survival' modes. These will see you either defending against an insurmountable amount of enemies or capturing checkpoints as you move across the environment. It's certainly not a cakewalk as the AI can be pretty punishing. What's interesting is that rather than being simple bullet sponges, the AI thinks tactically. Rather than rushing in, you'll be flanked or suppressed while a smaller team attempts to exploit your team's weaknesses.
PvP on the other hand features a range of more traditional game types. There's plenty on offer here that will satisfy Call of Duty and Battlefield veterans, with modes such as 'Frontline' and 'Push' being the main. Gameplay across these modes remains fairly tactical with teamwork and class synergy being at the forefront.
Each mode rotates through a number of maps in which there are fourteen in total. These locations range from desert towns, oil refineries, embassy buildings, and plenty of others. There's a lot of variety at play and each offers a fresh take on the tactical gameplay. A few of the maps also take place at night which offers some pretty impressive visual displays of tracer rounds and muzzle flashes.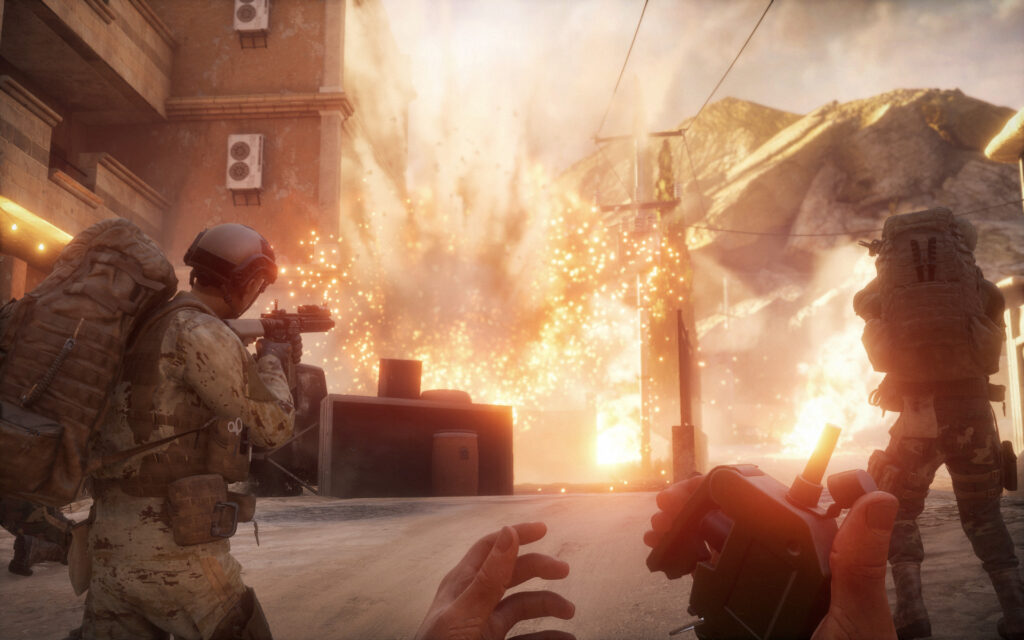 Presentation
In terms of visuals, Insurgency: Sandstorm is a bit of a letdown. Considering it's an Xbox Series X|S enhanced title, visuals often look dated. The use of a limited HUD offers a great view of the battlefield, but it's often a drab look. Weapons can also suffer from the odd texture pop-up. This is especially noticeable when you're in ADS with textures either not appearing, or feeling low-rez. Shadows are also an issue with lightboxes seemingly not functioning how they should. Neither of these are major issues, but they break the immersion that the game tries to portray.
When it comes to sound, this is one area that the game excels at. I spent a lot of game time using my Razer Kaira headset, and it definitely enhanced the experience. Everything from the booming of a close-by mortar strike, to the distant cackle of gunfire, sounds excellent. You can see that there's been a great detail put into making Insurgency: Sandstorm sound authentic, and it really helps to build the atmosphere of each battle.
Conclusion
When it comes to military shooters, Insurgency: Sandstorm certainly contends with both Call of Duty and Battlefield. While it's not without its issues, it's a simple, atmospheric shooter that does what it does without any fancy gimmicks. What you get here is a hard-core multiplayer shooter that's built around a core set of game modes and maps. Character customisation is incredibly in-depth and no two players will look the same. When it comes to class load-outs, Insurgency: Sandstorm raises the bar, in both execution and wealth of choice. If you're looking for a fast-paced shooter you won't find that here. But, if you want a tense tactical affair with a great use of sound then Insurgency: Sandstorm will drag you into its world!
Rapid Reviews Rating
4 out of 5
4
Insurgency: Sandstorm is available now and can be purchased via the Microsoft Store by clicking here.