18+
,
4K
,
4K HDR
,
Board Game
,
Game
,
Horror
,
Indie
,
Indie Dev
,
Nacon
,
New
,
New Release
,
Next-Gen
,
Nintendo Switch
,
Nintendo Switch Lite
,
PC
,
PlayStation 4
,
PlayStation 5
,
PS4
,
PS5
,
Rapid Reviews
,
Reviews
,
Role-Playing Game
,
RPG
,
Series S
,
Series X
,
Switch
,
Tabletop
,
Tabletop Game
,
Thriller
,
Xbox
,
Xbox One
,
Xbox Series S
,
Xbox Series X
Vampire: The Masquerade – Swansong Review
Reading Time:
5
minutes
Fast Facts
Vampire: The Masquerade – Swansong

Developer: Big Bad Wolf Studio
Publisher: Nacon
Website: https://vampire-swansong.com/
Genre(s): Role-Playing, Mystery
Platform: Xbox Series X|S (Also available on PC, PlayStation 4, PlayStation 5, Nintendo Switch and Xbox One)
Age Rating: PEGI 18
Release Date: 19/05/22
Price: £49.99

A code was provided for review purposes
Introduction
Much like the humble zombie, vampires have been part and parcel of video games for quite a while. As monsters go, they're quite a versatile bunch who can lend their hand to a multiple of genres. Whether it's the action-oriented 'Legacy of Kaine' series or the terrible (and much) forgotten 'Vampire Rain', or even the classic 'Castlevania' – each game offers a different portrayal of the blood-sucking undead creature.
Vampire: The Masquerade – Swansong from developer Big Bad Wolf Studio, is quite a unique title. Not only is it based upon 'Vampire: The Masquerade' table-top role-playing game, it doesn't attempt to build upon the narrative portrayed within the previous four Vampire: The Masquerade video-games. As such it's a somewhat standalone title that's set within the same universe.
Code Red
Taking place within Boston MA, a local gathering to celebrate the alliance between two vampire groups has ended in a slaughter of most of the party's guests. As such the local council of vampires have called for a Code Red situation – an alert that their presence may have been revealed to the outside world. As the city's vampire population closes its ranks, three vastly different vampires from three different clans have been called in to investigate the Code Red, and ultimately unravel the conspiracy. However unbeknownst to each other, each of the three also has their own reasons for investigating the mystery.
These three characters also act as the game's protagonists, and as such you'll be spending a lot of time with them. The group which consists of seductive nightclub owner Emem, the suave Galeb, and the mysterious Laysha, each have their own distinct personality which can be tailored in true RPG style by the player.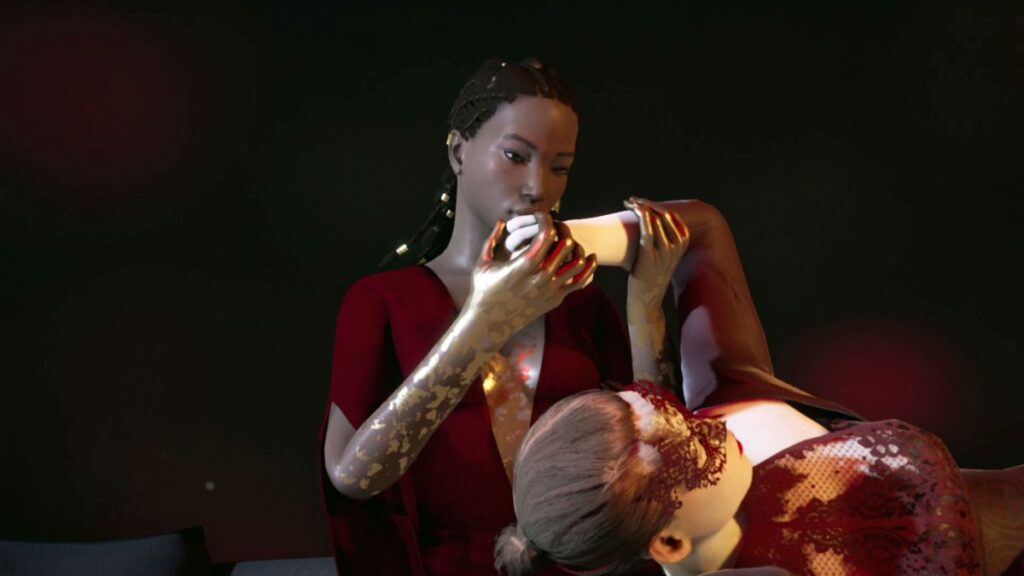 Three Protagonists, Three Headaches
On the surface each of the playable characters falls into those typical vampire traits that we've seen before. Emem is portrayed as a sultry nightclub owner, Galeb is the suave and more "traditional" vampire, while Laysha is a clairvoyant. While each of the three display some differences in overall personality, they are a blank mold that can be sculpted by choosing different disciplines. These disciplines affect how the character approaches dialogue and what skills they'll generally start with. However you're also able to choose the same discipline for all three characters, which sucks any enjoyment out of the game and can turn the characters into the same lifeless husk.
Regardless of how you play each character, none of them are particularly memorable. The only real fun I had was scenes with Galeb, yet even then they did become tedious as the character seems to turn into an "angst-y teenager". The same can also be said for Laysha. Having the ability to see the future does make for a pretty interesting set of skills. However with her child in tow – the aptly named "Sugar Thangs" – Laysha falls into the parent trap of repeating dialogue and slow pacing. Emem on the other hand just remains a blank slate, and may as well not be there.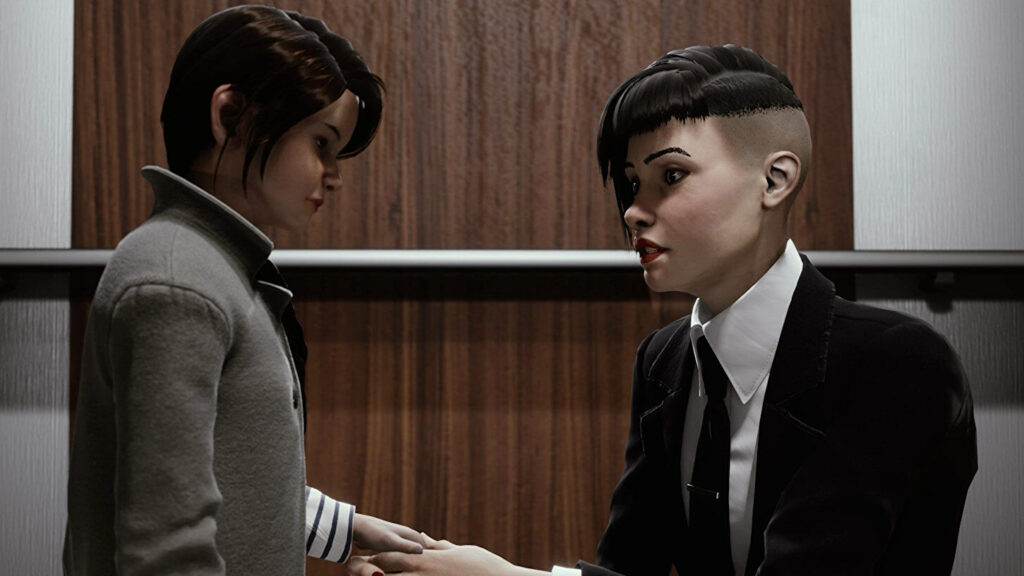 Gameplay
Even with its blank and annoying characters, Vampire: The Masquerade – Swansong does have SOME interesting gameplay moments. Throughout you'll be searching areas for clues as to piece together the conspiracy, whilst speaking to other characters, and managing your hunger levels.
When it comes to vampire games, that insatiable need to feed is always present. Here the hunger is tied into a dialogue option that allows you to influence how the conversation will go – essentially it gives you another dice to roll. How much you use then determines how much hunger you accrue, which will then send you off searching for a victim. This also acts as a mini-game in its self as you'll have to manually determine how much to feed from your chosen prey. Feed too much and you'll leave them dead – which will draw attention, yet take too little blood and you'll have to feed again sooner. It ultimately falls down to how much of a good or bad vampire you want to be. There's no right or wrong way, but considering the overall story – it's probably best to be a little conservative.
In all fairness I did quite enjoy the gameplay loop. Searching for the clues needed to unlock extra dialogue choices did feel quite rewarding. Though the overarching narrative is a little clichéd, it was also interesting to see how your choices tied all the intricate plot threads together.
Performance
Oh boy, where to begin? Vampire: The Masquerade – Swansong doesn't perform great. Its technical prowess is practically non existent and the game suffers from a lot of inconsistencies that shouldn't happen on current-gen hardware. Texture pop-up is rife throughout, and even playing on the Xbox Series X sees characters and the environment constantly lose detail as they shift between the clarity we come to expect, and Play Doh. It's a real shame as a lot of the environment looks pretty interesting.
Character animation is also very hit and miss. Considering the game is mostly conversation based, the characters' facial expressions are incredibly bland. There's no conviction given within their expressions that portrays the emotion behind the spoken dialogue.
This does then lead on to the argument that Vampire: The Masquerade – Swansong was developed by a small team, with a small budget. While I'm not denying that Big Bad Wolf Studio's have shown a lot of passion for the source material, its ambition is ultimately the game's downfall. With a slightly larger budget, and the room to iron out the few technical issues that there are, Vampire: The Masquerade – Swansong COULD have been a great game.
Summary
Vampire: The Masquerade – Swansong is a game that I really wanted to like. As an avid boardgame/TTRPG player the premise behind the game shows a lot of promise. While there is the glimmer of something great hiding in the shadows, it's marred by a distinct lack of polish, and some very frustrating animation. If you're a fan of the World of Darkness table-top RPG then you may get a kick out of the narrative that the game is trying to tell. For everyone else…well it's probably best avoiding.
Rapid Reviews Rating

3 out of 5
3
Vampire: The Masquerade – Swansong is available now and can be purchased from the Microsoft Store by clicking here.