Accessories
,
Bluetooth
,
Chargers
,
Charging
,
Gadgets
,
Google Wear OS
,
Hardware Reviews
,
Lifestyle
,
Mobvoi
,
Product Reviews
,
Rapid Reviews
,
Reviews
,
Smartwatch
,
Tech
,
Tech Review
,
Tic Health
,
TicWatch
,
TicWatch Pro 2020
,
Wear OS
,
Wearables
TicWatch Pro 2020 Review
Reading Time:
6
minutes
Tech Specs
Operating System: Wear OS by Google™
Dimensions: D45mm x 12.6mm
Display: 1.39" AMOLED 400 x 400 + FSTN display
Chipset: Qualcomm® Snapdragon Wear™
Memory: RAM: 1GB
Storage: 4GB
GPS: GPS + GLONASS + Beidou + Galileo
Connectivity: Bluetooth 4.2 / Wi-Fi: 802.11bgn 2.4GHz
NFC payments: Google Pay ™
Water and Dust Resistance: IP68
Sensors: Accelerometer, Gyro, Magnetic Sensor, PPG Heart Rate sensor, Ambient Light, Sensor, Low Latency Off-Body Sensor
Battery and Charging: Capacity 415mAH
Charging method: Dock with a USB cable
Battery Life * Smart mode: 2-5 days / Essential mode: 30 days / Mixed usage: between 2-30 days
Speaker: Supports
What's In The Box?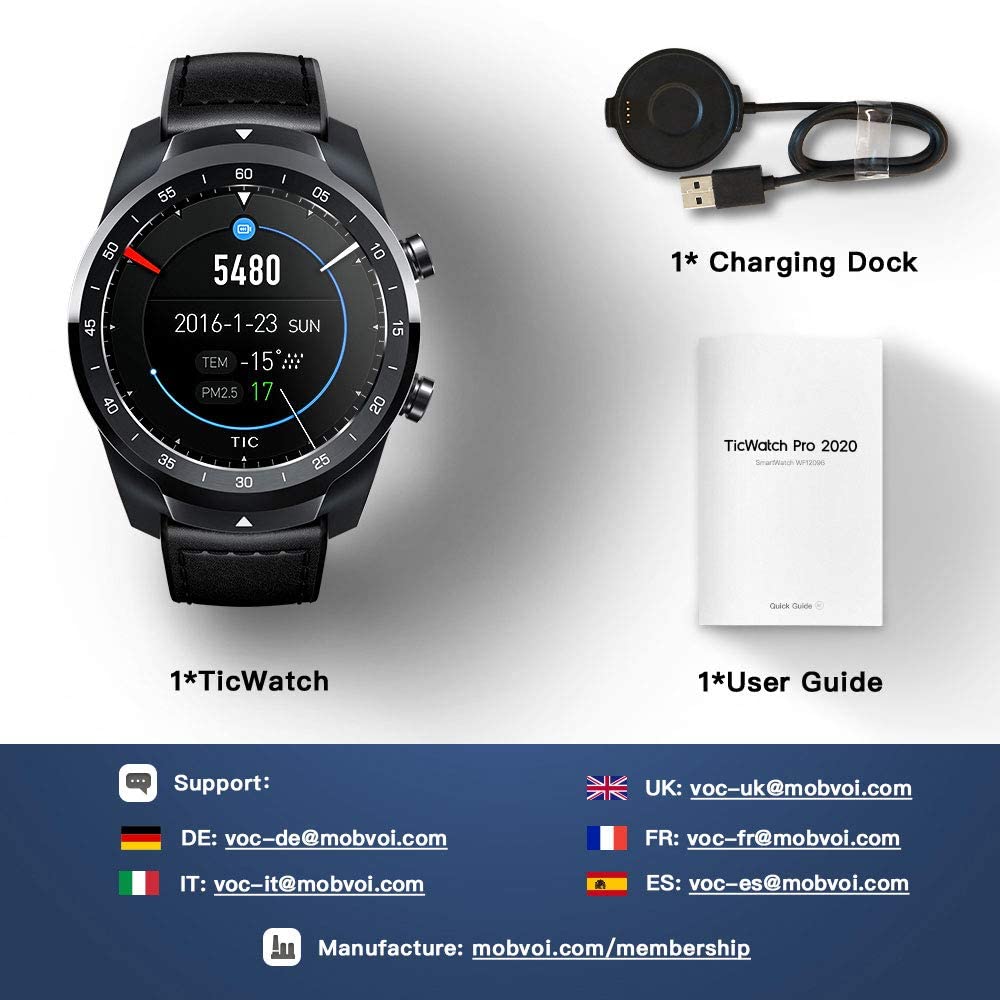 The TicWatch Pro 2020 is an updated version of the TicWatch Pro. The main difference is that they've added some extra ram, bringing the total to 1GB. Read on for my Rapid Review of this smartwatch from Mobvoi.
Design
The TicWatch Pro 2020 isn't the prettiest or the ugliest smartwatch I've seen. It's a fairly standard design. I would call it functional. It's very light, but it does stick out more than other smartwatches I've used. I did like the strap, the top layer of the strap is real black Italian leather, and the bottom layer is silicone. This makes it easy to clean.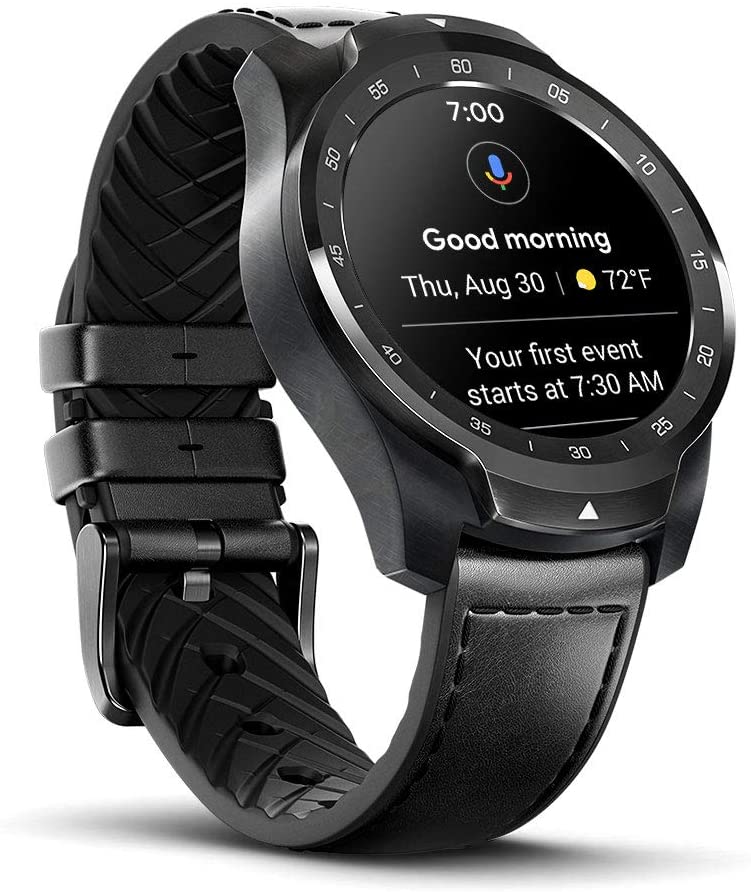 With Corning Glass 3, and a case made of carbon fibre reinforced with high strength nylon, Mobvoi claims that the watch is military-grade in terms of durability. I've worn the watch most days over the last couple of weeks, and there isn't a scratch or mark to be seen. Therefore, I'm confident in saying that this is a very durable smartwatch.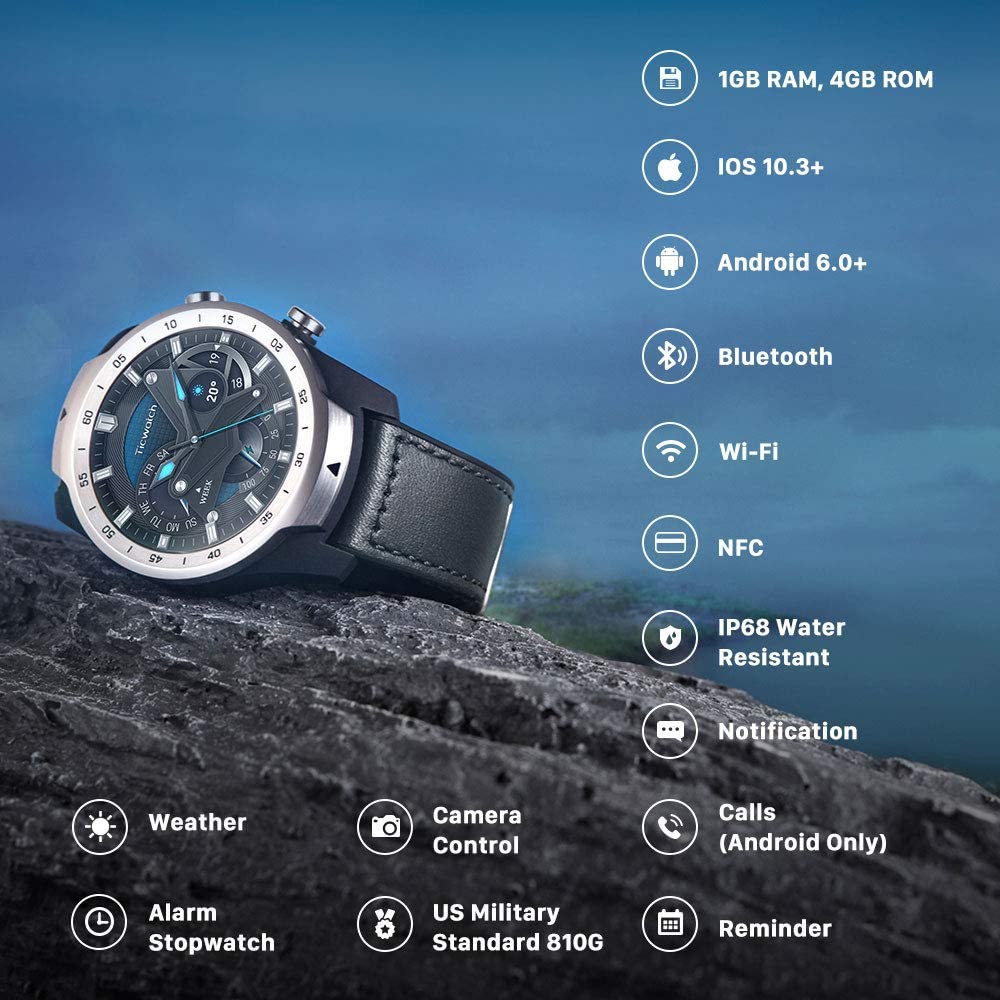 The watch comes with IPS8 protection, meaning that it is water & dustproof. I haven't worn the watch in the shower or swimming pool, but I have worn it when walking in the rain, or when washing up, and it has survived those splashes.
Display
The TicWatch Pro 2020 is unique in the fact that is has a dual-layered display. The watch has an AMOLED screen and an LCD screen. Mobvoi have decided to use the two displays to improve battery life. The AMOLED display is clear and crisp, and the numerous watch faces that are available look bright and colourful. At times, however, I have found it a little tricky to read in direct sunlight. The LCD screen is sharp, and the information can be read easily, even in sunlight.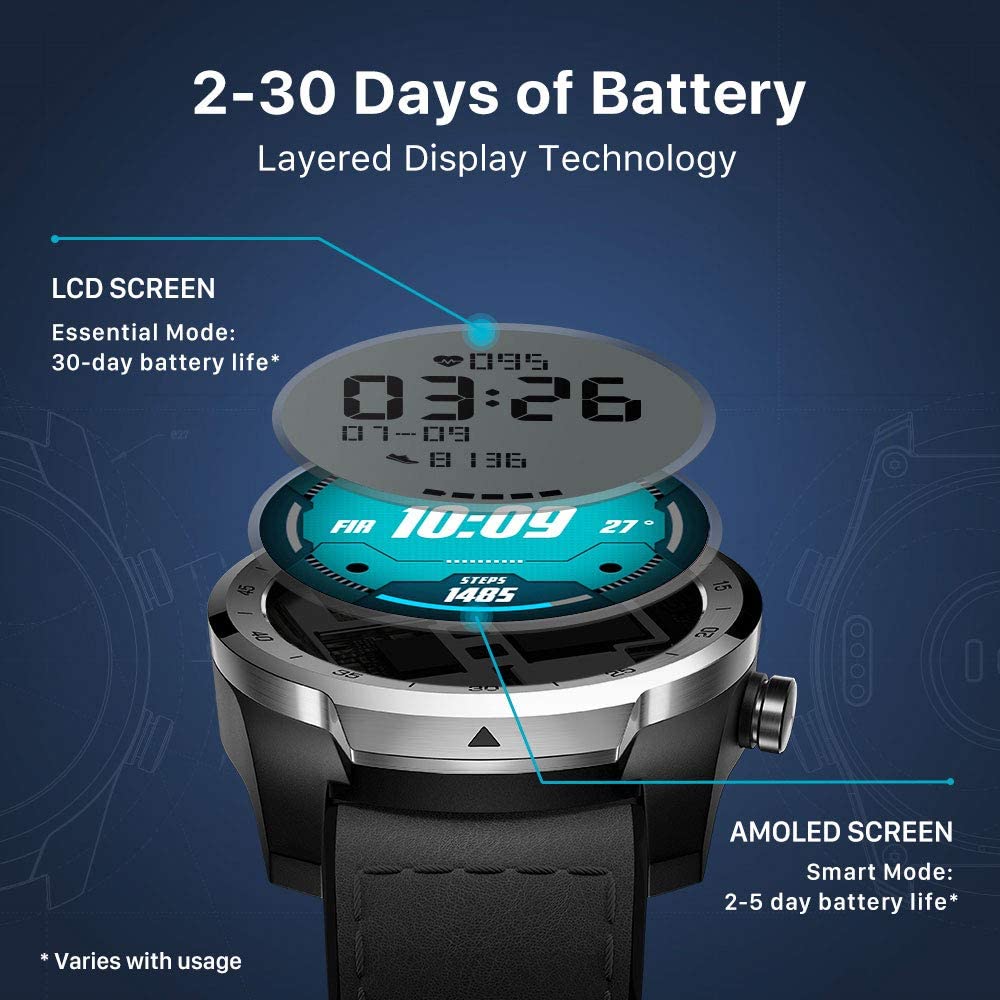 Wear OS
The TicWatch Pro 2020 runs Google Wear OS, and I found it easy to adapt to this OS. I was able to navigate my way around the watch in no time at all. Many of the apps that I use on my phone were available on the watch, including; Spotify, AccuWeather, Google Slides, and Keep Notes. A huge bonus is the inclusion of Google Pay.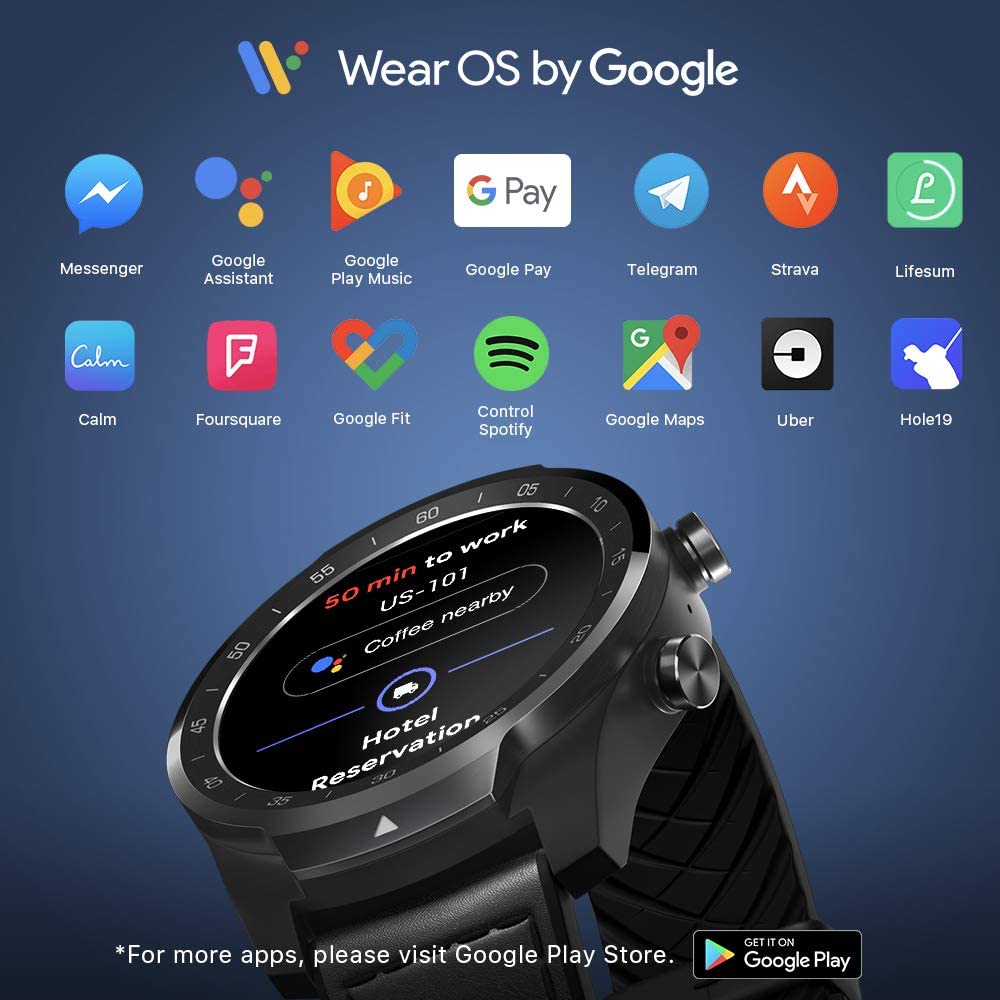 Being able to pay with your watch is a great feature and one that is usually found on more expensive watches.
Performance
As mentioned previously, the TicWatch Pro 2020 has been upgraded to include 1GB ram. I didn't use the previous iteration of the watch, so I can't compare the two. What I can say is that on the whole, performance has been great. Flicking through the menus, and the apps, while not buttery smooth, was quick enough. I noticed a little bit of lag on a couple of occasions, especially when using voice to interact with the watch.
Health and Exercise
When you first open TicHealth, you are asked to enter your details, age, sex, date of birth, height and weight. You then get to set your daily goals. The three categories are step goal, exercise time, and active hours. Depending on what you enter, the watch will alert you throughout the day if you are not reaching your goals. It will also tell you, via a notification, how many steps you have left to reach your goal. This was an excellent feature of the TicWatch Pro 2020.
Another aspect of the Tic Health app that I liked was the fact that you can add a record of how you're feeling. This is an excellent way to keep track of your physical and mental health.
There are a limited number of preprogrammed exercise modes of the TicWatch Pro 2020, but an outdoor walk is one of them. This was extremely handy, as since lockdown began, we have been going on daily walks as a family. Using the built-in GPS, I was able to track where we walked, for how long, and how fast.
It is during exercise that the dual display is useful. You can take a glance at the LCD screen to access quick information about your exercise, for example, the length of exercise completed, steps taken, and heart rate.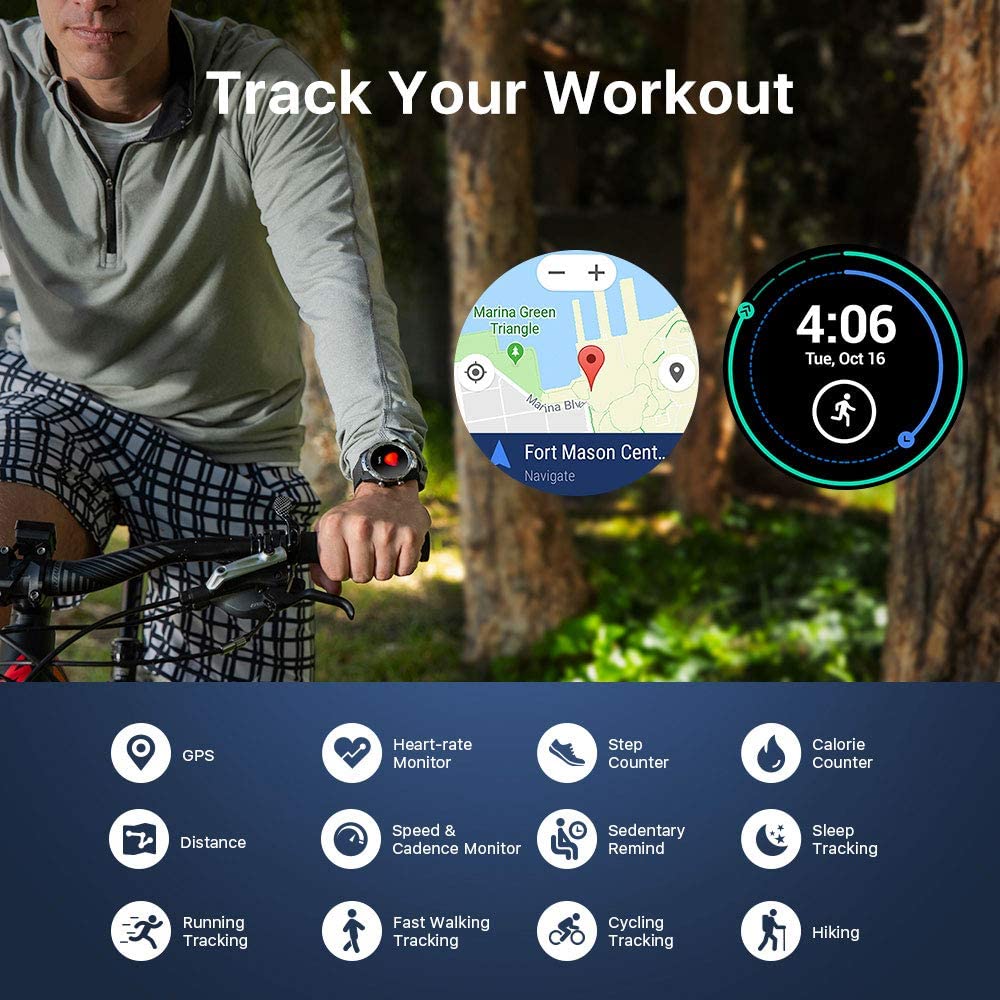 If you want more detailed information about your exercise, you can tap the screen to activate the AMOLED display, allowing you to access even more information about your exercise, for example, a GPS outline of where you have been.
Another useful feature of the watch was the auto-pause function. When enabled, this tells the watch to stop collecting data, until you're ready to get on the move again.
All of the data collected during exercise can be synced to the Mobvoi App on your phone. The screenshots below show you just how much data is collected. You can then share this data with other people, for example, a workout partner or fitness coach.

Sleep tracking
To track your sleep, you need to download the Tic Sleep App on to the watch. When installed, you can change the settings to tell the watch what your usual sleeping pattern is. I've worn the watch to bed on several occasions, and I was pleasantly surprised by how accurate the data was. As you can see in the screenshot below, using the Mobvoi App on the phone, allows you to dive deep into the data, and make any changes that you need to make accordingly.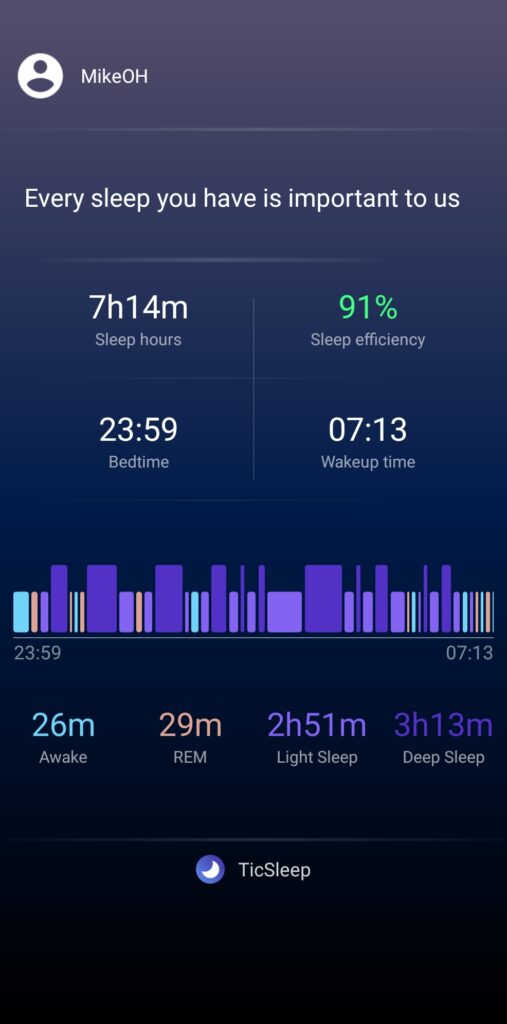 Battery
Battery life has been a bit of a mixed bag. When I unboxed the watch, there was a card included which stated that the battery might drain a little faster than it should due to a software update and that it would correct itself after several charges. In my experience, this was true.
After nearly three weeks of use, the battery does seem to have settled down. Using Smart mode to exercise, interact with the notifications, check the weather, control music, and answer phones call, I was able to get a few days of battery out of the watch. Enabling Essential Mode allowed me to get a lot more battery life out of the watch.
Conclusion
The Mobvoi TicWatch Pro 2020 is a good smartwatch, and a definite contender if you're looking for an alternative to other, more expensive watches. The health aspects of the watch are the standout
Rapid Reviews Rating
You can purchase the Mobvoi TicWatch Pro 2020 from the Mobvoi UK Store.