Arcade
,
Classic
,
Game
,
Gaming
,
Indie
,
Indie Dev
,
Microsoft
,
Racing
,
Rapid Reviews
,
Reviews
,
Xbox One
Taxi Chaos Review
Reading Time:
6
minutes
Fast Facts
Taxi Chaos

Developer: Team6 Game Studios
Publisher: Lion Castle Entertainment
Website: https://taxi-chaos.com/
Genre: Arcade, Racing, Classics
Platform: Xbox One (Also available on PlayStation 4 and Nintendo Switch)
Age Rating: PEGI 3
Release Date: 23/02/2021
Price: £25.99

A code was provided for review purposes.
The Return of The Arcade Taxi Game?
I have fond memories of playing Crazy Taxi on my SEGA Dreamcast in the noughties. When offered the chance to try out Taxi Chaos – a perceived spiritual successor to Crazy Taxi – I was keen to see whether the classic arcade racer's gameplay could be brought back to modern screens in style. I was also curious about whether I had improved my virtual driving skills in that time. Perhaps unsurprisingly, I haven't.
Developed by Team6 Game Studios and published by Lion Castle Entertainment, Taxi Chaos follows the classic premise of picking up and dropping off customers in the fastest times possible. This is often achieved through unorthodox driving, crazy route choices, and questionable decision-making. Playing as either the seasoned Italian cab driver Vinny, or the self-proclaimed "influencer" Cleo, you must serve as many customers as possible before time runs out.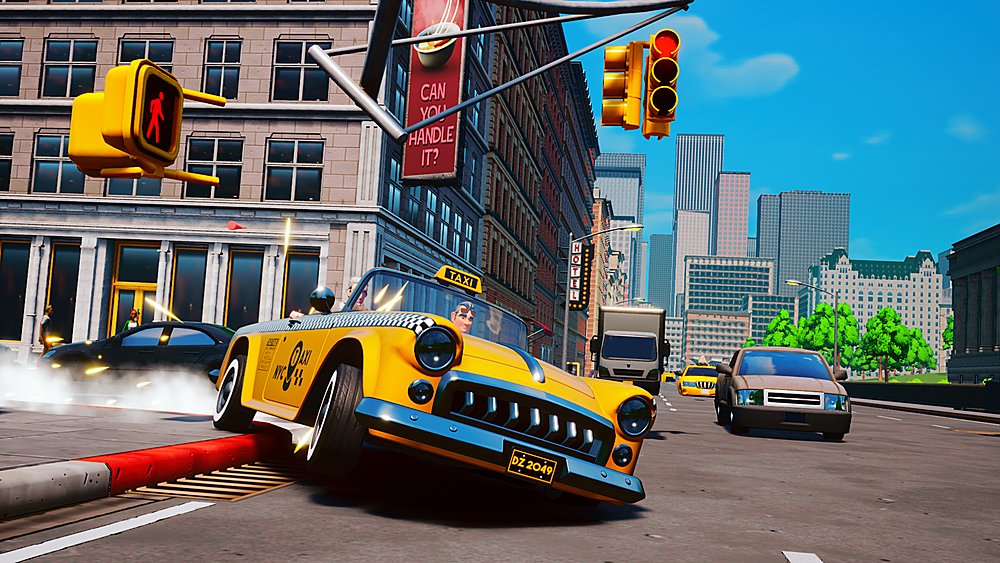 Players can attempt to beat their high scores and rake in the most cash in Taxi Chaos' Arcade and Pro modes, or else enjoy a more relaxed experience in Free Roam. For those wanting to explore the unique characters' stories, or get to know New Yellow City better, Free Roam is ideal. Here, you can learn the controls and best routes without the added pressure of a timer.
No matter which mode you play, each potential customer is colour-coded from green to red depending on their destination. This colour indicates the distance to their destination and, consequently, potential difficulty. You are rewarded with extra profits for taking risks, straying from established paths, and leaping over rooftops to cut corners. Sadly, however, rooftop routes are scarce. This largely limits the bizarre "jump" functionality of your vehicle to hopping over other cars, pedestrians, and urban obstacles.
A Not-So-Chaotic Throwback
For a game called Taxi "Chaos", the gameplay lacks spontaneity and chaotic essence. Opportunities for truly wild driving are limited, especially as there is no way to manually drift. Boosting requires holding both accelerate and brake to activate, making it useless unless grinding your car to a halt. When time is of the essence, slowing down is not ideal, and to stop entirely is madness. As such, the boost functionality saw very little use from me. The controls should be rebound, as to make the feature accessible while driving, for it to be of any real use.
Since launch, additional pedestrians and vehicles have been added to the streets. Despite this, New Yellow City still lacks variety in its design, and does not feel densely-populated. Every street looks virtually identical, with few landmarks to identify where you are or which direction you are driving in. The lack of minimap, or map in the menu, is an oversight, and would have improved the casual experience massively. Pro Mode removes the directional arrow, and it easily could have removed the minimap too if available.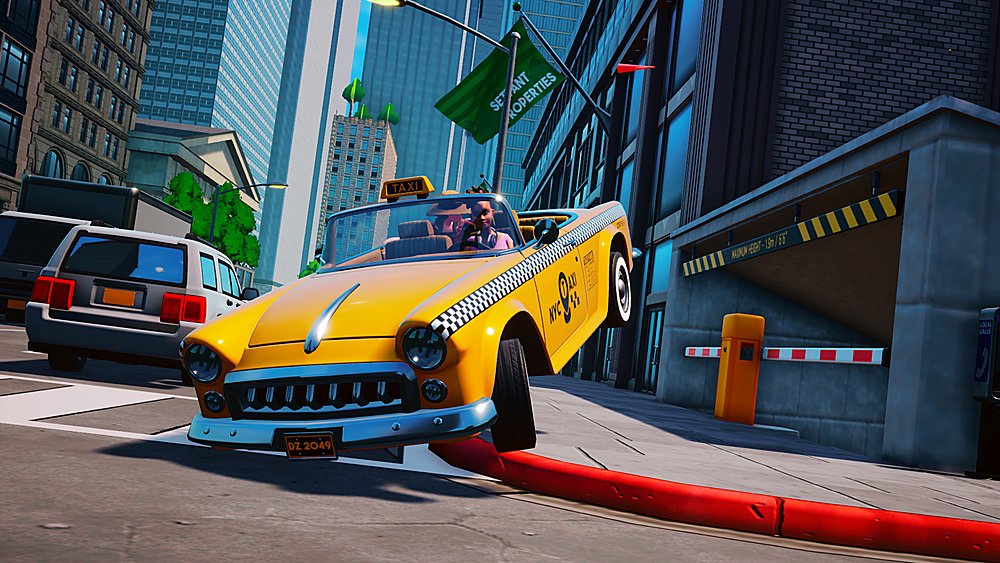 Crashes and collisions with other vehicles are, in all honesty, dull. Countless times I was stopped dead by trees, yet could knock down lampposts with reckless abandon. These confusing and inconsistent obstacle mechanics make driving carefully more appealing than driving chaotically, completely contradicting the intended appeal of Taxi Chaos. I don't expect to be able to drive through anything in my path, of course, but would appreciate greater consistency.
Your passengers are similarly tiresome, with few displaying any kind of personality or individuality. You'll quickly grow tired of the same few dialogue options repeating over and over, and will feel no closer to your playable character due to their basic and uninspiring responses. Those passengers with special stories are similarly two-dimensional, with their associated fetch quests feeling like nothing but a chore. With no minimap, and very little to make the items stand out, it's a case of driving in circles aimlessly until one happens to catch your eye.
Not The Journey You're Looking For
The graphics of Taxi Chaos are one of the first features to strike you after starting your first arcade run – but not in a good way. While colourful and well-stylised, they are underwhelming and lack detail or unique appeal. Characters' facial features are undefined, and are indistinguisable in any meaningful way. The street designs and mapping are repetitive, and the UI is similarly minimalistic. There is little to make you want to spend additional time in New Yellow City, or make additional runs unique in their own right. Though drawing inspiration from New York City, it has none of its splendour or vibrance.
The backing soundtracks are similarly dull, limited to mildly upbeat rock. These tracks are an improvement on those used pre-release, yet they are still bland, and do nothing to get the blood pumping. We certainly won't be seeing anything on the level of The Offspring in Crazy Taxi, but hopefully further improvements will be made to make the experience of playing Taxi Chaos less of a chore and more of a thrill.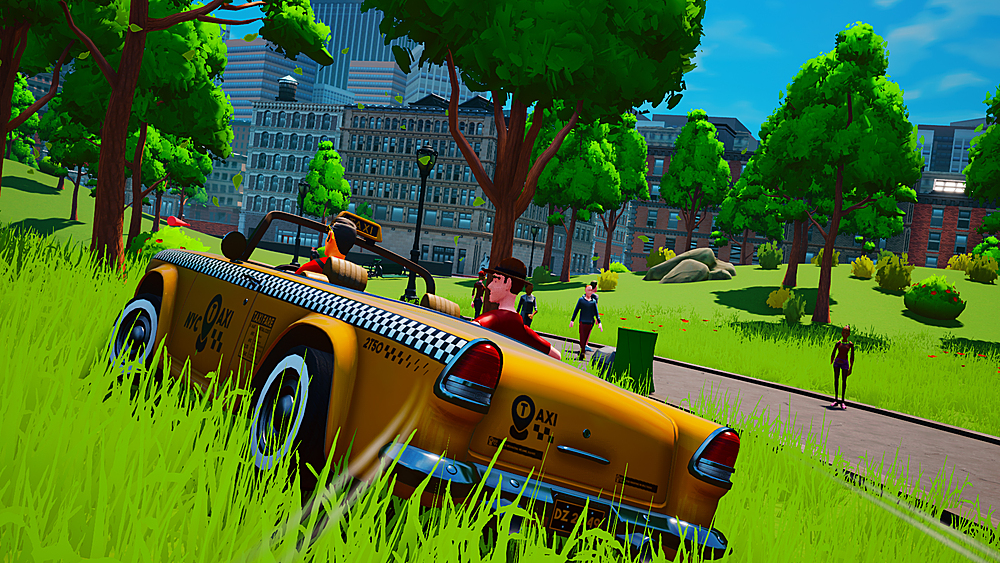 As the icing on the cake, the performance of Taxi Chaos on Xbox One is, sadly, not without its issues. Thankfully, bugs and glitches while driving are limited, but there are noticeable FPS drops and oddities while exploring the city. You may spot a car suddenly hopping on top of another car, for instance. Your vehicle might get stuck on another, or in a wall, or in any object. These are the dangers faced by hard-working taxi drivers in New Yellow City, so you need to watch out!
If you're an achievement hunter, you may wonder how Taxi Chaos fares (no pun intended) in that regard. The achievements themselves are fairly straightforward, though several require a grind to unlock. Two are time-gated, while others need you to achieve a particular rank or complete a particular character's story. If playing with a guide, achieving everything may be a challenge, but you'll still blast through them fairly quickly.
Going Nowhere Fast
Taxi Chaos did not live up to my expectations, and is not the spiritual successor that Crazy Taxi deserves. A dedicated tutorial, accessible map, and improvements to performance and presentation would go a long way to improve the experience. Other improvements could be made to its layout, gameplay and controls to make it truly fun – particularly the verticality, and boosting inputs.
As is, Taxi Chaos captures very little of the original charm and chaos that made Crazy Taxi and its sequels so popular. Instead of an exciting reboot, it is a drab and uninspiring throwback, with little to retain your attention. It is fun for a few runs, and with friends, may invite some casual competition, but its single player experience is woefully underwhelming.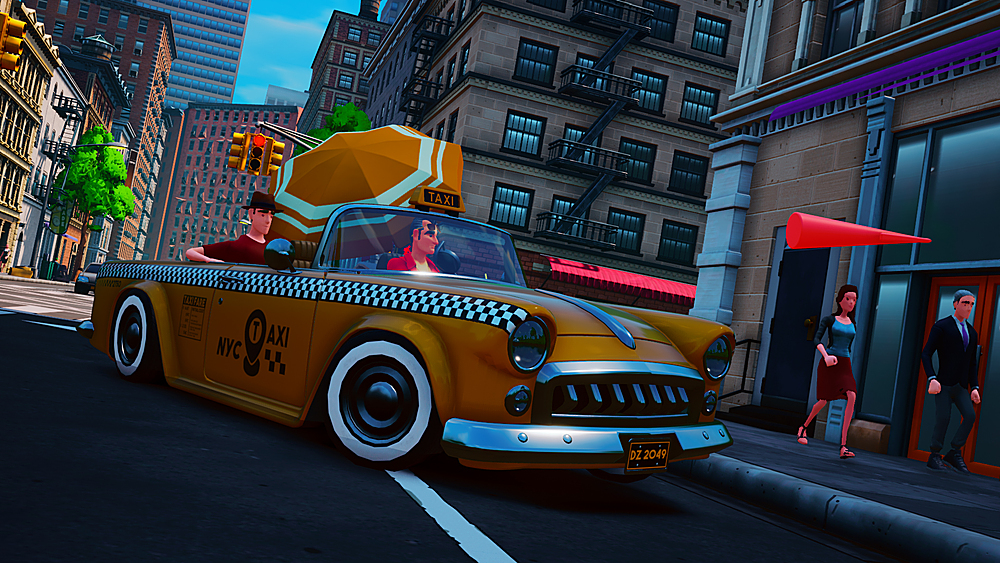 If you're looking for an arcade racer in the vein of Crazy Taxi, can forgive the repetitive music and dialogue, and feel up to the task of memorising a highly immemorable map, then you may find your itch scratched by Taxi Chaos. It has limited merit, and if not expecting much, maybe you will be satisfied by what is on offer.
Otherwise, though, I'd say the eye-watering fare of £25.99 is far too high to justify the journey. We all just need to wait for the true successor to Crazy Taxi to debut, and then enjoy it when it does.
Rapid Reviews Rating

You can purchase Taxi Chaos for Xbox One from the following link: Xbox Store (UK)