Co-op
,
Competition
,
eSports
,
Gaming
,
Playstation
,
PlayStation 4
,
PlayStation 5
,
PS4
,
PS5
,
Rapid Reviews
,
Reviews
,
Series S
,
Series X
,
Simulation
,
Sports
,
Steam
,
Windows
,
Xbox
,
Xbox One
,
Xbox Series S
,
Xbox Series X
Rugby 22 Review
Reading Time:
7
minutes
Fast Facts
Rugby 22

Developer: EKO Software
Publisher: Nacon Gaming, BIGBEN Interactive
Website: Rugby 22
Genre(s): Sports, Simulation
Platform: Playstation 4 & 5 (also available on Xbox One/Series S & X, Microsoft Windows)
Age Rating: PEGI 3
Release Date: 27th January 2022
Price: Varies on Platform £44.99

A code was provided for review purposes
The Biggar Picture
Will injury-ridden defending champions Wales and new Captain Dan Biggar keep their crown with the Six Nations kicking off today? Or will favourites France storm through under the tutelage of Fabien Galthié? I'm excited to see how Scotland fair in their opening against England for the Calcutta Cup. Something about that team could spell magic this year!
So, as we head into another year of rugby, let's take a look at the latest Rugby instalment from EKO Software and Publisher Nacon. It's been well over a decade since I played any rugby game, possibly longer. So jumping into this latest iteration, I needed my hand held somewhat – the reflexes aren't what they used to be.
Preseason
Rugby 22 opens like most games, with a tutorial – a great start. In I go to learn the basics, but it turns out a lot is going on, even in the basics! Timing passes – using a hold response on the shoulder buttons left or right to determine the length of the throw – is quite tricky to master initially. Luckily, in the tutorial, you're running through and passing into spaces with no markers, so it's all a little slower than usual, and the mannequins don't tackle back.
Next, you move onto tackling, (where you commit and push players into the breakdown to avoid losing the ball), line outs (too many buttons), and scrums. Each set piece of play, whether you're running the line, involved in the breakdown, mauling, scrummaging etc., all have their multitude of buttons to press to yield the optimum outcome. Immediately this was blowing my mind, as games are won and lost in these set pieces, and a mere pass, not a perfect score, moves you on to the next training section. So even as I was messing a couple up, I was swiftly moved on to remember more buttons to mash!
After your training session, you get the first match. For laughs, I chose Wales vs New Zealand. There's some lifelong tension to get a win there, and unfortunately, I misplaced my confidence. Maintaining a 0-0 scoreline by just holding onto the ball and working the breakdown, I felt like I was getting nowhere. In true Kiwi fashion, I was ruthlessly cut down as I tried to open the game up in the second half. Honestly, if you're trying to get people to continue playing, give them an easy win first off! Nothing worse than wounded pride!
League
It seemed I needed to train my brain. So in League mode, you can play as a division or league of your choice and try to win; it seems simple. You manage the team in a basic format and can play or simulate matches. I jumped into the Celtic League with Cardiff.
I won the first match by playing safe and running passes down the line, breaking forward inch by inch. It was a slogfest and boring. I then decided to try different movements and passing and kicks, resulting in 4 straight losses. Frustrated, I jumped out of the season and back into Training. I needed to figure this out.
There is a lot to figure out without getting into each mechanic, and it takes some serious time; over eighteen matches, I won twelve, lost five, drew one, and conceded 124 points. My gripe here is it didn't feel fun. It felt hard work, constantly battling for position or ball in the breakdown. I began to avoid kicking the ball for penalty points and opting for a scrum whenever possible. The kicking isn't the simplest, and when you're pulling down on the stick for a slow to fast bar gauge fill, and then have to push it forward (but not too hard) towards the goal line, it often resulted in missed kicks and conversions for me. Unless I got the ball under the posts, it stayed 5 points.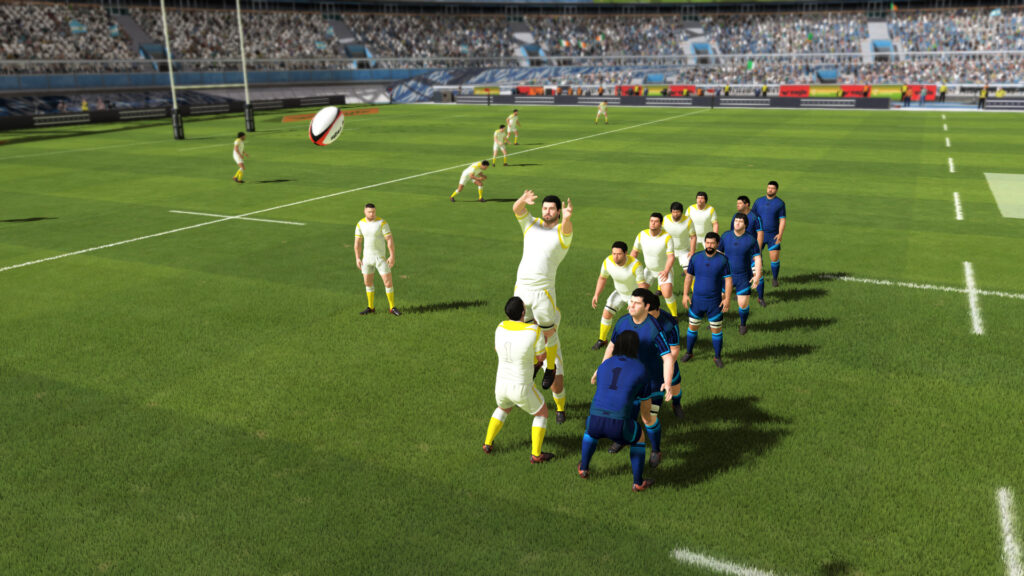 Rewards
Occasionally during my play, a banner would appear with a mission complete message. Now truth be told, I was way too concerned with the game to notice what on earth I'd completed. Back out on the main menu, I saw the 'My Missions" tab, whereupon further inspection those tasks would yield rewards; i.e. "Steamroller", which is finishing a match a certain number of points ahead, 5, 15, 25 and 40, each stage offering a prize. Other tasks such as scoring after fending off a tackle, winning scrums, total game possession, rucking etc., but what had I won? Well, I didn't know, it wasn't until I left that screen did I notice the "My Collection" was flashing frantically at me. It turns out you unlock cards by way of booster packs, sound familiar?
You get access to numerous packs, Standard, Superior Forward, Epic Forward etc., even whole teams you can buy. Cardiff's entire team will set you back 121,700 SP, New Zealand 196,900 SP; at writing, I currently have 43,850 SP and can't even afford Team USA.
So, where do I use these new players?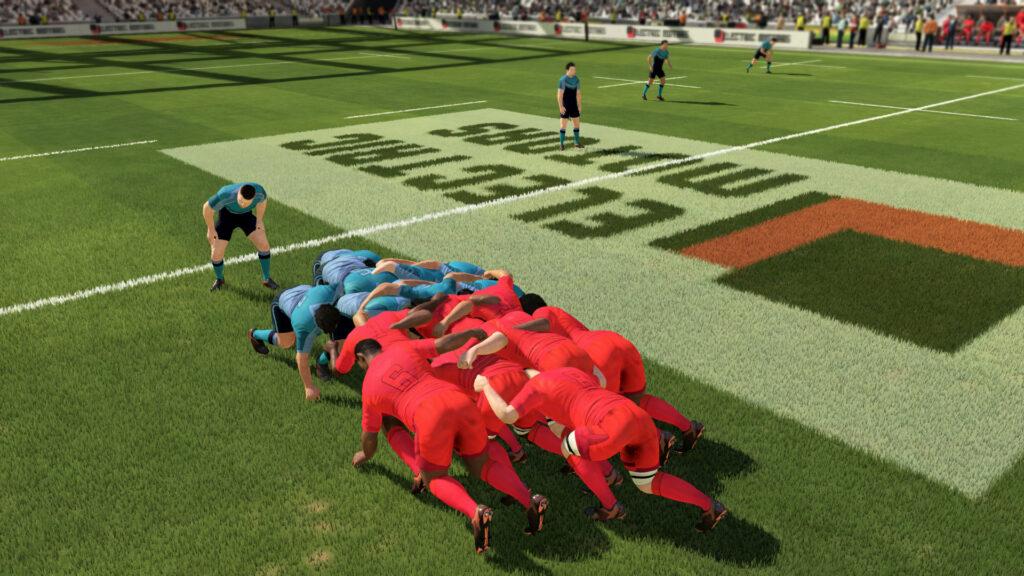 Career
Career mode is as it sounds, you manage a team and try to take it to the top of the league and ultimately be the best squad around. There are mechanics for finances for player signings, training sessions, and upgrades, along with a budget and a schedule.
The benefit of career mode is that you can create a team yourself first, customise the kit, ball, and manage the squad by way of "My Team". The benefits here are astounding because you can select all the top-rated players (you have unlocked), no squad cohesion and unlimited people in reserve (not subs). Naturally, this follows a more realistic model with squad stamina and injuries playing a role. Having a man off injured after being dump tackled is not fun; this then carries over until they're healed, and you can switch your second or third choice back out.
The benefit of career mode is the excellent balance between different game mechanics. Friendly games, where you can wager credits to use in that mode, team selection with subs and stamina issues and "Training" opportunities between matches that you must complete gaining the maximum bonus stats associated with it. These aren't simulated progression. They helped grow my overall stats quite a bit and were good practice, something I felt was missing initially.
You can also jump in and out of career mode, unlocking new packs and essentially just adding beasts to your squad with no penalties! It's not all rainbows, though.
Half-Time
The game isn't without its flaws; as much as I've grown to enjoy it, I can't help but be dismayed at a few things. Once you're a few matches in, the original polish wears away, and you begin to pick the flaws; tackling is incredibly difficult to time. Sometimes, my players stand there or run in the opposite direction, often offside after a ruck. Kicking in this game is awful; you get no time to kick from hand, and to set up a kicker needs lightning fingers – aiming for that up and under is hard work.
Players also aren't automatically committed to the breakdown, and if you don't press the correct buttons and analogue sticks in time, you'll lose possession. The graphical elements of the game aren't outstanding either. WWE13 on PS3 had better crowd dynamics and interaction than the cut 'n' paste job seen in Rugby 22. There's no feeling of depth or environment to the stadiums (possibly as there are no official licensed stadiums), the player models are patchy, and the depth of field can make them look fuzzy.
The commentary is also very repetitive and sometimes would stutter. Repeating the first digit of a scoreline before it is completed or twenty minutes in, the announcers would say, "it's taking a long time to kick off; I hope there's not a problem," which throws you a bit.
The lack of player badges – most are silhouettes because of licensing – and the exclusion of England and South Africa, along with the English Premiership, could be a negative for some British fans.
Regarding these, I understand its investment and money – and EA usually does all the big sporting titles – but to be one of the only rugby games out there, you'd expect something a little more polished. As for the licensing of players, that annoys me. EKO and Nacon are trying to make something here. Being short-changed by licensing inhibits the absorption into the matches and players, and 100% negatively impacts the enjoyment of seeing your favourite player be nothing more than a black outline.
Full Time
I wanted to enjoy this title, but I play three to five matches, and I'm switching it off. It's too repetitive, and for me, it has no long term incentive to play and visually frustrates me considering this is a next-generation title.
If you're a Rugby fan, then you might enjoy this title; it has the potential to be an enjoyable game for those willing to invest time into learning all the mechanics. It's just let down by graphical content.
Rapid Reviews Rating

3 out of 5
3
You can buy Rugby 22 in the Playstation Store.