Review Infinity Loops Apple Watch bands
Reading Time:
6
minutes
Infinity Loops sent me four Apple Watch bands to try out for this review. See what I thought of the bands below in my breakdown of the four I received.
Disclaimer: Infinity Loops sent me four Apple Watch bands to try out for my review of their products.
Infinity Loops is a Veteran-Owned and Operated shopping website for Apple Watch bands and accessories. A portion of every sale goes to the support of the Special Operations Warrior Foundation, which is great gesture. Their website https://infinityloops.co/ is broken into several different categories and is simple to navigate. There's not much there in terms of fluff, and finding what I wanted to purchase was easy.
I have an older 42mm Apple Watch and Inifity Loops accommodates a variety of sizes and makes of Apple Watches. I wanted a diverse mix of fabric, leather, and metal bands to review their product variety.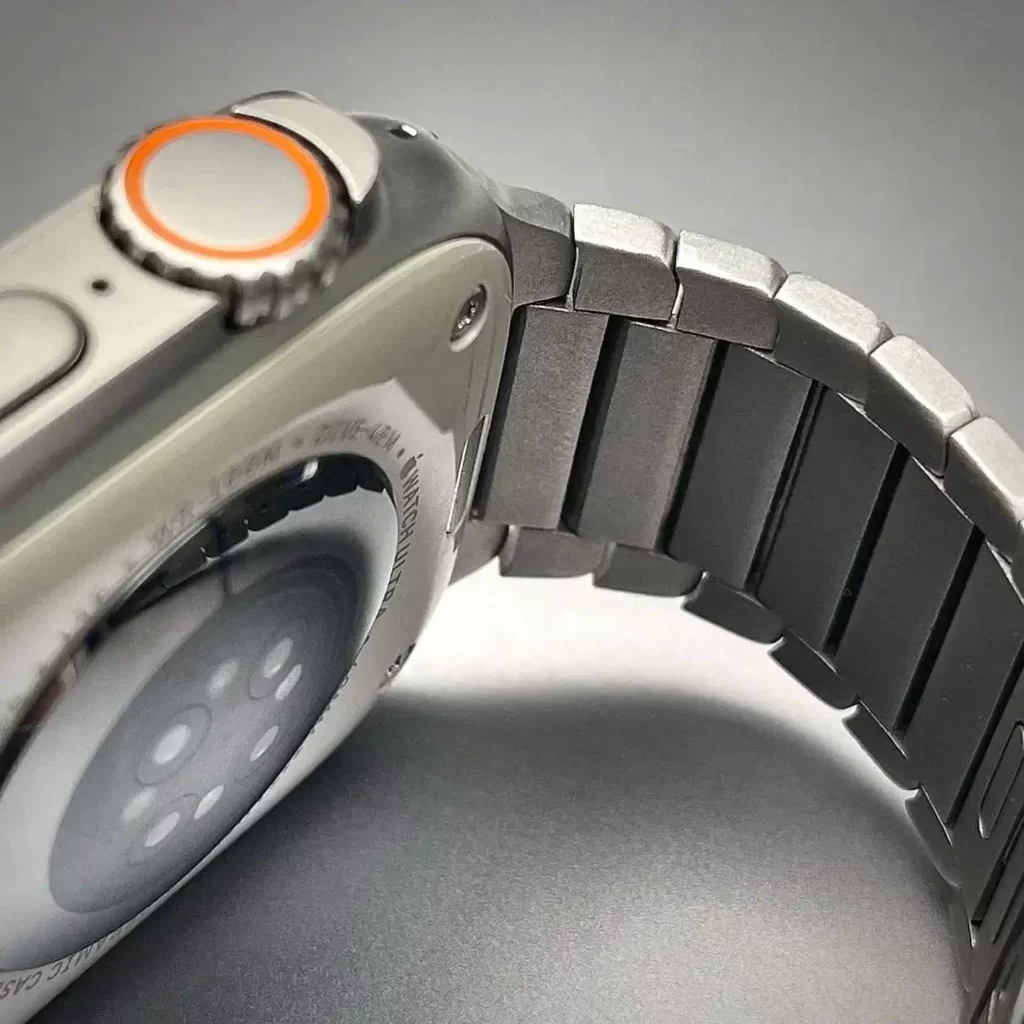 Ultra Titanium Link Bracelet
First up is the higher-quality build of the Apple Watch Ultra Titanium Link Bracelet. This watch band usually retails for $174.98 USD. The price matches the watch band's strength, durability, and luxurious feel on your wrist. It comes with extra links for easy size adjustment and a convenient clasp for effortless wear and removal.
The Ultra Titanium Link band was a bit heavier than the other bands I received but that helped to make it feel like a really solid option in terms of quality and durability. Removing the links does not require a tool, as each link has a push button that snaps it into place. This makes adjusting the length, if you are sharing the band with a partner or friend, fairly easy. The overall quality seemed to be quite scratch and scuff-resistant in my general usage, but I also didn't do too much in terms of strenuous work while testing out the watch band. 
A direct link to the Ultra Titanium Link Bracelet can be found here.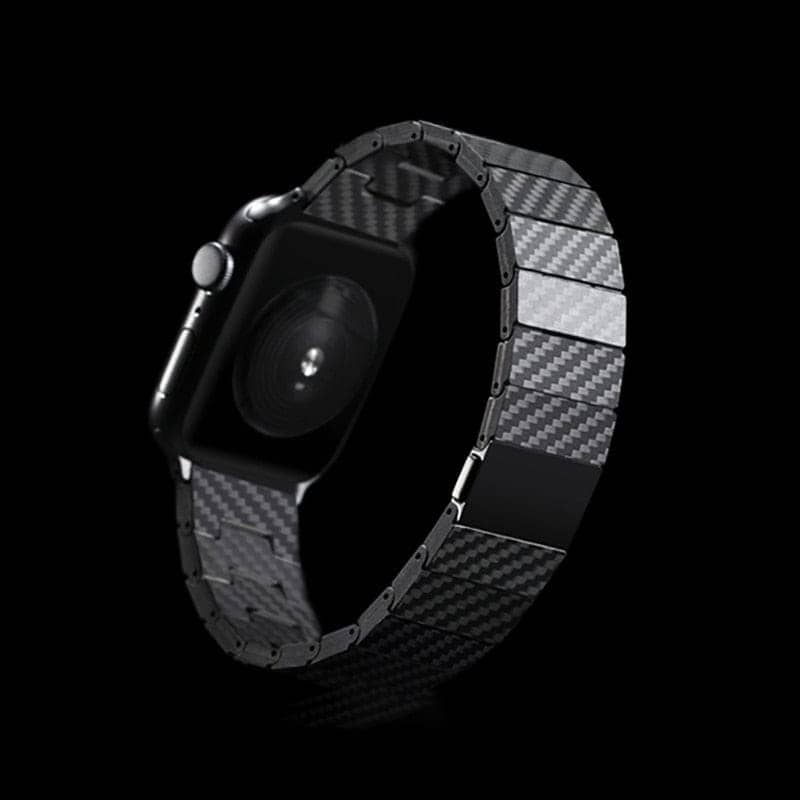 The Cyborg – Carbon Fiber
Next up is The Cyborg – a Carbon Fiber Watch Band for the Apple Watch. The futuristic-looking carbon fiber band has a textured material that feels durable and high-tech. The main draw of this band is the lightweight and durable material that is sleek. This band comes in a variety of colours that can match most business or casual dress styles and fits in well with anyone's sense of style.
This watch had a bit more complicated system in terms of removing or adding links when fitting it to my wrist. The watch came with the tools needed to put in new links which required pushing the pin into a tiny hole and popping out the small peg that holds that band in place. Once I had everything lined up and appropriately linked the watch itself wrapped around my wrist nicely and fit snugly without any issues of sliding or moving.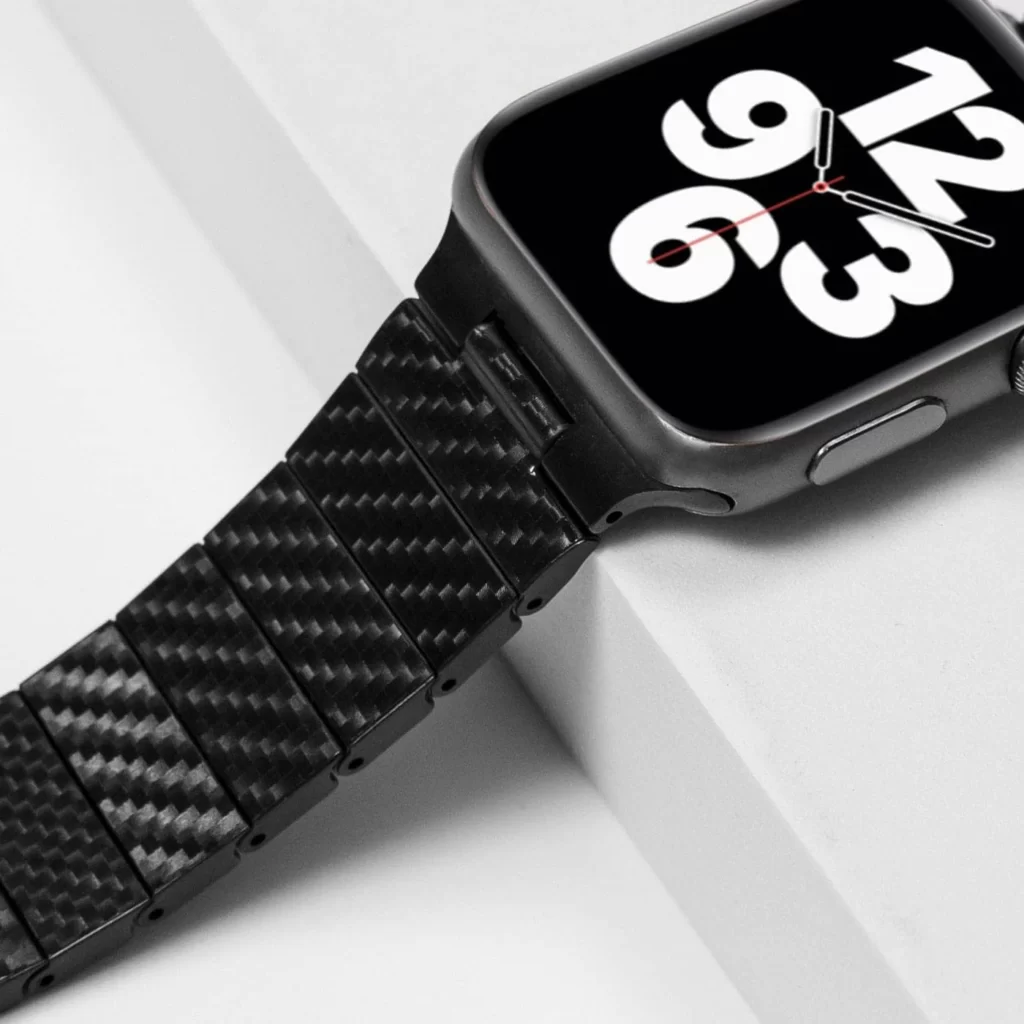 The carbon fiber materials are also water-resistant and incredibly easy to clean. Just a quick rinse with water, and they'll be good as new! There's no need to worry about getting them wet or dirty during your adventures. If you are looking for a durable and futuristic-looking band, check out The Cyborg – Carbon Fiber Watch Band for Apple Watch. The Cyborg – Carbon Fiber Watch Band for Apple Watch typically retails for $44.98 USD and can be purchased here.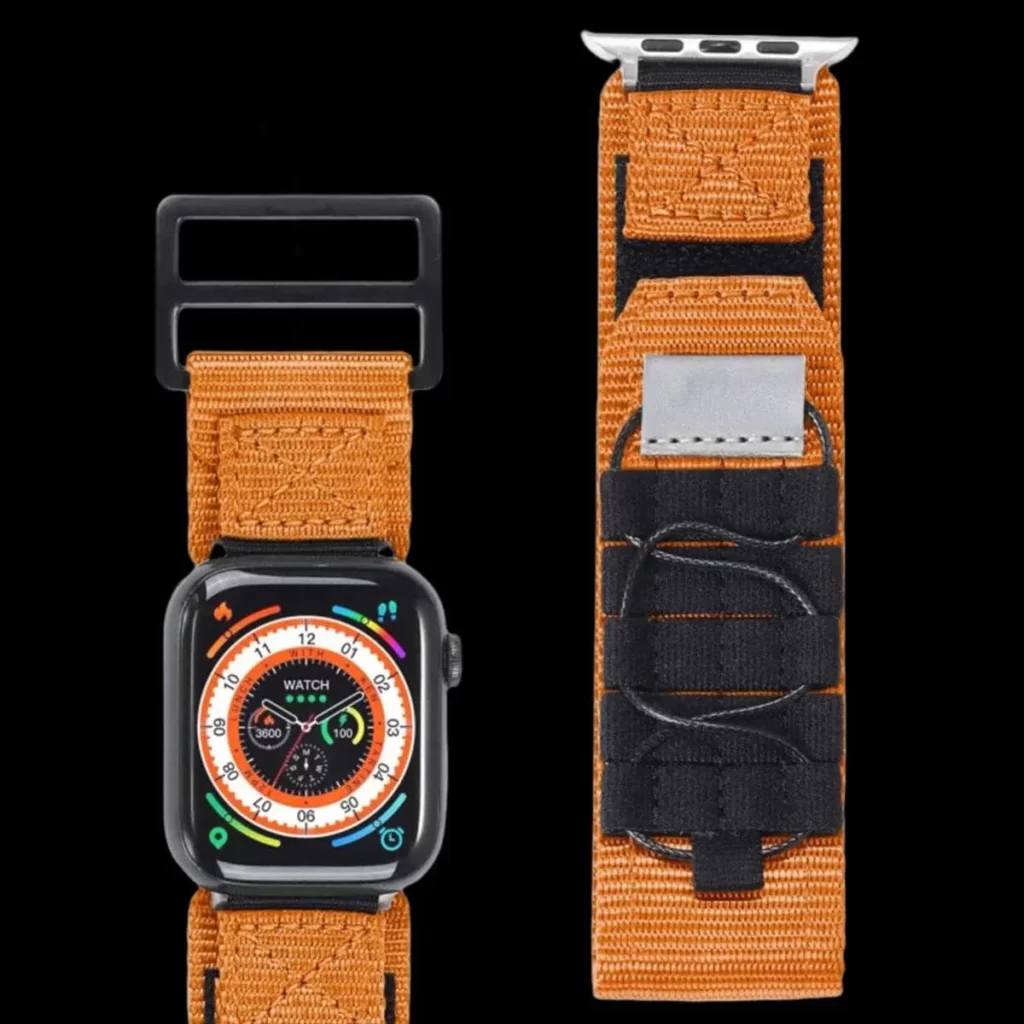 Tactical Band – Tacticool 2.0
Out of the four bands I received from Infinity Loop, the Apple Watch Tactical Band – Tacticool 2.0 is my favourite. It's the one I have worn the most. This watch band is also the one that feels the best to wear at night when I am tracking my sleep habits and need that extra alarm buzz on my wrist to wake me up each day.
The band comes in five different colours and fits each of the varied Apple Watch sizes that have come out. It is made of woven Cordura nylon and touts "In a world of casual acquaintances, stand out as the commander." If you are looking for a watch that will fit your everyday activities like exercise, hiking, canoeing, etc. then this watch band should be on your radar.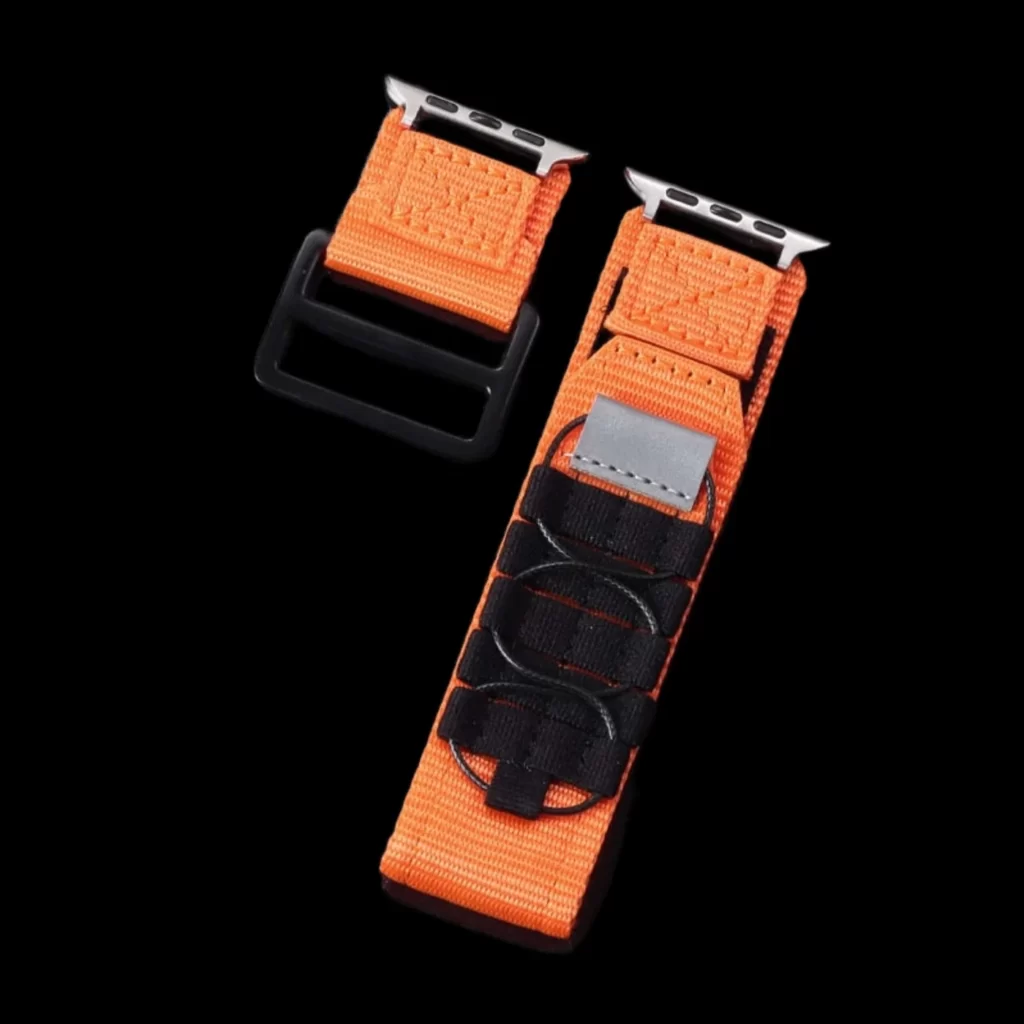 The band on the Tacticool 2.0 can help you feel adventurous as the materials match a military-style nylon found in tactical equipment. After you connect the band to your Apple Watch you only need to slide the band through the metal loop and pull it tight. The velcro back will fit itself as tight or loose as you need it to be. The nylon band didn't irritate my wrist, even if it got sweaty. I used to wear a rubber watch band that I got off Amazon, but the Tacticool 2.0 band is the new daily band that I opt to wear even overnight.
The Tacticool 2.0 band retails for $59.98 and can be purchased here.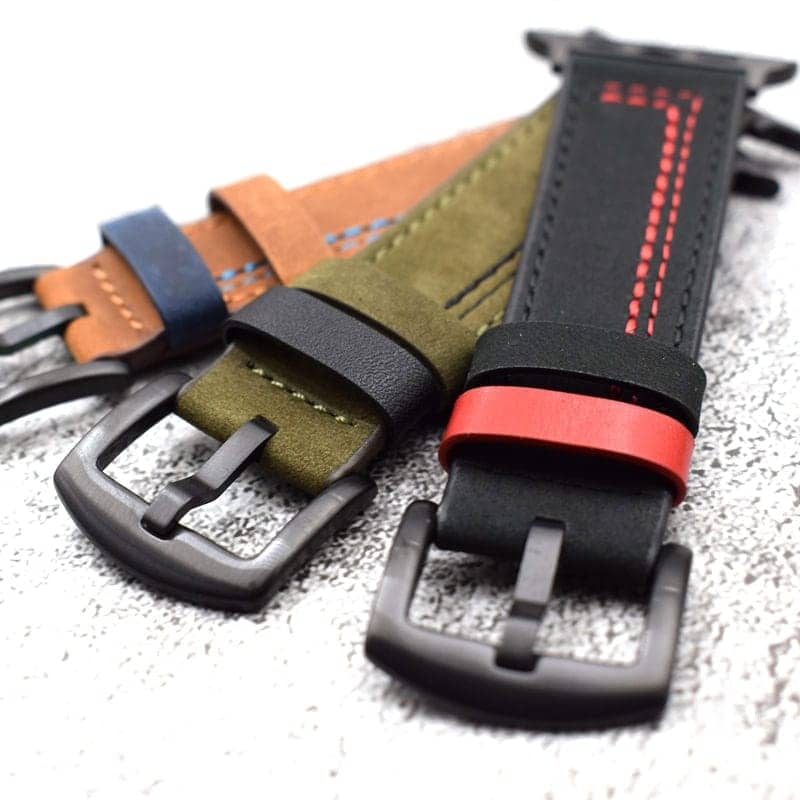 The Walk the Line
Of the four bands, the Leather Men's Apple Watch Bands – Walk The Line band, felt the least luxurious for the price. The band felt stiff and uncomfortable on my wrist. Some of that could be due to how new the watch is. I couldn't get past how uncomfortable it felt on my wrist as I wore it during the day and at night.
The ​​Leather Men's Apple Watch Bands – Walk The Line reminded me of the old leather belts my mom would make me wear as a child. The material in the Walk The Line band felt high quality. It just didn't feel great as I wore it on my wrist.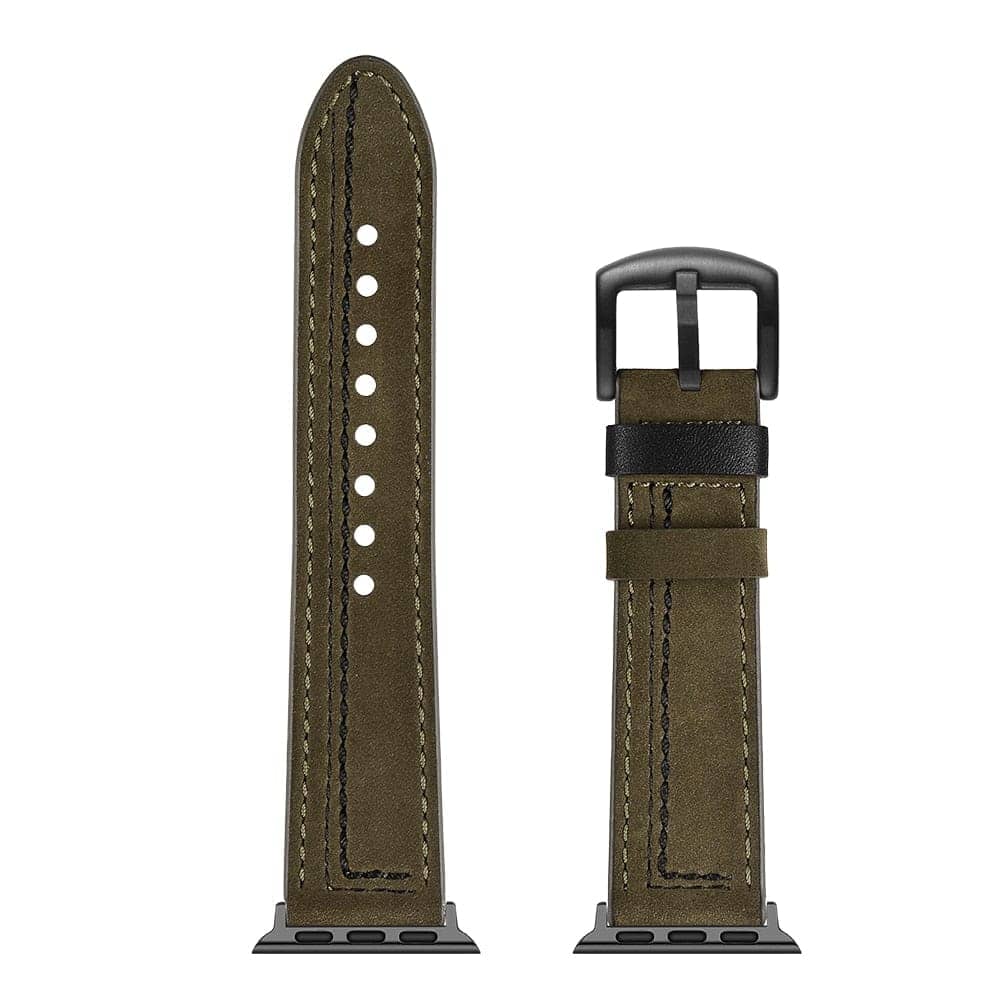 Just like a belt, the watch had an adjustable band that used holes and a plastic peg to set the size. I found a size that fit, but it had a bit of wiggle to it on my wrist due to the holes being at set spots. Fitting the watch snug may work without issue for you depending on your wrist size. The band may also become more flexible over time with usage. It just feels a bit stiff as it is currently.
The Walk the Line band retails for $69.98 and can be purchased here.
Final thoughts
The Infinity Loop watch bands can be a luxury item for some. If you have an Apple Watch and like to match your band with your outfit Infinity Loop bands are a great option. The bands come in a variety of build materials and quality matching your budget and style. My recommendations are the Tacticool 2.0 and Ultra Titanium Link bands. They were definitely stand-out options in terms of comfort, quality, and price. 
If you are interested in Infinity Loop bands use this Affiliate link: https://infinityloops.co?sca_ref=4193866.QEqK4FJ3qF for your future purchase. You can also get a small discount using the following code: LXZ-KKUGE8I at checkout on your first order.