JBL Quantum Stream Review
Reading Time:
5
minutes
Tech Specs
| | |
| --- | --- |
| Driver sensitivity at 1kHz/1mW (dB) | -37±3dB (1kHz@1Pa, 0dB=1v/Pa) |
| Dynamic frequency response range (Hz) | 20Hz – 20kHz |
| Impedance (ohms) | >16 |
| Weight (g) | 248 |
Some of the first things I look for in a microphone are, obviously, audio quality but also its ability to mute. As a streamer, I want my voice to be clear, but I also need to mute myself at a moment's notice in case of office intruders, unexpected sneezes and sirens. Even as just as a gamer, no one likes the person with a crackly mic who doesn't mute when eating or breathes into your ears!
The JBL Quantum Stream is designed to be 'perfect for streaming', so I've put it to the test. With JBL having an impressive reputation for good sound quality with its headphones and speakers, for example, does this ring true for its microphones too? Let's find out.
A Touch of Colour
Firstly, the Quantum Stream is fairly small in design, with a basic, cylindrical shape on a sturdy aluminium stand, so it fits well in between my two monitors. However, if there's no space on your desk, the mic offers universal mounting. Connect it to things like a boom arm or camera tripod. It can also be rotated 360 degrees. As a streamer, it's perfect knowing that no matter how you move your set-up around, the Quantum Stream can always find a place. I preferred the rope cable, too, as I imagine it would last longer without the potential to damage it like a wire cable.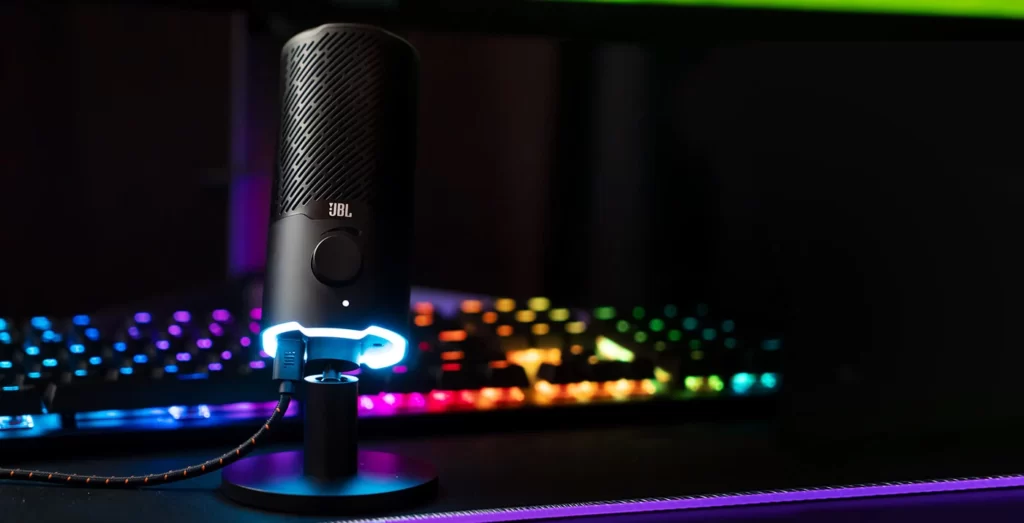 The sleek black design, though not very exciting by itself, is complemented with an RGB light; this is the mute indicator, which changes colour for muted and unmuted. These colours can be changed using specific software. I'll talk about that more shortly. Muting is as simple as tapping the top of the mic and tapping again to unmute. The colours mean a sense of security, knowing you're not going to be accidentally muted when you don't want to be, and vice versa. I also had no problem in my time with the mic with it not actually muting, as I have seen in similar touch-style microphones in viral videos.
You could control the mic volume directly from the knob on the front of the Quantum Stream, the light on the bottom going from dim to bright as a handy indicator when you turn it. There was a light underneath the knob showing which polar pattern you were on too. Cardioid is for single-person use, and omnidirectional for multiple people. As a streamer, I stuck with cardioid, but having both options makes it a mic suited for anything. Again, it's nice having a symbol of this setting in case you change it by mistake.
JBL Quantum Engine
The mic is compatible with the JBL Quantum Engine software, which allows you to tailor the mic to your preferences. Using the RGB JBL lighting, you could choose from any colour you wanted for both mute and unmute. I chose my favourite turquoise blue for unmuted and then kept red for muted, as I felt this was the clearest indicator that I was on mute. I liked that I could change it anytime I wanted to fit my mood and match other lighting.
You can also control the polar pattern through this, as well as get into some of the more technical stuff. You can see your mic level here and adjust both the mic volume and sidetone. Then, there are premade settings to choose from when it comes to the equalizer; flat, conference, flat, mic boost, streaming and studio. The streaming one immediately caught my eye, and I turned it on, ready to test it on stream. However, I could see from my Streamlabs that it was shooting up to quite a high volume. My chat also told me it had some reverb. I switched to 'flat' for the time being, but turning down the volume within Streamlabs seemed to help the 'streaming' setting.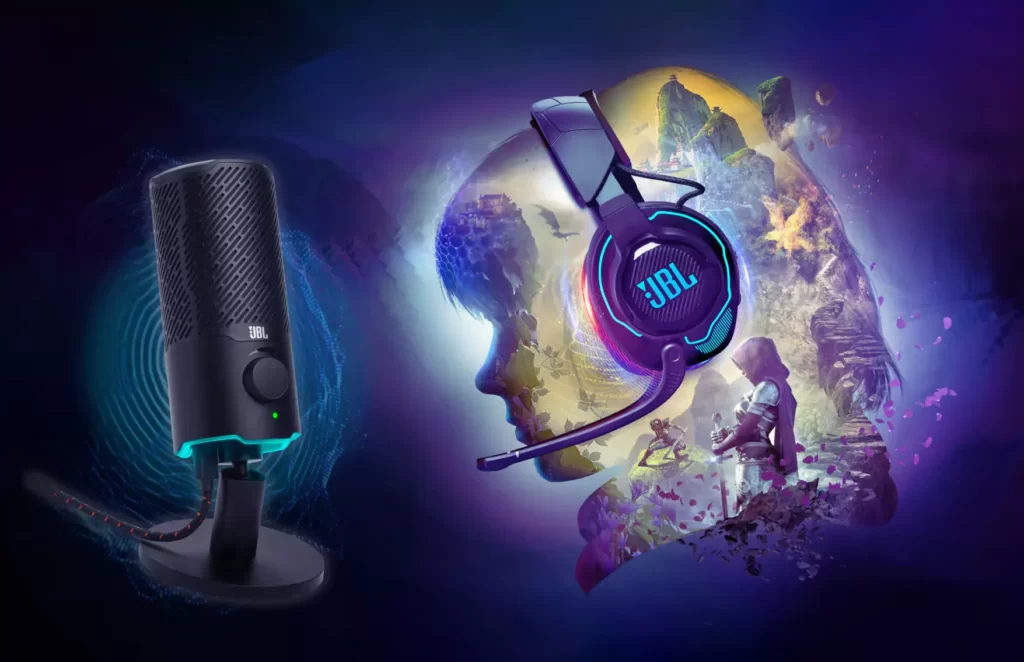 I listened back to my voice with each of the settings. There was a noticeable difference between each one. Some seemed a bit louder, and others slightly clear. To me, 'studio' seemed clearer than 'mic boost'. The good thing is you could adjust each of these settings to whatever suited you, adjusting the frequency and saving it as a new setting to use. As a more casual user of tech, I feel like a true audiophile could get a lot more out of this. But this level of personalisation was impressive.
Stream Secure
While streaming, my audio remained clear throughout; even when screaming or yelling at Dead by Daylight, it never went fuzzy or cut out! It was nice knowing that should someone point out any audio issues, I could try out some new settings swiftly. As mentioned earlier, muting worked perfectly too.
The only issue I had was that it does pick up the clicking of my mouse and keyboard a fair amount, which can be frantic when gaming. However, I have had this problem with other microphones I have reviewed. It is more of a case of me adjusting the mic position. Moving my boom arm nearer to my mouth as opposed to next to my mouse and keyboard would be ideal. Luckily, with its universal mounting, this can easily be done. It's worth mentioning, though, in case you have minimal room on your desk. A loud keyboard is not what you want to whilst streaming.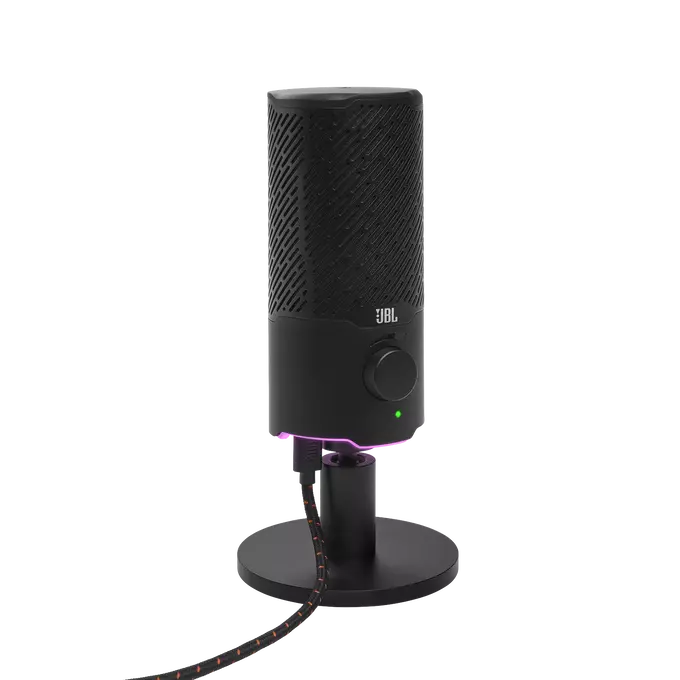 An Audiophile's Dream
Overall, the JBL Quantum Stream worked seamlessly. It's a step above a beginner microphone with an almost £100 price tag. However, it is something to invest in if you're serious about streaming, podcasting or even voice acting. As someone who isn't as well-versed in the finer points of audio technology, it was a little trickier to get to grips with the different settings. However, the Quantum Engine software is easy to use, and I could listen back to hear what I preferred. The level of personalisation, though, is fantastic and won't be lost on true audio fans!
Rapid Reviews Rating
4.5 out of 5
4.5
You can purchase the JBL Quantum Stream from the JBL website here.