Action
,
Adventure
,
Game
,
Nintendo
,
Nintendo Switch
,
Nintendo Switch Lite
,
Rapid Reviews
,
Reviews
,
Steam
,
Xbox
,
Xbox One
,
Xbox Series S
,
Xbox Series X
REKT: HIGH OCTANE STUNTS REVIEW
Reading Time:
4
minutes
Fast Facts
Title REKT: High Octane Stunts

Developer: Little Chicken Game Company
Publisher No Gravity Games
Website: https://nogravitygames.com/
Genre(s): Action & Adventure
Platform: Xbox Series X (Also available on Steam and Nintendo Switch)
Age Rating: PEGI 3
Release Date: 25/05/2021
Price: £4.99

A code was provided for review purposes
Introduction
If you placed a Tony Hawk title and the cars from Rocket league into a blender and mixed them together what do you think the end product would be? Well, I have the answer, that would be REKT: High Octane Stunts! Developed by Little Chicken Game Company and published by No Gravity Games, the game is available across several platforms. Starting its life on the mobile gaming scene, REKT: High Octane Stunts is also on Steam and Nintendo Switch. For the purpose of this review, I'll be playing the game on Xbox Series X.
REKT: High Octane Stunts is a casual pick up and play title where you traverse across four separate arenas performing tricks with vehicles. With support for up to four players locally or solo play, it's your choice whether to go it alone or have fun with friends. The aim and premise of the game are very simple, do what you can in order to accumulate points to get the highest score possible. Believe me, it will become addictive the more you play!
How's the Gameplay?
So from the title, it sounds like an adrenaline-fuelled experience, but does it play this way? REKT: High Octane stunts is a casual game that you can literally play for a few quick sessions or dedicate hours to. It is a race against the clock with the mind focused on pulling off the best stunts possible for maximum reward. I decided to play this game alone for the review and I was surprised how quickly it reeled me in with its addictive nature. It is very reminiscent of doing a score attack on a Tony Hawk for instance. It reminded me of starting to score points and then when a trick goes badly restarting the run from scratch totally. REKT: High Octane Stunts is the same in that it will bring out the perfectionist in you.
I was a little disappointed not to see online multiplayer here as the game is set up really well for it. Not only would it improve the longevity, but playing with players from across the world would also add some real true competition. Whether they couldn't find time to fit this into the development cycle or didn't have the budget to perform this, I feel they missed a trick. However, if you have extra controllers and want to compete against friends and family you're totally able to do this. This is a real good option for the social gamer who is looking for experiences within the same household.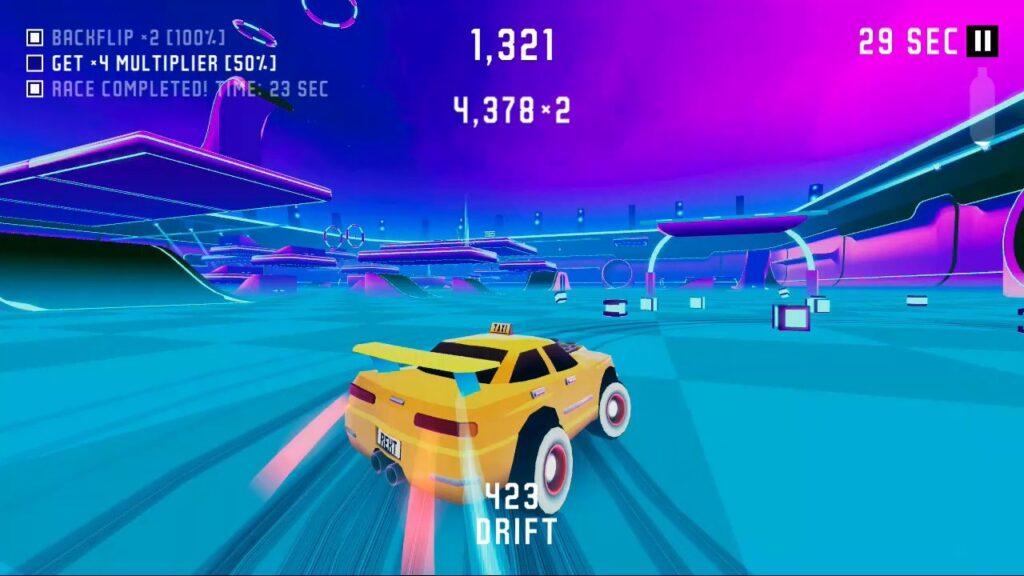 Is There More to it Than Just Stunts?
Obviously, REKT: High Octane Stunts is heavily focused on the tricks you do. But there is also the complexity of linking stunts together to raise your multiplier to raise your scoring. There are clocks dotted around the arena. you'll want to collect these when possible to extend your timer to allow longer to obtain points. Crash and get REKT, and you'll lose your multiplier and that time you have spent on an insane trick potentially. It is all about timing and precision and practice makes perfect.
What made me keep plodding along with repeated runs is the fact that you can earn in-game currency. Certain challenges will allow you to grab this currency to unlock in-game items as you progress. With a vast plethora of new vehicles to unlock, will you keep grinding to unravel them all? At one point, this became more fun than trying to get a high score and the pleasure of new unlockable cars became enjoyable for a fair few hours. At first, they unlock quite quickly but become more difficult to obtain as you play further along with the game. This feature really adds some great replayability and it is such a welcome addition.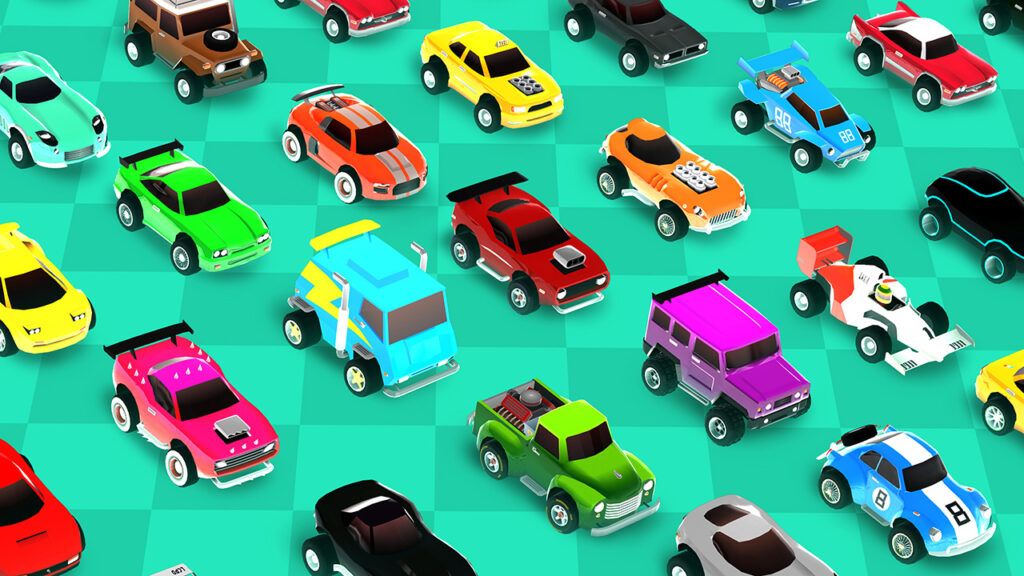 Conclusion
Overall I really enjoyed my time with REKT: High Octane Stunts. While it won't blow your mind graphically, the gameplay is simple yet addictive enough to gain your interest for a large period of time. The aesthetics are dated and basic but the bright vivid arenas mask the poor level of detail well. The soundtrack is slightly better with some high tempo tracks to get the pulses racing whilst racking up those scores. Without online multiplayer though, REKT: High Octane Stunts has a limited life span. Once you have unlocked everything it may risk becoming very repetitive quickly. For its price point though REKT: High Octane Stunts is a low-cost experience and worth it in my opinion
Rapid Reviews Rating

3 out of 5
3
You can purchase REKT: High Octane Stunts Microsoft store here