Netgear Orbi RBKE963 Review
Reading Time:
6
minutes
Fast Facts
Netgear Orbi RBKE963 Mesh System
Manufacturer: Netgear
Wi-Fi Speeds: Up To 10.8Gbps
Max Speed Device Capacity: Up to 200 devices
Wi-Fi Capabiities: Wi-Fi 6E
Wired Capability: 10Gig Ethernet Port
Range: Up to 7500Sq.ft
Release Date: March 2022
Price: £1699.99

A unit was provided for review purposes
Third Times A Charm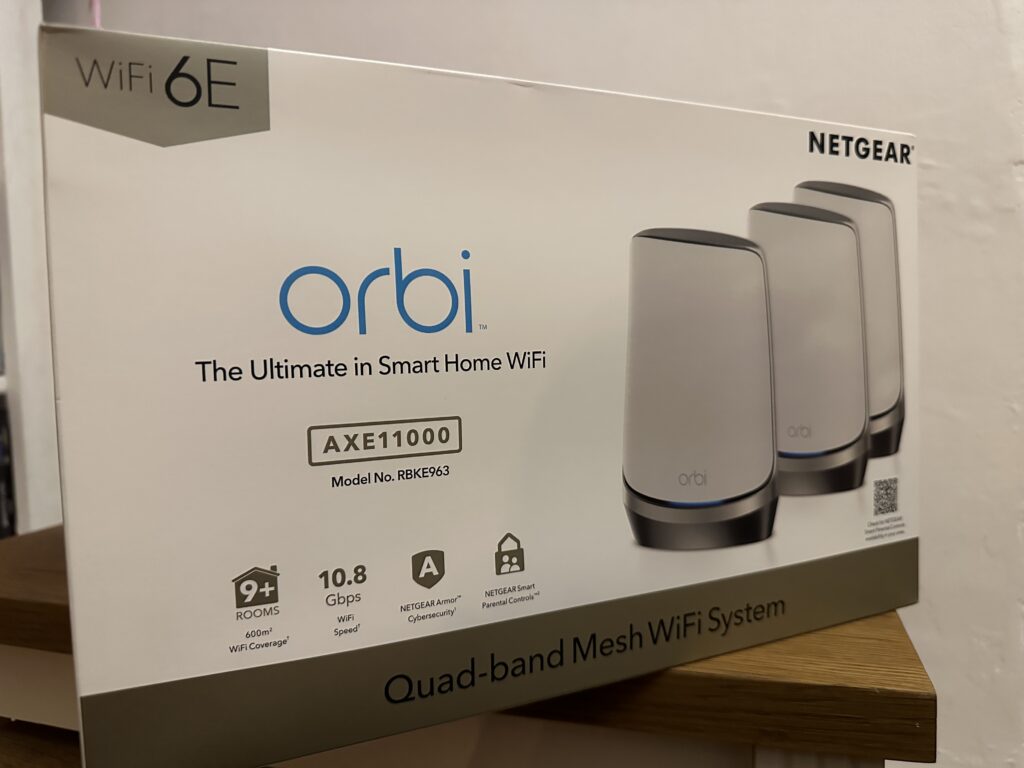 Welcome back to our latest review digging into some of the best Mesh Wi-Fi systems out there. There's a rich tapestry of Mesh Wifi products available in the Orbi line-up, and here at Rapid Reviews UK, we've had the opportunity to explore many of them. However this time around, it's the biggest step up yet. Enter the Netgear Orbi RBKE963, the World's most powerful whole-home wifi system. That's a bold statement to make, so let's get into the detail and see if it justifies its title.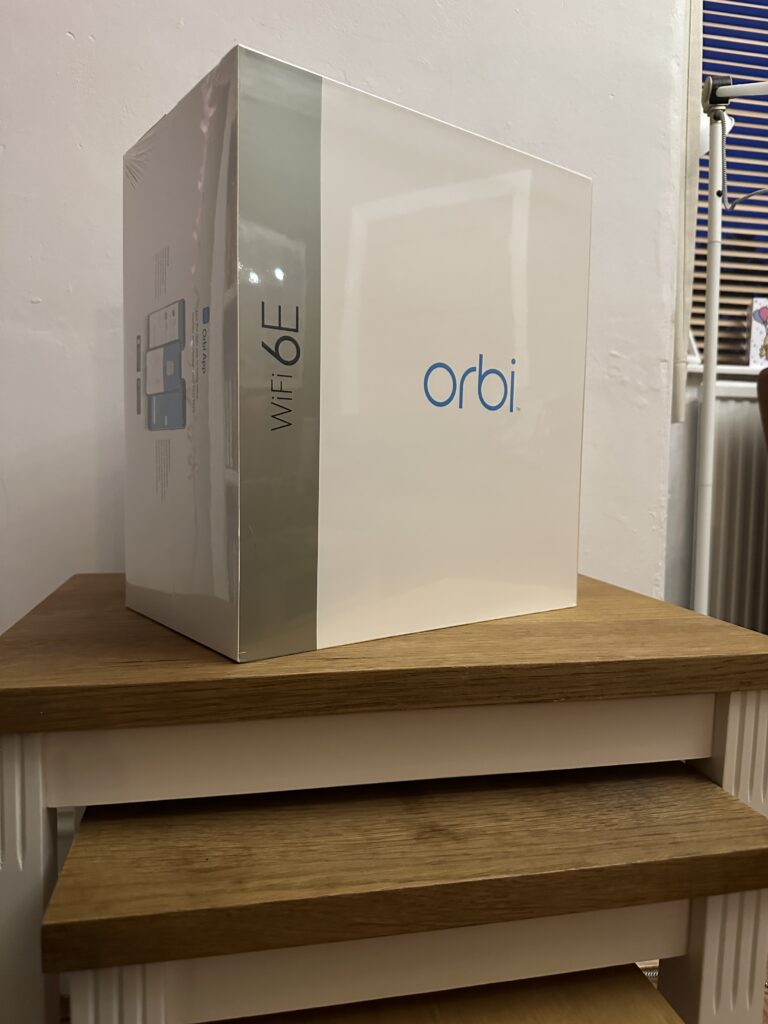 The Challenge
For those new to my mini-series of Orbi reviews, we have a superb testing ground at my house to really stretch this products capabilities. It's a Victorian House, built in 1901 with a mixed construction of stone and brick. The walls are incredibly thick, the internal construction is lath and plaster and the ceilings 8ft high. In Wi-Fi terms it's an absolute nightmare to make things reach every room, not to mention the complexity of things like a WiFi connected Electric Car charger on the outside wall of the rear driveway.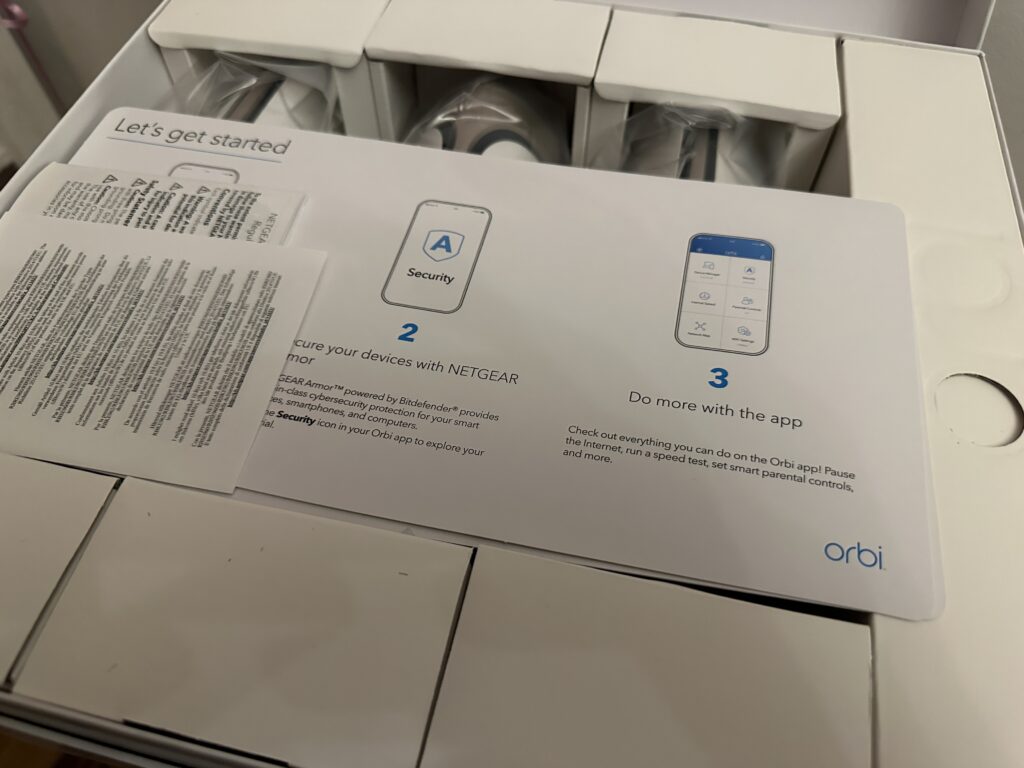 Our current solution for Wi-Fi prior to this point? Eero. Seven of them to be exact. All well if this works but there are some compromises I've had to accept. Firstly, that's 7 plug sockets occupied by Eero satellites, and with the latest version these no longer have ethernet ports in the back. Not to mention the limit when it comes to Wi-Fi speed.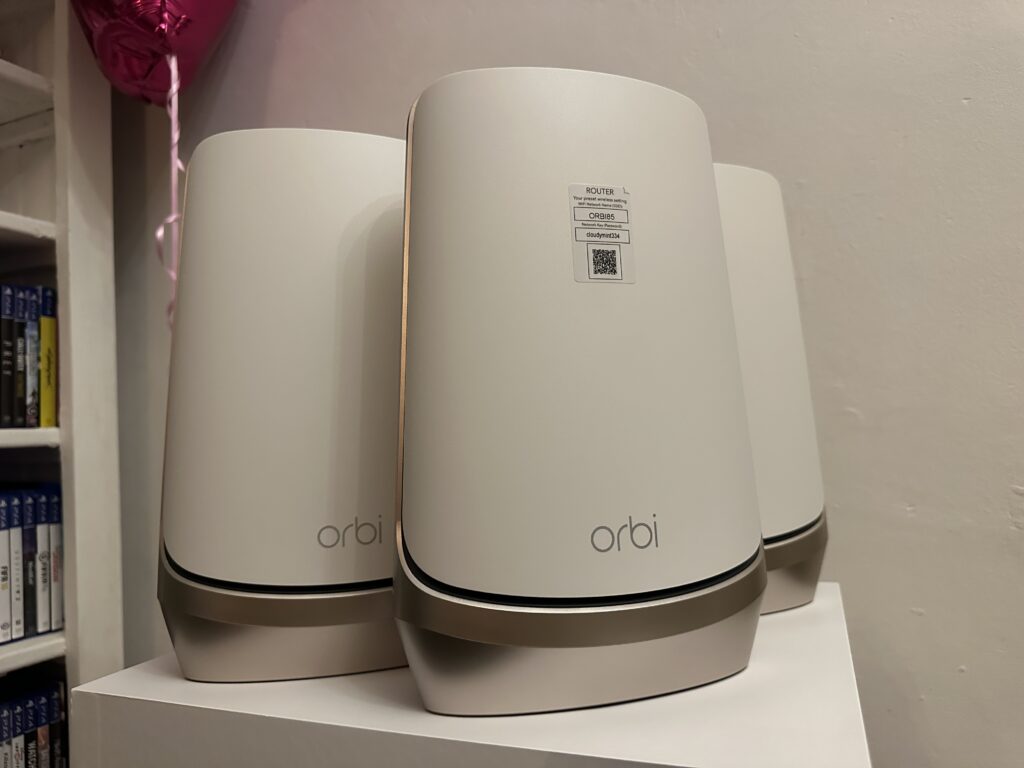 Getting Started
So to get started, it's time to unbox the RBKE963. The unboxing experience is very consistent to Orbi's previous offerings. A giant box, with 1 router and 2 side loaded satellites. Each unit is packaged with a UK power adaptor and companion ethernet cable. Each unit this time around is enormous, at just a shade shorter than a 30cm ruler and weighing in at almost 1 and a half bags of sugar. There is no denying these are a statement piece, and they certainly struggle to blend in to your decor in the minimalist way you could expect from an Eero.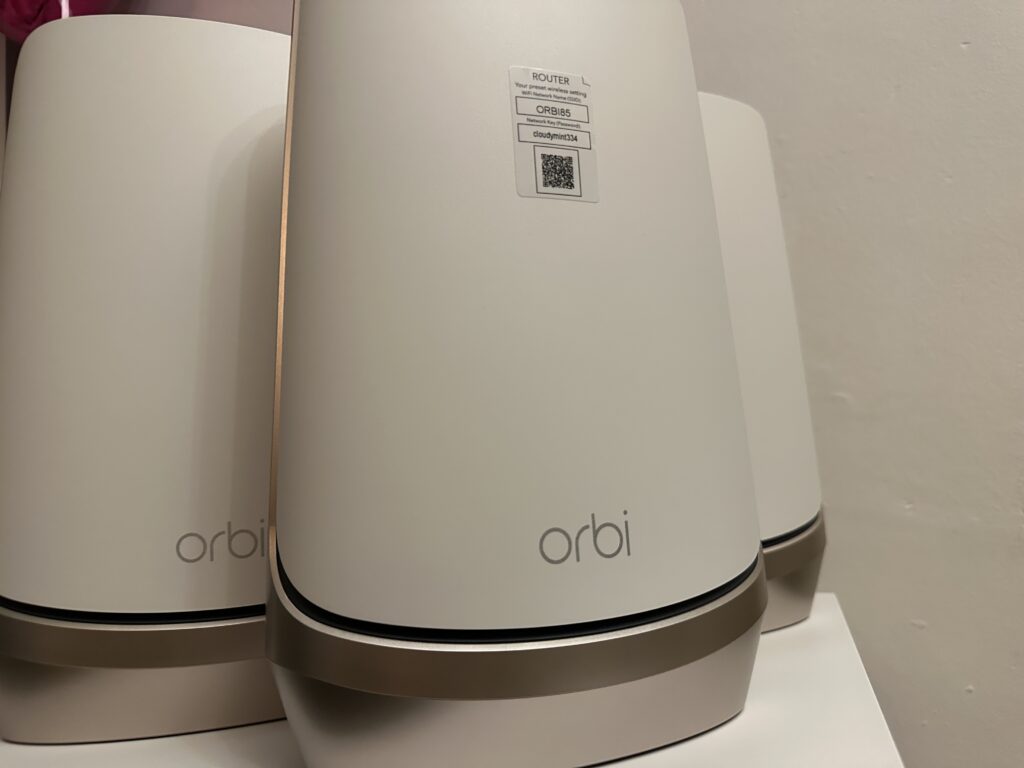 The units themselves though are quite handsomely designed, very ergonomic and curvy. The setup process was as simple as usual. Plugging the main router into my existing modem via the ethernet port. Then loading up the Netgear App, feeding the device my Wi-Fi Network and Password and away you go. Once a swift software update was completed I got to work, placing the other two satellites elsewhere in the house.
I decided to place the first Satellite in the master bedroom, with the other in the furthest bedroom away from the source router in the house to see if at its furthest distance it would reach. This did not go so well, and the Netgear app prodded me to find a better location. Once moved to a bedroom one thick wall closer to the source device we were good to go, with both satellites furiously shaking hands and building a mesh of glorious wi-fi for the household to enjoy.
Need For Speed
What can I say, other than these devices are absolute speed demons! Once all of the software and firmware updates had done their thing, I began its first speed test. I then completed this testing in every single room in the house. The median speed result was 21% faster than my Eeros ever produced, even when sat in the same room as the source router. It's not just speed either, the RBKE963 produce the most consistent, robust wi-fi network I have ever experienced in my entire life. I felt like we couldn't even make them sweat, regardless of the workload thrown at them.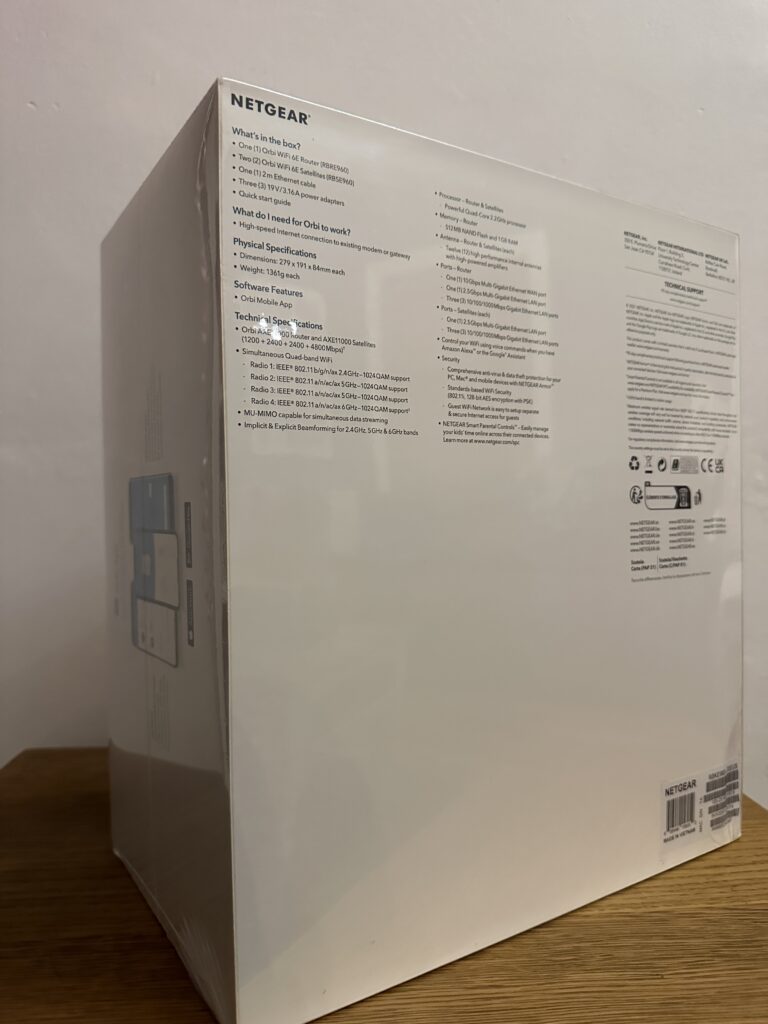 Three simultaneous Fortnite sessions across three consoles in separate rooms across the house. A smart speaker playing ocean sounds to two anxious dogs in the kitchen to help them sleep. A tablet computer playing a YouTube lullaby and serving as a night light in my daughters bedroom. A laptop downloading a steam library of games. A driveway camera streaming a neighbour washing his car late into the evening/night time in the summer sunshine. This was all happening at once, and not a lagging second of compromised performance was experienced. I was unbelievably impressed I must say.
The Tech and Experience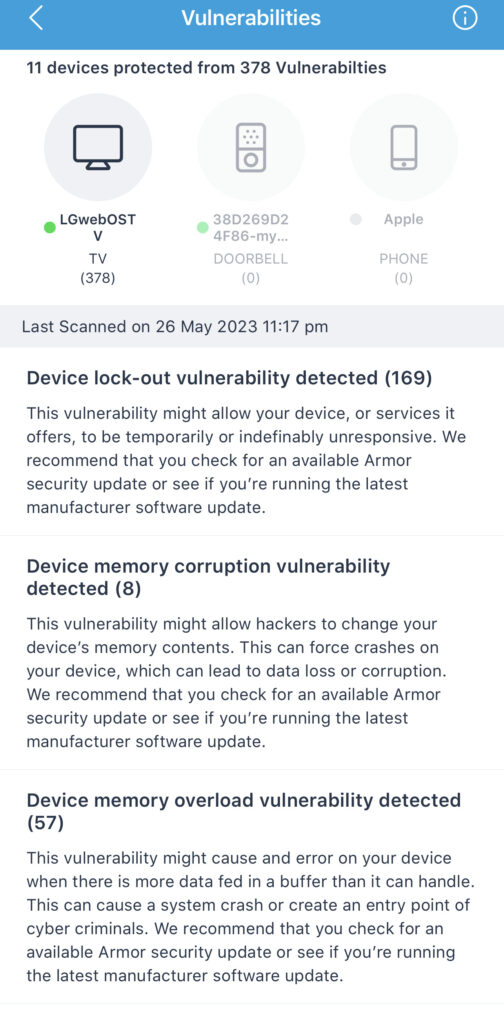 In terms of the Integration on Offer, once again the Netgear app with its ever present Ad banners gets its moment to shine, with Netgear Armor doing its thing. It uses clever wizardry to scan all devices on your network and check for vulnerabilities and issues that will encourage you to make decisions around permissions and access. Very cool tech, albeit slightly haunting. The biggest question here? Maybe don't let your smart TV access your Wifi.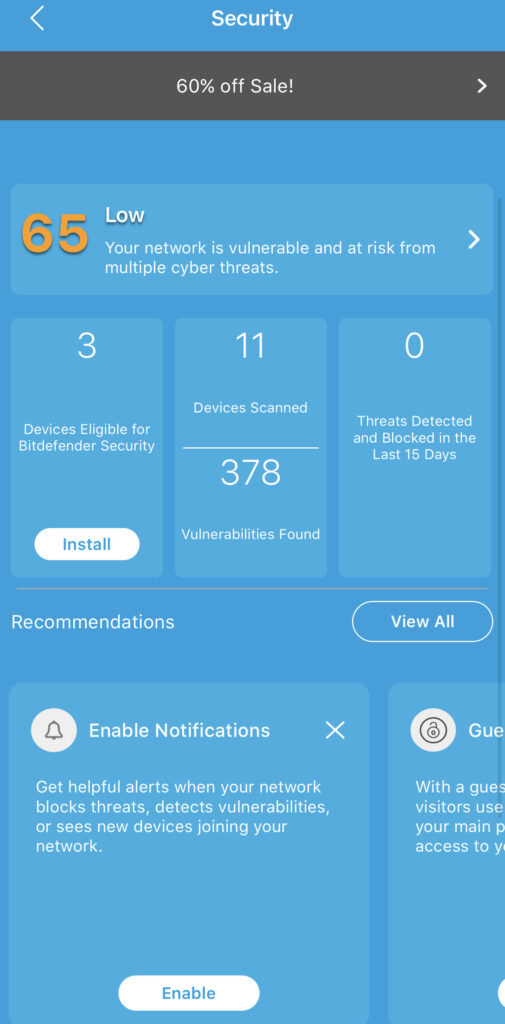 When phrases get thrown around, like "The Worlds Most Powerful Home Wi-Fi System" you are putting yourself on a pedestal. On this occasion though, the RBKE963 has a spec sheet that will blow your socks off! Up to 10.8Gbps speeds. Given that the UK tops out at GIG1 speeds at the moment, this is future proofing to the next extreme. The ports on the back are unparalleled in this market, and you'd be pushed to find this kind of I/O on any other device. With a 10Gig ethernet port, partnered with a second 2.5gig ethernet port, and two separate 1gig ethernet port, you can create a wired haven of uncompromised connectivity.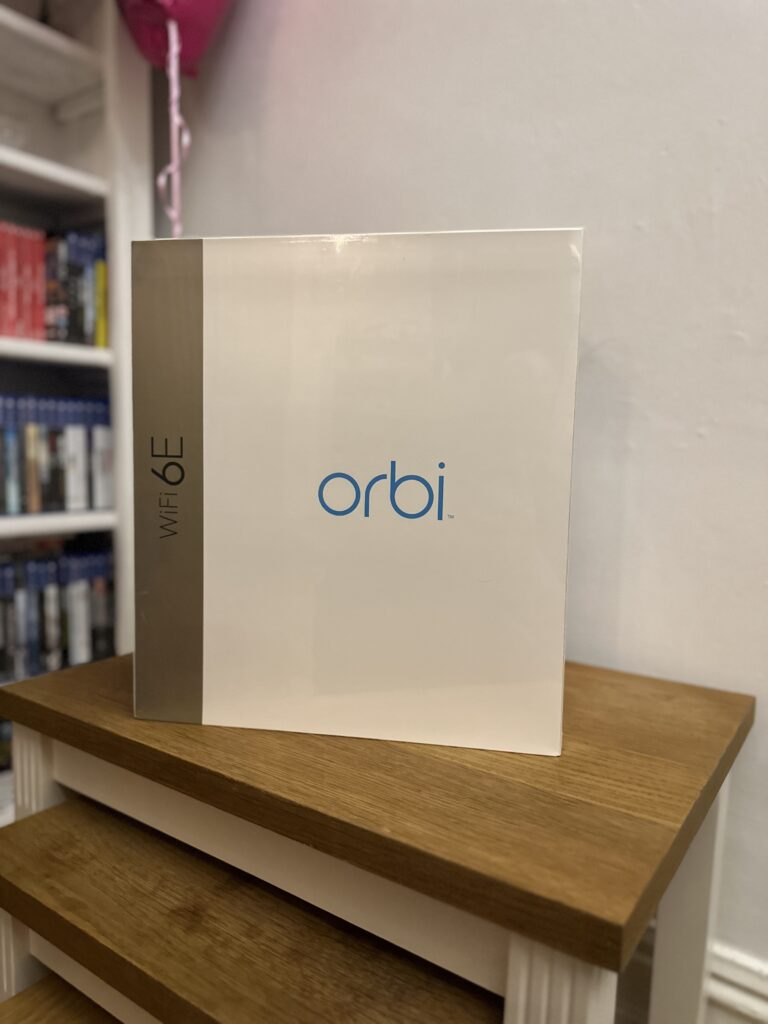 In fact across the 3 access point collection on offer here, you have a total of 13 extremely fast ethernet ports, and when you factor in the cost of adding a highly capable ethernet switch to your setup you can immediately see the value this is offering.
The Value
So here's the kicker. At an RRP of £1699.99, who is this really for? Well for me on the balance of experience vs reward, this is the most impressive home wi-fi solution I have ever used. It feels lightyears ahead of the competition, and in fact I sense that competitors are unwilling to put the work and resource into even trying to compete in this market. This means in the consumer space the RBKE963 truly stands alone, and at the cost of a high-end laptop you certainly need to understand if you can make your budget stretch this far. If you can then this is the most uncompromising, ass kicking, Wi-Fi technology steroid injection you will ever put into those 4 walls you call home.
If you can't, then fortunately Orbi offer a product at every price point, so match your budget to the range and you can't really go wrong in finding a solution that will always offer a very noticeable improvement to your home internet experience.
Rapid Reviews Rating
4 out of 5
4
You can purchase the Netgear Orbi RBKE963 here