Road Angel RA-X721DAB Review
Reading Time:
5
minutes
Technical Details
Road Angel RA-X721DAB

SCREEN: Liquid Crystal 7inch Capacitive Multi-Touch
AMPLIFICATION RCA: High Voltage Pre-Out, 4x50W Output
CONNECTIVITY: Apple Car Play, Android Auto, Bluetooth
RADIO DAB+: Tuner, FM/AM/RDS Radio
POWER INPUT: ISO
STEERING CONTROL: CTROADANGELEAD.1
REVERSE CAM INPUT: RA8100 Recommended
BLUETOOTH VERSION: 4.0
DAB: SMB Connector
MICROPHONE: Included
DIMENSIONS: 100mm x 178.1mm x 168mm

A code was provided for review purposes
The Road Angel RA-X721DAB is my second review of a Road Angel product. Earlier this year, I had the pleasure of receiving the Road Angel Halo Drive dashboard cam. Now I have added a car stereo to my list. 
I received this unit quite some time ago. I then had to wait for a fitting kit to arrive and then began the surprisingly long-winded quest to find a garage willing to fit the stereo. The whole process taught me something important. I learned that the garages near me don't like it when you have all the parts already. They also always seem remarkably busy because when I found a garage, it took weeks before they actually gave me a slot.
The stereo was actually fitted to my fiancee's car, as her stereo was knackered, and just before the review opportunity arrived, I had been looking around for a new one. What did I think about the Road Angel RA-X721DAB? Read this Rapid Review to find out.
Unboxing the Road Angel RA-X721DAB
Before we talk about the Road Angel RA-X721DAB as a unit, I should talk about how it arrived. The packaging for the RA-X721DAB was exactly what you would expect for such a product. The box was colourful and highlighted the key features of the stereo. Inside, all of the different cables and parts were individually packed and secured within a styrofoam casing which fit snugly inside the box, ensuring everything remained safe, even when in the hands of EVRI's finest.
The same applies to the fitting kit, which arrived later. Everything was clearly labelled and packaged for easy installation.
A Neat and Tidy Piece of Kit
The one thing I liked about the Road Angel RA-X721DAB was how natural it looked when installed. My fiancee's car is far from the newest, and I was worried having a stereo like this in it would stand out like a sore thumb. Happily, however, it doesn't. It fits neatly into the centre console and looked right at home from the get-go.
Being relatively inexperienced in the world of car stereos, I did not really know what to expect. However, the first feature that was described to me in great detail by both my fiancee and my stepdaughters was Bluetooth connectivity. Something that was slowly driving them crazy in its absence before installation. They were sold on the unit simply because they got to listen to Dance Monkey on repeat without a problem during the school run. An excursion I thankfully miss most days.
The Bluetooth connectivity and a supplied microphone make it easy to link up a hands-free kit, so you can still take those important calls while driving without compromising your safety or the rules of the road.
Impeccable Sound Quality
Being an older car, my fiancee's Citroen C3 didn't offer the best sound, and the simple radio we had before often struggled to maintain a station for an entire trip. We had a few CDs, but even then, it was tiresome having to flick through each track to get what you want.
The Road Angel RA-X721DAB offers a 4x 50w sound output which was a huge improvement over what we already had. The sound was crisper, cleaner and offers an all-around improvement in quality that was undeniable. This applied to the kids' pop music, my fiancee's 80s playlist and my classic rock tracks.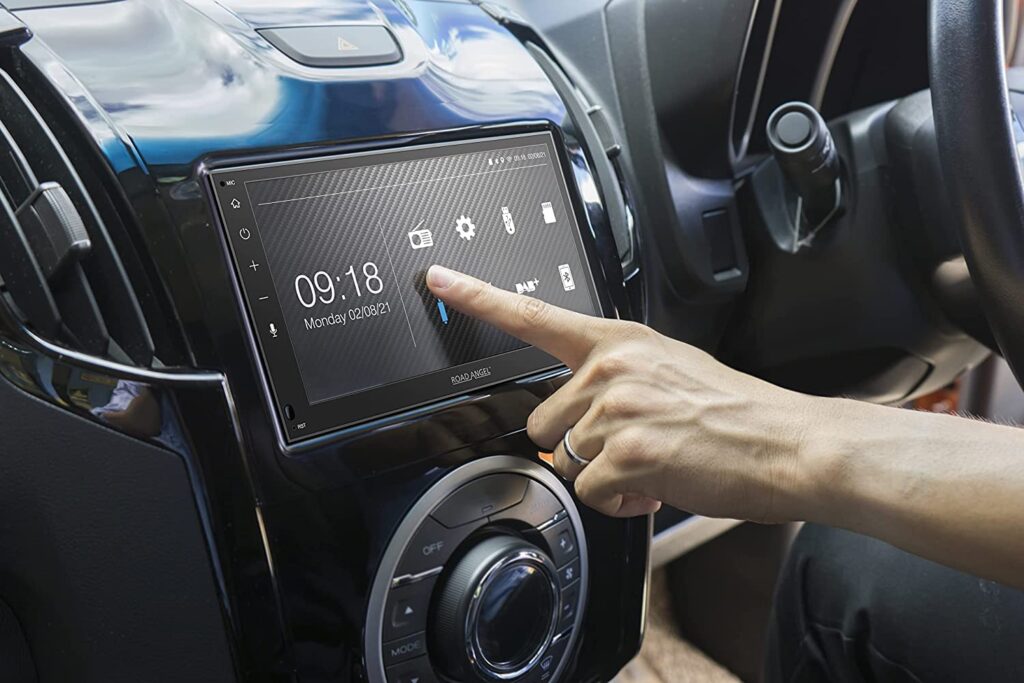 Touch Screen Heaven
Is there anything worse than twiddling knobs and dials while you're driving to tip you over the edge? The first thing I noticed about the Road Angel RA-X721DAB was how smooth and easy it was to use the touchscreen. The unit reacted instantly to every press, and I never felt a trace of frustration at their controls having problematic hit boxes – we are a gaming review site, after all.
Granted, this didn't stop me from pushing the wrong things from time to time, but that was very much more my wrongdoing than it was the fault of the stereo. Luckily, the kids are still too young to sit in the front seat, so despite being easy to use, this driver still retained the music control, much to the chagrin of the others.
Easy to Connect with other Road Angel Products
The Road Angel RA-X721DAB has 2 USB ports that you to connect with other products. Personally, I haven't done this yet, but you could connect other Road Angel cameras to create a reverse cam in your car. Another use that I have seen others mention is to connect a wireless Android Auto system which is missing in this particular stereo—a quick connector kit, and voila. Off you go. However, the Road Angel RA-X721DAB does offer Android auto through a wired connection.
We are not an overly tech-crazy family, and both my partner and I are often more annoyed at needing our phones than we are pleased with their presence. However, I have been informed it's a pretty cool thing to have and a major plus point for the Road Angel RA-X721DAB.
It's worth noting at this juncture that Road Angel is relatively new to this side of the automotive gadget market. That said, their dashboard cams and stereos are strong additions to their bow and show the strength that the company has.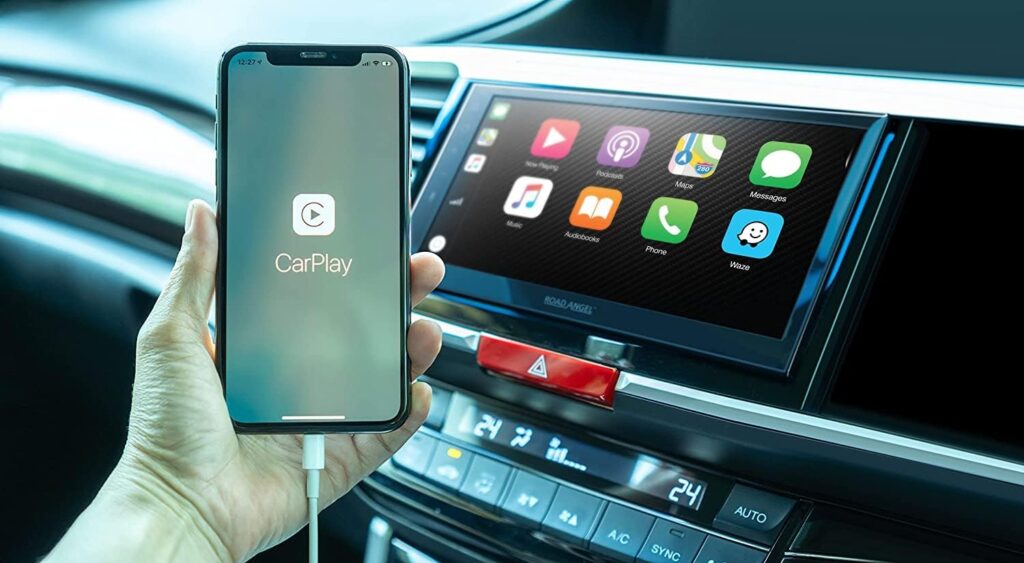 Final Thoughts on the Road Angel RA-X721DAB
The Road Angel RA-X721DAB is not the cheapest model on the market. However, those that offer the world and charge so little are often. destined to be disappointing. I firmly believe that the Road Angel RA-X721DAB offers great value for money, coming in comparatively cheaper than many models that offer similar options.
I struggle to find fault with this Road Angel product, and as they continue to the diversity of their brand, the sky would seem to be the limit.
Rapid Reviews Rating
4.5 out of 5
4.5
You can get your Road Angel RA-X721DAB car stereo from the Road Angel store today.
Check out more of our hardware reviews here.