Super Mega Baseball 4 Review
Reading Time:
4
minutes
Fast Facts
Super Mega Baseball 4 Review

Developer: Metalhead Software
Publisher: Electronic Arts
Website: https://www.ea.com/games/super-mega-baseball/super-mega-baseball-4
Genre(s): Sports, Simulation
Platform: Xbox Series X (also available on Nintendo Switch, Windows PC and PlayStation)
Age Rating: PEGI 3
Release Date: 02/06/2023
Price: £54.99

A code was provided for review purposes
A little over three years ago, I reviewed Super Mega Baseball 3 for the site. It wasn't the first baseball game I had played, but it was the first after I found a deep enjoyment from and interest in the sport. Now, I have the honour of reviewing the next title in the series, the cunningly titled Super Mega Baseball 4. Has a three-year wait been worth it? Find out in this rapid review.
It is also worth noting that the Super Mega Baseball franchise was acquired by EA Sports back in 2021, and this game marks the return of EA to the realm of baseball games.
My appreciation for baseball is something that has blossomed in recent years. I've not missed a Tampa Bay Rays game in two seasons now, and I rank baseball up on a par with ice hockey as my favourite sport. Hmmm… is wrestling a sport? Is it entertainment, or is it something else in a genre of its own? That's a discussion for another day, and for those that know me, wrestling transcends any list form created. 
Updated Graphics An Instant Hit
Super Mega Baseball 4 is an arcade game at heart. If you want realism, then you should look at MLB The Show '23. However, there is a surprising depth to Super Mega Baseball 4, and the updated yet still unquestioningly arcade-based graphics are an instant homerun. The game is bright, colourful, and over the top. Yet beneath the caricatures and the cartoon-style animations, there is a true baseball game. Super Mega Baseball 4 brings with it a surprising realism that manages to remain playable for rookies through to the veterans of baseball video games.
The game offers two core team bases. Legends, which are caricatures of real-life baseball heroes, some of which I recognised, but others pre-date my interest in the game by some decades. The name I know, but how accurate the looks are, I cannot say. The second pool is the classic sports game creations—wonderful names like Hurley Bender, Jaques O'ften, Clubber Buff and Raffy Slaps. I often found myself chuckling at the often tongue-in-cheek name choices, including the rather rude Stallion Johnson. I won't explain it, but if you know, you know.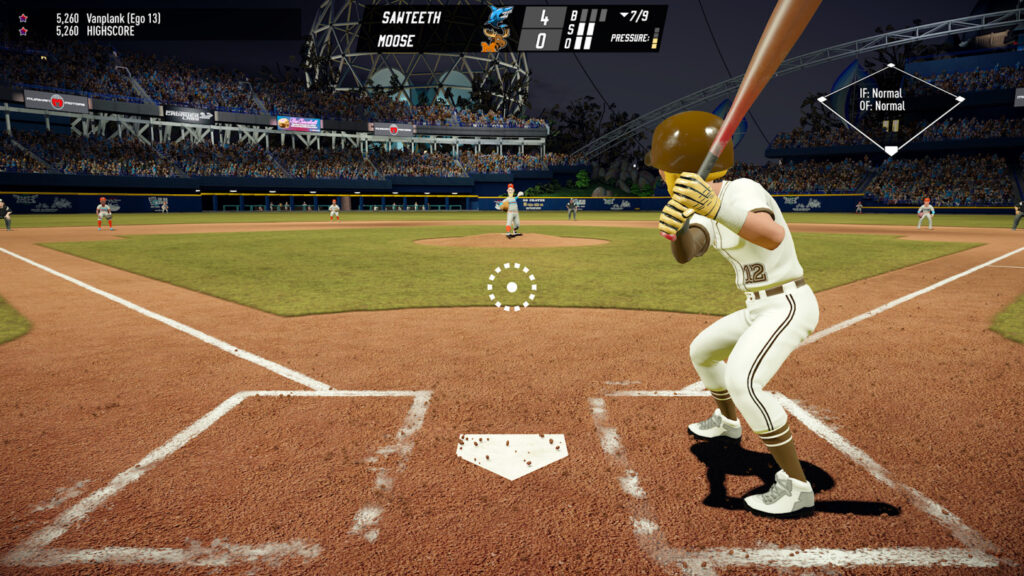 Game Modes Galore
There is plenty to do in Super Mega Baseball 4. I have never been a big online gamer and have not yet tried out the online offering. Mainly because nine innings is a commitment that my life can't always make.Not in one long run.
However, there was plenty to do for the offline solo gamer like me. I mostly played around in season mode, having both a Legends season and a regular season completed. Franchise mode is another fun offering that I have now started to dabble with. I like the idea of controlling a team, managing trades and really building a dynasty that I can be proud of.
Franchise mode is usually one of my favourite game modes, whether it's in The Show, NHL, or now Super Mega Baseball 4. Having played the game for the purpose of this review, the next step for me is franchise domination.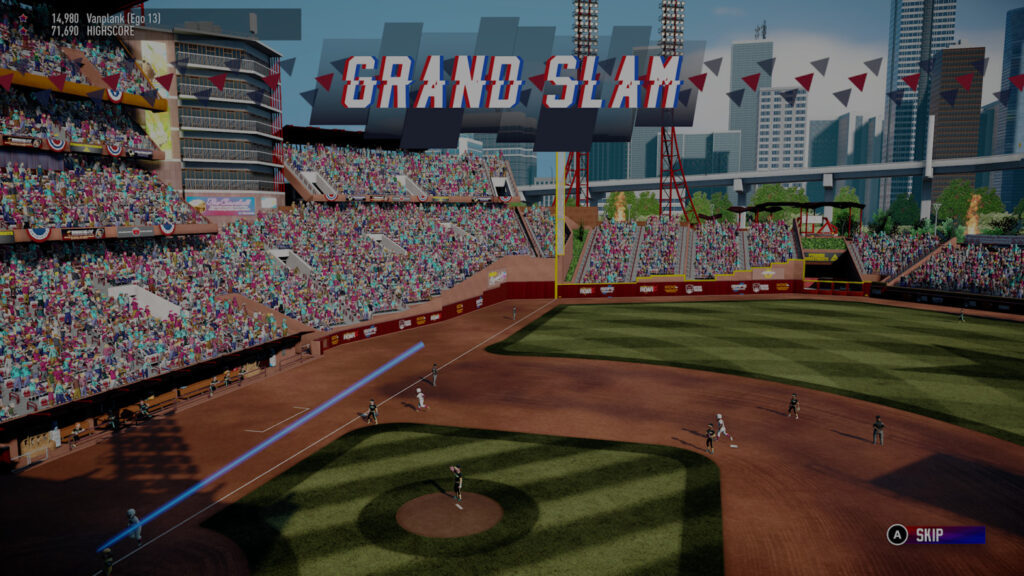 Be Ready for Repetition
This shouldn't come as a shock, but there is a lot of repetition in the game. You play for nine innings, throwing or swinging a bat, and then you end the game, collect your rewards and check your team, only to do it all over again. That is the nature of any sports game, but baseball, possibly more than others, has a highly repetitive feel as there is little room for gameplay creativity. You are either pitching or hitting and must work within these confines.
In Super Mega Baseball 4, I actually found myself preferring the slugging side of the game rather than pitching. Usually, it's the other way around. I enjoy the tactical side of being a pitcher and the pitcher battles. However, in Super Mega Baseball 4, I found the pitching to be a little bit too simple and lacking in true engagement. But, in many ways, that fits the arcade style of the game. On the other side of things, there is never anything tiresome about knocking the stitches loose on a ball as you crack it out of the park.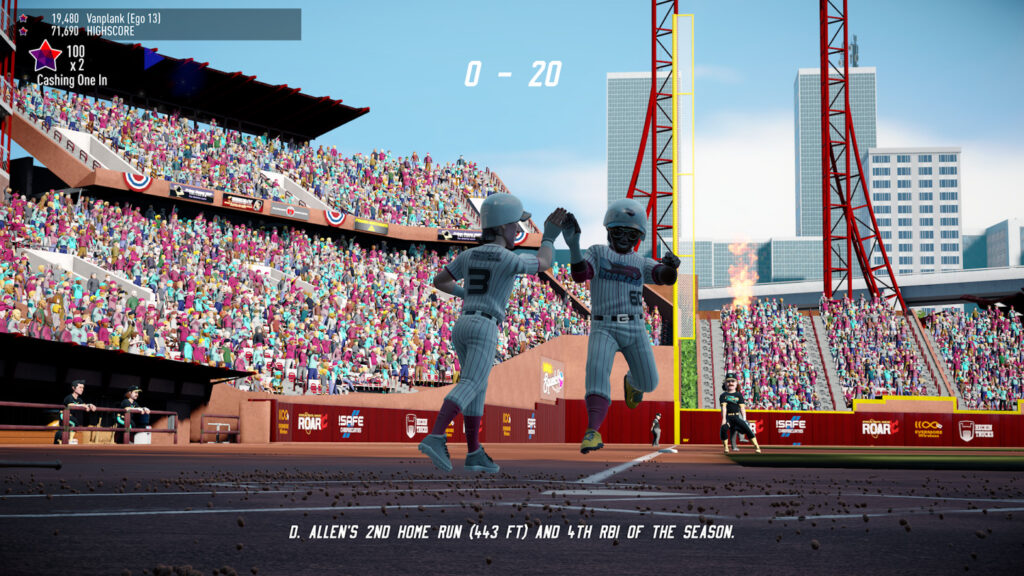 Just Good Fun!
Super Mega Baseball 4 is a fun experience. In fact, I would say it is super mega fun. It has a stacked roster and showcases an incredible sense of humour and an appreciation for innuendo that borders on Britishness. It's the sort of game that you can just pick up and play for a while. Whether alone, with friends, or braving the online wastelands, it delivers without fail.
If you are a fan of baseball and want a new experience, I highly recommend Super Mega Baseball 4. The three-year wait between releases was definitely worth it, and the upgrades this edition brings warrant adding this instalment to your collection. I would be very interested to see how this game plays on the Nintendo Switch, as it is the perfect pick up and play commute game.
Rapid Reviews Rating
4 out of 5
4
You can get your copy of Super Mega Baseball 4 from the Microsoft Store today.