Mutant League Football: Dynasty Edition
Reading Time:
6
minutes
Title: Mutant Football League: Dynasty Edition
Developer: Digital Dreams Entertainment
Publisher: Digital Dreams Entertainment
Website: https://www.mutantfootballleague.com/home
Genre: Sports
Platform: Xbox One, PS4, PC, Nintendo Switch (Reviewed)
Audience: PEGI 18 – Violence and Bad Language
Release Date: 31st October 2017 (PC), 19th January (PS4, Xbox One) and 30th October 2018 (Switch)
Price: Digital:£21.49 Physical: £24.99 (Switch), £19.99 (PS4 and Xbox) – Rapid Reviews UK was very kindly provided with a review code for this title.
What the Developers say
Mutants and monsters unleash maniacal carnage on the gridiron in this action packed, 7-on-7 arcade-style, fully 3D football game. This hilarious and brutal parody of professional American football will introduce you to some of the wildest, most bloodthirsty superstar players to ever strap on shoulder spikes. Players such as JJ. Rott and Nuke Freakly lead stranglehold defenses against the punishing offenses of Bomb Shady, The Beast, and Ghoulio Bones.

Mutant Football League™ delivers intense online multiplayer action, deep strategy, deadly humor, and of course those signature Dirty Trick plays. 19 brutal teams clash in fantastical arenas full of deadly hazards setting the stage for mayhem in every contest that allows players to win by highest score, or by killing and eradicating their opponents to the point of submission.

https://www.mutantfootballleague.com/about
Introduction
Have you ever watched an NFL game, (or football match/ice hockey game/cricket match) and thought 'What these game needs are shotguns'? I know I for one certainly have. Now, answering that, obviously widely held, desire is Mutant Football League. The spiritual successor to 1993's ever-popular Sega Mega Drive hit Mutant League Football.
Imagine having the opportunity to play an NFL game with all the depth of the Madden Series coupled with the sheer lunacy of the Blood Bowl games… Well… You can!
"Ladies and Gentlemen! Welcome to the Mayhem Bowl!"
Mutant Football League is a fast-paced, brutally violent, killer arcade American Football game! With 25 insane teams made up of freaks, demons, mutants and the undead to choose from there is something here for anyone with even a passing fancy for anything fantasy or sci-fi. Each team is a clear parody of a real-life NFL team with some great caricatures of real players.
Audio and Visual
Mutant Football League looks and feels fantastic, it runs at a native 720p and 1080p in handheld and docked respectively with a solid framerate of around 30fps, which didn't drop once during my time with the game. However, I am not sure if it would have mattered if the game ran at a much lower resolution due to the fact that so much time and effort have been put into the look and feel of each of the teams and their stadiums.
For instance in my none gaming life (stick with me here), I am a fan of Blues music, I have always wanted to visit the deep south of America, and I follow the New Orleans Saints NFL Team. Therefore, it was a natural choice to select the appropriately named 'New Gorleans Zombies' a team whose uniform looks like the real Saint's kit, obviously exchanging the fleur de lis for a zombie's head. Similarly, gigantic skeletal Jazz / Blues musicians decorate the Zombie's stadium at either end!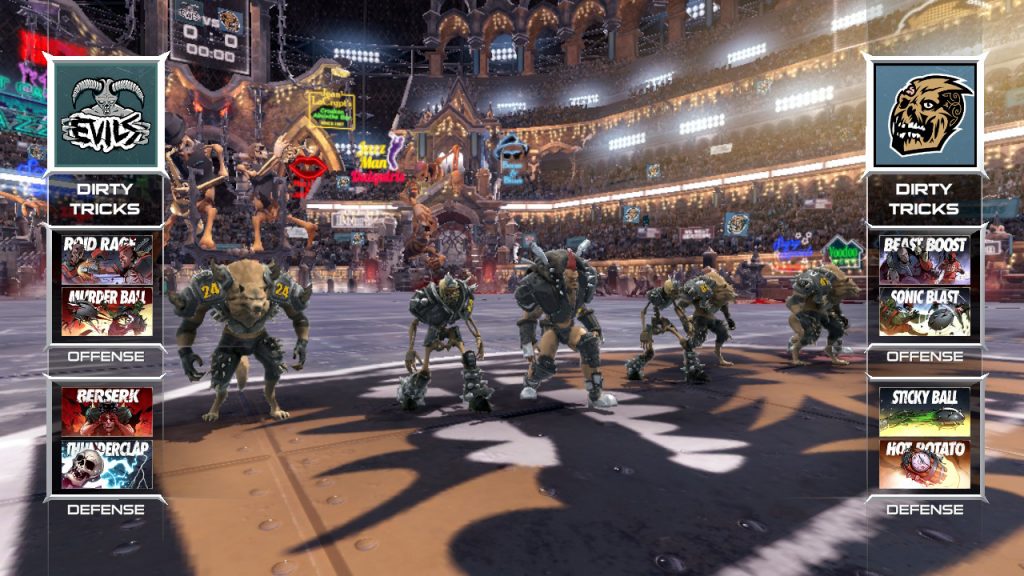 MFL scores another win with its audio, while in any menu, we can listen to a heavy metal score, with a range of distinct tracks in different menus and for each of the various teams! Most importantly however is the in-game commentary, which is adult, foul-mouthed and hilariously well voiced by the fantastic Tim Kritzrow (of NBA Jam fame). This commentary in matches was often the thing that kept me coming back for more. There are so many one-liners I could write here as an example. However, this is a family site.
Although, if language and adult themes are not your cups of tea, then you have the option to turn them off, along with gore etc. for a more child-friendly experience.
Gameplay and replayability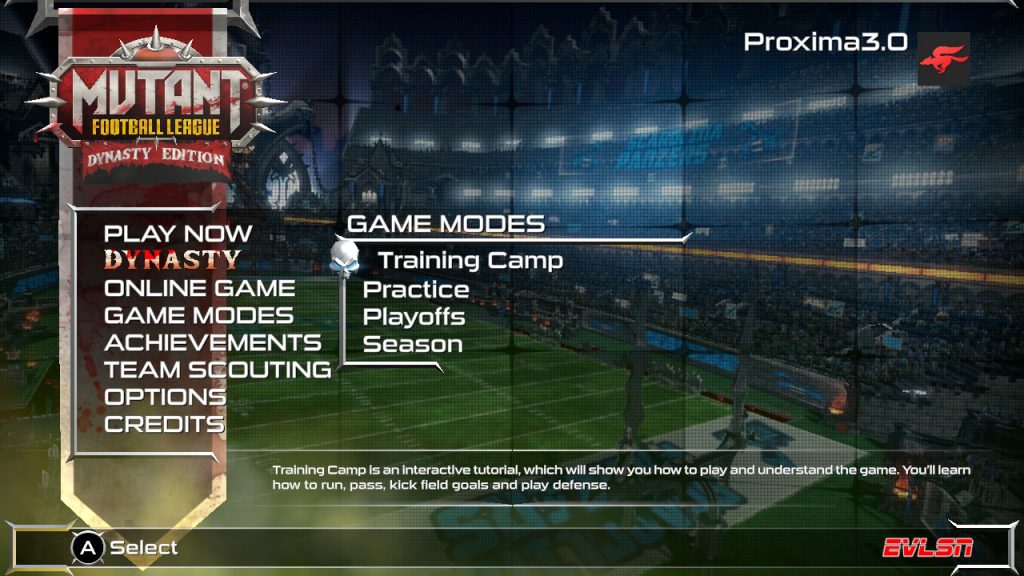 Offering a variety of game modes including:
Training Camp – a Short tutorial and introduction to the game controls, however, this is not essential and is located in "game modes" rather than being forced on the player when the game is launched.
Exhibition – a straightforward pickup and play mode, with 23 of 25 teams to choose from right from the off.
Season– a full season with your chosen team, using their full strength squad (this will make more sense shortly).
Play Off – here you can skip the season and compete in the playoffs (which occur at the end of a regular season) and attempt to win the Mayhem Bowl.
Online – an online single game mode is available for up to 2 players.
Dynasty – probably the best style of play in Mutant Football League, become the GM of one of the 25 clubs. However, the club is in ruins, and all your players are unskilled rookies. You have three seasons to win a Mayhem Bowl, receive a new contact and build a Dynasty.
Dynasty mode was by far my favourite mode to play, and again I felt inclined to take charge of the New Gorleans Zombies. I was immediately presented with a full squad of players rated at exactly 45 in every skill, which is not good. So, deciding that the most critical position to improve would be the QB, I set out to find my very own Drew Brees. Signing the number one QB on the free agent list was a no brainer (pun intended), a little talented Super Human by the name of Nuke Dukem! (I know right!) I brought him in right away.
Games are a standard affair with players selecting their tactic for each play, (for those who are a little unsure, in NFL teams have 4 'downs' to move the ball 10 yards. After ten yards they achieve 1st down, tactics used during each down are referred to as 'plays'.). However, in addition to attacking, defensive or special plays, teams have the option to employ a dirty trick. Dirty tricks are little cheaty tactics that can be used to swing the game in your favour, but buyer beware the AI also uses them, and with suspicious accuracy to boot. I particularly like to use the 'Sticky Ball' tactic which means that the opposing QB has the ball stuck to their hand and cannot throw it making it easier to sack (tackle) them and cost the attacking team precious yardage.
Games are broken up at half time by the "half time show", in MFL this takes the form of a mini-game called 'Ref Rampage' a top-down shooter where you need to kill as many referees as possible in 30 seconds.
This mini-game is an excellent way to take out your rage on referees who will call penalties on your team for literally nothing (seriously, the ref will be bribed a lot). After a while, you are left with little choice but to either bribe the ref yourself or go with my favoured option of straight up killing him.
The only other minor criticism I would have is one that I have with all sports games: they get repetitive. I find I can only play 2 or maybe 3 matches in a row before I need to play something else as a pallet cleanser, however, if you are the sort of person who can play 15 straight hours of Madden or Fifa, then this will not bother you.
Conclusion
Creative Director Michael Mendheim and his team have created something really special in Mutant Football League. The game offers excellent visuals, great audio, a range of game modes, minigames, achievements, and so much more. I genuinely loved my time with Mutant Football League. I will certainly be continuing my journey with the New Gorleans Zombies and their star QB Nuke Dukem. So at this point, there is only one question left to ask? What next for Michael Mendheim and Digital Dreams Entertainment? Did I hear someone say Mutant Ice Hockey League?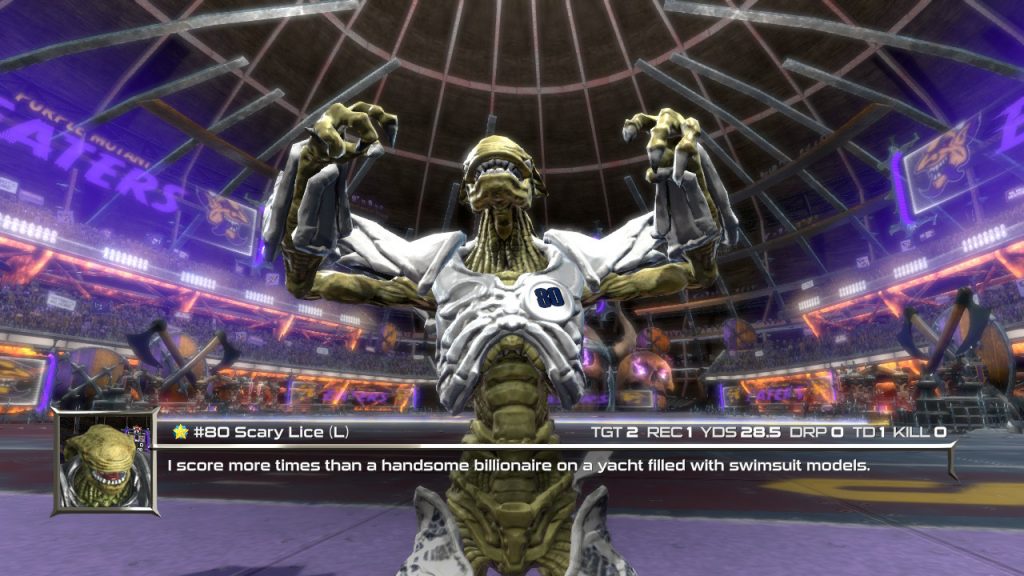 Rapid Reviews UK Rating
If you would like to dive into the mayhem, you can buy Mutant League Football from the digital storefront of your choice or fromhttps://www.mutantfootballleague.com/home