Adventure
,
aRPG
,
Casual
,
Game
,
Gaming
,
Indie
,
Indie Dev
,
Microsoft
,
Next-Gen
,
Rapid Reviews
,
Reviews
,
Role-Playing Game
,
RPG
,
Series S
,
Series X
,
Xbox
,
Xbox One
,
Xbox Series S
,
Xbox Series X
Grow: Song of the Evertree Review
Reading Time:
5
minutes
Fast Facts
Grow: Song of the Evertree

Developer: Prideful Sloth
Publisher: 505 Games
Website: https://growsongoftheevertree.com/
Genre(s): Adventure, Simulation, RPG
Platform: Xbox (Also available on PlayStation, Nintendo Switch and PC)
Age Rating: PEGI 3
Release Date: 16/11/2021
Price: £19.99

A code was provided for review purposes
A game with mystery, world building, farming, fun characters, exploring, customisation – Grow: Song of the Evertree really does have it all. This is one of the most wholesome and wonderful games I have had the pleasure of playing this year, and I'm here to tell you all why you should be playing it too.
It's All About A Tree
Grow: Song of the Evertree is an adventure RPG game that sees players with the task of bringing the once life-giving Evertree back to its former glory. The Evertree was, at one time, quite literally the life and soul of Alaria by providing harmony to its residents through 'the song'. At one point, the song that gave people peace for so long had been shattered, and therefore people couldn't hear it anymore. Overtime, the Evertree became withered and lifeless causing the people of Alaria to flee to more hopeful lands. Only one person remains, a young alchemist whose only mission is restore the Evertree. That young alchemist is you.
Starting out with a brief character creation, your journey begins. You're introduced to a few quirky characters who will give you a rundown of how things work around Alaria, then it's time to start the real work. Grow: Song of the Evertree has a multitude of gameplay elements and at first, this can seem very overwhelming. But as you come to grips with everything, you will see that the sheer amount of things to do is a blessing and will only add to the longevity of this wonderful adventure. City-building, gardening and exploration being the main three things you're going be busy with.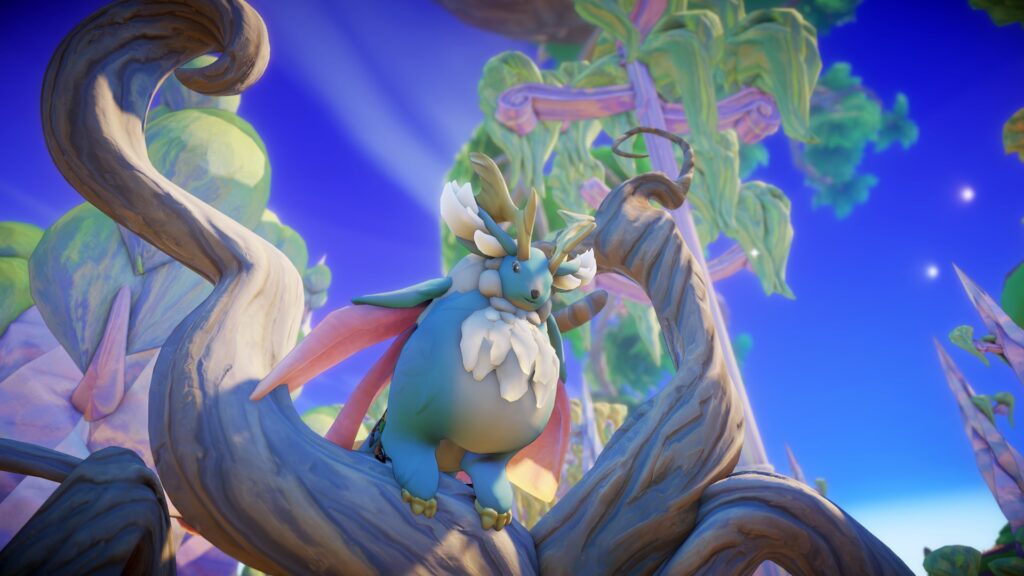 Tree-Mendous!
Grow: Song of the Evertree works by planting World Seeds which will, you guessed it, create a world in which you must cultivate and restore. Starting off with an overgrown, empty, messy building up to a riveting world filled with villagers and buildings. Pull weeds, break rocks, plant new seeds and keep them watered. It really is wonderful to work on something and build it, literally, from the ground up. Doing all these things will gain you resources, which are used to build up your town, which in return, will attract villagers.
That's not the end, though. In order to progress further you must find a fragment of 'the song' – this is what helps the Evertree grow. Once you have found the fragment, return it to the Evertree and you can then eradicate some of the Withering and expand your town further. Doing this can become repetitive, but that's the beauty of this game. There's so much to do that once you get bored of one aspect, you simply go onto another. You're not forced to play the game in a particular way, go at your own pace and experience things as you like. If you want to spend the day completing quests, you can. If you'd prefer to do some gardening, that's okay too.
Grow: Song of the Evertree introduces a day and night cycle, which means you will need to prioritise which tasks you want to do. You can't do everything all at once, you need to take a break sometime. Night time is for sleeping! Luckily, the game does prompt you to end the day within its daily missions. By that point, you have usually finished all your cultivating for the day anyway.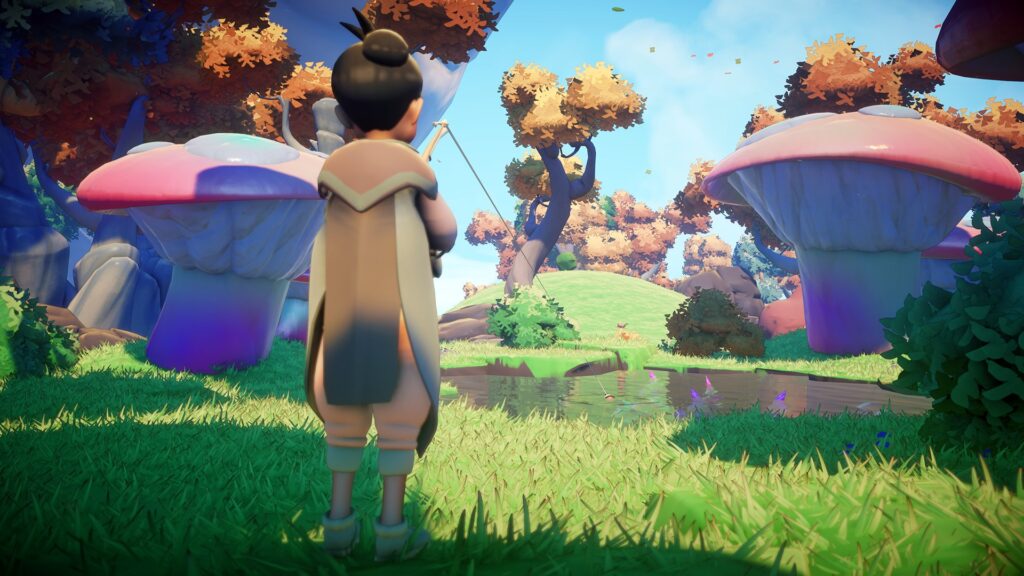 What A Treet!
Town building in Grow: Song of the Evertree is highly customisable, which was a nice surprise. You can control pretty much every aspect of your town, from where each object or building is placed to signposts and colours. You will also have control over your townsfolk, to some degree. Making them all have moustaches, for one…
One thing I did really like also was that the gardening aspect is super easy and simple. There's no breakable tools that you need to constantly replace, no need to refill your watering can – everything just works. This was honestly such a relief as it only adds to the relaxing and peaceful gameplay. I'm all for a realistic farming experience but it's so exhausting.
The most interesting part of Grow: Song of the Evertree is its use of Essences. Each and every object you come across in the game can be broken down into various essences (of which there are 24). These range from Warm and Dry to Spongey and Sticky. Merging these essences (up to five at a time) will create different World Seeds. It's certainly interesting to see the Worlds you create from Icy and desolate Worlds to beautiful flowery ones.
You will also be able to build relationships with your townsfolk but there isn't a lot of depth to this. It just sort of, happens. Sometimes the game favours certain characters over others, consistently giving you quests to do for them and not others until they inevitably tell you how great they think you are. It's a nice addition, albeit a little unnecessary.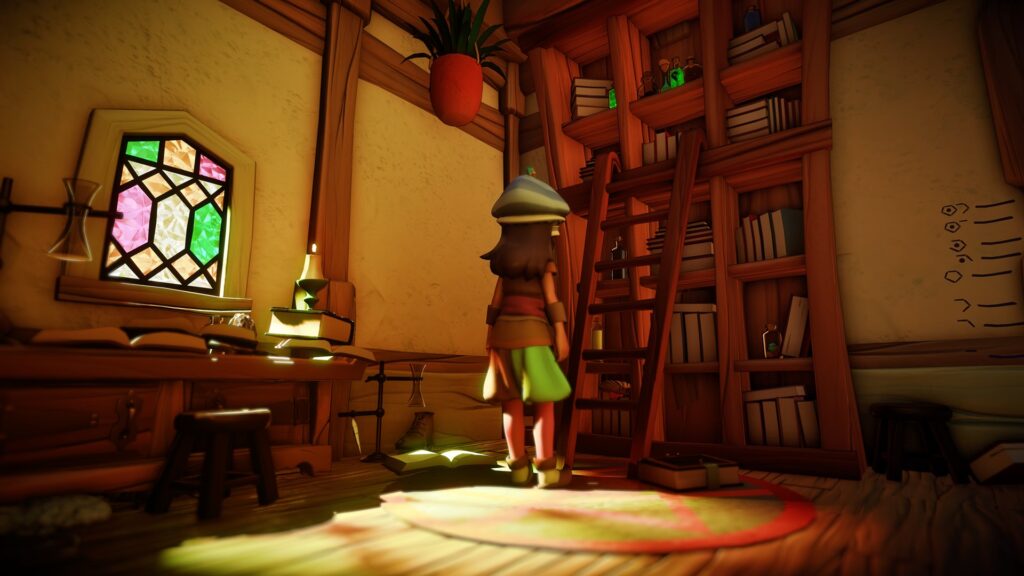 You Woodn't Believe Your Eyes
You will notice straight away just how damn appealing Grow: Song of the Evertree is. It has such a beautiful aesthetic that you will be in awe everywhere you go. It features an art-style very similar to Yonder: The Cloud Catcher Chronicles which makes sense because that is also a Prideful Sloth game. If it's not broke, don't fix it. It's vibrant, colourful and so bursting with detail that you're going to want to explore everything.
To fall in place with the art-style, Grow: Song of the Evertree is complimented with a wonderful soundtrack from anime and game composer, Kevin Penkin. It truly is beautiful and fits in perfectly with the game's peaceful nature.
Summary
Overall, Grow: Song of the Evertree is a beautiful game that provides an incredible peaceful and relaxing experience. It also offers a ton of gameplay elements that you could spend hours playing through. This is a great pick-up-and-play experience that's simple enough to remember if you don't play everyday. This is one of the best gaming experience I've had in 2021 and I strongly suggest you play it too. You won't be disappointed.
Rapid Reviews Rating
4.5 out of 5
4.5
You can purchase Grow: Song of the Evertree from the Xbox Store here.