Cooler Master
,
Gadgets
,
Game
,
Gaming
,
Gaming PC
,
Gaming Peripherals
,
Hardware Reviews
,
MasterBox
,
MasterBox NR200P
,
New
,
New Release
,
NR200P
,
PC Build
,
Product Reviews
,
Rapid Reviews
,
Reviews
,
Tech
,
Tech Review
Cooler Master Masterbox NR200P Rapid Review
Reading Time:
4
minutes
Fast Facts
Dimensions: 376 x 185 x 292mm incl. protrusions
Weight: 5.1 kg
Motherboard Support: Mini DTX, Mini ITX, Max. size: 244 x 226mm
Materials: Steel, Plastic, Mesh, Tempered Glass
I/O Panel: 2x USB 3.2 Gen 1 Type-A, 1x 3.5mm Headset Jack (Audio+Mic)
Pre-Installed Fans: 2x 120mm 650-1800RPM PWM (SickleFlow)
Warranty: 2 years
Website: https://www.coolermaster.com/catalog/cases/mini-itx/masterbox-nr200p/#overview
What's in the box?
The Masterbox NR200P arrives bundled with the full case chassis, 2 x 120mm fans, 4 pre-installed feet, an assortment of screws and attachment peripherals, GPU vertical riser and an interchangeable side panel made from Tempered Glass.
Design
The NR200P bundles a whole bunch of features typically reserved for higher-end cases and is fundamentally built on a premise of customisation. The case itself is a compact and stylish 18-litre structure and is designed for Mini ITX sized motherboards.
This means for those not au fait with the world of computer building, its around 1/3 the size of your average PC. This is super desirable for anyone that wants to pack an incredible computer specification into a tiny footprint. Think home media centre that can rival the pride of place your home consoles may currently occupy.
Yet with the desire for small and compact often comes the fear of how fiddly and challenging it can be to build something in such a tight space, and for me, having not built a PC now for 16 years I was nervous to see how things might pan out.
Yet 2 days later, and with the latest build complete and tested, I needn't have worried. The case is incredibly sturdy and well built with its powder-coated SGCC steel construction and clever design, opening it up was a cinch. All 3 outer panels can be removed without any tools at all. They are held into place with clever ball-jointed pins, secure when they need to be, quick release when they don't; this is a smart design for sure. All other screws are essentially crosshead, with plenty of spares if you scuff the heads or thread them.
Customisation
Guidance for component locations are printed directly onto the steel itself, yet customisation is absolutely the name of the game here. The assigned location for each component is entirely up to you, jostling parts around the case itself to find the best placement for thermals as well as style was a piece of cake.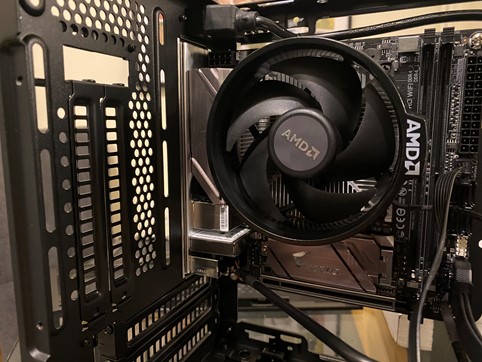 The ability to adapt the layout helped me get away with a component purchase mistake on my part. Specifically, the PSU I ordered was too large for the tray included. No bother, I just removed the two securing screws, popped the tray out and found another location for it at the base of the case frame screwing directly into the case front wall.
I couldn't help feeling that the design process for this case was all about the what-ifs… What if the customer had this problem? Then we can do this… What about this problem? Then this… etc. etc. Total unwavering customer focus and care throughout.
Often with Mini ITX designed cases the worry is keeping the components cool, and this has clearly been considered carefully by the team at Cooler Master, with a location for as many as 7 fans in the case, and an awesome depth to house CPU coolers up to 155mm in height, as well as two dedicated locations for liquid cooling pumps.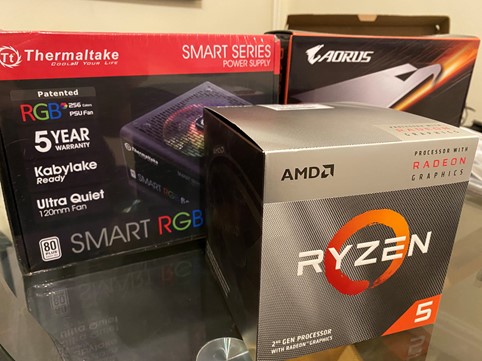 It feels fully equipped for anything you want to throw at it, and for my modest Ryzen 5, Vega 11, 16GB Ram build, it's more than capable of keeping things wonderfully cool inside. In addition to this if I did want to upgrade to include a dedicated GPU, there is an included vertical riser that allows you to place your Graphics Card front and centre in the case and show off all of the RGB glory it has to offer.
Personalisation
On the topic of customisation, and perhaps coolest of all, the team at Cooler Master also provide the 3D print schematics on their website to allow owners to download the files to print their own feet for the case. Literally, every single design iteration they went through during the design phase is there for owners to print and personalise for their case.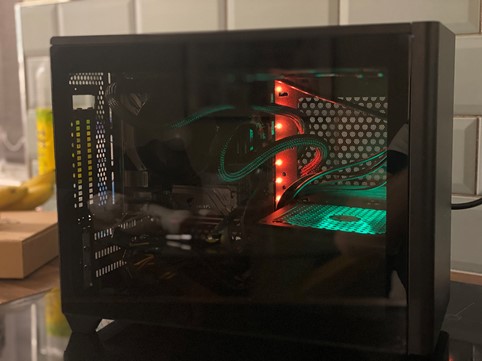 It's pretty amazing to have the opportunity to make your PC truly unique and one of a kind, and I applaud Cooler Master for the consideration and detail that can be felt in every corner of the NR200P. It's a truly wonderful piece of kit, and I have no worries recommending to novices and advanced PC builders alike.
Rapid Reviews Rating

You can read more about the Cooler Master – NR200P, and find out where to buy one, on the Cooler Master website.