Digital
,
Game
,
Gaming
,
New
,
New Release
,
Nintendo
,
Nintendo Switch
,
Nintendo Switch Lite
,
Rapid Reviews
,
Reviews
,
Strategy
,
Tactical
,
Turn-Based
Advance Wars 1 + 2 Re-Boot Camp Nintendo Switch Review
Reading Time:
5
minutes
Fast Facts
Advance Wars 1 + 2 Re-Boot Camp

Developer: Nintendo, WayForward
Publisher: Nintendo, Nintendo of America Inc.
Website: https://www.nintendo.co.uk/Games/Nintendo-Switch-games/Advance-Wars-1-2-Re-Boot-Camp-1987406.html
Genre(s): Turn-based, Strategy, War
Platform: Nintendo Switch
Age Rating: PEGI 12
Release Date: 21/04/2023
Price: £49.99

A code was provided for review purposes
Party like it's 2001, again!
Rewind back to 2001, young Sebby was playing an amazing, turn-based war game on his Gameboy Advance called Advance Wars. He was besotted by the cartoon art style. The amazing pixelated skirmishes took up a lot of time, as did moving tanks and destroying his enemies. Times were good man; times were good.
Fast forward to today, and my dreams have finally come true. I have been crying out for a remake of the above-mentioned game I loved so much for such a long time that I think I may have willed them into existence. Advanced Wars 1 + 2 Reboot Camp may be a weird name, but after a few delays, an all-in-one package of the first two Advanced Wars games is now available on the Nintendo Switch. Woohoo!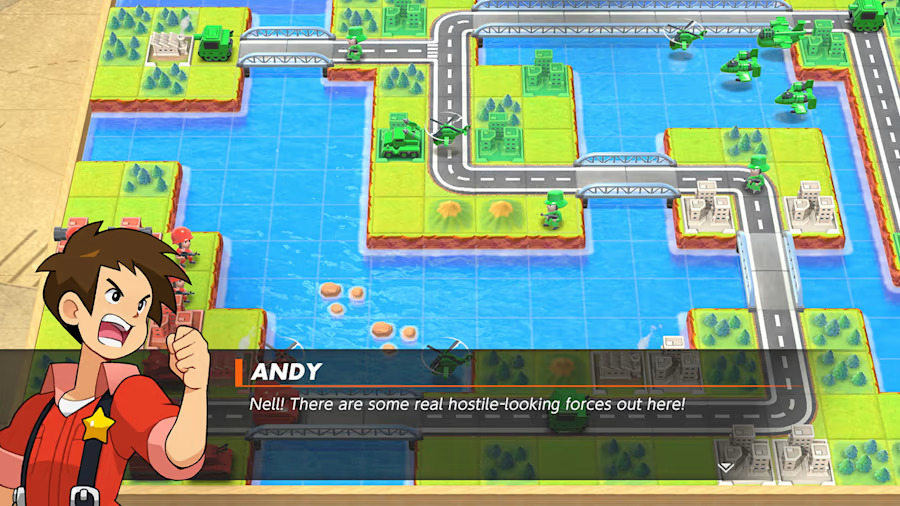 Turn-Based Tactics
For the uninitiated Advance Wars players, this series is a turn-based war game that has you deploying units over a series of maps, trying to either remove all the enemy units or, if you want to be sneaky, capture their base. It's the whole presentation, difficulty level, and how well-balanced all the systems were that make this game stand out in, let's be honest, a quite sparse genre of video games.
What immediately struck me after a few hours of this remake was how well the gameplay mechanics still hold up. It's still difficult in places; it's still amazingly tactical and still absolutely, crazily addictive. The hum of the tanks, the crack of the weapons, and all of this being wrapped up in a Saturday morning cartoon visual style makes Advance Wars a game like no other available today.
After a short yet very concise tutorial from the very perky NPC called Nell, you are thrust into a campaign filled with colourful characters and short but very sweet missions. This is why Advanced Wars is perfect for the Switch. You can do a mission or two, put your Switch on standby and pick it up again later. Lovely jubbly.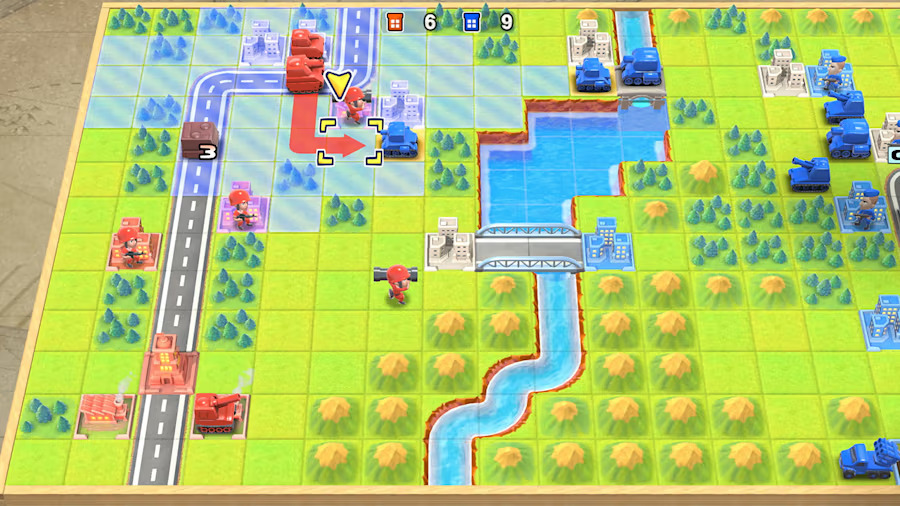 Fail to Prepare, Prepare to Fail
As I mentioned above, Advanced Wars, on the surface, is a simple game. Destroy your enemy or take out their base. It is, however, chock-full of strategy that encompasses many unit types, terrain bonuses and special abilities. At times it is very difficult but not unfair; everything is very balanced. Everything can be thought through, and more often than not, when you fail, it was due to a bad decision or poor planning.
All you do is click on a unit and move it, sometimes attacking and trying and outwit your opponent. This simple ruleset is, however, layered with various elements that add up to a scrumptious buffet of tactical nuance. Different land types give cover bonuses; some vehicles can transport your troops across the map, and even just with all the different unit types, each fight can be done in numerous ways. With very differing outcomes.
Each time you attack a unit, the game moves into a separate battle screen that is so simple to understand yet so very whimsical. Big chunky tanks fire on each other, helicopters thunder across the screen, and both sides attack each other. It's like a one-on-one fighting game, and each side's unit health is shown not just by a number but also a graphical representation of the units themselves and how many of the plucky fighters survive.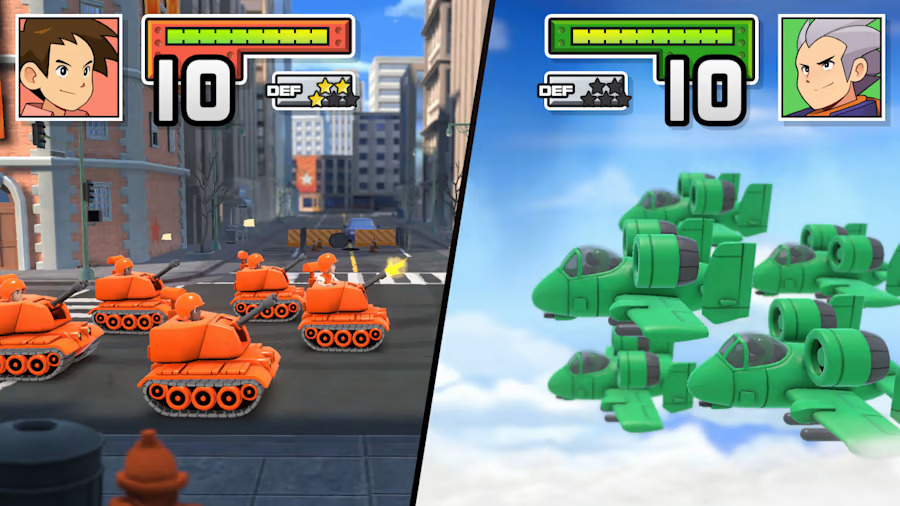 Fighting with Friends
Along with the two original campaigns, we also have online and local head-to-head modes. Online being new as the Gameboy Advance and probably the whole internet, were not ready for this type of thing. You can also create and share custom maps, which is still brilliant. All these modes have some modern conveniences and quality of life updates too, making this, the definitive way to play Advance Wars, alone or with your mates. Beautiful, beautiful cartoon-based warfare.
I will say, while I adore this whole package and have been waiting for it for a very long time. I would have appreciated some new content, even if just a little, to get my war-torn teeth stuck into. Nintendo has played it safe here and while this is a brilliant game and awesome for even newcomers, we old-heads would have liked a few surprises thrown in.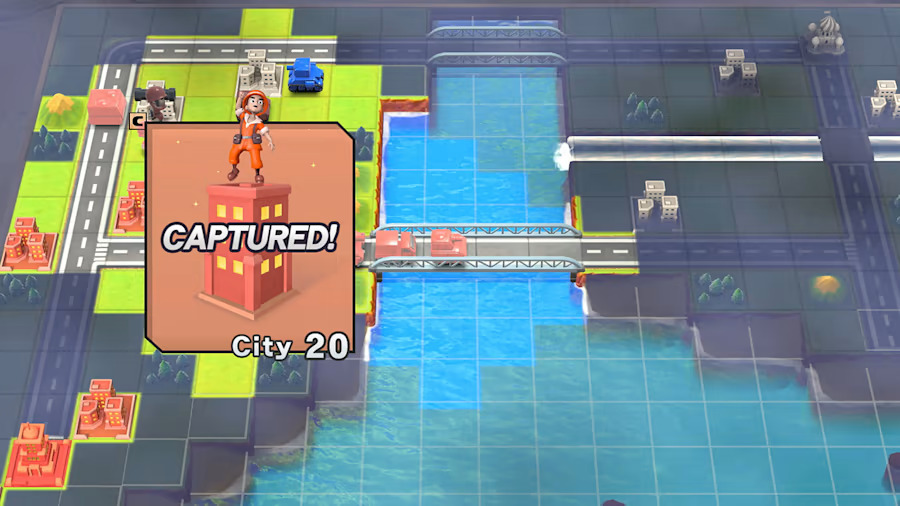 A Bright and Bold, Fresh Lick of Paint
Along with all this bright and colourful warfare, Advanced Wars cast of uncanny characters return. Andy, Max, Grit and Sami are all still here (even with a vast glow-up) and provide you with special abilities to use on the field of battle. These powers require charging and, if used at the right time, can be game-changing. Andy's ability, for example, heals your vehicles, which yes, is as awesome as it sounds.
These characters are bold, they are very well animated, and thanks to the fresh lick of paint in this new version, they look superb. It's the same with the opening sequence of the game and its general presentation. It's a long reach from the original style but retains just enough to make it still feel like Advance Wars. Gone are the pixels and blurry landscapes; replacing them are sharp, bright colours and crystal clear maps that just pop right off the Nintendo Switches screen.
Soundwise, the music is still great, sounding better than ever. I would have, however, both in visuals and audio, liked a toggle between the new style and the old, just for the nostalgia of it all. I love all the new voice acting and the new lick of paint, but as we all know, choices are king, and it would not have taken too much to include the original presentation along with all the new jazzy stuff.
One of My Favourite Switch Games
We may have been waiting a long time for Advance Wars 1 + 2 Re-Boot Camp, but it sure was worth it. Yes, I would have liked some new content, and yes, I would have liked a few nods, presentation-wise, to the nostalgia I had as a fresh-faced youth. However, what we have is the ultimate edition of Advance Wars, with an updated look, better multiplayer modes and added modern updates. I, for one, am so happy, I love Advance Wars, and this title only adds to that. It will stay installed on my Switch for a very long time indeed. More like this please Nintendo.
Rapid Reviews Rating
4.5 out of 5
4.5
If you would like to buy Advance Wars 1 + 2 Re-Boot Camp, you can here.