Action
,
Adventure
,
Casual
,
Game
,
Gaming
,
Indie
,
Microsoft
,
Narrative
,
Reviews
,
Role-Playing Game
,
Visual Novel
,
Xbox
,
Xbox One
Blind Men Review
Reading Time:
5
minutes
Fast Facts
Blind Men

Developer: Man-Eater Games
Publisher: Ratalaika Games S.L.
Website: https://www.ratalaikagames.com/games/blindmen.php
Genre: Action & Adventure, Role Playing, Simulation, Visual Novel
Platform: Xbox One
Age Rating: PEGI 16
Release Date: 15/04/2020
Price: £4.99

A code was provided for review purposes.
Blind Men did not seem like the typical type of game I would enjoy at first glance. However, you don't find new things by sticking inside your comfort zone. So, in the interest of broadening my gaming horizons, I took the plunge and tried something out of my usual taste range.
Sit Back and Take It All In
I've played some games in the visual novel genre before, but this one was a bit different; it was far less interactive than the ones I've played previously. You spend quite a lot of time reading the story without being able to influence it. In the beginning, I found myself waiting for the moment when I'd be able to get a bit more involved. As a player, your interactions are to make key choices that change the path of the story.
You always play as the main character, Keegan (alias Dr Cyclops), but your choices can lead to multiple different endings. I like that you play Blind Men from the point of view of a (wannabee) supervillain rather than one of the goodies. In some respects, it leads to seeing a different take on events. Yet in others, you end up seeing that there aren't so many differences between the ways that evildoers and heroes (or heroines) operate.
You can save at any moment in Blind Men, which is rather convenient. It means you can walk away at a moment's notice and pick up exactly where you left off. There are some handy controls too. When playing again, you don't have to read through all the story that you've already read. Instead, there's a useful skip button which will take you straight to the next choice. This leaves you free to skip from choice to choice until you reach one where you'd like to try out a different option. From there, you can pick up the new thread of the plot on your way to another ending.
A Linguist's Delight
As a linguist, I was quite excited to discover that you can change the text from English to Spanish and German – if you're learning any of those languages this could be an interesting way to get in a bit of reading practice. I enjoyed switching between Spanish and English, but I appreciate that this may not be a feature that interests everyone.
The speech and sound effects in Blind Men had me somewhat perplexed. You could only have the audio on in Spanish – my inner language geek squealed with joy – but at first, there didn't seem to be any speech at all, only music. The sound effects kicked in later in the game too, during the more tense periods of the story, so that once again I didn't think there were any at first. In addition, the audible speech did not always accompany a character's written dialogue. I couldn't really see a pattern as to why it was sometimes there and sometimes not. So, although I loved listening to the characters speak in Spanish, it sometimes came as a bit of a shock when they spoke (or an alarm sounded, for example, since the sound effects were also a little sporadic) after a long period of reading.
The combination of the intermittent audible dialogue, slightly cheesy music and slapstick sound effects gave the game a similar feel to watching the original Batman and Robin TV series. For me, that wasn't a bad thing because I used to love watching re-runs of that show as a kid. However, I can see how it might not be everyone's cup of tea. I did get a little bored with the same few tunes that got repeated often throughout the game. They weren't bad tunes per se, but I think a little more variety would have been preferable considering that the game is designed to be played multiple times.
Souvenirs
There isn't a lot to collect while playing Blind Men. There is a gallery which you fill up with photos from the different routes through the game. As you play you begin to be able to work out when you have added new photos, as they appear during your play-through as a still action scene with no dialogue box on display (there is usually one at the bottom of the screen). I particularly liked the artwork on these stills (I could see how some of them would make good home screen backgrounds if you end up liking the game enough) and I enjoyed the art style in general, it suited the supervillain plot well.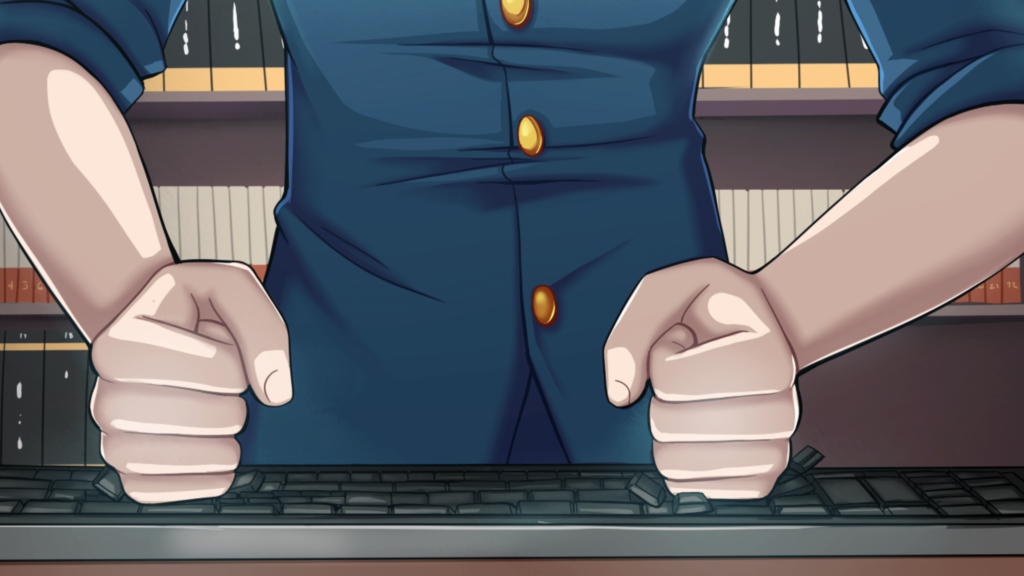 Of course, the other thing that you collect is the various endings. If you want all of the achievement points for Blind Men, you'll have to be committed to playing the game through many, many times to get all of the necessary endings. Not every route through the story will get you achievement points either since some of them lead to the same endings (if you have only made a minor alteration to the route, for example).
An Outsider Looking In
Blind Men grew on me with each play-through. As I discovered more endings, the characters and plot gained more depth which kept me interested in playing for longer. However, it did start to get a bit repetitive once I'd played several endings, as changing my choices no longer seemed to yield much information that I hadn't already discovered.
I would have preferred a little more interaction with the game. Blind Men didn't quite draw me in enough to allow me to suspend my disbelief and I felt a little detached from events because I didn't have much to do. It didn't feel as immersive as some of the other games I've played in this genre. On the other hand, I can see how the style of Blind Men might appeal to someone looking for an undemanding experience or little involvement in the action; I think this is probably who the game is aimed at too.
Blind Men is a Visual Novel experience for the laid-back gamer. It's for someone looking for a very chilled game you can dip in and out of at will. If you're a fan of lighthearted games with a little humour weaved into the plot and you love to hear the villain's side of the story, try this one on for size.
Rapid Reviews Rating
You can buy Blind Men for the Xbox One from the Microsoft Store.