Microsoft
,
New
,
New Release
,
News
,
Rapid Reviews
,
Reviews
,
Xbox
,
Xbox Game Pass
,
Xbox One
,
Xbox Series S
,
Xbox Series X
XBOX RAPID REPORT MAY 31 -JUNE 4 2021
Reading Time:
7
minutes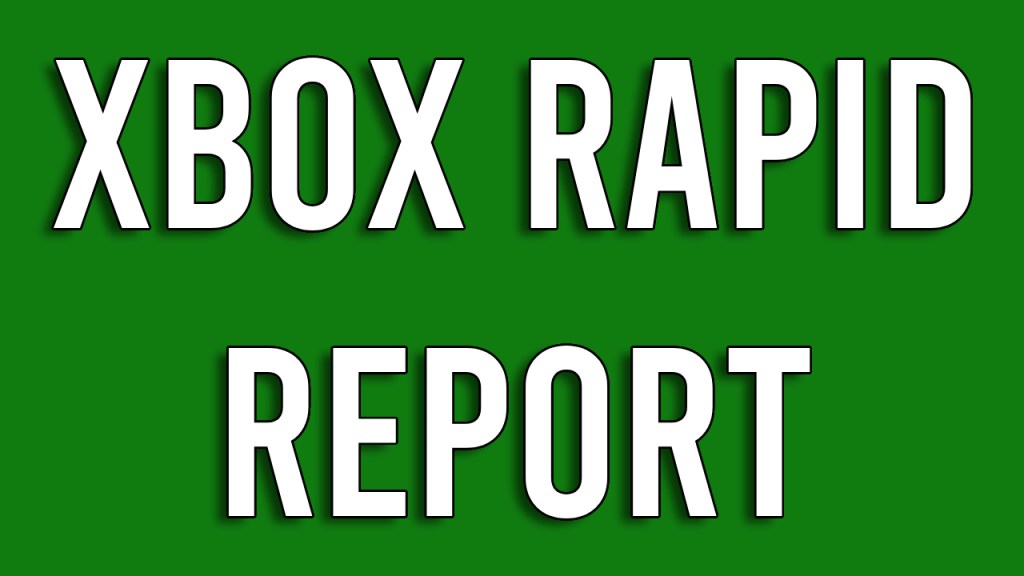 We're a big fan of Xbox here at Rapid Reviews UK so join me as I talk you through this week's news and releases in the Xbox family of consoles. This article is inclusive from 31st May to 4th June 2021. Here I'll aim to cover all the new titles coming this week on Xbox Series X/S, Xbox One and Windows 10 PC. Want information on Xbox Game Pass releases? It's all here. Let's dive straight in as we plunge straight into this week of all things Xbox!
Xbox & Bethesda Games Showcase for E3 is Set for Sunday 13th June 2021
E3 is now under two weeks away and marks an exciting time for gamers worldwide. We have seen multiple delayed projects due to COVID-19 and the huge acquisition of Bethesda. There is so much content to be revealed by the Xbox team in terms of first-party exclusives. Not only this, there is the eagerness of seeing what will be available on day one on Xbox Game Pass. With Halo Infinite surely stealing all the limelight of this year's show, what will Bethesda bring to the table? There has been a 90 minute period set for Xbox and Bethesda to take the stage. Tune in on Sunday 13th June 2021 at 6 PM BST/1 PM ET/10 AM PT.
Dying Light 2 Stay Human Launches on 7th December 2021
After years of silence and rumours of the project being cancelled completely, Dying Light 2 is alive. I met with the developers of the game way back in 2019. At that moment the game looked close to completion and there were waves of excitement. The first Dying Light launched back in 2015 and was well received. Within the last few months, we had clarification from Techland that the game is coming and a lot sooner than we thought. A few days ago we were treated to the above trailer and even given a release date of 7th December 2021. Best get that wallet out, this is going to be fantastic. Dying Light 2 Stay Human boasts a world four times bigger than the original game!
Far Cry 6 Gets a Release Date of 7th October 2021!
Had you forgotten about Far Cry 6? Another title that has suffered multiple delays due to the current climate finally gets a confirmed release date. That date is 7th October 2021 and looks vastly different compared with the last few Far Cry titles. Above is a gameplay trailer that was shown off by Ubisoft for one of the most anticipated games of 2021.
Ghosts 'n Goblins Resurrection Appears on Xbox on 31st May 2021
Taking cues from both Ghosts 'n Goblins and Ghouls 'n Ghosts and giving birth to something entirely new, Resurrection is a title worthy of its name. This picturesque storybook world, while gorgeous, is a love letter to the original titles and maintains the same punishing gameplay that fans have come to expect.
Carnivores: Dinosaur Hunt Stomps Its Way onto Xbox on 1st June 2021
A remaster of the classic dinosaur hunting video game, Carnivores: Dinosaur Hunter, delivered with a new game engine, improved graphics, advanced dinosaur behaviours, and seamless player progression. If you love your hunting simulator games then you may want to try this one.
Dreamworks Spirit Lucky's Big Adventure Trots Its Way to Xbox on 1st June 2021
Where will Lucky's treasure map lead you? Ride as Lucky on a wild new adventure with her faithful mustang, Spirit. You'll have lots of fun with Lucky's fearless best friends, Abigail and Pru, by your side. There's a wide-open frontier to explore, full of exciting quests, animals, and items to collect. Navigate dangers, like villainous horse wrangler, Hendricks, who's a little too interested in your treasure hunt. With Spirit growing stronger in your care, and the PALs riding together in style, you'll become a true country girl. Will you find and protect the real treasure of Miradero?
Necromunda: Hired Gun Fires Its Way onto Xbox on 1st June 2021
Navigate an ocean of crime and corruption to balance the bloody ecosystem of Necromunda as a merciless hired gun. The money's good, the dog's loyal, and the gun's reliable – but can you survive the hunt? Necromunda: Hired Gun is an indie fast-paced, violent, and thrilling FPS set in the darkest reaches of Warhammer 40,000's most infamous hive city.
Bunny Factory Hops onto Xbox on 2nd June 2021
The bunnies decided to open their own factory for the production of robots, but the trouble is – the contractor who built the factory forgot to make the initial configuration of all control modules. Therefore, you will have to do it yourself or with friends.
Grab the blocks, charge them with the correct colours and activate the lines of the electrical schemes.
Arrange all blocks in the electrical scheme correctly to get a "gold" control block. Use the control block to activate the doors, conveyor belt, and other factory modules because, with each received block, you get closer to your goal. With 100 levels and online co-op for up to 4 of you, this puzzler is full of content.
Dungeon Escape: Console Edition Works Its Way onto Xbox on 2nd June 2021
You've been trapped in a dungeon filled with deadly traps and ruthless enemies! But with enough cunning and nimble dexterity, there could still be a chance at survival, however small it may be. Navigate chambers of increasing difficulty as your search for an exit. Dodge or kill your captors, find keys to unlock doors, leap over spikes and watch out for saw blades!
Train Station Renovation Arrives onto Xbox on 2nd June 2021
Ever dreamt about doing up a train station? Well, today is your lucky day as Train Station Renovation arrives on Xbox. In Train Station Renovation you play as a renovation company specialised in restoring railway stations. The game is set in abandoned and destroyed train stations; you will start with small rural ones to ease in and eventually be challenged with sprawling train stations in metropolitan areas. The game is divided into 15 maps (stations) which gradually teach you new mechanics and help you manage different working environments. Each station needs to be cleaned, fixed and decorated with items and equipment to bring it back to life.
Astalon: Tears Of The Earth Lands onto Xbox on 3rd June 2021
Astalon: Tears Of The Earth is an action-platformer set in a dying world where life is cruel, but death can be a stepping stone to victory! Use the unique skills and weapons of Arias the fighter, Kyuli the rogue, and Algus the wizard, to surmount the mysterious tower and find the answers to their survival. Slay terrible monsters, discover powerful artefacts, and solve fiendish puzzles, reaching new heights in the tower with the aid of a Titan. Follow a story about friendship and sacrifice, building up the courage to take down giants to protect the weak and powerless. Strengthen your party and change their fate by embracing death. Discover the countless secrets of the Tower of Serpents!
Talisman: Digital Edition Launches for Xbox on 3rd June 2021
The officially licensed multiplayer version of the classic fantasy adventure board game, Talisman. On your travels, you will need strength, courage and some good dice rolls to survive the dangers you face and beat your opponents to the centre of the board!
Tour De France 2021 Rides onto Xbox on 3rd June 2021
Win the yellow jersey with the official game of the Tour de France 2021. All 21 stages and the biggest classics are included. Experience a new objective system, a redesigned My Tour mode and other new features!
Alphadia Genesis 2 Comes to Xbox on 4th June 2021
While claiming to protect its citizens, the Empire has launched a ruthless campaign against the Atramian population—those said to be infected with black energi and whose existence they deem to be a threat to the world. Discover the true face of evil in this next chapter of the Alphadia series, a story filled with belief, sacrifice, revenge, and ultimately hope!
Astro Aqua Kitty Lands onto Xbox on 4th June 2021
The Aqua Kitty cats have launched into space in an all new Action RPG shoot-em-up adventure!
Pick your crew, then blast off to investigate mysterious water-filled asteroids. Battle bizarre enemies, mine magnificent gems, grab new weapons, install enhancing devices, and unlock your crews' unique skills as you level up XP.
Just watch out for marauding pirate rabbits, always trying to be first to the loot!
Off And On Again Arrives onto Xbox on 4th June 2021
Off And On Again tells the story of a hero tasked with rebooting time. The game world is created and destroyed during play, with the hero having the ability to turn parts of the world off and on again. You will be required to use both brains and skill to overcome the enemies and obstacles in your path.
The Last Kids on Earth and the Staff of Doom Comes to Xbox on 4th June 2021
Battle hordes of zombies and monsters in The Last Kids on Earth and the Staff of Doom, a semi open-world action RPG that tells a new story in the post-apocalyptic town of Wakefield. Playing as teen survivors Jack, Quint, June or Dirk, you'll explore zombie-infested streets on your quest to stop Malondre, a powerful adversary from obtaining the Staff of Doom. When you are surrounded by enemies, use your heroes' unique combat skills to defend the treehouse. Summon sorcerer Bardle, warrior Skaelka and other allies for help in battle. Craft upgrades to strengthen your abilities, the treehouse, and getaway vehicle Big Mama. Up to 4 players can tackle the story together in couch co-op or take on waves of enemies in Horde Mode. Can you defeat giant bosses from the animated series, including an all-new enemy, Malondre?
Sniper Ghost Warriors Contracts 2 Fires onto Xbox on 4th June 2021
Sniper Ghost Warrior Contracts 2 marks the most challenging entry to the acclaimed series yet, introducing extreme long-range sniping with targets over 1000m away. Featuring a dramatic single-player campaign set in the modern day Middle East, experience high-pressure tactical combat, deep inside enemy territory.
What titles are you looking forward to picking up? Let us know on Twitter @rapidreviewsuk