Accessories
,
Active Noise Cancellation
,
ANC
,
Atmos
,
Bluetooth
,
Charging
,
Dolby
,
Dolby Atmos
,
Gadgets
,
Gaming
,
Hardware Reviews
,
Headphones
,
Keyboard
,
Microsoft
,
PC
,
Product Reviews
,
Rapid Reviews
,
Rechargeable
,
Reviews
,
Sound
,
Speaker
,
SSD
,
Tablet
,
Tech
,
Tech Review
,
Windows
,
Xbox
,
Xbox Game Pass
,
Xbox Game Streaming
Microsoft Surface Pro 7+ and Accessories Rapid Review
Reading Time:
6
minutes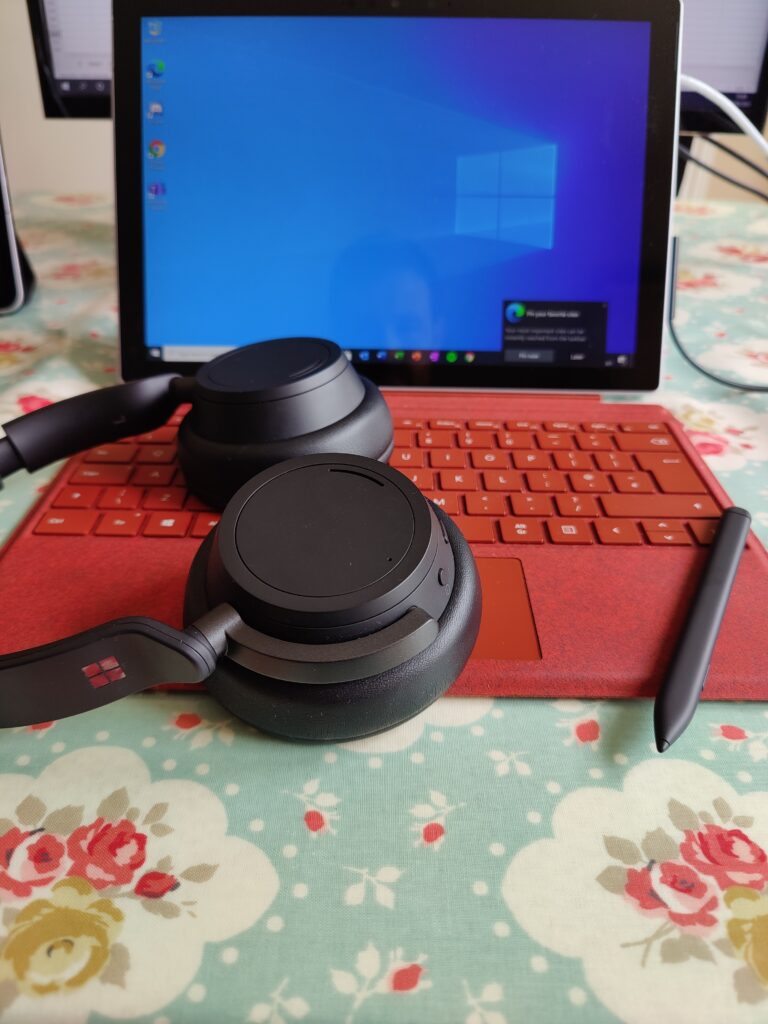 Thank you to Microsoft for providing a review unit of the Surface Pro 7+ plus the additional accessories.
The ultimate work from home bundle?
We've all been working from home over the last year, and thanks to Microsoft, it's been made a lot easier. I've been using their Surface Pro 7+, ultra-light 2-in-1 and accessories for a couple of months. Rather than write a full review, I will write mini-reviews that will explain how the devices and accessories have performed and how they have made my working from home experience a productive one.
Key Specs
Device – Surface Pro 7+ for Business with LTE
Processor – 11th Gen Intel Core i5-1135G7 @ 2.40GHz 2.42 GHz
Installed RAM – 16.0 GB (15.8 GB usable)
Battery Life – up to 15 hours
Storage – 256GB SSD storage
Surface Pro 7+ for Business with LTE
As a Windows laptop user and someone who uses an iPad, I was curious to see how the Surface Pro 7+ would perform as my daily driver. It didn't take me long to realise that, combined with the accessories, the Surface Pro 7+ was a device that would be able to get me through the day and that it would be helpful for work and play.
With an 11th Gen Intel Core i5-1135G7 processor and 16 GB of RAM, the Surface Pro 7+ handled all daily tasks with ease. This included hosting meetings on Teams, creating content using Office, checking emails, having multiple browser tabs open and listening to podcasts or music. At no point did I feel that the Surface could not keep up with my multitasking demands.
If I was having a day with no long video calls, the Surface Pro 7+ could get me through the whole day in terms of battery life. However, when I had a heavy meeting day, the battery life did suffer a little. In fairness, though, this would be the same with all devices. Furthermore, battery life wasn't an issue as I was able to keep it plugged in throughout the day.
Speaking of Teams meetings, the Surface Pro 7+ was a perfect companion. With Dolby Atmos speakers, dual far-field Studio Mics and a front-facing 5.0 MP HD camera, hosting and attending Teams meetings was an enjoyable experience.
Another excellent feature of the Surface Pro 7+ is the option to insert a sim card and access mobile data. Though this was not something that I could take advantage of, it is a great feature that will become more useful as people start to return to normality and travel to meetings.
Work & Play
I've spoken mostly about how the Surface Pro 7+ is excellent as a work device, so I'm going to spend some time discussing the merits of the Surface Pro 7+ as a device that can be used for entertainment and enjoyment.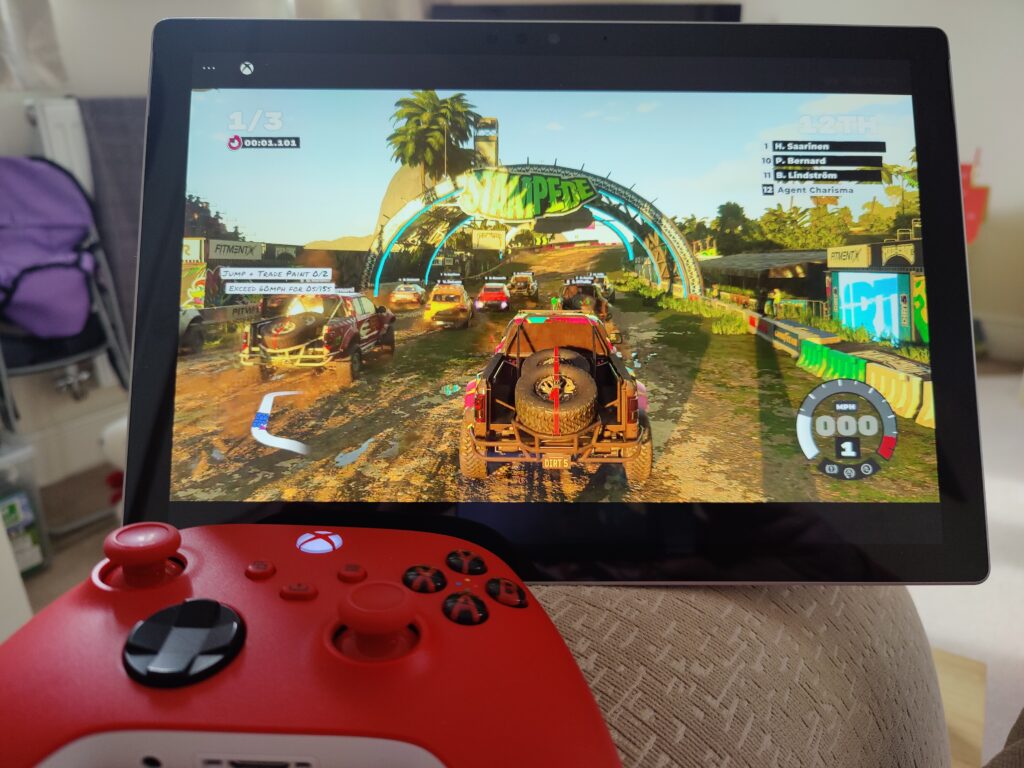 When you detach the type cover, the Surface converts to a capable tablet device that provides many opportunities for enjoyment. While not a device geared towards gamers, the Surface Pro 7+ is the perfect way to experience cloud gaming. During my time with the Surface, I was invited to the Xbox Cloud gaming beta, and games looked fantastic on the 2736 x 1824 12.3" PixelSense Display.
Watching films on the Surface Pro 7+ is a great experience thanks to the impressive display and the Dolby Atmos speakers.
Surface Slim Pen
The Surface Slim Pen was an accessory that I didn't think that I would use. However, after connecting it to the Surface Pro 7+ (a simple one-click process), it quickly became something that I used frequently.
I create many webinars for my work, so having the ability to take screenshots with a click of the pencil became a feature that made my workflow a lot quicker. The ability to edit the actions that different button presses do was another brilliant feature of the pen.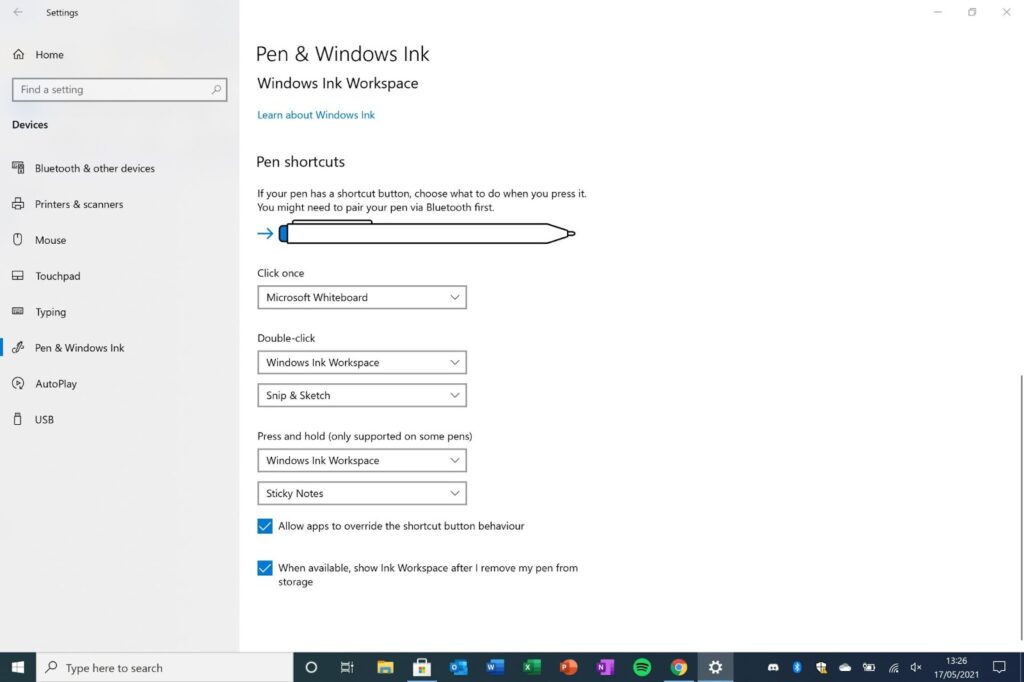 An upgrade compared to the original Surface pen was that the new Slim Pen is rechargeable. Charging the pen is achieved by placing it in the included charging case.
Another member of my family who enjoyed using the Surface Slim pen was my 7-year-old daughter. She's a bit of a budding artist, so the ability to draw and colour on the tablet with the pen was very much enjoyed.
Surface Headphones 2
The Microsoft Surface Headphones 2 have been an excellent pair of headphones. I've used them daily for work purposes and for listening to music and podcasts.
The Surface audio app was simple to use and allowed me to change settings quickly. As you can see in the above screenshot, you can also change the noise cancellation settings. Speaking of noise cancellation, this was something that the Surface Headphone 2 excelled in. When on a video call with the children at home, I was able to focus on my meetings thanks to the excellent noise cancelling capabilities.
When I did need to be more aware of my surroundings, the ambient sound amplified mode was beneficial. As well as changing these options in the app, you can also change them by using the intuitive on-ear dials, rotating the right on-ear dial controls the volume, and the left on-ear dial changes the level of noise cancellation.
As someone who works from home, it was important that my headphones were comfortable and that the battery life could last the whole day through. Thankfully, the Surface Headphones 2 ticked both of these boxes. A combination of the lightness of the headphones and the soft ear pads ensured that I didn't encounter any pressure spots that I have with other headphones. In terms of battery life, a single charge provided over 15 hours of power. An extra feature that I enjoyed was the fact that music paused when you took the headphones off and then resumed when you put them back on.
Surface Mouse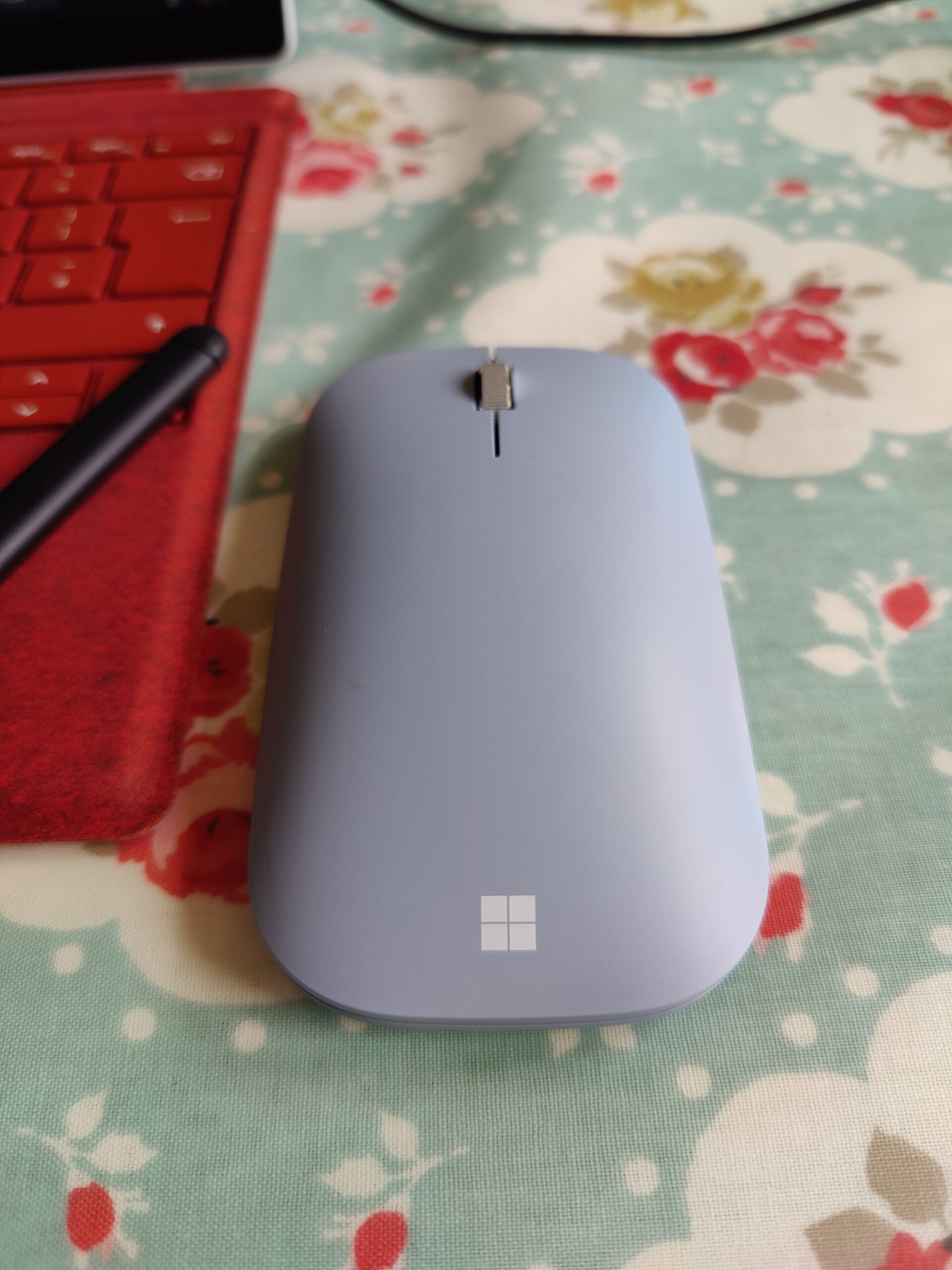 The Surface Mouse, powered by two AAA batteries, proved to be an excellent addition to the Surface itself. Connection via Bluetooth was consistently stable, and I did not encounter any problems in this regard. The mouse is lightweight and fits comfortably in your hand. The Surface Mouse has two buttons and a scroll button.
Surface Pro Signature Type Cover
The Surface is great to use as a tablet, but if you're going to be using it as your daily work device, you're going to want a keyboard, and while you can connect a Bluetooth or USB keyboard, the best solution is the Surface Pro Signature Type Cover. My review type cover came in the Alcantara Red version, and I liked how it looked. It was simple to set up, you line the case up with the magnets on the bottom of the Surface, and it snaps into place with a satisfying click.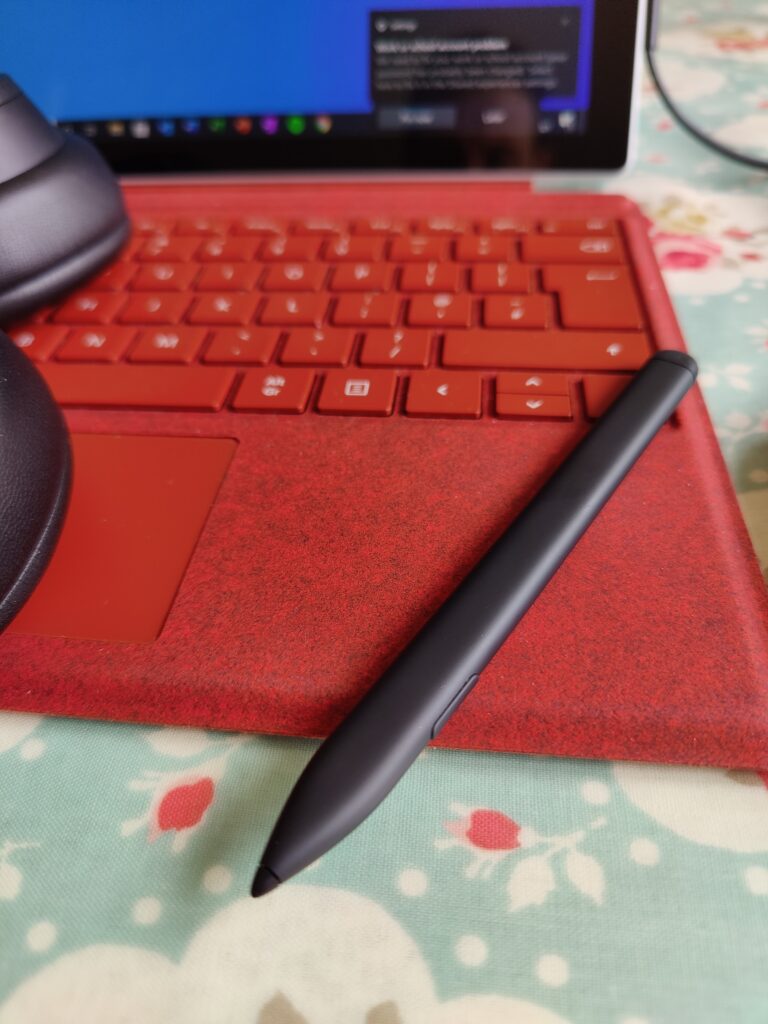 As for how it performed, well, you'll be glad to know that it performed very well. The integrated trackpad is responsive and accurate, and the keyboard was very comfortable to type on. The Signature Type Cover also features an adjustable backlight which I found helpful when working in the evening.
Rapid Reviews Rating
You can find out more about the Surface 7+ and the range of accessories on the Microsoft Store.