XBOX RAPID REPORT MAY 24-28 2021
Reading Time:
6
minutes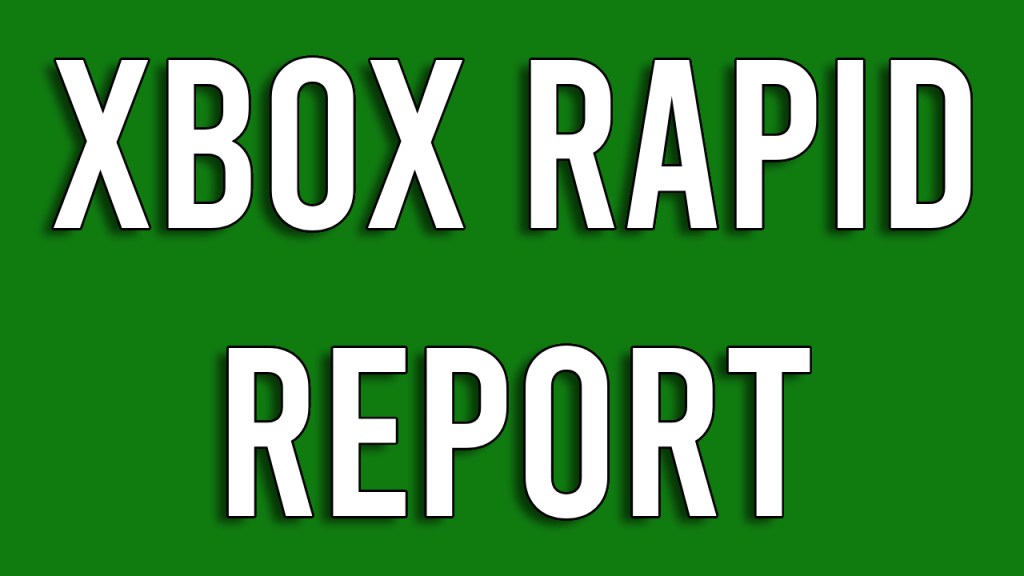 We're a big fan of Xbox here at Rapid Reviews UK so join me as I talk you through this week's news and releases in the Xbox family of consoles. This article is inclusive from 24th to 28th May 2021. Here I'll aim to cover all the new titles coming this week on Xbox Series X/S, Xbox One and Windows 10 PC. Want information on Xbox Game Pass releases? It's all here. Let's dive straight in as we plunge straight into this week of all things Xbox!
An Airport of Aliens Currently Run by Dogs walks its way onto Xbox on May 25th 2021
Yes you read the title correctly. An Airport for Aliens Currently Run by Dogs launches for Xbox and Steam on May 25th 2021. This deserves a nomination for the strangest idea for a video game in history. An open-world comedy title set in simulated airports run by stock dog photos. Even the developers now call it Dog Airport Game due to its ridiculously long title. Talk to the stock photo dogs. Solve their problems and catch your flight!
Biomutant blasts its way onto Xbox on May 25th 2021
Probably the biggest launch of this week has to go to Biomutant. Biomutant is an action RPG developed by Swedish developer Experiment 101 and published by THQ Nordic. Will you visit the open world in control of a mammalian warrior in a world filled with mutated animals? This title sure looks outstanding from what I've seen already, both visually and in terms of its gameplay.
Capcom Arcade Stadium Packs 1, 2 and 3 slides onto Xbox on 25th May 2021
Some people like to leave the past behind them. But for the ones who don't, this collection is for you. All your favourite genres are back together in this fine outing. Capcom Arcade Stadium revives the arcade classics for you to enjoy all in one place once more. Relive the glory days of arcade gaming and ensure you bag this lot so you don't miss out!
King Of Seas sails onto Xbox on 25th May 2021
If you're growing tired of Sea Of Thieves then you may want to show King Of Seas some attention. King Of Seas is an action RPG set in a procedurally generated pirate atmosphere. In a ferocious plot, you will fight to regain what has been taken away and embark on an epic adventure in a fantastic world, filled with battles, lost islands, and treasures. A universe full of amazing characters and breathtaking missions will keep you anchored as you strive to become the king of all pirates.
Saints Row The Third Remastered Xbox Series X/S Upgrade come to Xbox on 25th May 2021
Saints Row The Third Remastered pretty much receives another remaster of sorts. Now fully optimised for Xbox Series X and S, Steelport has never looked so good. Existing owners of the original remaster will receive the update for no extra charge. For those who have never played it, then think Grand Theft Auto with a much wackier backstory. This update will trigger on May 25th 2021.
Mutazione comes to Xbox on 26th May 2021
A mutant soap opera where small-town gossip meets the supernatural. Join Kai as she arrives in the mysterious community of Mutazione to care for her ailing grandfather. Discover scenic hangouts, magical gardens, new friends, and old secrets… They can survive an apocalyptic meteor strike, but can they survive their small-town drama?
Rekt! High Octane Stunts launches on Xbox 26th May 2021
Rekt! High Octane Stunts challenges you to prove and improve your skills in an elaborate multilayered free roaming sandbox arena. Dynamic challenges help you find new possibilities in the arena and experience classic trick gameplay mixed with races, challenges, and new ways to get that elusive next multiplier.
Horse Club Adventures trots its way onto Xbox on 27th May 2021
Horse Club Adventures introduces you to the casual atmosphere of Lakeside Riding Stable. Club together with Sarah, Hannah, Sofia and Lisa and their horses. Together you'll experience your riding careers together. For the horse enthusiasts out there, you may want to check this one out!
Mechwarrior 5: Mercenaries marches onto Xbox on 27th May 2021
Marching its way onto Xbox after 18 months on PC, Mechwarrior 5: Mercenaries is here. The fantastic news is it comes to Xbox Game Pass on its launch date of 27th May 2021. Humanity has colonized thousands of star systems, war is everywhere, and the battlefields of the future are dominated by hulking machines known as BattleMechs. It's dangerous work for the elite pilots of these metal monstrosities, but that's why a power-hungry MechWarrior like you came here, right? If you're looking to blast, wreck, stomp – and profit – step inside!
Warhammer Age of Sigmar: Storm Ground arrives on Xbox 27th May 2021
The first strategy videogame adaptation of Age of Sigmar's dark-fantasy universe. Lead your highly customizable force, and unlock new units, equipment and skills in this dynamic turn-based game packed with fast-paced warfare.
Crossbow Crusade fires its way to Xbox on 28th May 2021
You are the legendary monster hunter on a mission to survive the slaughter through the Dead Kingdom. Armed only with a trusty crossbow and old-fashioned trench coat, you have to reach the bowels of a dying country riddled with hordes of blood-soaking monsters. These scoundrels have to be hunted down!
In Crossbow Crusade you will have everything needed from instant platforming classics — challenging enemies, the hard and rewarding fight system, 90's-style pixel art and responsive controls. All these features make for a great platforming experience suitable for new gamers and genre veterans alike!
Eagle Island Twist flies onto Xbox on 28th May 2021
In Eagle Island Twist, blast through an island of dangers as Fia with your projectile kookaburra companion, Kusako. Battle through crisp, colourful pixel art in this handcrafted platformer. The rules change every level, but with brilliant power-ups you'll conquer unique environments, enemies, and bosses.
Eight Dragons arrives on Xbox 28th May 2021
Using fists, feet and whatever weapons come to hand, the EIGHT DRAGONS must fight their way from one end of the city to the other, to reach their ultimate showdown. But each Dragon has a different path – it's only when they come together that their true destiny is unlocked, as their stories intertwine and the full epic fight is revealed!
Family Mysteries 3: Criminal Mindset comes to Xbox on 28th May 2021
You are Nancy Bradford, a talented daughter of famous scientists who died under mysterious circumstances 20 years ago. Your recent studies, concentrating on mind control, draw attention from a prestigious Neurotech Institute as well as the CIA, which resulted in an unusual offer. Continuing studies within the walls of a top-secret laboratory and getting a huge grant is surely enticing, spying on the other hand sounds like a risky job. Brace yourself as it's just a kick-off for a deadly game!
The third instalment of the Family Mysteries series plunges you into a sea of action, double agents, brainwashed patients, murky experiments, nerds and conspiracy theories. A thrilling example of spy fiction with upfront overtones of X-Files, that should satisfy even the pickiest fans of the genre as the story unfolds at a breakneck pace and keeps you immersed to the very last minute!
Avoid being uncovered, save mankind and discover the old family secret, which will shed some light on the past!
Gold Rush: The Game sifts its way to Xbox on 28th May 2021
Become a gold miner. Work hard, dig deep, explore the world, and you'll become the wealthiest person in Alaska. Use a variety of specialist machines to find as much gold as you can.
Long Ago: A Puzzle Tale works its way to Xbox on 28th May 2021
Long Ago: A Puzzle Tale is a relaxing puzzle game with colourful visuals, beautiful music and a fully voiced modern fairy tale told in rhyme. Solve intuitive puzzles, collect feathers, gems and coins, discover new mechanics as you progress and enjoy the unique themes each chapter unlocks.
Super Arcade Soccer kicks its way onto Xbox on 28th May 2021
Tactics meet intense gameplay in a one-of-a-kind game you're sure to enjoy. Face off against AI like you've never seen before. Enjoy a wide variety of competitions and an extensive database with the best teams and players in the world.
Trenga Unlimited drops onto Xbox on 28th May 2021
A relaxing 3D puzzle game with a block placing mechanic to play solo or with friends in Multiplayer mode! Use your wits to help Kate Nemo and the sea creatures to solve tricky missions in a captivating underwater adventure.
What titles are you looking forward to picking up? Let us know on Twitter @rapidreviewsuk