Casual
,
Classic
,
Competition
,
Digital
,
Family
,
Game
,
Indie Dev
,
Lifestyle
,
Local Multiplayer
,
Lockdown
,
Multiplayer
,
New
,
New Release
,
Nintendo
,
Nintendo Switch
,
Nintendo Switch Lite
,
Nintendo Switch Online
,
PC
,
Rapid Reviews
,
Reviews
,
Simulation
,
Switch
,
Tabletop Game
The Game of Life 2
Reading Time:
5
minutes
Fast Facts
The Game of Life 2

Developer: Marmalade Game Studio
Publisher: Marmalade Game Studio
Website: https://www.marmaladegamestudio.com/
Genre: Casual, Family
Platform: Nintendo Switch (Also available on PC)
Age Rating: 3
Release Date: 29/03/21
Price: £29.99

A code was provided for review purposes.
Stop! Introduction
As the title suggests, The Game of Life 2 is the video game adaptation of the Hasbro board game – The Game of Life. Aside from a few changes (more on that below) the game is exactly the same as its real-world counterpart.
I'm quite a big fan of playing the humble board game. Getting the family sitting around the dining room table is always a great moment. With my family, our collection varies from the die-hard Block Mania to the more simplistic Operation. One of our favourites is The Game of Life. It's pretty simple to play, always plays differently and can lead to some questionable life choices. So how does the video game adaptation compare to the board game?
"When You Play The Game Of Life, You Win Or You…"
The basis of the game remains largely the same. After choosing the order of play it's then off to college or straight into a career. From this initial choice you'll then move across the board whilst attempting to gather a mass fortune along the way. There's also the added choices of getting married and having children, and even adopting various pets.
As you progress you then get various life choices, such as changing jobs or gambling on a high steaks wheel spin. These choices often decide ultimately on who wins as the right spins can gain you a literal fortune. Once you reach retirement it's then over to selling your assets, counting your cash to then see who wins.
But Wait? This Is A Video Game Right?
So, with The Game of Life 2 being a video game it does things differently. With the board game, certain events such as buying property were a certain eventuality. But within The Game of Life 2, this and others are left to chance. You'll either land on the tile, or you won't. Another difference is you'll also be able to accrue bonus points based on your knowledge, wealth, and family points – with the winner determined on who's got the highest points at the end of the game. These are given out by landing on random choice tiles on the game board. Choices such as getting married, buying a house and even playing video games will award you with a point. It's a little ridiculous as nearly every action ties into these points. Considering it's near impossible to not make money during a playthrough, do you really need more?
Another noticeable 'upgrade' is that modern-day jobs such as being a "Streamer" and "Video Game Developer" are now included. While some might snub these as being jobs, they are a sign of the times. During one playthrough my 11-year old was extremely pleased with becoming a Game Designer, whilst I was quietly pleased with being a lowly Astronomer…
Money, Money, Money
With these new additions, it doesn't mean that the player with the most money is the default winner. Who wins at life is determined by an overall points tally at the end of the game. This means that whoever has had the most experience will generally gather the most points. It's a nice touch and goes to show that money isn't everything and it's about how you live your life etc.
Variety Is The Spice of Life
When it comes to variety, The Game of Life 2 is a mixed bag. On one hand, there's plenty of additional boards to play on and extra styles for your avatar. These extra cosmetics are unlocked via jigsaw pieces that are rewarded after each completed game. Complete the randomly assigned jigsaw and you unlock whatever hiding underneath. If you want to add to the experience there's also an optional season pass to purchase too – which comes with yet more boards.
On the other hand, these extras don't add much else to the game. Regardless of what board you play, you'll see the same action cards come up again and again. The ability to ride on a broom whilst dressed up as Frankenstein's Monster is entertaining, but being Frankenstein's Monster watching a live stream well…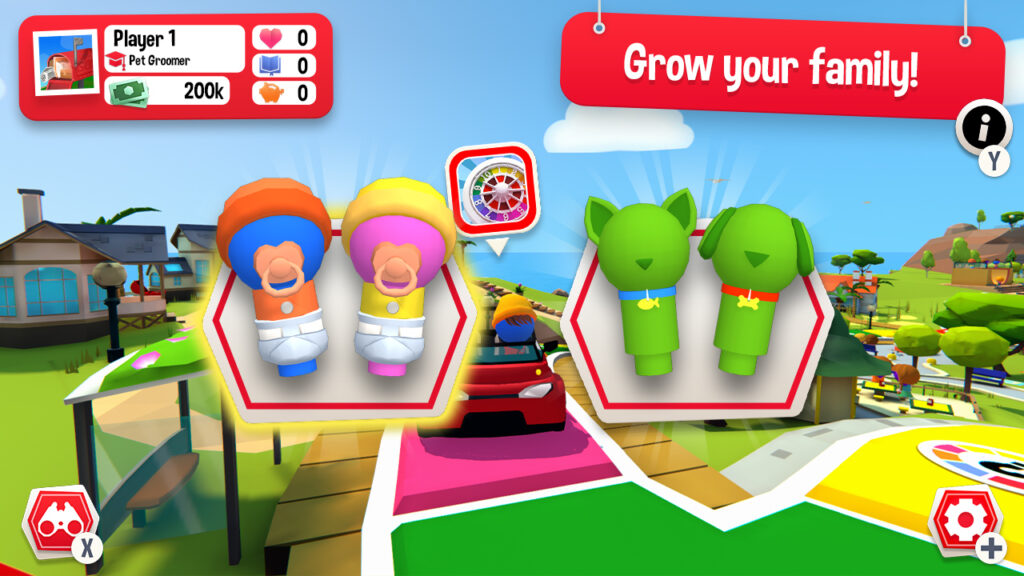 When Life Gives You Lemons…
As a board game adaptation, The Game of Life 2 has a fair share of gameplay modes. There are your classic options such as local play and VS. A.I. But more interestingly it comes packaged with the ability to play online with friends and even online matchmaking. When you look at the last year the majority of the world has been in some form of social lockdown, the ability to socialise virtually is quite a big deal.
Rainy Days
The art style is very reminiscent of those found throughout the board game. The block-coloured design is pleasing to look at, as is the little details on the game board such as various buildings and landscape features. The soundtrack is also quite pleasing with its docile tones that fit the game's tempo exceptionally well.
When it comes to performance the Switch handles the game very well. If anything The Game of Life 2 is perfect for what it is. It's a game that's equally meant to be passed about as well as played on the big screen. I downloaded the game on my partners Switch Lite, and it works fantastically as a "pass the parcel" just as much as being played on a static screen.
At the End of the Day
The Game of Life 2 is a classic board game that's made the almost perfect jump to a digital product. While the overall game lacks in variation, it's more than made up for by its wealth of gameplay options and sense of togetherness. If anything this game is made for the Nintendo Switch, what with the console's portability etc. The only real downside to the game is its overall cost. Considering The Game of Life 2 is a casual family game, does it warrant a premium price tag?
Rapid Reviews Rating
The Game of Life 2 is available to purchase from the Nintendo eShop by clicking here