Cook, Serve, Delicious! 3?! Review
Reading Time:
4
minutes
Fast Facts
Cook, Serve, Delicious! 3?!

Developer: Vertigo Gaming
Publisher: Vertigo Gaming
Website: https://www.cookservedelicious.com/yum/
Genre(s): Cooking
Platform: Xbox One (Also available on MAC, Nintendo Switch, PC, PS4, PS5, Xbox Series S/X and Xbox One)
Age Rating: PEGI 7
Release Date: 14/10/2020
Price: £15.09

A code was provided for review purposes
Cook, Serve, Delicious! is a restaurant simulation/arcade game where players are tasked to (you guessed it) cook and serve various meals to the plethora of NPCs that will come knocking. The series first saw the light of day back in 2012 with an initial release on PC via Steam, followed by mobile ports. Players had to wait five years for the first sequel, Cook, Serve, Delicious! 2, which released in 2017 once again for PC (via Steam) and also marked the series' debut on MAC devices.
A few months later the game debuted on consoles, first on PS4 in December 2018 and then Nintendo Switch and Xbox One in April 2019. Less than a year later, in January 2020, Cook, Serve, Delicious! 3?! entered Steam's Early Access service. That was followed by a full, complete release on October 14th 2020 for PC, PS4, Nintendo Switch, and Xbox One. The series' scores are kinda all over the place averaging between 62% and 90%. Is Cook, Serve, Delicious! 3?! worth your time and hard-earned money? Let's find out!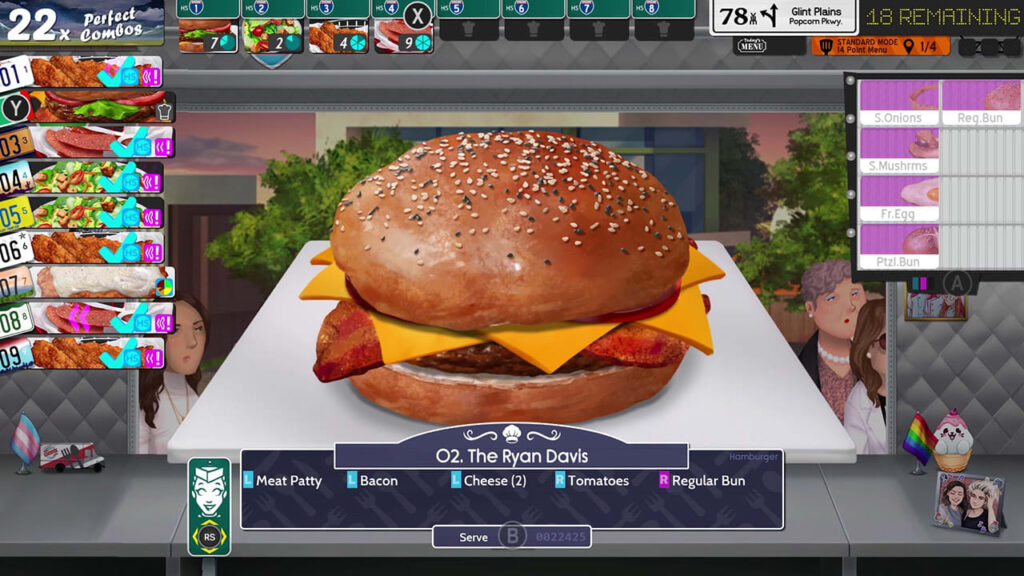 When you jump into Cook, Serve, Delicious! 3?! the game will automatically get you through the tutorial. While the game looks simple on the surface, it's actually quite complex. You need to create the required meals to keep your customers happy. As a cook in a food truck, you're given the ride over to the destination to cook the necessary food for your upcoming crowd. Overall, it's pretty simple: select what to cook and follow the proper button prompt on-screen. Keep an eye on your timer in the top of the screen so it doesn't burn. So for example, to make pretzels, you need to select either regular or German pretzels and then cook them. Make the required quantity and you're good to go.
Pedal to the Medal… Steep Curve Ahead
Once you arrive at your destination, you'll have customers coming in left and right clamouring for your food. Thanks to a hefty little queue on the left-hand side of the screen, you can see what's left to serve and also see if your cooking food is ready or about to be wasted. For the first few stops (and I mean literally few) you should manage to have everything cooked and ready to go upon your arrival. If you're too lazy or falling behind, flicking the joystick will automatically serve your customers.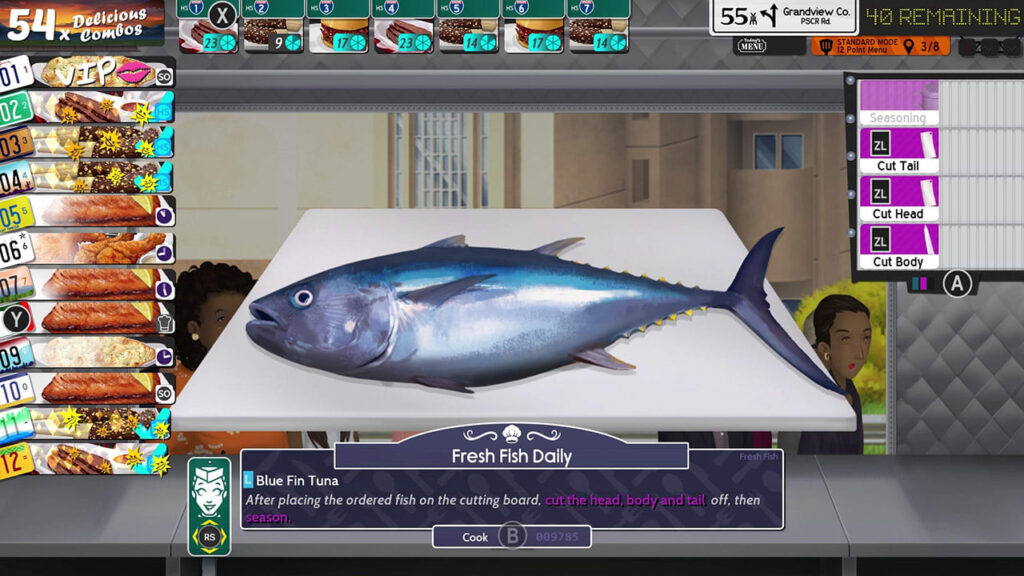 But once you get to the third destination, the game disregards your skills and turns things up to eleven. If you're fast enough and a long-time player of the series, you will (somehow) manage to get everything ready because obviously, the game will throw out multiple things to prepare at once for your hungry customers. For example, you'll be asked to prep ice cream cones of various flavors – sounds simple enough, right? Well, halfway through the game decides that now you need to prepare more pretzels. The biggest problem here is that the game does not tell you how to revert to another food to cook, and no the tutorial doesn't even cover that.
Stress in Videogame Form
The HUD is filled with mostly vital information about your progress, customers, food and whatnot, but at the same time, it's a major overload of information. There's a lot of things to keep an eye on especially when cooking various types of food and meals simultaneously. It can feel discouraging. As I was playing for this review, I quit mid-way through more often than not because I felt like I was never gonna get out of the hole I was digging simply because the game wasn't as clear and precise as it could be.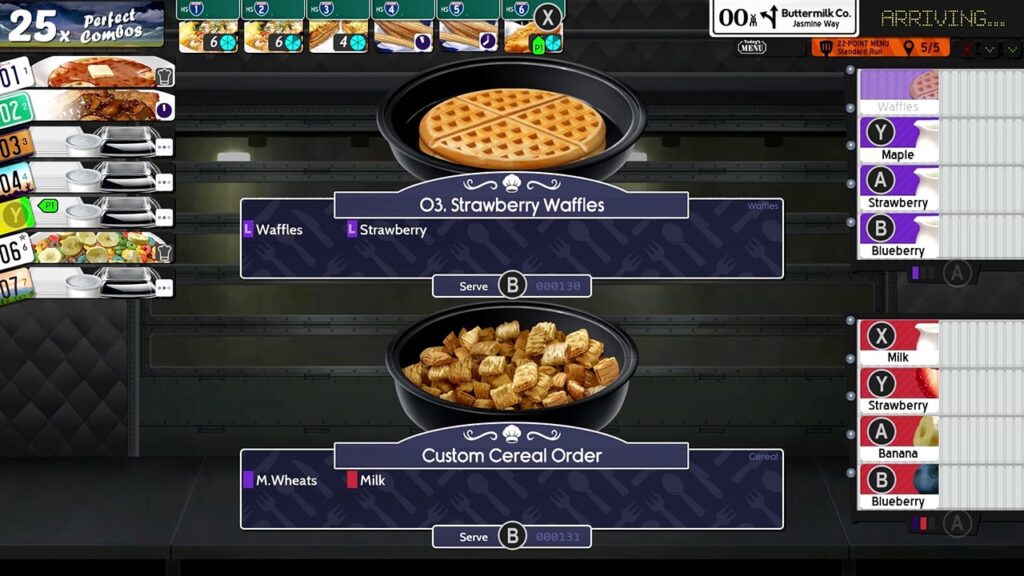 When you do get successful stops and rake up the big bucks, you can use that hard-earned money to upgrade your food truck with dozens of upgrades. As you progress through, you'll learn new recipes. The game offers over two hundred foods to "cook". And there's a whopping three hundred and eighty levels to get through, so there's basically no end in sight. There's a standard and chill mode. The former being pretty self-explanatory while the latter removes the customer's patience meter.
The game looks great. While far from being realistic, the game has a cartoonish color approach that makes it fun to watch. Customers look a little bland and cardboard-like but there's a decent variety of them. The soundtrack is ironically ultra chill and relaxed, it's a lounge-like chill score with light Katamari Damacy influences. I guess they made it relaxing to counter the near stressful game.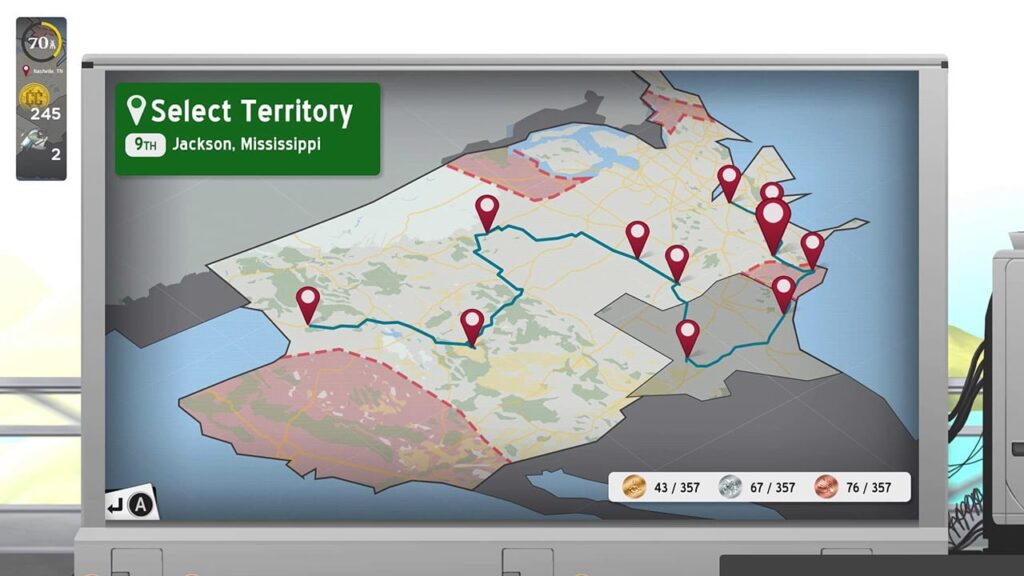 Conclusion
Is Cook, Serve, Delicious! 3?! fun? Hell yes! It's somewhat easy to pick up and play, but the main problem is that the game has an abrupt difficulty spike without any guidance, or support on new mechanics implemented. It's basically the Gordon Ramsay of cooking videogames; as if we should already know how to play despite never touching the series before. If you have the patience and can tolerate a lot of failures at first and getting a better understanding of the HUD, this is a game that will reward you and that will keep on giving across nearly four hundred levels. However, if you're looking for a relaxing, enjoyable cooking game, this ain't it.
Rapid Reviews Rating
Purchase Cook, Serve, Delicious! 3?! for Xbox One.