Fitness
,
Game
,
Gaming
,
Music
,
Oculus
,
Oculus Quest
,
Rapid Reviews
,
Reviews
,
Rhythm
,
Virtual Reality
,
VR
Synth Riders Review
Reading Time:
3
minutes
Fast Facts
Synth Riders

Developer: Kluge Interactive
Publisher: Kluge Interactive
Website: https://synthridersvr.com/
Genre: Rhythm, Music, Fitness
Platform: Oculus Quest
Age Rating: PEGI 3
Release Date: 31/10/2019
Price: £14.99

A code was provided for review purposes.
By far the most popular genre of VR game at the moment is rhythm. Beatsaber has absolutely dominated the VR scene with games such as Oh-Shape and Tetris Effect attempting to ride the success wave of VR rhythm titles. One of these games that takes inspiration with a twist is Synth Riders. Its electronic heavy style blends with full body movement in a game that has you dancing along to the rhythm at every beat.
Firstly, Synth Riders' gameplay has your hands turn into two large spheres. Each one is a different colour and will have you hit notes on a moving track. The gameplay is fast, intense and has you ducking, moving and swinging to the beat as you attempt to stretch and whip your arms to hit the beats perfectly. The game offers a solo, party and cross-platform multiplayer mode all of which feature over 38 songs, with many updates supplying free and paid DLC to add to this list. Furthermore, Synth Riders supports custom songs similar to Beatsaber, which can be applied via external third party programs such as SideQuest.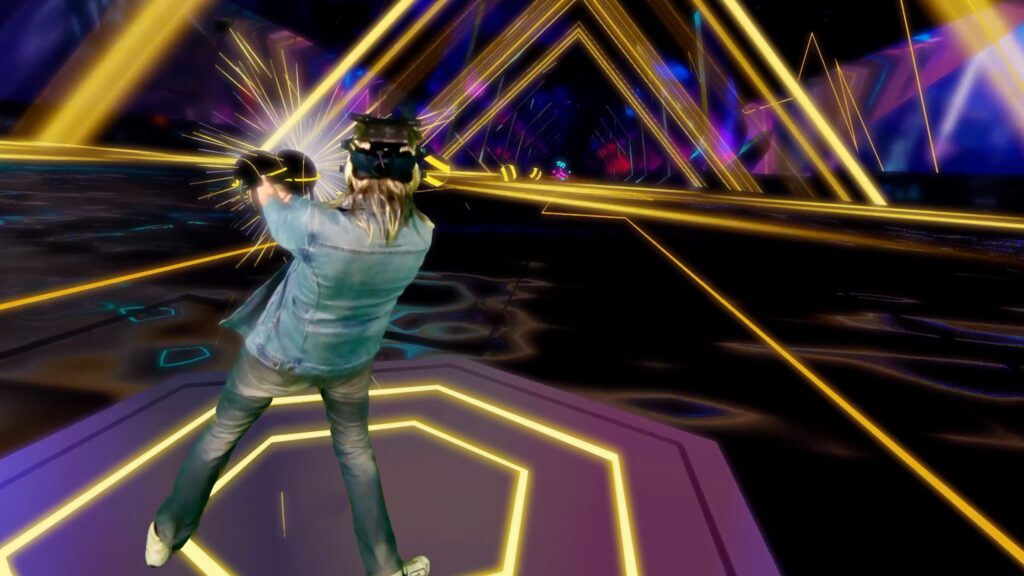 Synth Riders' visuals match its electronic soundtrack – bright flashing neon lights follow you along your path and the backgrounds boast near-psychedelic experiences which echo aesthetic at every foreseeable moment. The song choices, whilst not entirely memorable, fit the pace and style of the game well and gave me quite a workout on many occasions. Synth Riders runs extremely well on the Quest and not once did I have a hiccup – the resolution and framerate is stable at all times and from experience I was able to complete hour-long workout sessions within Synth Rider quite easily, without any problems. Additionally, the game has an in-built YUR.watch tracker, which makes it my go to fitness VR game, even moreso than Beat Saber; this is purely for the fact that Synth Riders' maps are built around full body movement and dance.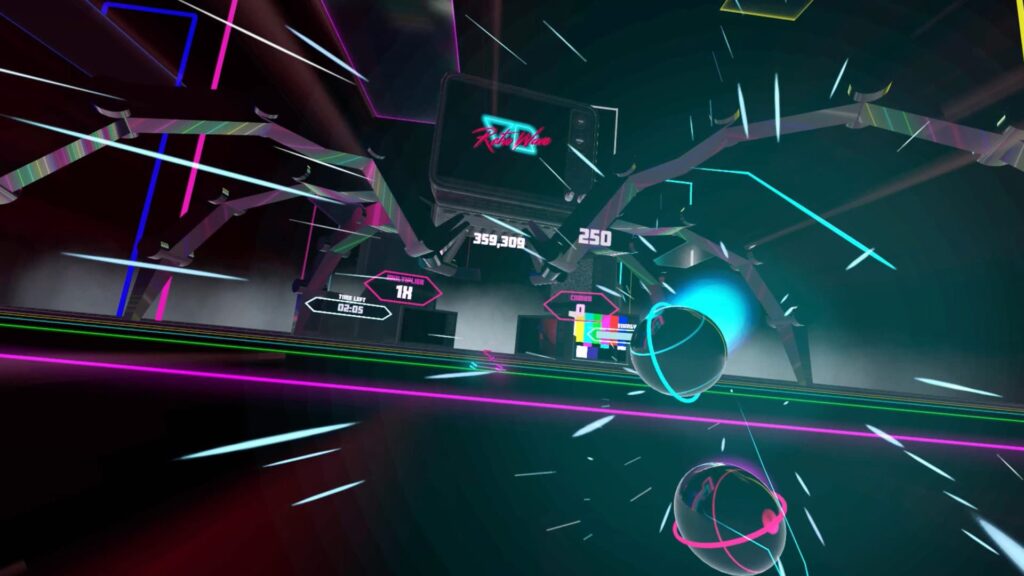 Synth Riders, in my opinion, has a much larger learning curve than Beatsaber. Whilst Beatsaber establishes repeated patterns with only a few options of differentiation (8 directions of movement), Synth Riders' movement and beats to hit offer full 360 directional movement, and thus requires a lot more strenuous movement and quick thinking than Beatsaber. It took a lot longer for me to become fully comfortable with Synth Riders' gameplay style compared to the amount of time it took with Beatsaber, but after around 10 hours of gameplay, I found myself starting to reach that 'zen' feeling that I would get after mastering a Beatsaber song.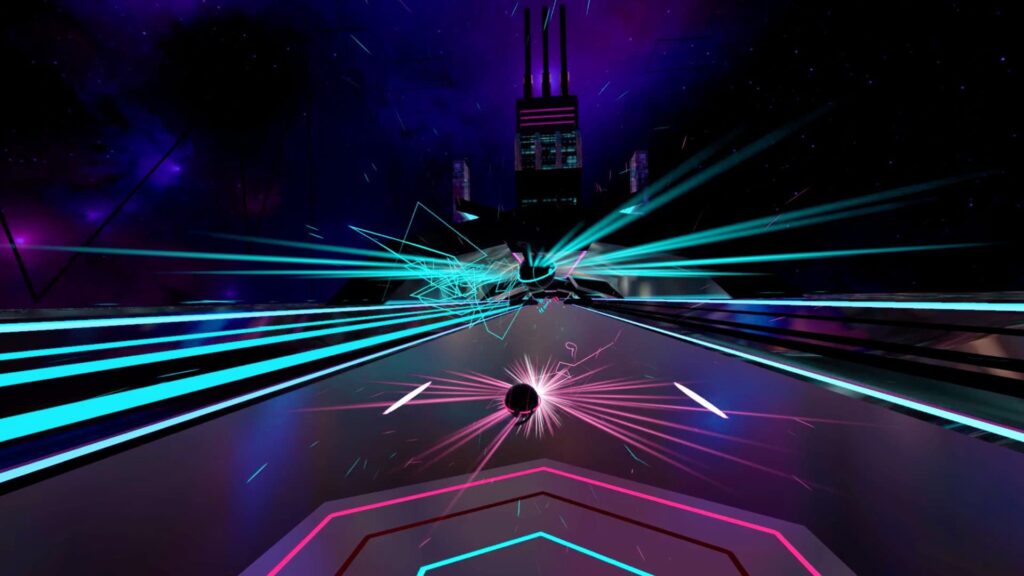 Synth Riders is more than just a competitor clone to Beatsaber – it has its own style of gameplay which blends the rhythm-based genre with the fitness genre in a much less emphasised way than a game like Box VR. Whilst I overall found myself enjoying Synth Riders a lot more as an official package than Beatsaber, it definitely lacked support in the custom song area – which is largely due to Synth Riders' lower notoriety within the VR market. If you're looking for an alternative to the other rhythm-based Quest games that have you inadvertently moving your whole body to a song, Synth Riders is the game for you. Just don't trip over whilst you're fully immersed or you may just miss a beat.
Rapid Reviews Rating
You can purchase Synth Riders for Oculus Quest at the following link: Oculus Store