Adventure
,
Exploration
,
Game
,
Gaming
,
New Release
,
Nintendo
,
Nintendo Switch
,
Nintendo Switch Lite
,
Point and Click Adventure
,
Rapid Reviews
,
Retro
,
Reviews
Return to Monkey Island Review
Reading Time:
5
minutes
Fast Facts
Return to Monkey Island

Developer: Ron Gilbert, Terrible Toybox
Publisher: Devolver Digital
Website: https://www.devolverdigital.com/games/return-to-monkey-island
Genre(s): Point and Click, Adventure
Platform: Nintendo Switch (Also available on PC)
Age Rating: PEGI 12
Release Date: 19/09/2022
Price: £22.49

A code was provided for review purposes
Nautical Nostalgia
Ahhhh, nostalgia, there is something warm and fuzzy about returning to something you remember vividly from your childhood. Monkey Island is a series I played a lot growing up and it was a blast returning there recently. It is a lot different now though on the Nintendo Switch, if you had told me I would be able to play Monkey Island, on the go when I was a nipper, I would have laughed in your face but here we are. Isn't technology great?
This entry is also a triumphant return to the series for Ron Gilbert, who has not worked on the series for 30 years or so. He created the original two games in the series but then left LucasArts to work on other things. It is great seeing him back to work on the series he created and this alone was enough to get me excited about playing. Some of the Monkey Island games after were not as good as the originals and I feel the series is better with him onboard.
Monkey Island?
So, Monkey Island then, if you have not heard of Monkey Island, even in just passing, where have you been? A true classic of the point-and-click era of my youth, the Monkey Island series plots the japes of Guybrush Threepwood and his mission to try and become a pirate. During the first few games, which are comical and mostly tongue-in-cheek, you will go through all sorts of shenanigans involving ghosts, pirate lords, trials and skullduggery. If you have not played the series, I definitely recommend them, especially the first two, which this title follows on from.
Story-wise, as always, I will try to spoil as little as possible. Especially with this being a story-based game, I want you to experience these old-school narrative threads by yourselves. What I will say is that I really got into this 10-or-so-hour storyline, it retains its quirkiness and humour throughout and further shows me there is life in the point-and-click genre yet. A lot of people shun this classic style of game but I love it. Returning characters and locations will tickle your nostalgia bone and new characters also have that classic Monkey Island feel to them. (A big shout out to Lock Smith, brilliant!)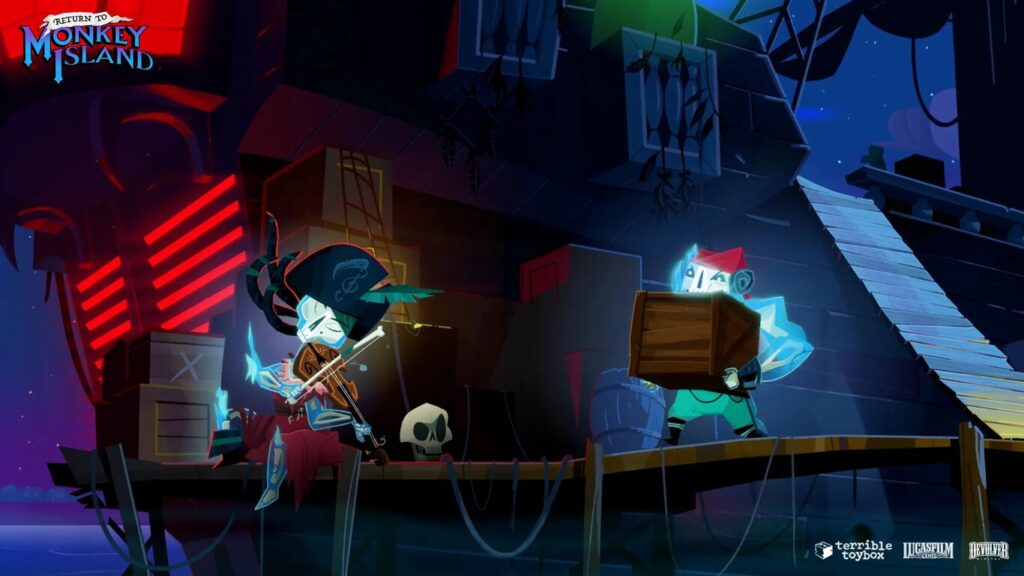 There are hark backs to the previous games and the prelude even throws a bit of shade, in a funny way, at the previous titles. It's self-referencing, it's aware of its place in the medium and it's brilliant. As long as you can get on board with the humour, as long as you don't like your games too serious you will love this instalment. I really care about these characters and by the end of this tale, I cared about them even more. It is a great story and the experience is heightened if you have previous experience meandering around Monkey Island.
Hints and Nudges in The Right Direction
What I really appreciated about this game and something I know a lot of players will adore is the hint system. There is nothing worse than puzzles in point-and-click which make no sense, I remember struggling through some of the classic LucasArts games until I finally stumbled upon a seemingly impossible solution.
In Return to Monkey Island, you have a book you can use to check for hints. It is, however, not just a straight solution to your quandary but a gradual, nuanced system. The first time you ask for help it will give a rough idea, then, if you ask again it will give a bit more info, so on and so on. You can have as much of a hint as you need and it's utterly brilliant. I did need a few hints but I only used the most basic level and it just gave me a nudge in the right direction. I loved it.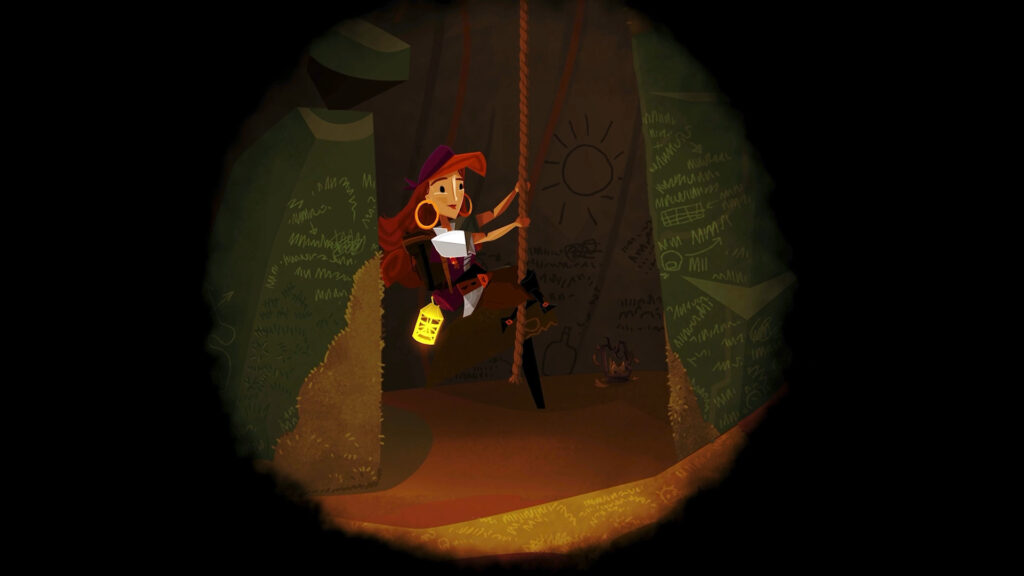 Sights for the Eyes, Sounds for the Ears!
Graphically, I thought this entry to the series was very different from previous entries. It has a stylized, abstract, Saturday morning cartoon look to it and it only took an hour or so until I was besotted by it. It fits the world and characters of Monkey Island so well, that paired with the amazing voice acting and the quirky story, it gives you an all-round, jolly, colourful affair. Return to Monkey Island is a sight for your eyes, a joy for your eyes and a pleasure for your brain. Simply outstanding.
On the sound side of things, the voice acting was both brilliant and totally believable. I think this is paramount for a title like this, with so much dialogue and humour, the voicework needs to be top-notch and it is. Guybrush is gentle yet witty and all the characters jump off the screen with a broadness to them, as I said above, paired with a lovely art style, this game is a feast for the eyes and ears.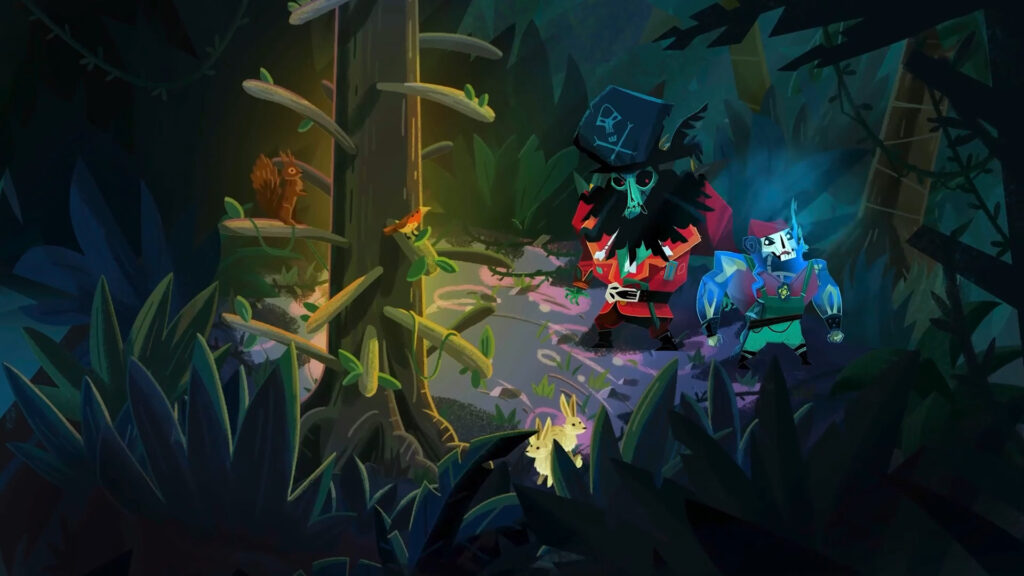 Return to Monkey Island performed to perfection, I had zero issues or bugs and along with the amazing hint system, there's a rewind function, in case you missed any important dialogue or want to check something. The inventory system is intuitive and not once during my many hours playing did the gameplay or performance hinder my enjoyment. It was smooth sailing all around!
Purely and Simply, a Joy To Play
As you can guess I adored Return to Monkey Island, I can not only recommend it to fans of the series but with its unique hint system and re-cap of the first two games in the main menu, I can also recommend it to new players alike. It plays phenomenally, looks and sounds outstanding and will make you laugh and smile all the way through. Return to Monkey Island harks back to when games were just fun, I admire that and wished we had more experiences of its ilk. Right, I am off to do pirate-y things ye we swab!
Rapid Reviews Rating
4.5 out of 5
4.5
If you want to purchase Return to Monkey Island on the Nintendo Switch, you can here.