Accessories
,
Gaming Peripherals
,
Next-Gen
,
PC
,
PowerA
,
Rapid Reviews
,
Reviews
,
Series S
,
Series X
,
Tech
,
USB-C
,
Xbox
,
Xbox One
,
Xbox Series S
,
Xbox Series X
PowerA Fusion Pro 3 Wired Controller Review
Reading Time:
4
minutes
Fast Facts
PowerA Fusion Pro 3 Controller

Connections: USB-C, 3.5mm headphone port
Features: Four programmable buttons, swappable thumb sticks, three-way trigger lock, removable faceplate, 10 foot USB-C power cable, vibration, lightweight, rugged carry case
Platform: Xbox Series X|S, Xbox One, PC
Website: https://www.powera.com/p/fusion/controllers/wired/fusion-pro-3-wired-controller-for-xbox-black-xbgp0062-01/
Price: £79.99

A unit was provided for review purposes
Introduction
It's no real secret that PowerA is hotly becoming the go-to manufacturer when it comes to aftermarket console accessories. Often branded with colourful mascots (I'm looking at you, Nintendo Switch Pokémon controller), or in contrast with sleek and elegant designs, PowerA offers style and performance – albeit at a budget level.
With the Fusion Pro 3 controller, PowerA aims to up its game with a controller that blends the needs of pro-performance with a stylish design that sits in a very attractive price bracket. But, with a mountain of controllers out there that offer the same thing, does the PowerA Fusion Pro 3 reach the summit?
Design
For those familiar with the Fusion Pro 2, the PowerA Fusion Pro 3 doesn't look too dissimilar. However, crack open the "hood", and there are a few subtle differences between the two.
The Back
The most noticeable of these changes is that the paddles that adorned the back of the Pro 2 have been replaced with four programmable buttons. These buttons can be programmed to function as any combination of the face buttons and, with a simple set-up, can be changed mid-game. To change, you simply press the program button on the back of the controller. Press the button you want mapped. Finally, press which back button you want it mapped to. It's as simple as that!
The four buttons are also placed well within reach and offer a good amount of resistance to stop accidental presses during high-pressure gaming situations.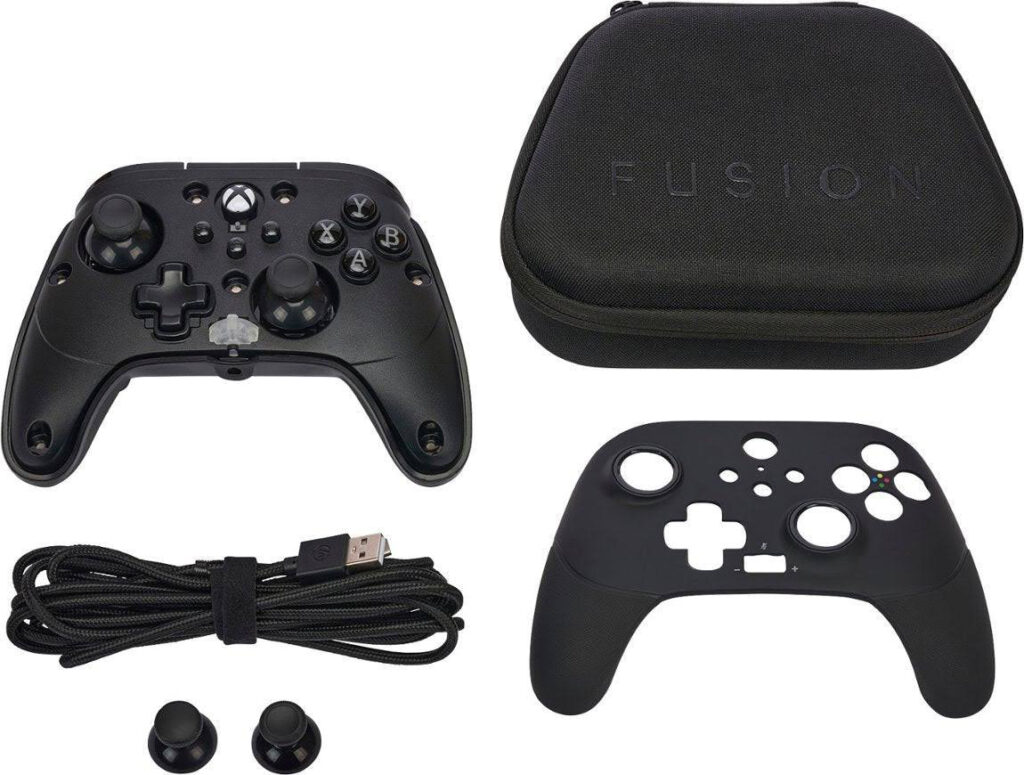 The Front
Moving to the front, the PowerA Fusion Pro 3 has a monochrome design with a soft matte finish across its detachable front panel. Textured grips adorn the controller for where your palms sit and are moulded into the design. In keeping with the pro gamer style, the ABXY buttons also fall into the monochromatic style. As do the detachable thumb sticks.
While I was completely satisfied with the stock thumb sticks, PowerA does include two different ones within the box. These come as either a slightly taller stick that mimics the basic design and a concave version. While I didn't see the point of the larger version, the concave stick would definitely be of use for beat 'em up aficionados. Both of these are also fully compatible with the left and right positions and can be freely changed to match individual needs.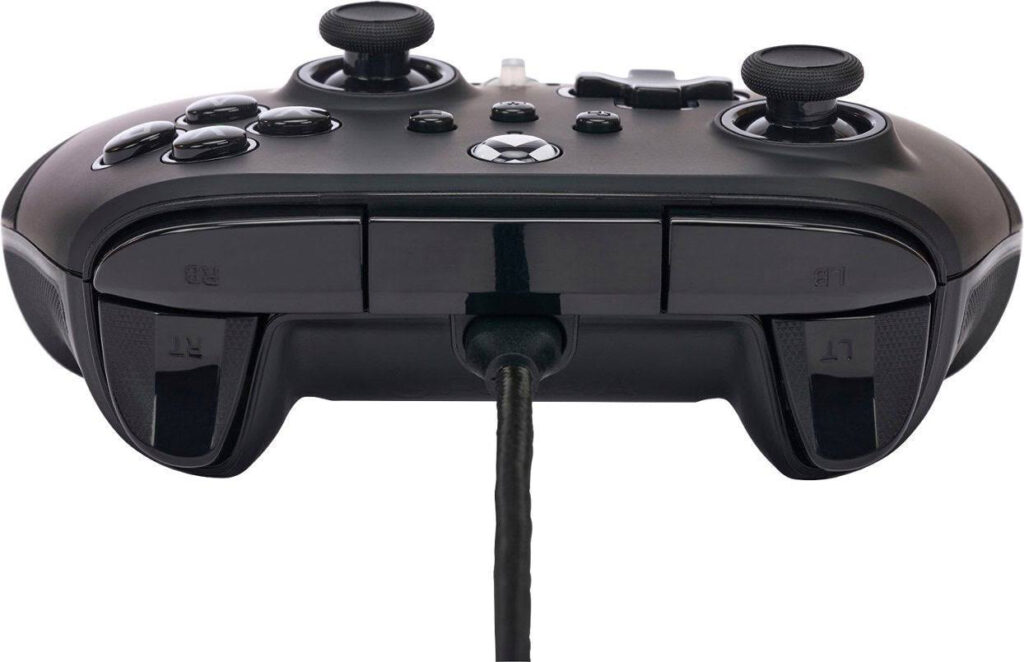 Moving on, we have the RT/LT triggers. There's not really much to shout about here. Both triggers are of standard design and offer a small grip to stop your thumbs from slipping. The PowerA Fusion Pro 3 features three additional trigger locks. These locks adjust how far you'll need to press the triggers to perform their action. But more on that later.

Rounding off the design of the PowerA Fusion Pro 3 is its D-Pad. Much like its triggers, it's nothing really to shout home and offers a pretty standard experience.
Pro Gamer Performance
As someone who plays a lot of Destiny 2, it was the logical choice when it came to testing out the Fusion Pro 3's performance. The four programmable buttons work well for mapping class abilities, while the trigger locks offer some help when in PVP. That being said, while the triggers are able to be locked between three push settings when set at position 1, the game failed to record the action being performed. This didn't hamper my experience (I'm terrible in the Crucible). However, for those wanting a bit more responsiveness, it's definitely a concern.
For something a little more intense, I then decided to jump into competitive Overwatch 2. Again, it's not my strongest game but the different abilities of each hero made it another good choice. This time out, the PowerA Fusion Pro 3 performed slightly better. With most abilities tied to the LB/RB buttons, having them mapped to the back buttons feels a lot more streamlined. As such, I was then able to juggle my hero's various abilities and comfortably switch between healing staff and sidearm at a quicker pace. Also, unlike Destiny 2, Overwatch 2 did recognise trigger presses when locked to that first position.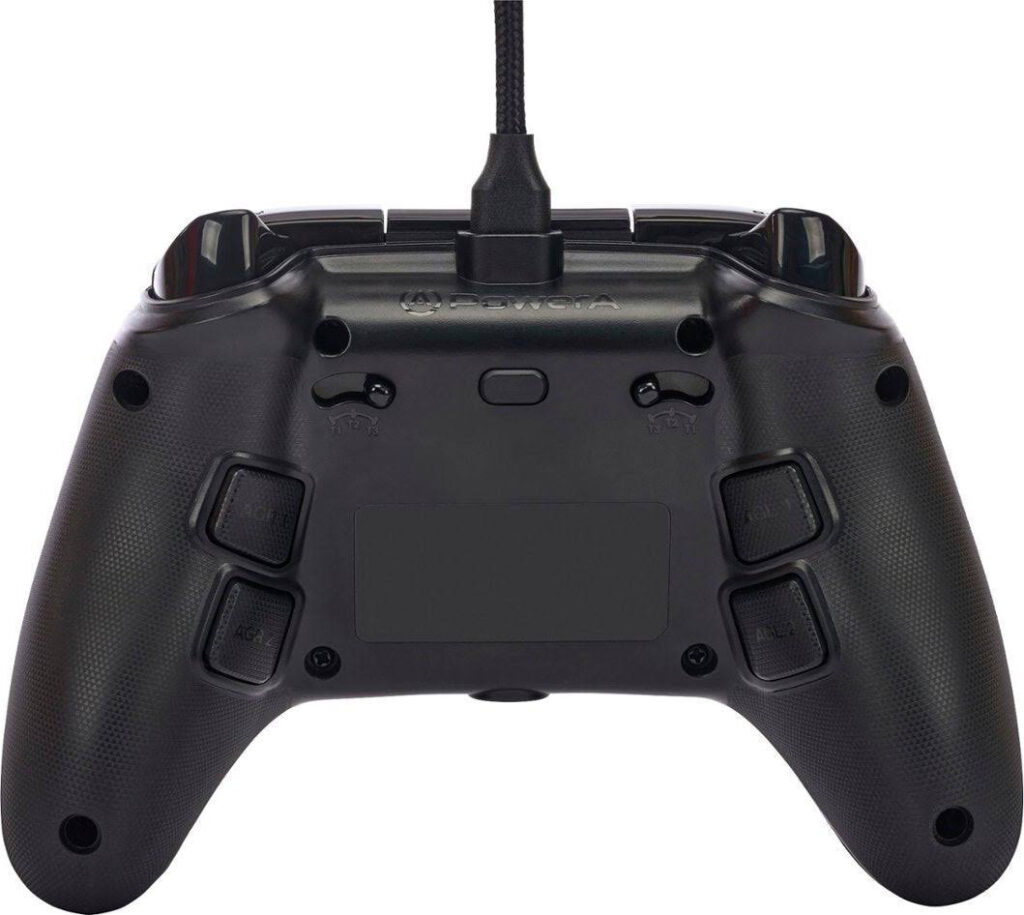 Purchase Worthy?
Ultimately, the PowerA Fusion Pro 3 is a worthy professional controller for those working with a budget. While it is a wired controller, the Fusion Pro 3 comes with a 10-meter cable. This is more than ample for those of us who have long living rooms or don't have square eyes. The PowerA Fusion Pro 3 is a comfortable controller to hold. Even after strenuous Destiny 2 Raid, it remains resistant to that insidious hand sweat. The programmable buttons all sit within a natural position, and with a quick flex of your fingers, you'll be throwing grenades, shifting gears, or activating abilities. The only real downside – even if you can call it that – is that PowerA currently does not offer alternative thumb stick attachments. But if, like me, this doesn't really matter, then the Power A Fusion Pro 3 is a worthy purchase. It's also one that won't break your bank balance!
Rapid Reviews Rating
4.5 out of 5
4.5
You can get your hands on the Power A Fusion Pro 3 via the PowerA store today.
Why not check out some of our other tech reviews while you are here?