EcoFlow DELTA 2 Max Review
Reading Time:
6
minutes
Fast Facts
EcoFlow DELTA 2 Max
Manufacturer: EcoFlow
Battery Chemistry: LFP (10 Year Lifespan)
Casing: UL94-5VA fire-resistant
Output: Up To 3100W
Battery Capacity: 2048Wh
Connectivity: 4 AC outputs, 2 x USB A, 2 x USB A Fast Charge, 1 12v Car Charger, 2 x USB C, 2 x DC5521 outputs
Release Date: May 31st 2023
Price: £1899

A unit was provided for review purposes
Generating Headlines
The concept of power generators aren't a new thing. Visit your local burger van, and there will be a diesel chugging generator powering the grills, fridges and other utilities. A building site, exactly the same, powering all of the heavy machinery. Even visiting campsites you're likely to experience the same, especially if there isn't a mains power option available.
The problem with all of these solutions? Diesel isn't cheap. Our environment is worth considering. They are so heavy it'll often take more than one person to carry. Enter the EcoFlow Delta 2 Max, a battery powered portable power station that has some of the most futuristic and forward thinking technology in the world.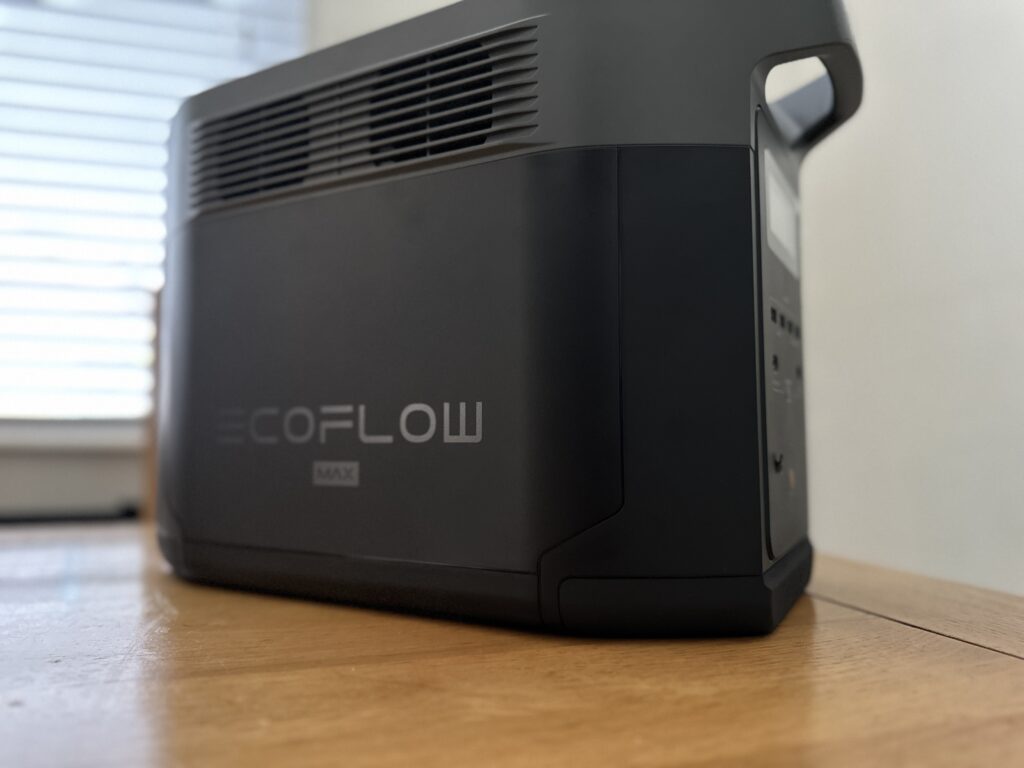 Who is it for?
Let's explore exactly what the EcoFlow Delta 2 Max offers, and who it may be a suited product for. Think about those power banks you can pick up on Amazon. This one for example is 9000mAh which if we convert to Wh is 38. This is a great tool to have to keep your mobile phone topped up with charge if away on a trip. The only limitation? Well the capacity isn't great (think 38wh vs 2048wh in the EcoFlow Delta 2 Max). Also the connectivity will only offer the one or two usb ports you may need. You can probably get the idea however. It's convenient having a power source available when away from the mains.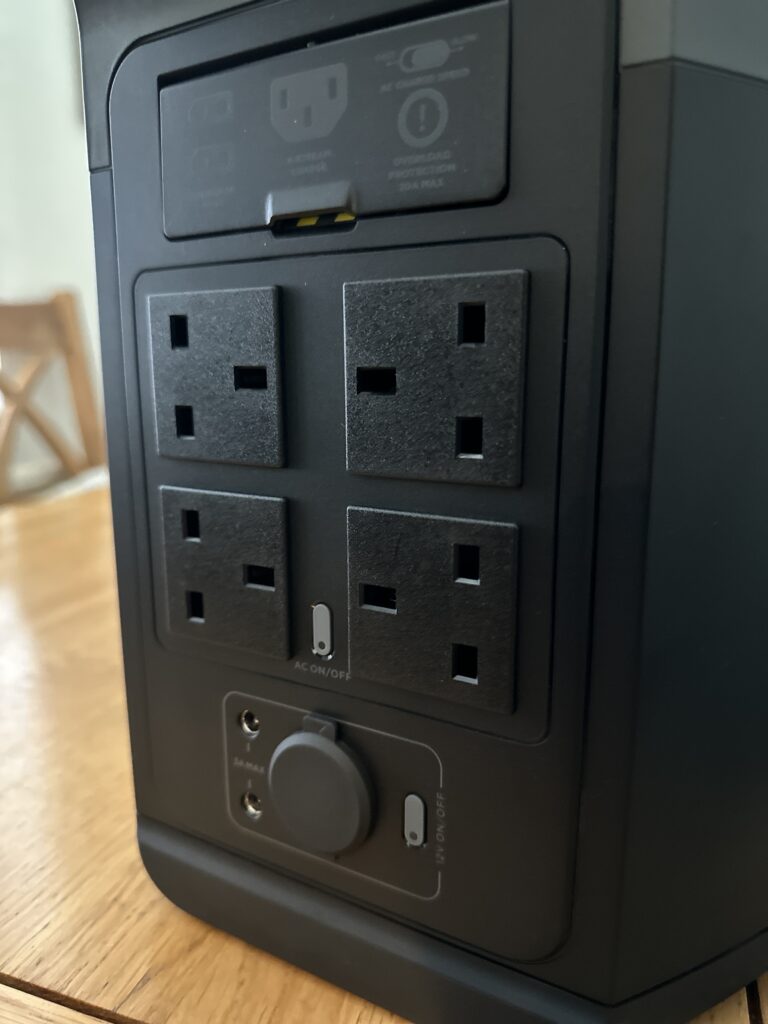 There are lots more things that may need to be charged, and may be just as essential as keeping your Phone topped up. A power cut in the neighbourhood? the EcoFlow Delta 2 Max could keep my fridge freezer powered up for 19 hours, and save all of that food from spoiling.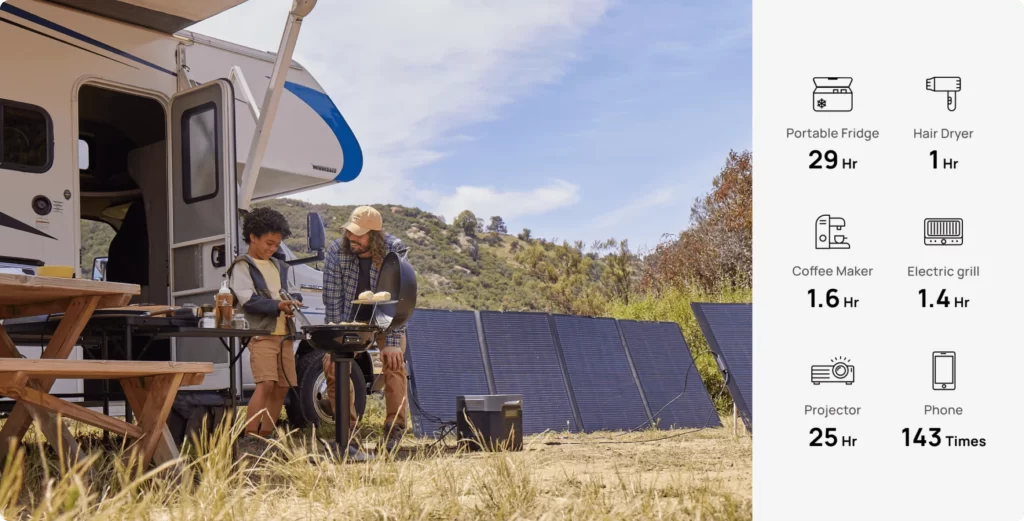 Away on a camping trip? You can recharge your phone 25 times, make 30 cups of coffee with a standard quick boil kettle, cook on a Ninja electric grill for 40 mins, straighten your hair 12 times, run a Dyson hairdryer for 30 mins and even keep your food chilled in a mini fridge for 48 hours.
Advancing Technology
The thing that really stands out for the EcoFlow Delta 2 Max is the integration of amazing technologies, particularly when it comes to the battery pack chemistry. Comparing earlier to a portable power bank, just isn't in the same league as the EcoFlow Delta 2 Max. Most devices including Smart Phones utilise a battery technology called Lithium Ion. These have a high level of energy density and are great for smaller devices, but they are held back by their lifespan and risk of thermal combustion.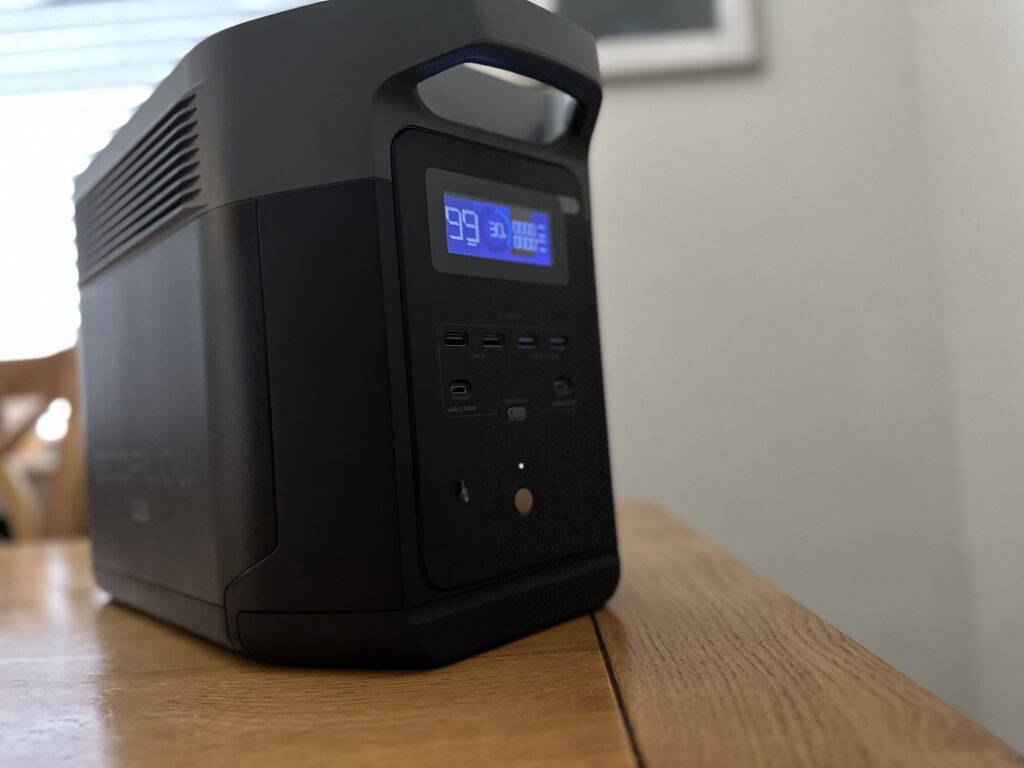 The EcoFlow Delta 2 Max, utilises the Lithium Iron Phosphate (LFP) technology in its batteries, which is exactly the tech you'll find in the battery pack of most Electric Cars, including Tesla. With these battery cells, you can expect up to 5 times the lifespan of Lithium Ion batteries, which roughly translates as even with daily usage, a 10 Year lifespan!
Testing The Limits
I've tested the EcoFlow Delta 2 Max relentlessly these past few weeks, and even managed to create some money savings as a result. With the integration of the EcoFlow App, I was able to complete Over The Air firmware updates as well as set smart automations. This enabled me to recharge the generator using my Off-Peak night energy rate of 7.5p per kWh. I then hooked the generator up to power our tv and games consoles during the day time thus avoiding our peak rate of 40p per kWh. The savings stack up and I have to say, this is a very cool thing to have available for any household.
Curiosity kicked in this past week, with EcoFlow stating they are able to power 99% of appliances, and can push outputs up to 3100W using its X-Boost technology. This got me thinking…. could it power a car?
Road Trip
To test this theory, we took a road trip driving our Tesla to the beach. We intentionally didn't charge overnight, so with 43% available capacity in the car we set off for our final destination, this time packing the Delta 2 Max in the boot.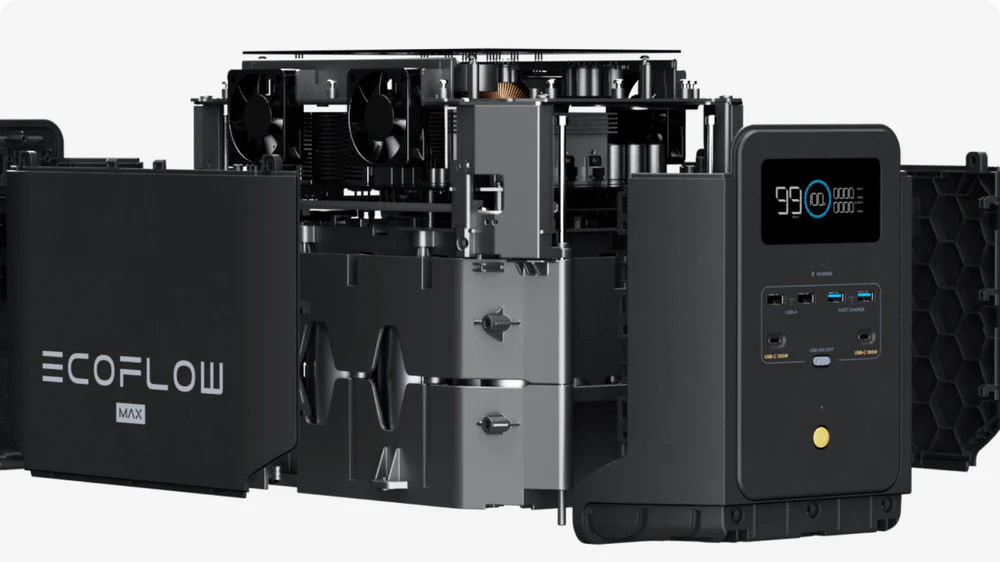 I was initially concerned about having the extra weight loaded into the car as well as the generator sliding around back there. I needn't have worried, as clocking in at just under 23kg, it's heavy but manageable to transport around. Also the chassis is ridiculously well built, with a one piece internal machined structure. The outer casing is UL94-5VA fire-resistant and every single port is protected and reinforced.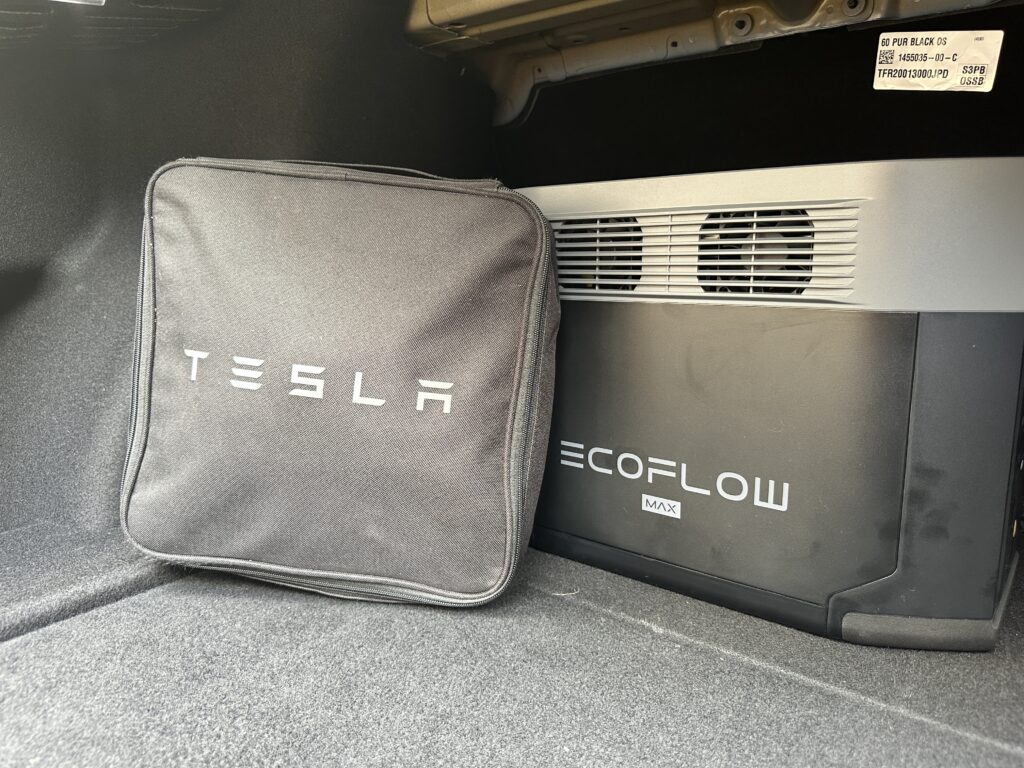 On arrival to the beach, it hadn't moved an inch and sat proudly nestled in the corner of the boot hatch. We went about our day. Seaside, sand castles and fish & chips and headed back to the car. I powered up the generator, plugged the Tesla power adaptor into the AC outlet, the type 2 connector into the car and waited.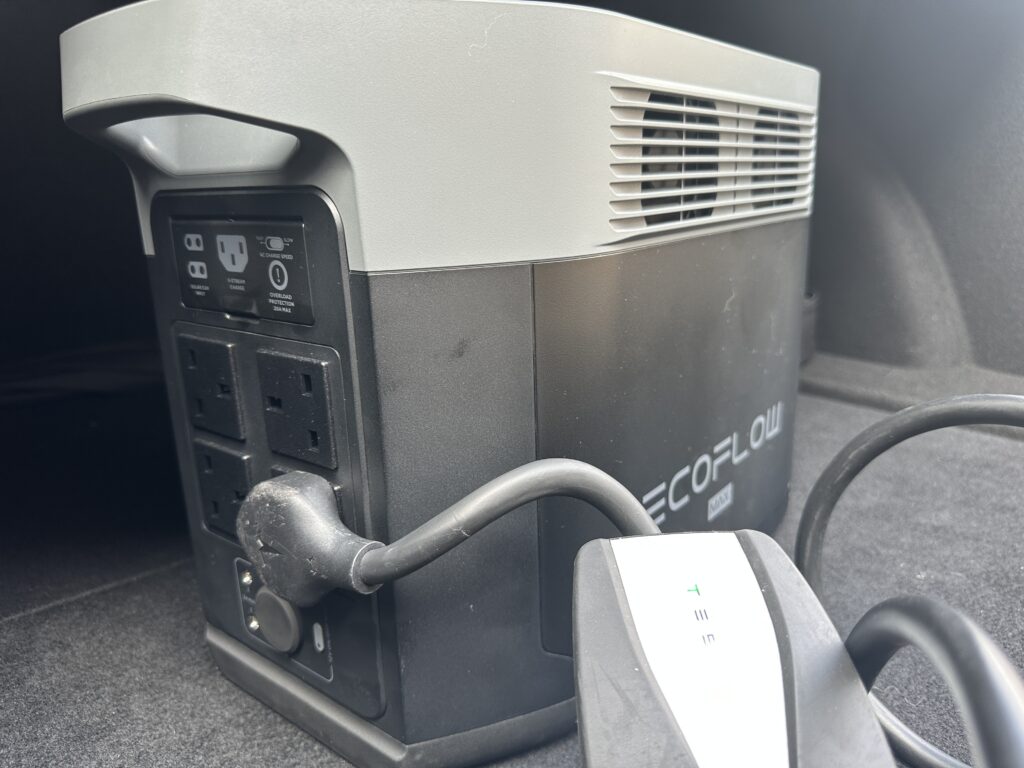 IT WORKED! It actually worked, and began to charge the car. Now when it comes to output the EcoFlow has a capacity of 2048Wh, and the Tesla had a battery capacity of 50kWh, so it will only add around 10 miles of range. Yet if you think about it, that may be just enough for somebody caught short of a charger and needing just a tiny top up to get them going again. All things considered though, it's just an incredible thing, that you can truly throw almost anything at this wonderful piece of technology and it delivers.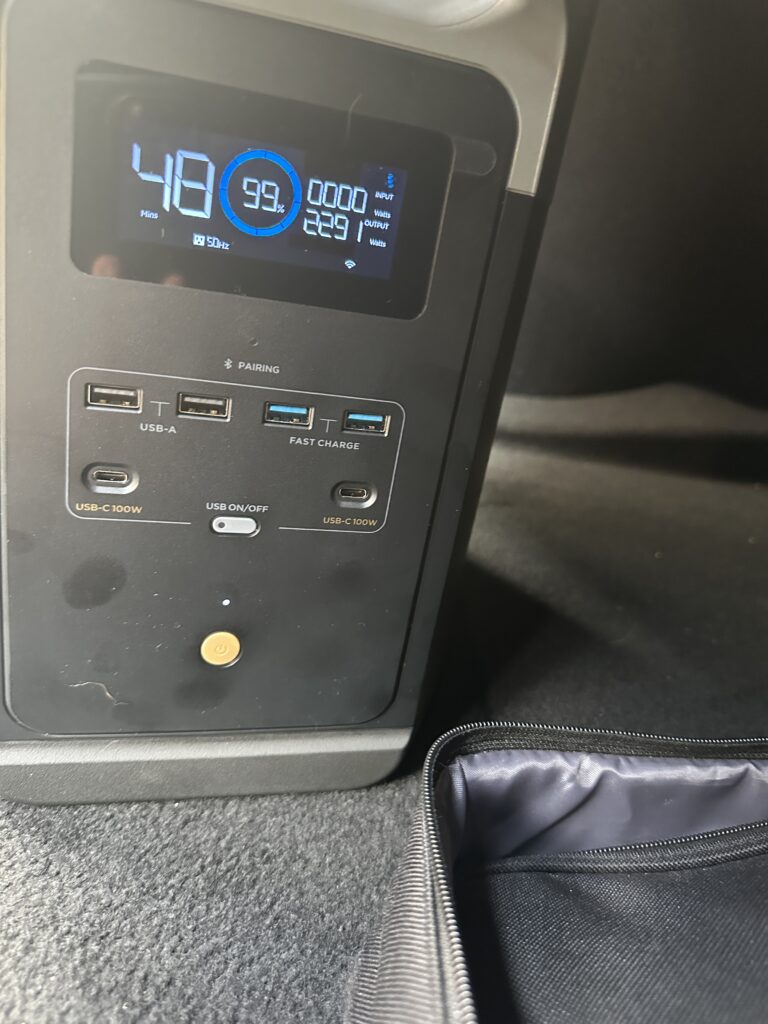 Summary
At £1899 the EcoFlow Delta 2 Max certainly isn't pocket change. Yet when you consider its capabilities, starting with incredible design with longevity in mind. Not to mention a 10 year lifespan, hand in hand with a 5 year warranty. A robust fire resistant chassis, with a tightly integrated smart app integration. This could be just what you need. With aspirations for renewable energy options, this could be a wonderful thing to have in your caravan, in your home or even in your car boot.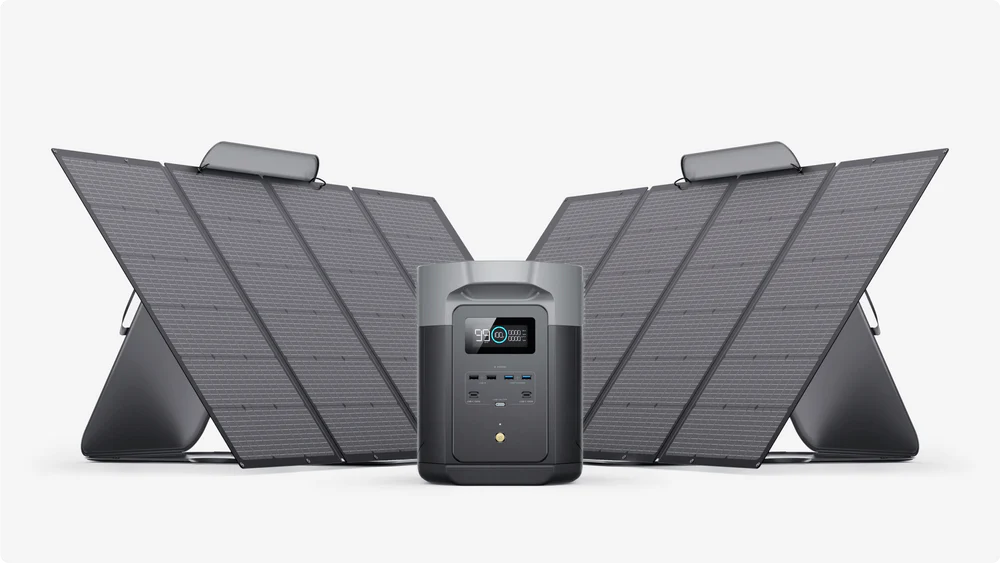 Add the option for it to be connected to solar panels for free power reserves, you can recoup some of your outlay very quickly. All with the piece of mind that your purchase can have environmental benefits as well as keep those decibels down for both yourselves and your neighbours. All in this is just a wonderful piece of kit. If you have the need and your budget can stretch far enough its a truly amazing buy!
Rapid Reviews Rating
4 out of 5
4
The EcoFlow Delta 2 Max is available here