ANC
,
aptX
,
aptX LL
,
Audio
,
Bluetooth
,
CD Lossless
,
Charging
,
Charging Case
,
earphones
,
Gadgets
,
Hardware Reviews
,
Music
,
Noise Cancelling
,
Noise Cancelling Earbuds
,
Nura
,
NuraTrue
,
NuraTrue Pro
,
Product Reviews
,
Qualcomm aptX
,
Qualcomm aptX Lossless
,
Qualcomm Sound
,
Rapid Reviews
,
Reviews
,
Sound
,
Tech
,
Tech Review
,
True Wireless Earbuds
NuraTrue Pro – The Rapid Review
Reading Time:
5
minutes
Tech Specs
| | |
| --- | --- |
| Driver size | 10mm |
| Driver type | Ultra low distortion triple-layer titanium 10mm dynamic driver (harmonic distortion < 1%) |
| Frequency range | 20Hz—40kHz |
| Sensitivity | 101dB |
| On/Off behaviour | Optical / IR sensor, timer, case |
| Charging cable type | USB-A to USB-C |
| Charging cable length | 10cm |
| Wireless charging | Charging case can be charged on Qi-certified wireless chargers |
| Bluetooth codecs | aptX Lossless/aptX Adaptive, aptX, AAC, SBC |
| Bluetooth Version | 5.3 |
| Bluetooth Range | 15m |
| Bluetooth QuickSwitch | Yes |
| Bluetooth Multipoint | Yes |
| Battery life | 8+ Hrs for fully charged buds, 32 Hrs total with fully charged case. One hour to fully charge case. Five minute charge with buds in case = one hour of playback |
| Active Noise Cancellation | Adaptive, hybrid active noise cancellation (three mics on each earbud), anti-clipping protection, wind noise protection |
| Voice call microphones | Eight microphones (four microphones including one bone conduction microphone on each bud) |
| Single earbud use | Dynamic primary switching for flexible one-bud use |
| Case battery | 500 mAh |
| Single bud weight | 8.6g |
| Case weight | 37.1g |
| Water resistance rating | IPX 4 (earbuds only) |
| Eartips and wings | 4 x silicon (XS, S, M, L) eartips; 1 x foam eartips; 2 x wings (S, L) |
https://help.nurasound.com/hc/en-us/articles/5043878929935-Technical-Specifications-NuraTrue-Pro
A World First
We're big fans of Aussie-based NuraTrue at Rapid Reviews and we have had the chance to review several of their fantastic products in the past. So when I was offered the chance to review their newest product, the NuraTrue Pro, I jumped at the opportunity. Did this latest offering deserve the moniker of Pro, and was it music to my ears? Read on to find out more.
Design and Comfort
At first glance, the NuraTrue Pros look very similar to the NuraTrue wireless earbuds. Upon closer inspection, however, there are some subtle differences. Firstly, the earbuds are ever so slightly wider and heavier, and the matte finish of the earbuds is accented with a glossy circle.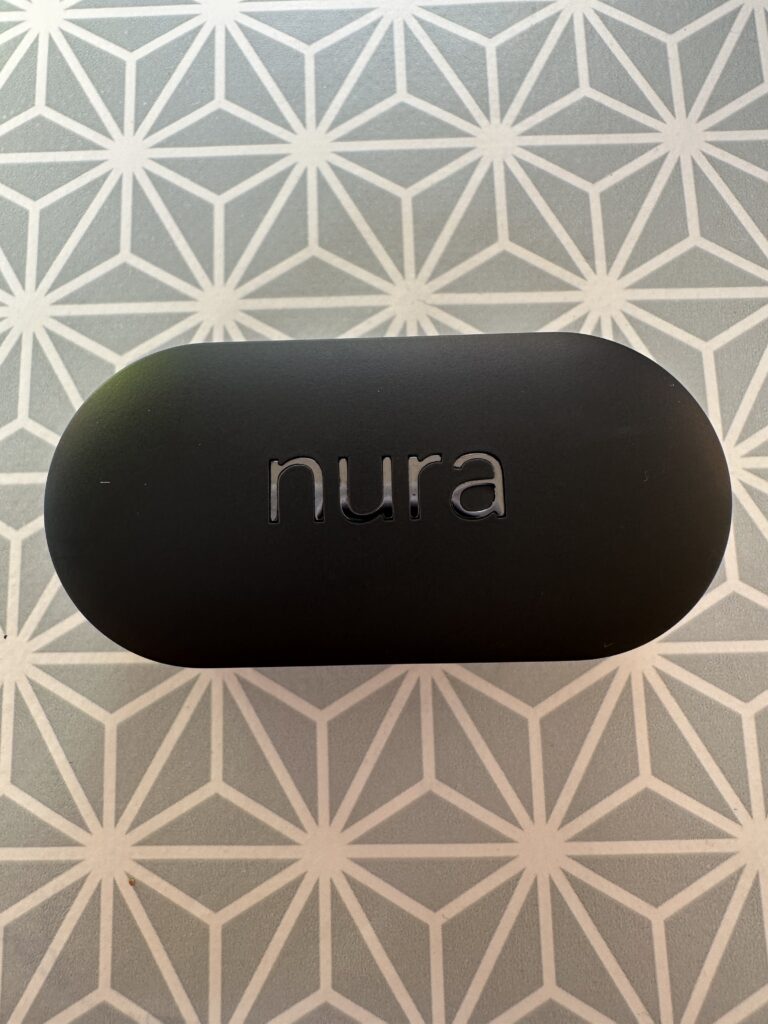 This slight change in size and weight is only minor, and it doesn't negatively impact the comfort. To ensure comfort, you get 4 different sized silicone tips, as well as a pair of foam ones. If you need more of a secure fit, you can use the included wing attachments. The biggest design changes can be found on the case. This time round, the case has LED lights to indicate charge status, and the case can now be charged wirelessly.
Better Battery life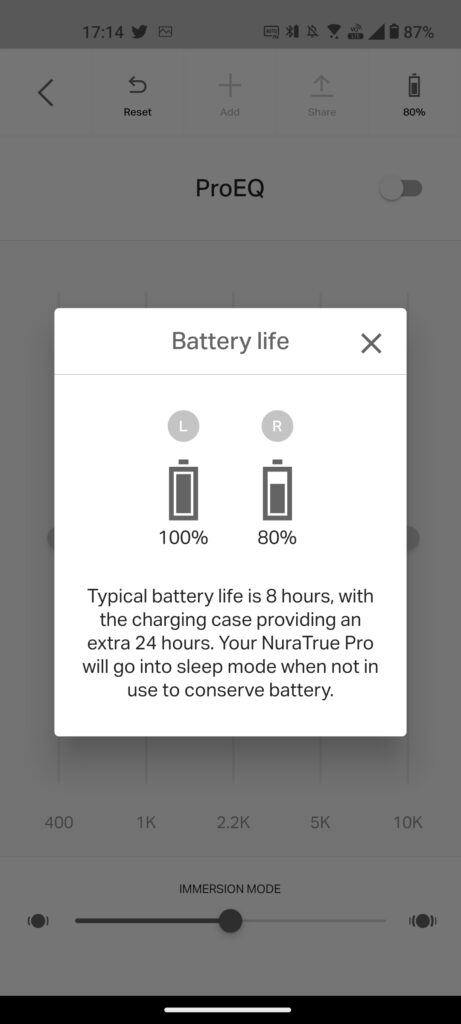 One thing that the NuraTrue Pro improves on the original NuraTrue is battery life. On a full charge, you're now able to get about 8 hours of usage, and a further 24 hours in the case. This is an improvement from 6 hours and 18 hours respectively. 
Multipoint Magic
Another great new feature of the NuraTrue Pros is multipoint. When this setting is enabled, you're able to instantly switch between connected devices. I had the earbuds connected to my iPhone and the Zenphone 9, and switching between the two was instantaneous.
Social Mode and ANC
At the price of £299, you'd expect the NuraTrue Pros to have excellent active noise cancellation and transparency modes. Fortunately, both can be found here, and both features work extremely well. The NuraTrue Pro's Adaptive Active Noise Cancellation works effectively and adapts to the surrounding noise levels. I've used the NuraTrue Pros when my washing machine and tumble dryer were on, and I could barely hear them.
While it's not the best ANC I've experienced – that title belongs to the AirPod Pro Max – it's plenty good enough. Transparency mode is known as Social Mode on the NuraTrue Pros, and when this mode is enabled, conversations can be heard clearly, very useful when wanting to listen to your music, whilst being aware of your surroundings.
Personalised Sound
One of the flagship features of Nura products, is personalised sound. Here is how Nura describe it:
"The NuraTrue Pro automatically measures your hearing, using highly sensitive microphones in the earbuds to measure otoacoustic emissions from your cochlea."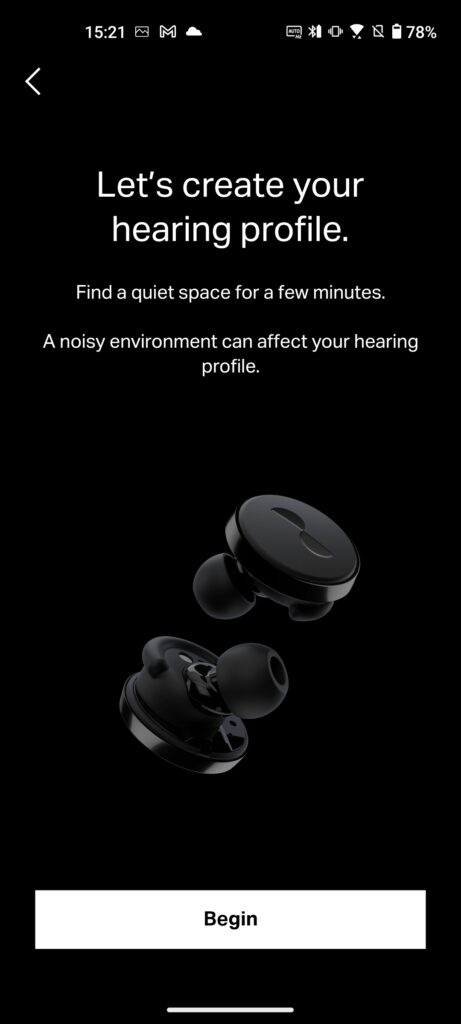 What does this mean to the everyday user? Using some kind of auditory wizardry, the earbuds learn how you hear; providing a unique EQ for each listener. Is this just a gimmick? No, absolutely not. With personalised sound turned on, music feels fuller and more immersive. Turn it off, and your music feels flat and dull. The difference is night and day. Couple this with CD-Lossless quality, and Nura are on to a winner. Speaking of which…
CD-Lossless Quality
The standout feature of the NuraTrue Pros is the inclusion of CD-quality lossless audio over BlueTooth. Nura have made the bold claim that the NuraTrue Pros are the first earbuds in the world to have this feature. However, there is a small caveat here. At the time of writing, there are only a few phones that support Qualcomm aptX Lossless. Luckily, I was able to get my hands on one of these phones, the ASUS Zenphone 9. 
So what does Qualcomm aptX Lossless mean in terms of quality? It simply means that for the first time ever, your music is uncompressed. For those who like statistics, this means that you'll be able to listen to your music at CD-quality lossless audio 44.1kHz and 24-bit 96kHz lossy.
What does this actually mean for the average music lover? I was a little concerned that after the effort of sourcing the phone, I would be underwhelmed and not able to notice a discernible difference. However, my fears were quickly allayed, and I was blown away. It's hard to put into words, and it must be heard to be believed. What I can say though is that music feels fuller and alive. I imagine that music sounds like it does when listened to live in the recording studio. 
Songs that I've listened to many times, sounded like I was listening to them for the first time. Every time I listened to a song, I picked up on new details. Whether that be a different beat in the background, or a percussion instrument that I didn't notice before.
NuraTrue to their word?
In an ever increasingly crowded market of wireless earbuds, Nura set out to create a product that excels when it comes to audio quality and experience. Have they achieved this? In a word, yes. With more and more phones supporting CD lossless quality in the future, you can future-proof by picking up the NuraTrue Pro now.
Rapid Reviews Rating
5 out of 5
5
You can find out more about the NuraTrue Pro and their other products on the official Nura website : https://www.nurasound.com/