Action
,
Adventure
,
Co-op
,
Game
,
Gaming
,
Multiplayer
,
New Release
,
Next-Gen
,
Playstation
,
PlayStation 4
,
PlayStation 5
,
PS4
,
PS5
,
Rapid Reviews
,
Reviews
,
RPG
Monster Hunter: Rise PlayStation 5 Review
Reading Time:
4
minutes
Fast Facts
Monster Hunter Rise

Developer: Capcom
Publisher: Capcom
Website: https://www.monsterhunter.com/rise/uk/
Genre(s): Hunting, Action, Co-op, RPG
Platform: Playstation 5, also available on PS4, NIntendo Switch and PC
Age Rating: PEGI12
Release Date: 20/01/2023
Price: £32.99

A code was provided for review purposes
Hunt, Craft, Repeat
Here we go again! This will be the fourth time I have written a piece about Monster Hunter Rise. That must mean something, right? I wrote the Switch review, I wrote the Sunbreak expansion review, and even wrote a small article about the demo when it was first released on the Nintendo Switch. I have a very long, loving relationship with this series, and when the opportunity to review the PlayStation 5 version came along, I could not resist.
The PlayStation is my home, I love the Switch and everything it does, but I do feel more at ease playing on my favourite console. The added benefit of trophies, a better framerate, and improved graphics are all bonuses, but it's the online systems, the chat functionality, and the fact I most of my friends and colleagues play on this console that makes this version of Rise a much better experience overall.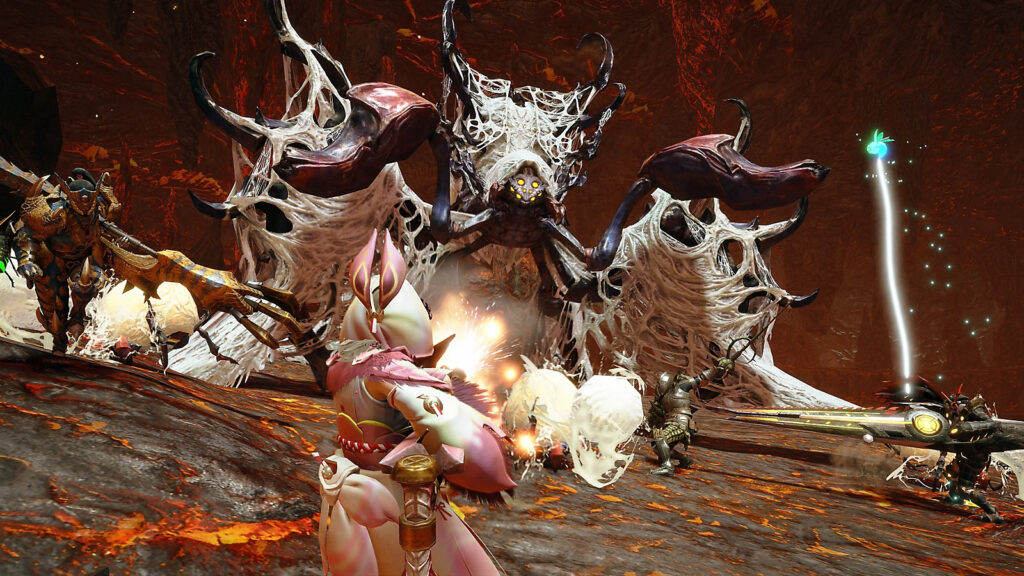 Rise and Rise Again!
I will not go much into the story, gameplay, and all that jazz because you can read my previous review on this very site, but I will brush over a few things here and there that I think need speaking about. This upgrade, however, is mostly a performance and visual one with massively improved online functionality. Being able to play and chat with friends without using external sources for chat, cough cough Nintendo, was pure joy.
So let's start with the improved visuals. I personally thought Capcom did a good job with this game on the Switch. However, what we have on the PS5 is a massively better-looking and performing game. You have a choice of two modes, a 4k, 60 frames per second mode and a 1080p 120 frames per second mode if your chosen screen supports it. In fact, the 4k mode actually renders at higher than 4k and gets super-sampled back down. It just shows how good Capacom's RE engine is and how versatile it can be. This release is more in line with the PC version's graphical settings, and it really shows.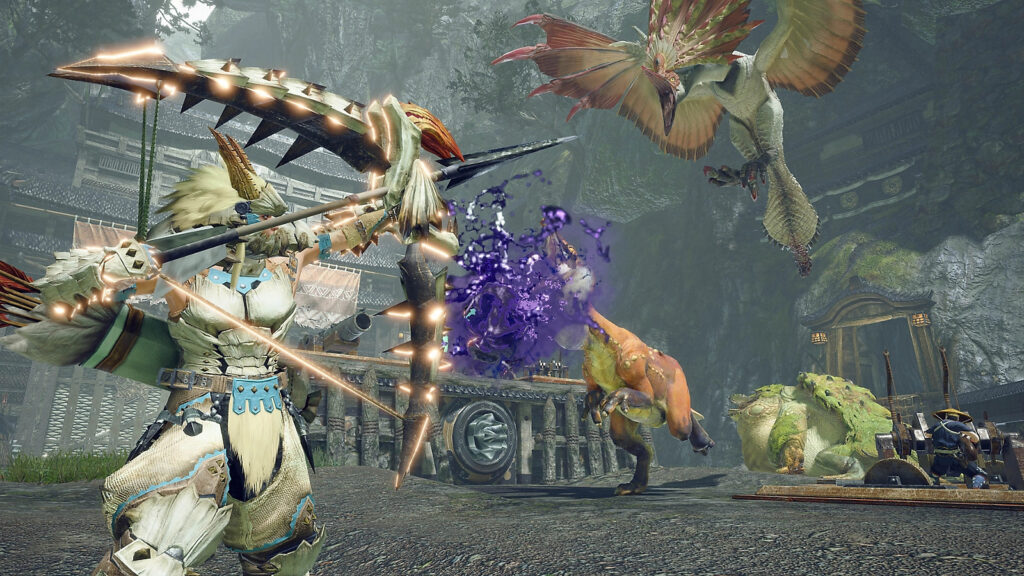 Nuanced but Beautiful Upgrades
Along with all these fancy numerical improvements, I have noticed numerous graphical upgrades. The water looks more lifelike, and some of the game effects that I did not even take notice of before are much more prominent. I noticed a bubble one of the characters blew had a noticeable reflection, I noticed that the elements drawn from weapons look a lot more bombastic, and the overall visual spectacle is a massive improvement, especially some of the textures. Not that I am a graphics snob; I never have been. It just gives the game a more vivid overall presentation. The 3D sound works really well, too, making pinpointing your prey easier than ever before.
The first thing I noticed when booting up the game was how smoothly it ran. It was that smooth it took me a little while to get used to how fast and flush the camera rotated. After playing the Switch version, it was rather jarring. It did not take me too long to adjust, and after that, it was so much better. Especially when you're in the mix with monsters, those extra frames really count when evading and setting up the perfect attack opportunity.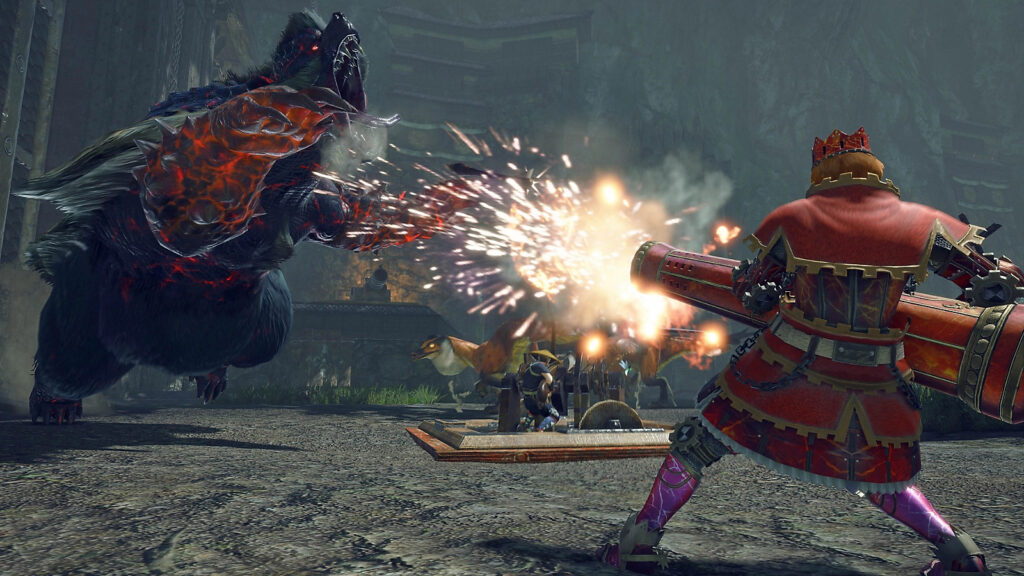 Friends, Connections and Killing Together
As I said earlier though, aside from all the visual and performance stuff, the online features of the PlayStation 5 are leaps and bounds ahead of the Switch. When I played online with friends on the Switch, due to its lack of local chat, we had to use Discord on our phones, or sometimes I even booted my PS5 to use its chat functionality; I know how apt. Playing with friends is a much less faffy experience here, and in a game like Monster Hunter, that is a massive boon. You can invite friends to your game from the OS, and you can join each other from the chat screen and get this, even chat using the console you are playing on. I know, mad right? No extra cables, no additional devices, just play, hunt, chat, and have fun.
I do miss being able to take the game anywhere, like with the Switch version, but I kind of can overcome that by making use of my Razor Kishi controller and remote play. It's not quite as good as the Switch's portability, but it does mean I can do some farming for parts in bed. On the plus side, all the event quests that were released gradually and the updates from the Switch are all their day one on PS5. This means some of the weird and wacky experiences and extraordinary gear can be obtained straight out of the gate.
A Significant, Worthwhile Upgrade
To wrap up, Monster Hunter: Rise on the PlayStation 5 is amazing. It sounds great, it looks the best it's been on consoles, and the online functionality is a massive step up from the Switch version. You do, however, lose some of the portability in return. The game is fantastic either way, chock full of content to keep any gamer happy for hundreds of hours. I suppose it depends on what's more important to you, visuals, performance, and online functionality or portability. It's a great entry to the series, and I adore it. Right, I'm off to make some new pants out of a massive monster, laters hunters!
Rapid Reviews Rating
4.5 out of 5
4.5
You can grab your copy of Monster Hutner Rise from the PlayStation Store today!