AAA
,
Adventure
,
Co-op
,
Expansion
,
Gaming
,
Multiplayer
,
New Release
,
Nintendo
,
Nintendo Switch
,
Nintendo Switch Lite
,
Nintendo Switch Online
,
Rapid Reviews
,
Reviews
,
Role-Playing Game
,
RPG
,
Switch
Monster Hunter Rise: Sunbreak Review
Reading Time:
5
minutes
Fast Facts
Monster Hunter Rise: Sunbreak

Developer: Capcom
Publisher: Capcom
Website: https://www.monsterhunter.com/rise-sunbreak/en-uk/
Genre(s): Hunting, RPG, Multiplayer
Platform: Nintendo Switch (Also available on PC)
Age Rating: PEGI 12
Release Date: 30/06/2022
Price: £44.99

A code was provided for review purposes
Hunt, Craft, Hunt, Repeat
I have a long-time affection for the Monster Hunter series. Ever since Monster Hunter Freedom on the PSP back in 2005, I have hunted more Rathalos than you can shake a Gunlance at, I have carved more tails than you can count and it has all been glorious. There is something great about joining up with three friends and stripping a huge dragon, using its parts for better gear and getting deep into all the intricate systems that litter the fabric of Monster Hunter.
So, Sunbreak then; Sunbreak is a massive expansion for last year's runaway hit, Monster Hunter Rise, on the Nintendo Switch. As seems to be the case in more recent entries in the series, these massive expansions just about double the content of the main game. Offers new locales, new monsters, new gear and new tweaks to the ever-popular gameplay systems we all know and love.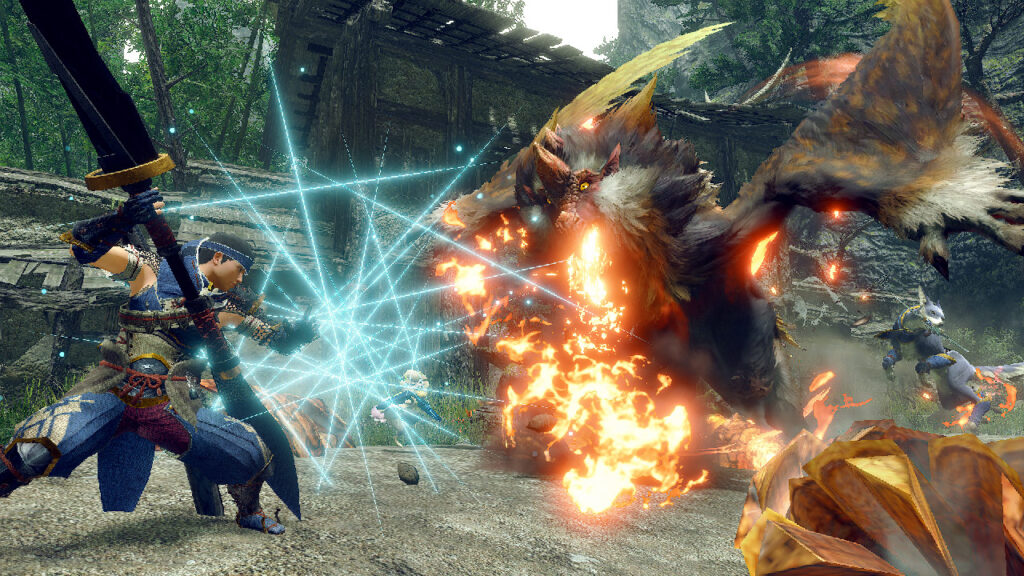 A Well Worn Narrative
This expansion follows the tried and tested narrative that just about every Monster Hunter game has. New monsters are causing a ruckus; you, the nomadic hunter, must go out there, discover what the disturbance is about and slay the offending foul beasts. This one has a slight twist though as you have made your name in the main game's town, Kamura Village and have now been called to a distant outpost, Elgado, to fight a new threat. Not that different, don't get me wrong but it's good not starting off a complete nobody.
As with most additions to Monster Hunter a new tier of beasts, armour and weapons awaits you. Master rank is unlocked as soon as you get to Elgado and once again you start a fresh tier of upgrading, killing and crafting. I am certainly not complaining. I love Monster Hunter's core gameplay loop of kill, craft and kill more deadly targets. Hunting in groups to get the parts you need to finish a badass weapon or complete that beautiful armour set is so rewarding and addictive; tweaking your armour sets with decorations and talismans is a game all in itself.
Along with your new monsters to hunt, which we will discuss later, you now have the ability to change Switch Skills in the middle of fights. In your chosen hub you can assign Switch Skills to two load-outs and change them on the fly. I must admit, after not playing Rise for a few months I was all fingers and thumbs with the Switch Skill system. After a few hours though I was whizzing through the air and showing my Switch Skill prowess. It's great to have some freedom and a vast amount of Switch Skills to choose from. There's even a massive slew of new ones to try out, which are equally flashy and brilliant.
What Are We Hunting Today?
Let's talk about the main attraction then shall we? The monsters. While I was initially disappointed with the amount of additional monsters in Sunbreak and especially how many of them were actually 'new', I have, over hours and hours of play, come round to the new additions to the roster. We have returning faves like Gore Magala, and returning shell-based cretins like Shogun Ceanetaur and Daimyo Hermitaur. We have new subspecies of some of Rise's best monsters and even a monster from Monster Hunter Frontier, a PC-based Monster Hunter MMO.
The main additions to the plethora of hulking beasts you will be chopping up are the three lords. These are the poster boys of the title and will be the main targets for the narrative of the game. Malzeno, Lunagaron and Garangolm are all beautiful, different and very well realized. As I said, I would have liked a few new monsters, but this DLC adds a total of seventeen large monster with more planned and free title updates. Not too bad really, looking back at it.
New Locales To Chase Around These Amazing Beasts
Where will you be fighting these slippery foes? On two brand spanking new maps, I tell you. Well, one spanking new map and one re-imagined map. Two maps have been added in Sunbreak: the Jungle first seen in Monster Hunter 2, or in my case Monster Hunter Freedom 2, is a classic overgrown jungle-based map with beaches, trees and lots of verticality. It's seen a massive overhaul with new routes, an underground section and lots of intricacies that I appreciated. 
The other map is the Citadel which is a beast all in itself. The Citadel is based around the ruins of a derelict castle. It has various biome types from frozen areas to poison swamps and lots to explore and see. It's a beautiful locale and is probably one of my favourites in Monster Hunter Rise. These two new locations add a touch of nostalgia, especially for me and a massive waft of something new. There may only be two main new maps but both of them are memorable to traverse and beautifully intricate.
Small But Needed Updates
With all these fancy whizz-bang new additions we have a few smaller but no less important improvements. We now have follower quests which I adore. You can now take some of the NPCs out on quests with you and their AI is pretty decent. It really elevates the single-player experience and makes hunts more vibrant when playing alone. Well done Capcom, this feature is probably one of my favourites as I hunt alone quite a lot, especially when away from WIFI signals. The eating system has also been improved, the buddy system is more involved and there are some endgame bits I will not spoil, along with lots of other little systems and tweaks it would take me all day to go through.
Graphically, especially with this being the first 'real' open portable Monster Hunter, long-time fans of the series will know what I mean, it looks spectacular for a portable title. Nudge, nudge, wink, wink, load screens. It's vibrant, colourful, and detailed. Each magnificent monster truly has a personality all of its own and they all look beautiful, even on the small screen of the Switch in portable mode. It's the same with the music, the Monster Hunter themes and music are some of the best in video games. Truly epic orchestral soundtracks accompany upbeat tunes and accompany some of the game's best set-pieces. I am still flabbergasted that this package still exists on a portable device.
A Must-Have For Monster Hunter Fans
All in all, while most of Monster Hunter Rise: Sunbreak is traditional Monster Hunter fare, it does have enough freshness to warrant its purchase. It's bright, it's at times unforgiving and I adore it. Even for a hardened hunter like me, parts of it were tough. I will be playing this game for another few hundred hours to make and see most of what it has to offer. With a load of free DLC on the horizon and an already massive amount of content, Monster Hunter Rise: Sunbreak is one of the best DLC packages to one of the Nintendo Switch's best titles to date. Right, pass me my Gunlance, daddy needs a new set of threads!
Rapid Reviews Rating
4.5 out of 5
4.5
If you want to purchase Monster Hunter Rise: Sunbreak on the Nintendo Switch eShop, you can here.