Reading Time:
4
minutes
Fast Facts
Kukoos: Lost Pets

Developer: Petit Fabrik
Publisher: Modus Games
Website: https://modusgames.com/kukoos-lost-pets/
Genre(s): Action, Adventure, Platformer
Platform: PC (also available on Switch and PlayStation)
Age Rating: PEGI 3
Release Date: 14.12.2021
Price: £24.99

A code was provided for review purposes
Return of the Three-Dimensional Platformer?
Kukoos: Lost Pets is a three-dimensional platformer featuring Kukoos, fuzzy yet sentient creatures who inhabit a small island. After their pets get hypnotized by an evil frog, the Kukoos must jump through platforms with the help of some pets that are not hypnotized. Does the game make for a good experience? Find out in this Rapid Review.
As I booted up the game for the first time, I was introduced to the world of the Kukoos with a very expressive narrator. There was a brief cutscene and while it was slow, the visual design of it was very good. However, I did not like the narrator whatsoever. It seemed like he was talking only to children, using a high-pitched voice, and taking his time explaining the premise. Though it was not a large issue, it set the precedent for the game as one guided solely towards children. It was very over the top and failed to resonate with me.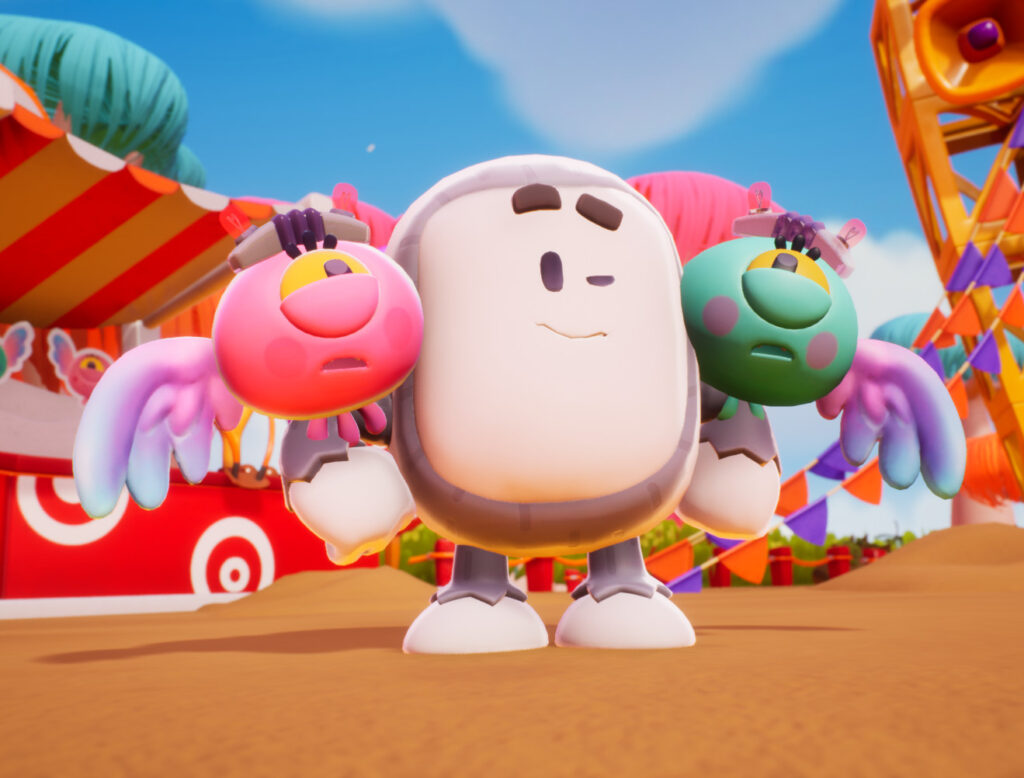 Even after this introductory section, none of the story was particularly interesting. There were a couple of cute dialogue sections, but there was no character development or intriguing developments. I did not pick up Kukoos: Lost Pets for an interactive story, but I was disappointed by how the story elements made the game feel childish.
Moving Around
While the presentation was childish, the game itself feels good, especially when I first started out with it.  I could walk around, dive in the air to move quickly, and collaborate with a few different pets. The core movement of the main character is more than interesting enough to make the game fun. However, I was initially interested to see how the pets added to it too. The pets were very simple. One acted like a flashlight that could illuminate dark areas and stun enemies, while another formed strong armour around my character and protected me from attacks. They were varied and fun to explore.
However, I did not like the pets. Many of them are made for tedious level designs. The dark levels that correlated with the illumination pet were not fun to explore, and another pet severely hindered my base-jumping height, tethering itself to me. They often restricted me from doing what I wanted to do. Even the more interesting pets, like the crab shell, forced me to slow down my play significantly. The pets were not powerups. Instead, the developers designed inconveniences in the levels and made pets to circumvent the problems they orchestrated.
It was blatant all throughout the level design. I had to slowly knock down pillars with the crab suit, navigate incredibly boring dark levels, and suffer difficult controls over moving platforms. I typically enjoy challenges in games, but Kukoos: Lost Pets is not rewarding enough. The levels are hard because I want to play through them quickly, and I rarely can, especially with the pet limitations. Thankfully, there were plenty of checkpoints, so when I did inevitably mess up, I never had to replay much content. Still, the content was rarely engaging, and I was disappointed by the lack of interesting assets.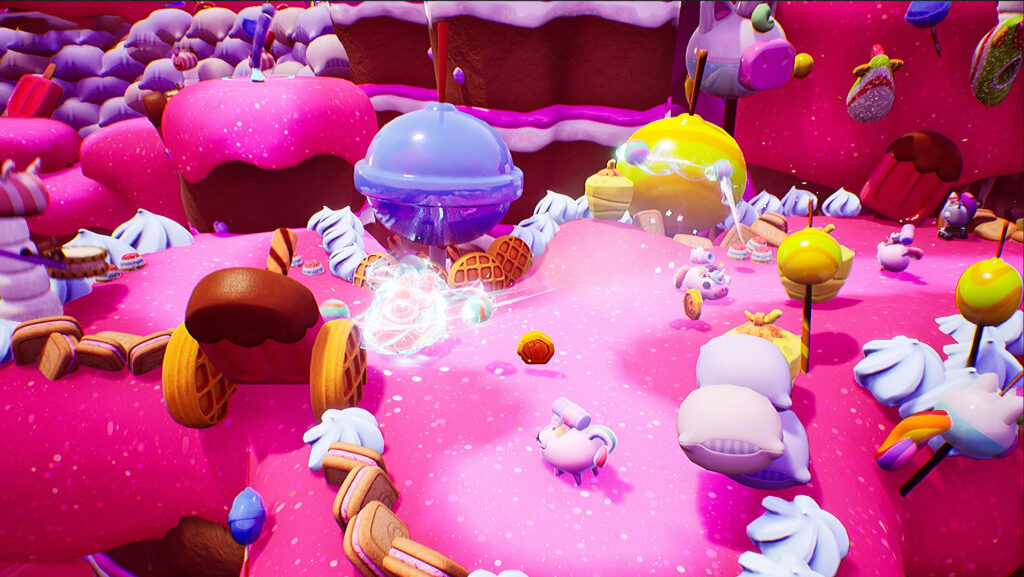 Objectives
While the core levels themselves were rarely rewarding, there were a lot of excellent design choices behind the levels. I was constantly rewarded for exploring. I earned stars based on how many collectibles and coins I gather and another for how many enemies I defeated. This initially encouraged me to try and find every section of every level, and it worked well. However, once I became tired of the levels and specifically the pet limitations, I pushed myself less. Still, the system is solid, and it encouraged me to explore in the levels.
The enemies I mentioned here were solid too. They had clear weaknesses but were not pushovers either. There was a good variety of enemies, and I felt rewarded for taking them out. They even dropped one-third of a health point, so I never felt entirely overwhelmed. The game also featured boss fights, and while they were not overly complex, especially since most have guides explaining what to do at the beginning of the fight, they are fun. The enemy designs made the stages in Kukoos: Lost Pets much better.
Still, while the gameplay is proficient, it is nothing special. The limitations that came with the pets were glaring all throughout Kukoos: Lost Pets. They made taking out enemies more tedious, as the movement remained limited. Thus, though the core movement of the main character was fun, the world was not fun to explore, and I wanted to play the game without the pet gimmick whatsoever.
Sights and Sound
To supplement the gameplay and the story, Kukoos: Lost Pets has a lively soundtrack filled with cheerful and energetic music beats. The soundtrack is good, and I enjoyed listening to it as I played. Similarly, the sound effects were good too. Apart from that narrator, I have no problems with anything related to sound.
The visuals were also excellent. Kukoos: Lost Pets features multiple different types to make sure that the game performance is not influenced. I played on the best, high, and medium visual levels throughout my playthrough and thought each looked very good. I enjoyed the quality visuals for sure.
In sum, Kukoos: Lost Pets is not a game I can easily recommend. It has a lot of charm, and I enjoy the art and overall movement. However, it is completely bogged down by the pet mechanic. The movement with these pets feels sluggish and tedious. This in turn makes the level designs less invigorating and left me feeling disappointed. Kukoos: Lost Pets has a lot of good qualities, but it is not a game I can recommend.
Rapid Reviews Rating

3 out of 5
3