Audio
,
Bluetooth
,
Cleer
,
earbuds
,
earphones
,
Rapid Reviews
,
Reviews
,
True Wireless Earbuds
,
USB-A
,
Wireless
,
Wireless Earbuds
Cleer ARC Open-Ear True Wireless Earbuds Review
Reading Time:
8
minutes
Tech Specs
Cleer ARC Open-Ear True Wireless Earbuds

Manufacturer: Cleer
Design: Open-Ear True Wireless Earbuds
Connection: Wireless (via Bluetooth)
Bluetooth Version: 5.0
Frequency Response (Bluetooth): 20Hz-20kHz
Audio Formats: MP3, SBC, aptX
Microphones: cVc 2-mic Beamforming
Weight: 14.5g (per earbud); 96.5g (both earbuds and case)
Driver: 16.2mm Neodymium Dynamic Driver
Advertised Battery Life: 7 Hours (1 hour from a 10 min. quick charge)
Charge Method: USB-A Integrated Carry Case

Other Features: Earhook-style appearance; IPX4 Water Resistance; touch controls; sound personalisation via the Cleer+ mobile app.

Price: £129.99 RRP
Website: https://cleeraudio.co.uk/earbuds/arc-open-ear-true-wireless-earbuds/

A pair of Cleer ARC Open-Ear True Wireless Earbuds were provided for review purposes.
Introduction
When it comes to listening to music and other kinds of audio, I am a huge fan of over-the-ear headphones. I have been on a quest to find a pair of equally comfortable, quality-sounding earbuds for quite some time now. Headphones can sometimes feel bulky, heavy, and overly obvious, particularly when out in public. So, when offered the chance to review the Cleer ARC Open-Ear True Wireless Earbuds, I was happy to try them. The compact design, adequate battery life, and wireless connection appealed to me instantly.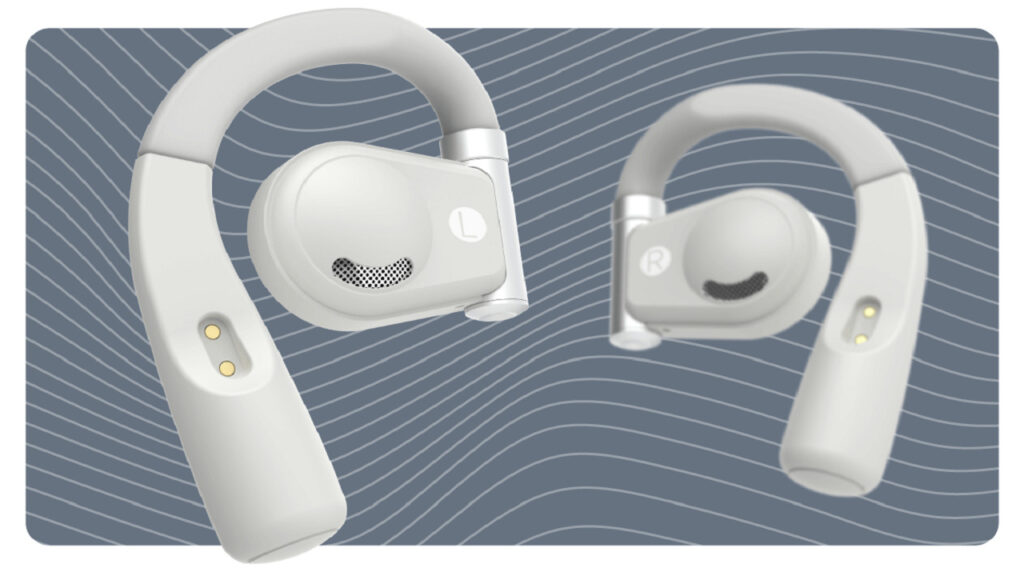 I was hopeful that the Cleer ARCs might be the earbud solution I had been searching for. I eagerly awaited their arrival at work, hoping to wear them while commuting on public transport and at work. Sadly, after a few weeks with the Cleer ARC earbuds, I can safely say that these wireless earbuds are not the audio saviour I had hoped they would be. This said they may suit other users' needs just fine. Read on to find out why I've come to this conclusion and to hear my thoughts on the Cleer ARCs.
Appearances Can Be Deceiving
Unlike the below image of the navy blue Cleer ARC earbuds, I was sent the light grey ones. I found them to be compact, made of quality materials, and smooth in their feel. They are also self-evident in their features in terms of their obvious power buttons, speakers, microphones, and indicator lights. At first glance, they look ideally shaped to fit over the wearer's ears and sit comfortably. The earpiece was shown to be resting over the inside of the ear without applying too much pressure or weight.
heir accompanying carry case, equipped with an in-built USB-A charging wire, is simple yet stylish. It bears a professional-looking outer design with just the brand logo etched on its lid. The outer product box is similarly well-designed. There were descriptions of the Cleer ARC earbuds' features on the reverse and a woman wearing them on the front.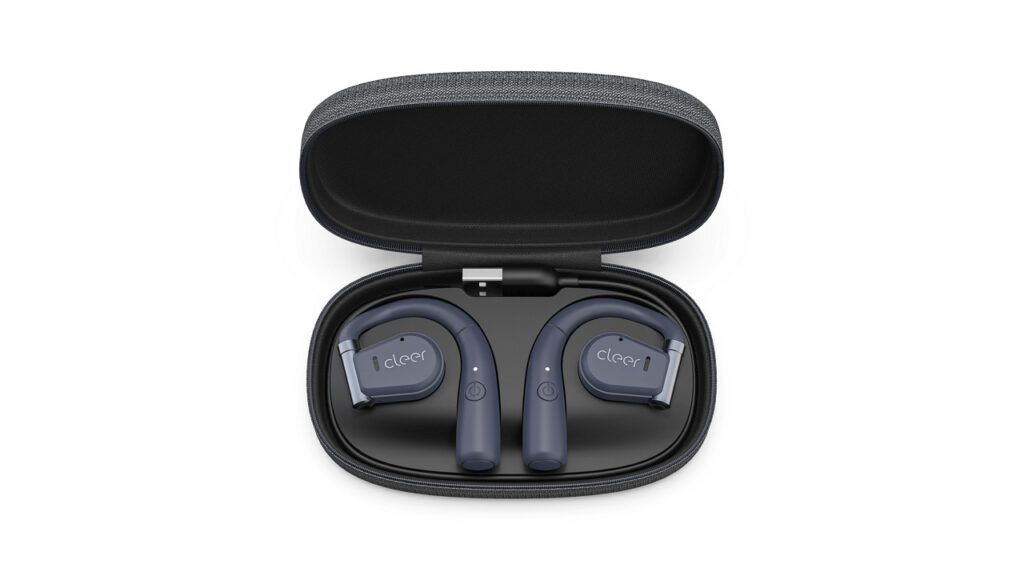 Not Built for Comfort
Sadly, the illusion of comfort was exactly that – an illusion. When first trying the Cleer ARCs, I instantly noticed how thick and bulky the rear "hooks" of the earbuds were. When slotted behind my ears, they forced them forward. The earbuds feel heavier to wear than they are to hold. The twisting design of the earpieces – in theory a genius way of further securing the earbuds onto your ears – has the unfortunate effect of pinching your ears, both around the top and in the centre where the speaker rests. On a couple of occasions, I found myself wondering what the "proper" way of putting them on was. Should I be hooking them over my ears, then twisting? Or should I push the hooks out and then place them over my ears? I suppose it doesn't really matter, but it's food for thought.
This pinching feeling was amplified for me by the fact that I wear glasses. The arms of my glasses cannot fit comfortably inside, outside or under the Cleer ARCs, and add extra weight to my already weighed-down ears. The best compromise I could find was putting the arms of my glasses behind the earbuds. However, this pulls my glasses further onto my face than is bearable, and also angles them downwards in a very uncomfortable and unusual manner. It's safe to say that these earbuds were probably not designed with glasses-wearers like me in mind. So, I also took the liberty of testing them multiple times with contact lenses in as well, which made them slightly more comfortable but no less tight around the tops of my ears.
True Wireless Earbuds
Though finding the Cleer ARCs quite uncomfortable to wear, I wanted to try and give them a fair shot. As such, I made sure to try them out on a few different occasions and in different scenarios. I tested them for hours while at work, at home when doing chores, while commuting on public transport, and while out for a walk in my local village. On all occasions, they were a breeze to connect to my phone. When finished with, they were also easily slotted back in their carry case for storage or charging. While the carry case does not hold charge itself, it is not difficult at all to unfold the USB-A wire and connect it to an outlet in order to charge the earbuds up.
The Cleer ARCs are, as their name and product descriptions state, "true wireless earbuds". They do not require any wires to use, and the Bluetooth 5.0 connection in my experience was always stable and clear. It was a relief that there was very limited interference or interruption resulting from other devices or signals around me, as I had feared this. My SteelSeries Arctis 7P+ headphones, on public transport, constantly stutter and disconnect with the surrounding interference due to their unique signal and connectivity method, so this is a point in the Cleer ARCs' favour.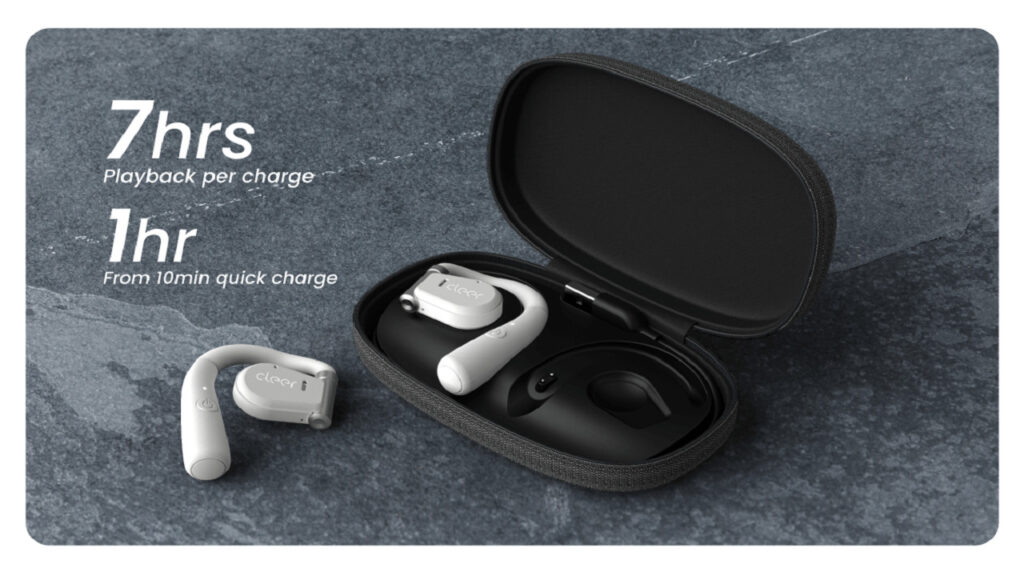 Insufficient Battery Life
The advertised battery life of the Cleer ARCs isn't the greatest, and this was one of the features I was most shocked and disappointed by given the quite high (at least in my opinion) RRP of £129.99. I expected the battery life to be better given their size. My smaller in-ear Samsung Galaxy Buds Pro, for comparison, can last for up to 18 hours on a single charge. While testing the earbuds, I only had the battery run low once, however – though this is perhaps down to my eternal fear of being forced to listen to other people on the bus, making sure that I charged them at every opportunity. I was given an audible warning via each earbud when this fateful low battery was detected, enabling me to mentally prepare for the possibility that they might run out sometime soon.
As it turned out, the battery percentage left when receiving this warning was 25%, which I thought was a bit over-zealous to call "low" battery. This warning repeated at regular intervals, despite the percentage not decreasing by very much, and I quickly found myself realising that this was effectively diminishing my wish to wear the Cleer ARCs further, as I didn't want to listen to it. If the warnings had started at a lower percentage – such as 15% – and then only repeated twice at 10% and 5%, this would have been much more tolerable and understandable.
Cleer Audio, With Ample Customisation
If there's one thing I can applaud Cleer on with regard to the Cleer ARCs, it's that they have, at the very least, created earbuds which supply high-quality audio. My music sounded superb through the earbuds, with the treble and bass of each song sounding equally pronounced and definitive. I sampled various different albums while wearing them, from pop to rock to electronica to metal, and all sounded crisp and clear. The audio balance is adjustable via the Cleer+ app if not quite to your liking, and this gives the Cleer ARCs an edge over other wireless earbuds which do not offer such a customisable listening experience.
While this top-notch audio quality is a strong perk of the Cleer ARCs, there is unfortunately a counter-argument, which is the disappointing audio volume and lack of noise cancellation. This is in part due to the over-ear design of the earbuds, and I feel this should have been considered more when designing them. When in the busy Guildford high street, or at my desk in my office, even the highest volume setting of the Cleer ARCs could not compete with the sheer volume of other noise around me. Unless pushing the speakers uncomfortably into the folds of my ears, I could hear too much background noise to at all enjoy my music, and this made the great audio quality a useless feature.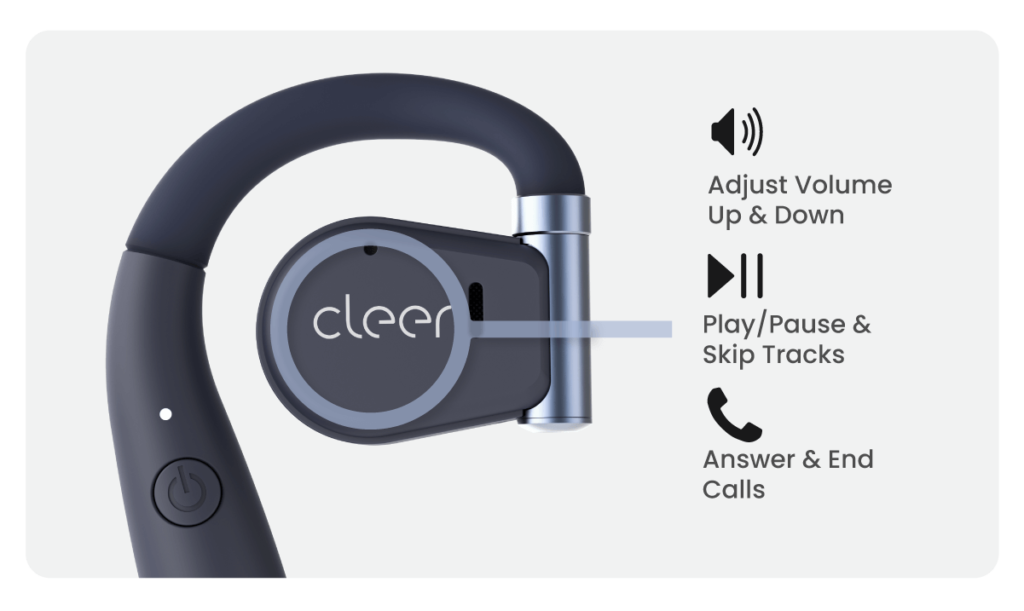 Volume Levels Could be Better
The overall quietness of the Cleer ARCs not only made listening to music difficult in these high-noise areas, but also made taking calls on them near-impossible. I always had the volume on near-maximum no matter what in order to try and hear my music, but this was nowhere near enough to hear my Mum or a friend on the other end of the phone in the same scenarios. A shame, to say the least, as the hands-free design of the Cleer ARCs otherwise offered me the perfect way to chat to them without needing to break away from whatever I was working on.
Speaking of the hands-free design, this brings me to my final positive point about the Cleer ARCs – their external touch inputs were mostly easy to use, and enabled me to up the volume, change song, or answer / end calls just by tapping and/or holding on their sides. This meant that I rarely needed to bring my phone out of my pocket or return to the Spotify application on my PC when using them, as I could easily adjust my music or handle calls without needing to use the in-app controls. These touch controls are a set of features that really bring a "premium" feel to the earbuds.
Conclusion
Overall, the word "shame" sums up a lot of my thoughts about the Cleer ARCs, really. With a more refined and comfortable design, greater awareness of how the chunky design would get in the way of glasses, and more focus on the audio volume with the positioning of the speakers in mind, they could have been a truly fantastic set of earbuds for me. Sadly, they are just too uncomfortable, too bulky, and too quiet to match my trusty SteelSeries Arctis 7P+ headphones, and I cannot see myself using them day-to-day because of this.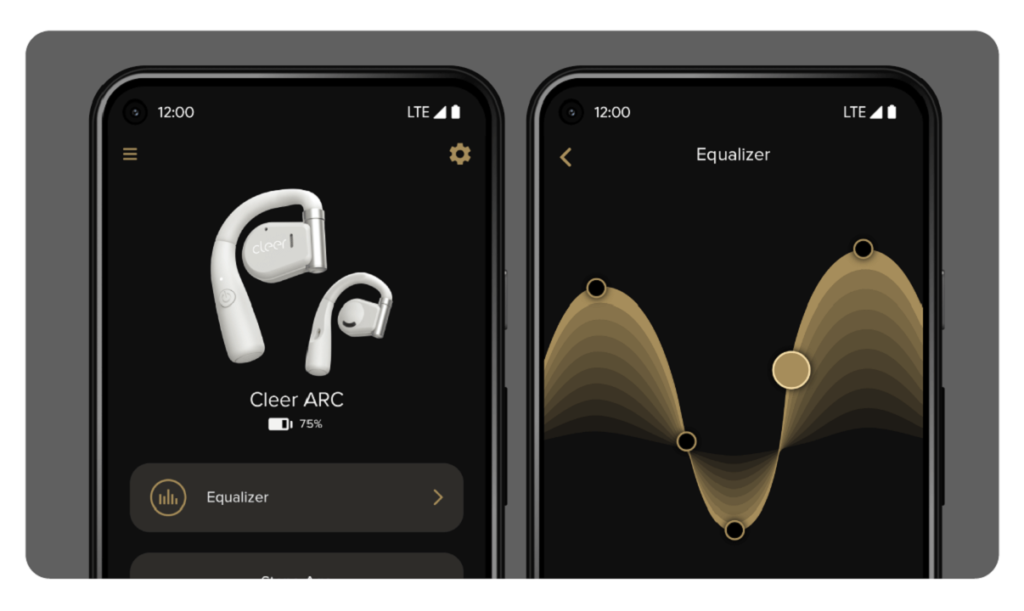 However – as I said at the start of this review – it is possible that the design and functionality of the Cleer ARCs may be perfectly suited to another user. For someone with bigger ears, or who doesn't wear glasses, or who does not frequent areas with lots of other conflicting noises, or who can stand the pinching feeling all around their ears when wearing them – these could be perfect over-ear earbuds to suit their needs. For me, though, it is Cleer that they aren't suitable for my needs.
Rapid Reviews Rating

2.5 out of 5
2.5
You can purchase the Cleer ARC Open-Ear True Wireless Earbuds from the Cleer Store.