Reading Time:
5
minutes
Game Details
Title: Inventioneers
Developer: Filimundus
Publisher: Filimundus
Website: https://www.filimundus.com/inventioneers/
Genre: Puzzle
Platform: Nintendo Switch
Audience: PEGI 3
Release Date: 25/03/19
Price: £8.99 – Rapid Reviews UK was very kindly provided with a review code for this title.
What the Developers say
BECOME AN INVENTIONEER!
Solve clever and funny inventions with the help of the amazing Inventioneers! They have special powers you can use and at the same time learn about physics in a creative way. Blaze, for example, can create Fire. Magneta uses magnetism to pull metal stuff. Freezy likes to…freeze stuff. Bunny is a rabbit. The possibilities are endless.

FAMILY COUCH SOLVING PUZZLE GAME
Up to four players can work together and solve the same invention, creating the ultimate couch solving experience. (Every player need a separate Joy-Con though.) The screen can also be used as a touch device for solving.

BE CREATIVE!
With the built in-editor, you can create your own inventions! Challenge your friends and family with new ingenious creations!

https://www.nintendo.co.uk/Games/Nintendo-Switch-download-software/Inventioneers-1531643.html#Overview
Introduction
Puzzle games have always been a weakness of mine; wracking your brain and spending ages working out the solution only makes the moment when you finally solve the problem that much more satisfying. You then move onto the next level eager for another challenge, and the cycle continues.
That's why I was drawn to Inventioneers, and I was not disappointed! What the game brings is dozens of levels requiring you to achieve a goal with the objects provided, which is fun for all ages.
Gameplay
In each level, there is a specific goal that you must complete to finish it. This can range from getting a cat down from a tree to blowing up a Pirate's treasure chest. To achieve the goal, you must use the objects at the bottom of the screen in your inventory and create inventions, combining it with things that are already in the level for you. For example, in the level below, the objective is to get the scuba man into the bathtub.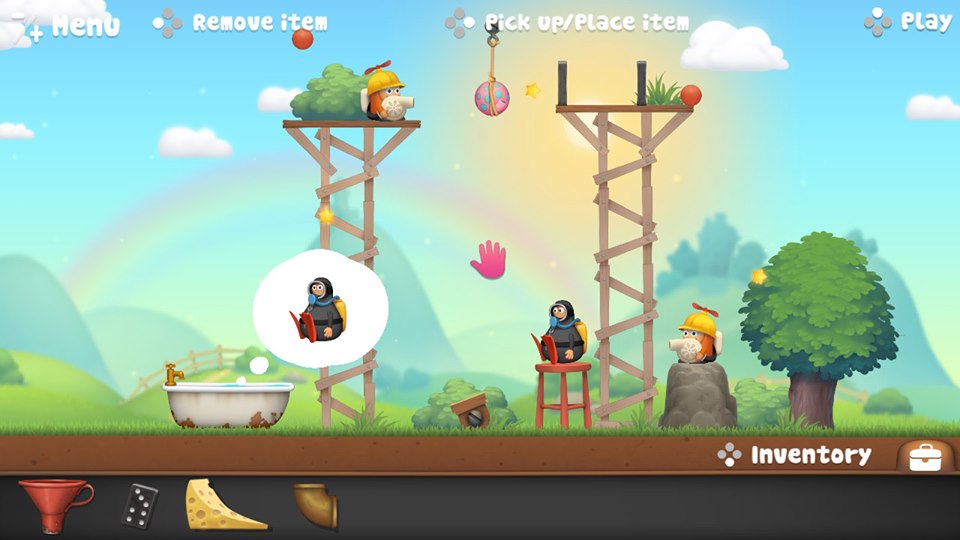 A lot of trial and error is required to work out exactly where everything goes; you can play out the scenario as many times as you want and switch things around until you know your invention works. There are also three stars in each level to collect, which can alter the way you set up your inventions so that you can gather them all.
The levels start simple, but they get progressively harder, incorporating more items and leaving most of the work down to you rather than setting most of it up already. This becomes quite challenging, and there may even be times where you spend twenty minutes on the same level, but it's incredibly satisfying once you complete it and see your invention work!
I was worried at the start that it was a little too easy, but most levels require a lot of thinking and playing around. I actually think some might be quite hard for young children, but with the multiplayer game mode, they can get some extra help from a parent and work together. I played the multiplayer mode with my boyfriend, and it was great fun bouncing ideas off each other to work out the solution.
The controls are easy to use, which is perfect for children and can be picked up in no time. You learn how to use each item and how best to use them as the game goes on, and each chapter introduces you to brand new items. There are eight chapters in different environments such as the tropics and the kitchen, which each have fifteen levels, so there are enough to keep you occupied for hours.
The only thing I disliked about the game is that you can play the exact same scenario twice, and there can be different outcomes, which is inaccurate. It means that you may fail a level, but if you try it the same way again, it could work out. However, you will often rearrange your invention instead. If that were fixed, I would have no complaints.
Audio & Visual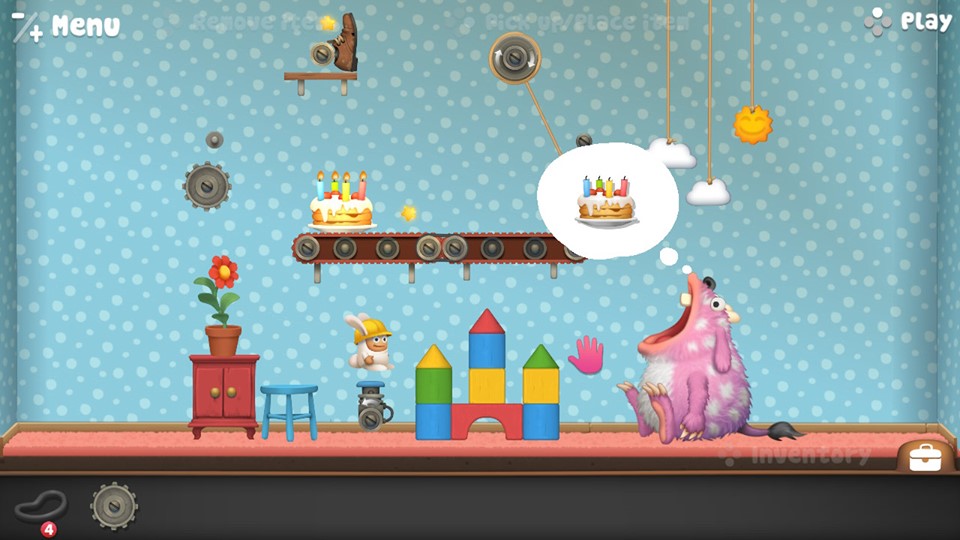 I love the art style of the game in particular as it's very soft with stylised characters and a variety of colours, ideal for a young audience. As each chapter has a different theme, you get a change of scenery with lots of new things to look at. The graphics run perfectly smoothly on the Switch, and the layout is simple with the inventory at the bottom. Though sometimes the level looks overwhelming with lots of objects, the art style and colours mean it's easy enough on the eye that you can study the level and work out what to do.
Each chapter has a soundtrack suited to the theme, e.g. French music for the restaurant chapter and lively music for the Nursery chapter. However, this same song plays for the entire fifteen levels. I would have liked there to be many songs as it can get annoying if you're playing a level for a while with the same song repeating itself over and over. With so many objects though there's a wide variety of fun sound effects to keep children entertained!
Replayability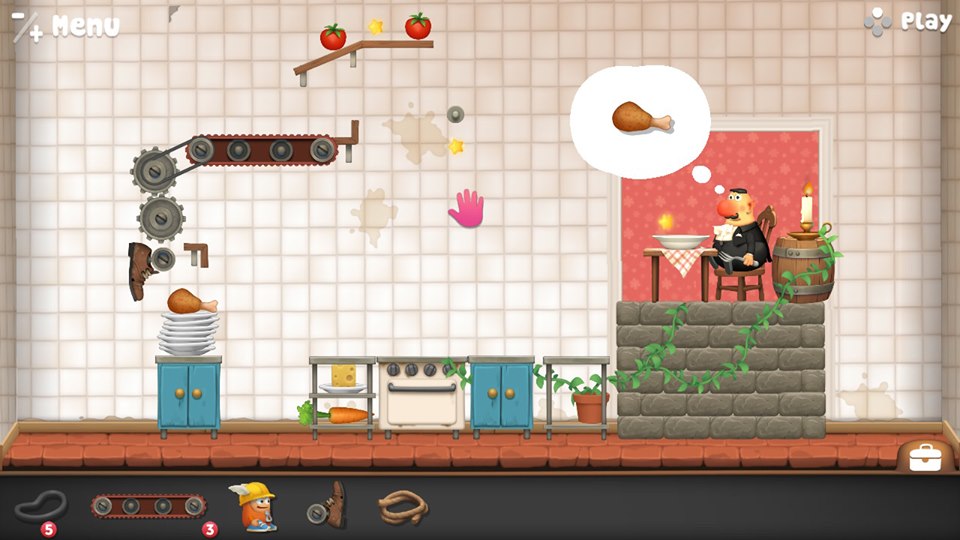 As the levels don't require you to collect all the stars to complete them, you can replay the levels and get them afterwards. The stars then unlock items for you to use in the game's create mode where you make your own levels. This gives you an incentive to collect every single star so you can 100% the game and keep you coming back. That being said, once you've done this, there isn't much point in replaying the levels as you already know what to do. However, you may want to try them out with a friend, and the create mode has infinite possibilities of inventions so that you may return solely for that.
Conclusion
Overall, Inventioneers is the perfect puzzle game which stimulates the brain and gets you thinking about how inventions work, which is excellent for children. There are a solid amount of levels to get through, which are fun no matter if you're playing alone or with a friend. I would recommend this for fans of games such as Scribblenauts!
Rapid Reviews UK Rating
You can purchase Inventioneers from the Nintendo eShop using the following link, https://www.nintendo.co.uk/Games/Nintendo-Switch-download-software/Inventioneers-1531643.html#Overview